It's still officially soup season in our house. We love homemade chili and we love this slow cooker or stove top White Chicken Chili.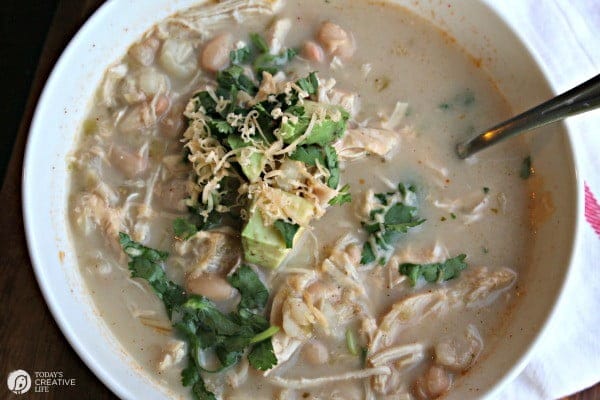 I was inspired by the recipe from Gimme Some Oven. She always has the best recipes, I don't know why I always end up changing them. It's just what I do. I can't help it. I can rarely follow a recipe step by step and that's probably why I'm a horrible baker.
Slow Cooker White Chicken Chili Recipe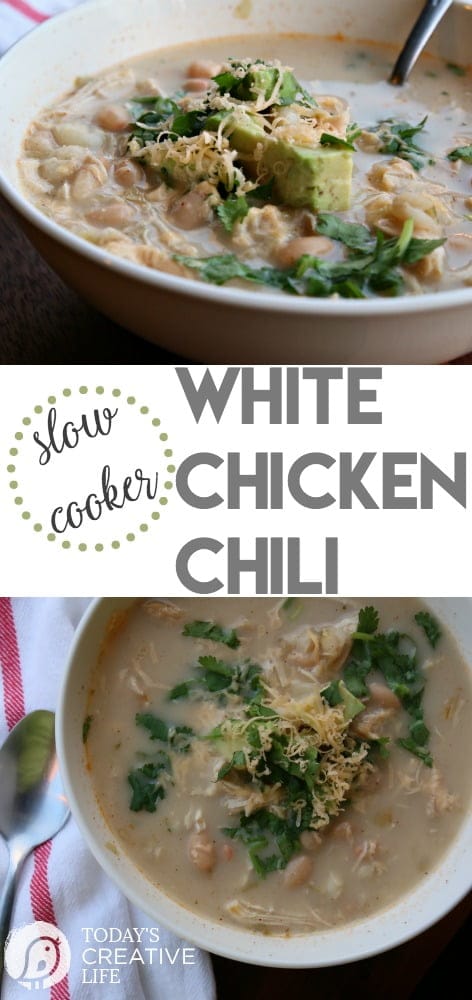 I made this white chicken chili more on the creamy side because I had some half and half that needed to be used. I also had a can of white hominy and thought…. why not? I think it added a little more meaty texture, which makes it a great no meat recipe if you wanted to omit the chicken. I kept the chicken because my boys like meat. Now I know many people aren't hominy fans, but give it try. Or maybe just use corn. Just a thought.
I also love that this recipe can be made on the stove top or the slow cooker. Depending on what your day is looking like, just choose your method.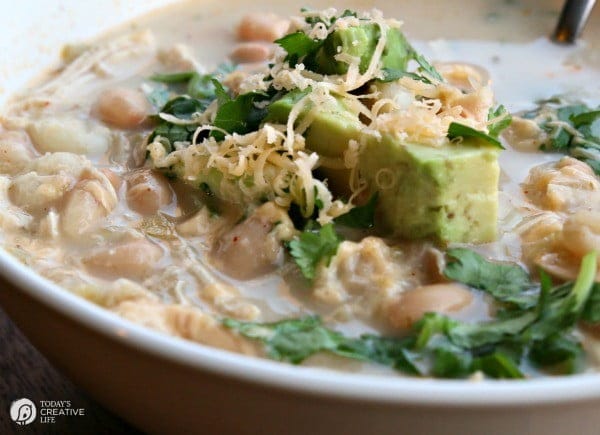 You can serve this with sandwiches, crusty bread, a salad, or maybe tortillas. We had it with Texas toast, which is just a fancy name for garlic cheese bread broiled in the oven. The next night however, I scooped the chunky stuff out and we made burritos. It's always nice when you can get more than one meal out of a recipe.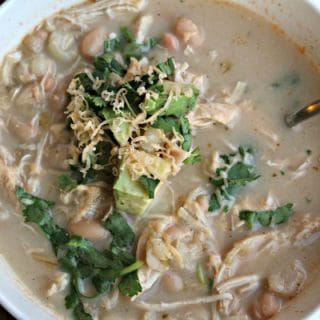 White Chicken Chili
Yield: 10
Prep Time: 10 minutes
Cook Time: 15 minutes
Total Time: 25 minutes
This recipe can be made in the slow cooker or on the stove top. Read the directions for more information.
Ingredients
6 cups Chicken Broth
2 or 3 cooked and shredded chicken breasts - Rotisserie chicken from your grocer is great for this. (if you're using the slow cooker, then you'd use uncooked chicken breast and shred when done.)
2 (15 oz.) cans Great Northern Beans, drained
2 cups (16 oz jar) Salsa Verde (it's the green stuff)
1 (25 oz) can white hominy. (A smaller can will work too)
2 tsp. cumin
1 tsp. chili powder
1 tsp. garlic powder
1/2 Cup half and half
Instructions
Stove Top Directions
Grab a large pot, I used my cast iron dutch oven. Add all ingredients, except the half and half and stir. Be sure to use cooked shredded chicken for the stove top method.
Heat over medium heat until it boils. Once it boils, reduce the heat to low and simmer for about 5 min.
Right before serving, slowly pour the half and half in and stir. If you want it creamier, add a little more.
Serve and garnish with crumbled tortilla chips, avocado, cilantro, cheese, maybe even green onion.
Slow Cooker Method
Follow the directions as stated above, except you'll be using uncooked chicken breasts. Cook on Low for 6-8 hours or High for 3-4 hours. Take the chicken out and place it on a large plate or cutting board to shred using 2 forks. Return it to the slow cooker.
Add the half and half and stir.
Make sure it's heated throughly before serving.
Add your garnishes and enjoy!
---
South of the Border Soups and Chili's
If you love Mexican food, then you'll love all these soups!

Rich, tasty and a family favorite.

Healthy ingredients for a hearty slow cooker soup.

Topped with sour cream makes this everyone's favorite.

Serve with tortilla chips or wrap some in a tortilla.

Photo Credit: happyhooligans.ca

Photo Credit: kidsactivitiesblog.com

Photo Credit: www.theidearoom.net

Grab my Recipe eBook!