It's crunch time and many of us that are hosting are putting together the last minute details. I'm trying to decide if I should make my Winter Sangria recipe this year, or go with a simple but pretty wine serving tip. I'll share both, but I'm leaning towards simple right now.

I should have made it even easier and ordered some really really nice wine from Last Bottle Wine at a huge discounted price. I've been asked to share Last Bottle with my readers, knowing it may come in handy. I don't know a lot about wine, except if I like it or not and usually the really really nice stuff…….I always like. But I don't like the prices. Last Bottle Wine allows you to grab a bottle for a great price. This is an inexpensive way to serve expensive wine at your holiday dinners or parties. See the wine of the day at Last Bottle Wines.com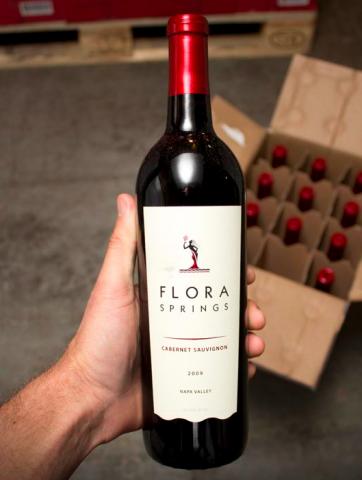 If you actually do end up buying the last bottle? You get $25 credit! That may not be as hard as you think since Last Bottle Wine sells over 1 million dollars worth of discounted wine a month.
It's been particularly crazy around here, resulting in this mama forgetting important details that are always a quick reminder to SLOW DOWN. We've been updating our daylight basement…….some people call it a walk out basement. When I say we, what I really mean is my husband. He's doing most the work. We tore up the carpet because our cat decided to mark her territory, telling that pesky raccoon (who tore up our screen door) this was her yard. Well after a while I realized it wasn't her litter box that was smelling. Tearing up the carpet, lead to "we may as well paint the walls before staining the concrete floor", which just deciding to stain the concrete brings on all kinds of work……like renting a concrete grinder that made the inside of your home completely covered in concrete dust. Then if that wasn't enough, I decided the carpets in my living room and family room needed to be cleaned…….which meant all our furniture was in our dining room and kitchen area. Add all this to my pile of work…….if you haven't noticed, it's been extra busy around TCB. (if you give a mouse a cookie) I'm not complaining, but I am forgetting details. Like leaving my purse in the car all night with the key in my purse. Yea…….things like that. (I normally park in the garage, but all the basement furniture is there).
So……there I am. I'm choosing simple.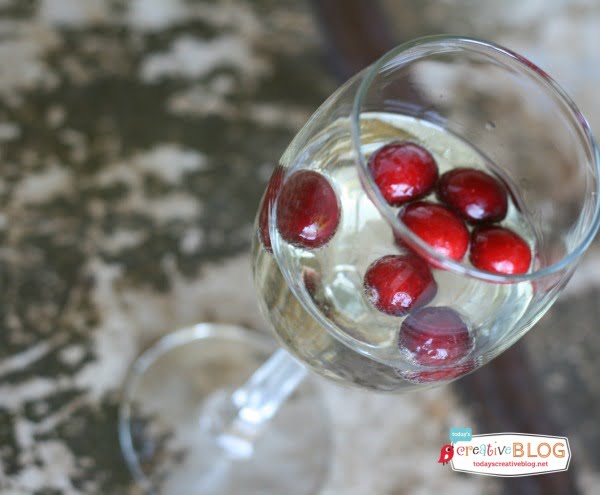 My simple idea that looks festive and keeps white wine chilled, is freezing cranberries and using as ice. This way you don't dilute your wine.
I rinsed my cranberries, dried them, and then just placed them in a ziplock bag to freeze. Take out what you need…….just like ice.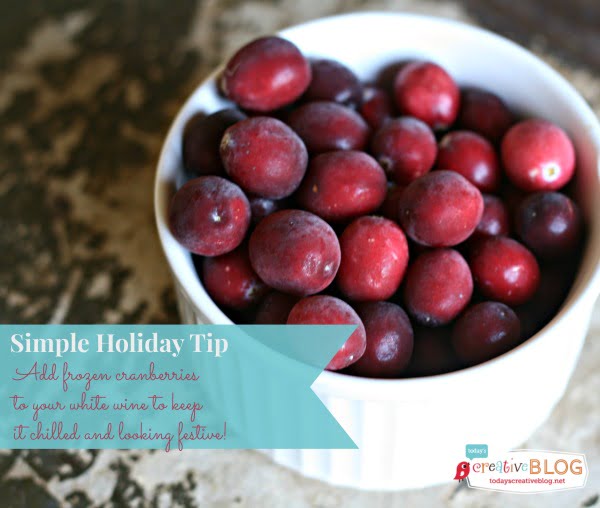 Doesn't that look festive? So pretty and now so functional. All this glass needs now are my drink charms!
So that's my simple……super simple. But the Winter Sangria isn't THAT hard.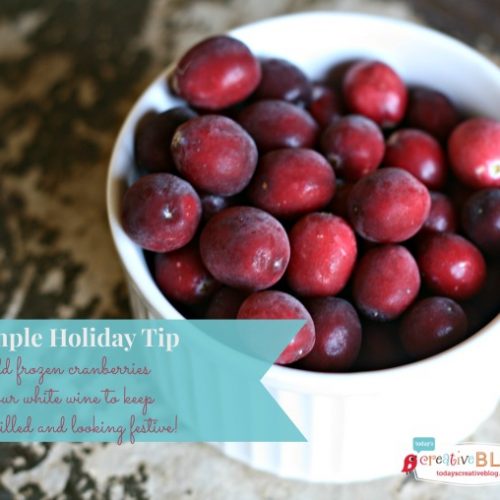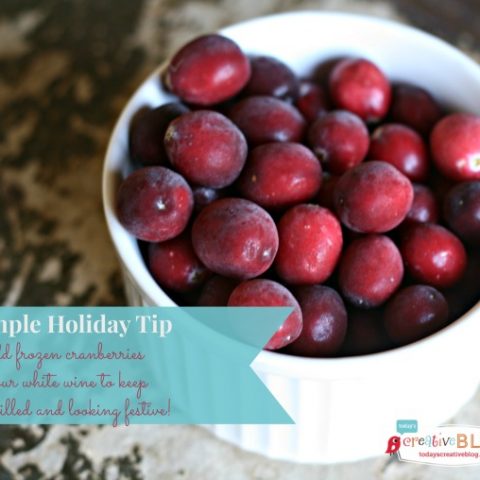 Winter Sangria Recipe
Ingredients
2 bottles Merlot
1/2 t – cinnamon, nutmeg, ground cloves, 3 cinnamon sticks
Orange slices
Instructions
Mix and pour into pitcher to chill over night.
Before serving: Add 2 liters Ginger-ale and lots of ice.
I served mine in a large glass drink dispenser and it looks really pretty! I added extra orange slices for looks.
Last Bottle is a daily purveyor of fine wines. We are located in the Napa Valley and run by a group of devastatingly handsome Napkins that have been in the wine industry for too long (say our doctors, the nits). We aren't spies, don't sell 18 different Lots, and will never have a woot-off. What we are is pretty well connected to wineries, brokers and distributors that we have spent decades building trust with. We're also damn fine tasters, if we do say so, having done it professionally most of our adult lives. We're wine drinkers, collectors, and part of the global wine trade. We treat people like we expect to be treated. Mostly, we are totally stoked to bring you incredible juice at the best prices we can possibly obtain, every day.
Food and Wine lists Last Bottle as Top 10 online wine shops
This post is sponsored by Last Bottle Wines in conjunction with Markerly.com – Any opinions shared come from my pretty little head.