Have you been following along on my Yellowstone Family Trip? Part one, part two & part three.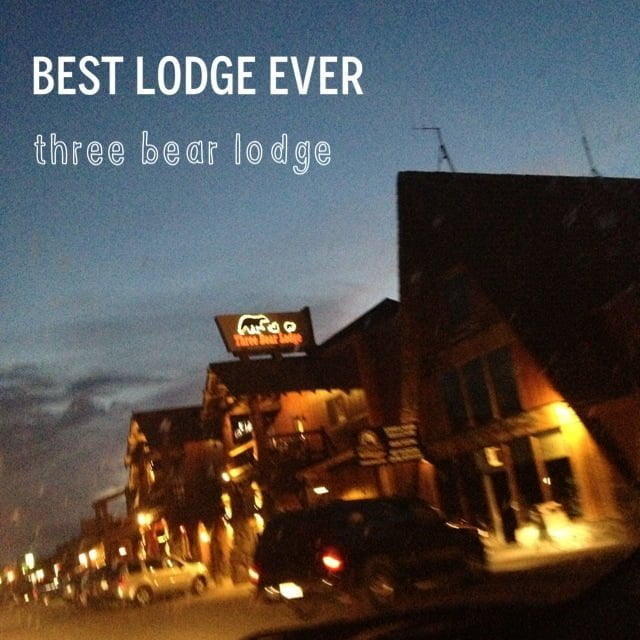 I have wanted to go to Yellowstone since I was a little girl. Hearing all the stories, watching shows like the Brady Bunch placed Yellowstone on my bucket list. I'm working along with Three Bear Lodge to bring you a few highlights of my time spent in Yellowstone. We have one more day and let me tell you WE ARE EXHAUSTED! Having a comfortable room to come back too has been a must! Having easy access to restaurants with 5 teens is a must! Three Bear Lodge in West Yellowstone has delivered both. As mentioned, it's the cutest and easiest town ever. The hotel is located on the cutest street with lots of fun shops.
My husband is the kind of "tour guide" that has everything planned so we see as much as we can.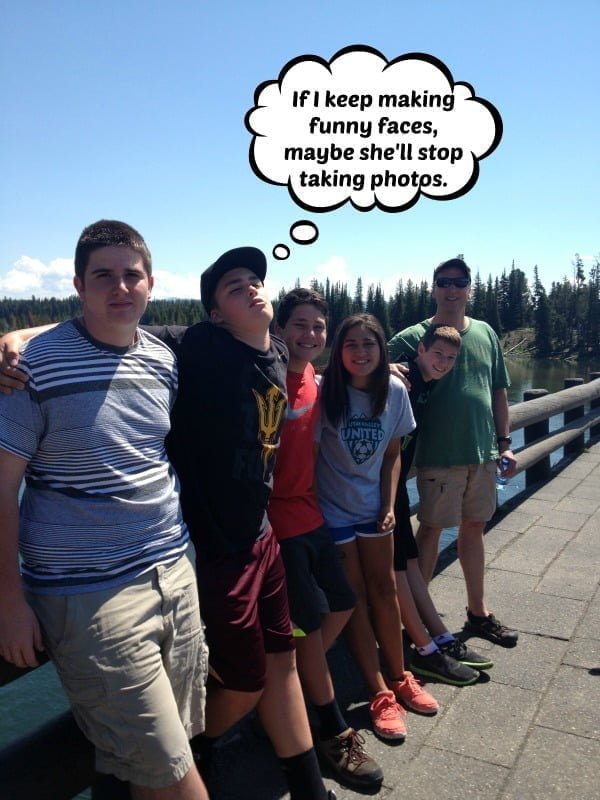 I swear we have roamed every square inch of this park and even visited a couple of locations twice. Traveling with my sisters family as well as my son's best friend brings it to 5 teens and 3 adults…….we are outnumbered. They have been great……the key is to keep them busy and tired. It's not easy wearing out 5 teens, but I think we managed.
Yesterday we went through all the little lodge towns. Mammoth, Roosevelt etc… We stopped at Yellowstone's Grand Canyon……I wish I would thought to take a photo of the falls there. The water at Yellowstone is so green or blue…..I swear someone has placed food coloring in it.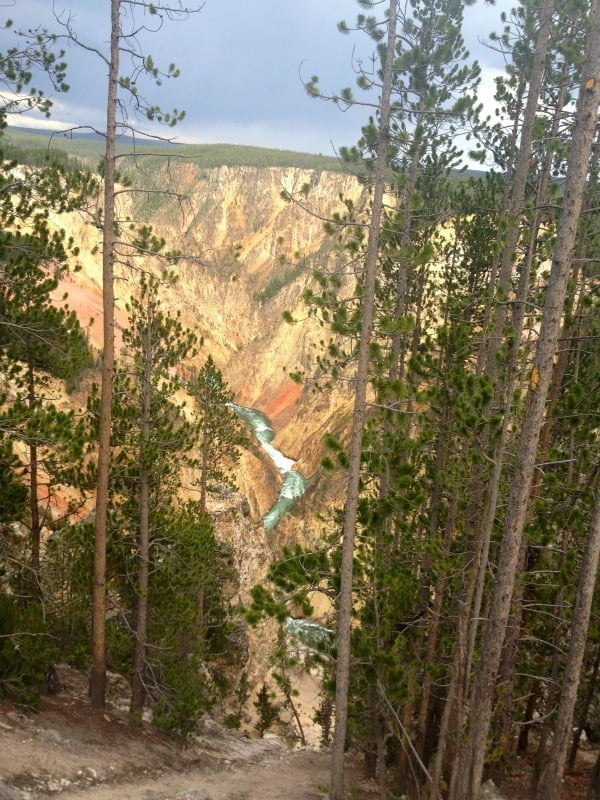 I took all my photos with my iphone and didn't edit these at all. It really IS that color!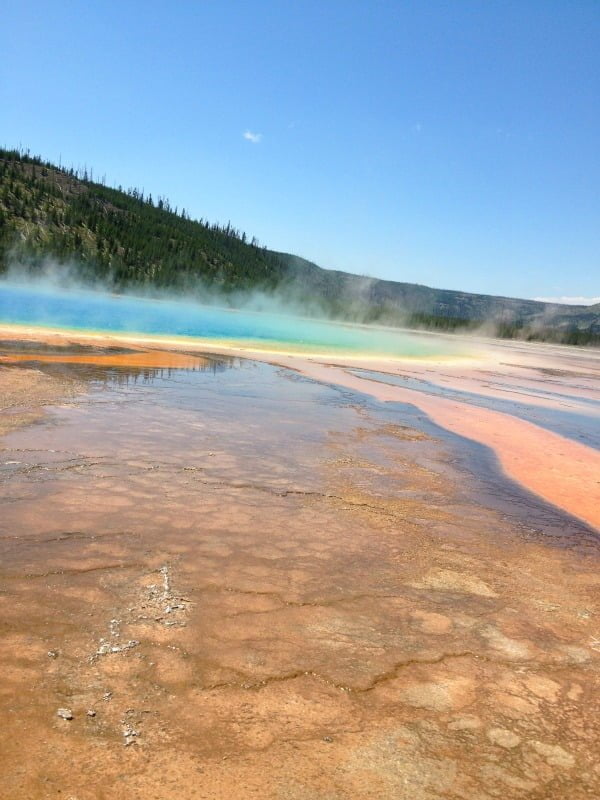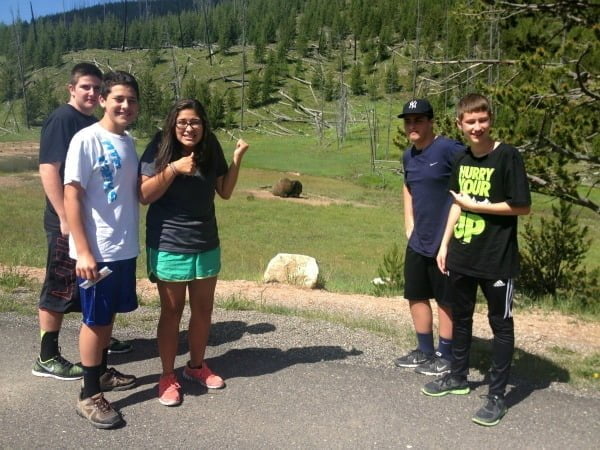 We saw SO many bison that the kids barely looked up when we would yell out "BISON". I think the most exciting was our first day when one walked up to the boardwalk we were on. I took a video too. This guy was just roaming down the road…with not a care in the world.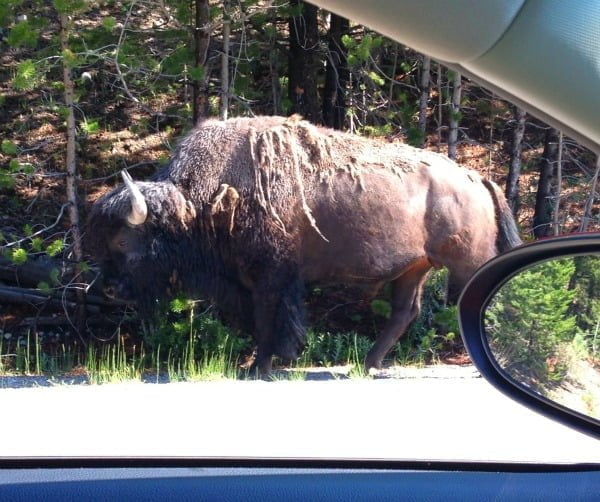 We did see 2 bear……hopefully we'll see more tomorrow on our way to the Grand Tetons. Elk…..oh my heavens. TONS of Elk.
If you're heading to Yellowstone, here's my advice.
Wear comfortable shoes – no heels or flip flops. (yes, I saw both…… a lot)
Bring a lot of snacks, pack lunches, sunscreen and water into the park.
Wear layers. The weather can change in a red hot minute.
Binoculars.
Have a plan. Don't do to much in one day……..like we did yesterday. Stop into the Ranger's station and chat with the rangers. They'll give you tips on the best things to hit.
Stay at the Three Bear Lodge because it's comfy!
I'm off to the Grand Tetons early in the morning. You can follow me on Instagram under #3bearlodge or #kiareview