The Drinkworks® Home Bar by Keurig® brings a selection of bar quality cocktails, brews and more with a push of a button. I am excited to partner with Drinkworks Home Bar and share how we plan on keeping our celebrations close to home this year.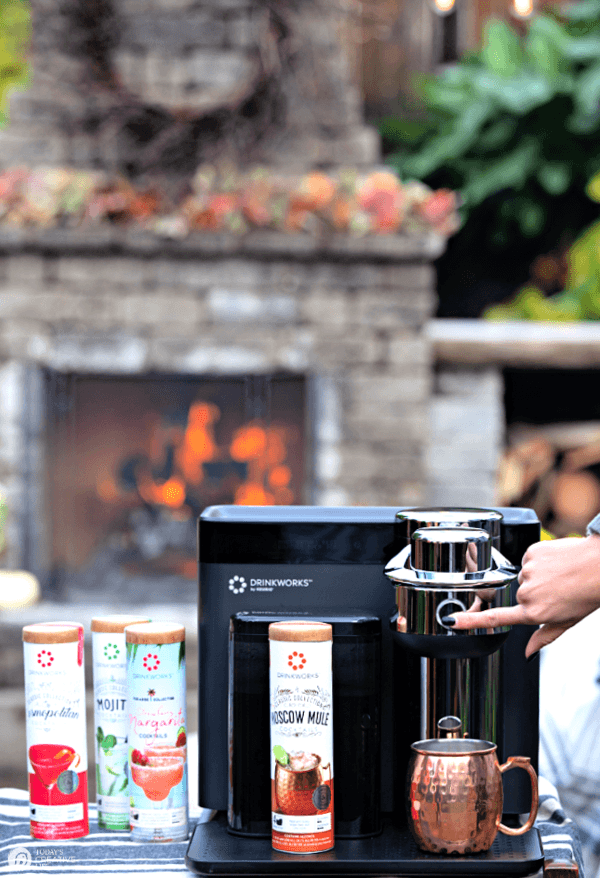 Drinkworks Home Bar
Press. Play. Holiday!
I'm sure we can all agree that 2020 has been a long year full of unique challenges, so treating ourselves this holiday season seems fitting.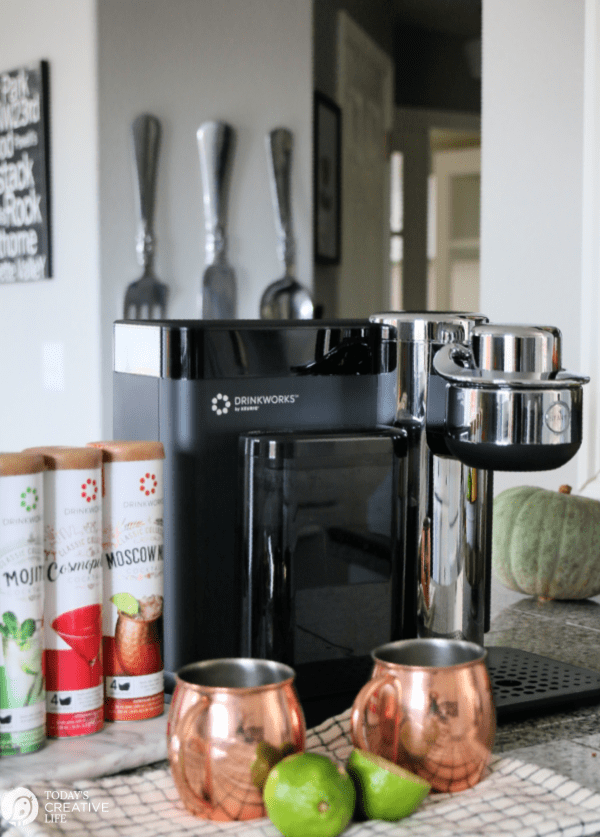 Our holiday celebrations will look a bit different this year, but that doesn't mean they'll be less meaningful. We're excited to add the Drinkworks Home Bar to our holiday so we can still offer a wide variety of cocktails to our small gatherings without stocking a full bar.
What is a Drinkworks Home Bar?
This Drink maker is an affordable small cocktail appliance that allows you to enjoy quick and easy bar quality crafted cocktails. It uses liquid-filled cocktail pods that have real ingredients, natural flavors, and already have the alcohol included. You simply Insert a cocktail Drinkworks Pod into the basket and follow the prompts on the display that will light up. Within 30-60 seconds, you'll have a perfectly mixed cocktail, ready to enjoy.
Choose your drink and insert the drink pod.
Push the start button and look for display prompts above the Drinkworks logo.
Make sure you have a glass or mug ready to be filled with your drink of choice.
And it's that simple! No mixing, no mess, no extra ingredients. Enjoy!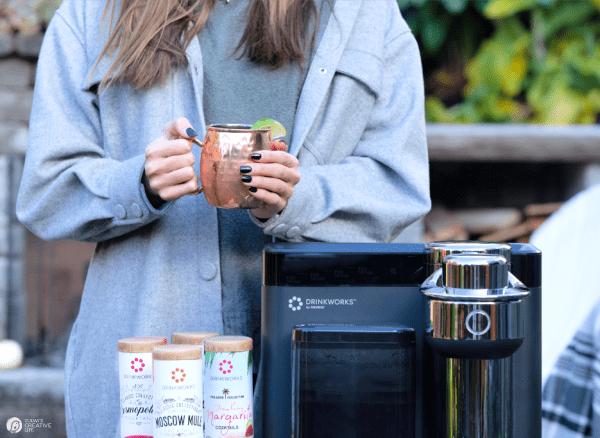 I found setting up the machine was easy with the step by step instructions included. They also have an app that will walk you through. It comes with a water filter and Co2 canister that were also very simple to install. You'll want to set up your Drinkworks at least 30 min before using so your cocktails are cool and refreshing.
It's a sturdy machine that can be used in different settings when needed.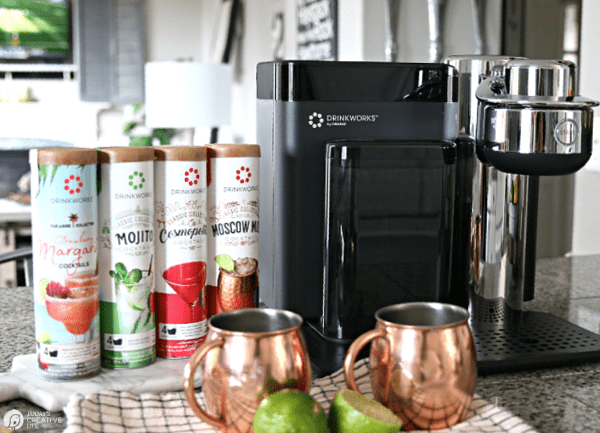 We used it first in the kitchen while watching football in the family room and then later set it up near our outdoor fireplace for visiting with friends.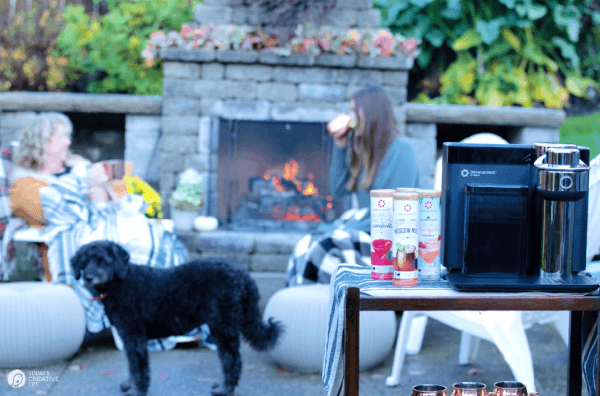 This summer we plan on taking it to our lake property. No more buying expensive mixers and alcohol. The Drinkworks Home Bar will be much easier, more efficient, saving money and cabinet space.
Do I Add Alcohol to Drinkworks?
No, you will not need additional alcohol. That's the beauty of this brilliant cocktail machine. Each drink pod has all-natural ingredients, including alcohol for the perfected crafted cocktail. All you need to do is add ice.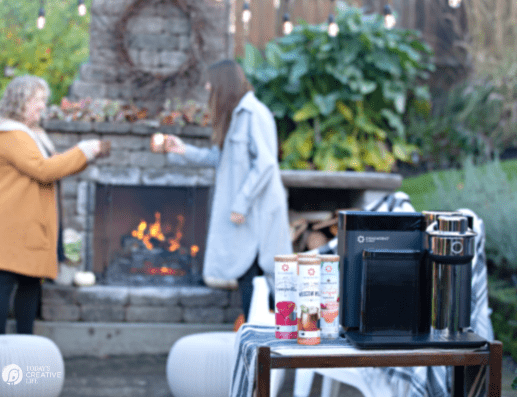 What Flavors do Drinkworks Home Bar Cocktail Pods Come In?
I was sent 4 flavors to try, and I was shocked by the variety they carry. Way more than I imagined!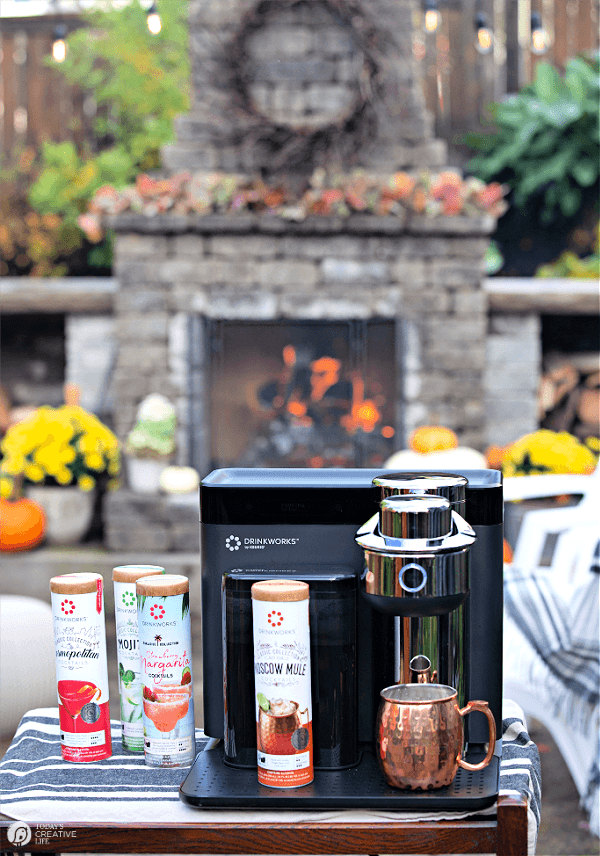 Not only do they have all-natural ingredients, but they also have over 20 varieties. I can't wait to stock up. It will be so fun to offer such a wide variety of cocktails when company comes.

Mojito – We love Mojito's in this house, so I was excited to see if the Drinkworks Mojito was a good as mine. It put mine to shame! The perfect amount of sweetness, fizz and mint! It was so good!
Moscow Mule – This is what I made for our fireside visit with friends. It did not disappoint.
Old Fashioned
Cosmopolitan
White Russian – I'm eager to try this one since it's another one of my favorite holiday cocktails.
Whiskey Sour
Long Island Iced Tea
Paradise Margarita
Mai Tai
Strawberry Margarita
Whiskey Cola – This will come in handy when my Mother-in-law visits. I won't have to worry about having cola or whiskey around, which we rarely do.
Vodka Lemonade – This will be a perfect summer drink at the lake!
Vodka Soda with Lime
Gin and Tonic
Red Sangria – We LOVE sangria. This will be another perfect choice for the lake. I won't have to worry about taking all the ingredients with us.
Lemon Bubbly – This just sounds like summer!
Peach Sangria
Rose Spritzer
I couldn't believe they also had a brew pod!
Stella Artois Cidre
How Strong are Drinkworks Drink Pods?
Each cocktail will vary just as it would at your favorite bar. Alcohol content for each pod can be found on the packaging and their website.
The strength of each drink varies but is similar to that of the drinks you enjoy at your favorite bar. You can find the alcohol content of each Pod on our website as well as on the packaging.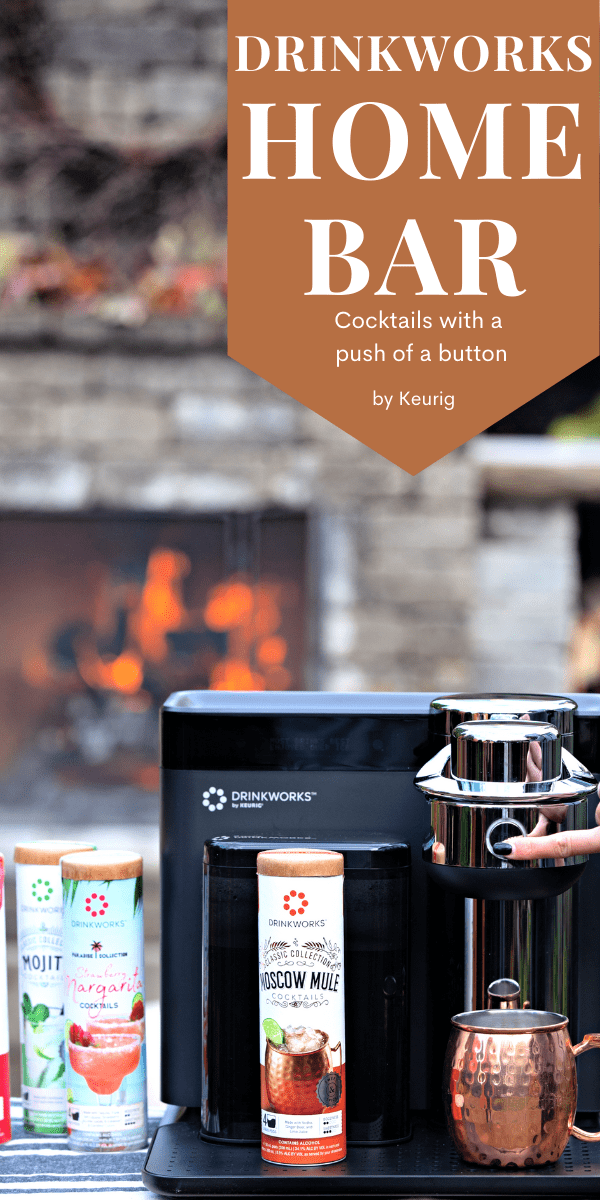 Visit Drinkworks.com to learn more about how the Drinkworks Home Bar by Keurig will fit into your holidays and be sure to try the seasonal Fireside Collection pods (variety includes Ginger Snap White Russian, Pomegranate Elderflower Spritzer, Spiced Punch, & Winter Mule).
This post was sponsored and in partnership with Drinkworks Home Bar by Keurig. I was sent a Drinkworks machine and compensated for my time, however, my opinions and ideas shared are 100% mine.