Making your home smell like the holidays is simple with homemade simmering stovetop potpourri. Mix together the scent of Christmas with pine, cedar, oranges, cranberries, and spices. Simmering potpourri also makes a great homemade gift idea with my free printable instruction gift tags.
Homemade Simmering Stovetop Potpourri
You don't need fancy candles, diffusers, or store-bought potpourri to make your home smell like the holidays. All you need is a large pot full of water, some fruit, spices and herbs or greenery. It's easy to create your own custom mix for any time of year. I also have other household hacks on how to deodorize your home.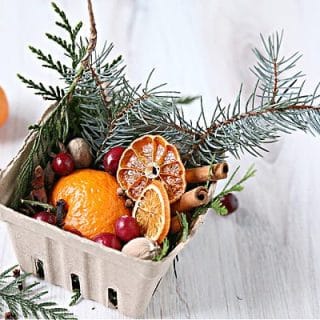 Christmas Stovetop Potpourri
Yield: 1
Prep Time: 10 minutes
Active Time: 10 minutes
Total Time: 20 minutes
Difficulty: Easy
Estimated Cost: $10
Make your home smell like Christmas with homemade simmering potpourri.
Materials
Greens - cedar, pine or fir clippings
1 orange or tangerine
Dried Orange slices - optional. These are more for looks.
Cranberries
Cinnamon Sticks - about 3 or 4
Star Anise Seed
Nutmeg
Cloves
Whole Allspice
Carton, Jar or Cotton gift bag
Instructions
Gather your items and place them into a large pot filled with water. Turn the burner on low and allow to simmer.
Check your simmering potpourri often to add more water when needed.
Discard each day.
Notes
Create seasonal scents with different ingredients.
Printable gift tag with instructions found on Today's Creative Life for a quick DIY gift idea.
Recommended Products
As an Amazon Associate and member of other affiliate programs, I earn from qualifying purchases.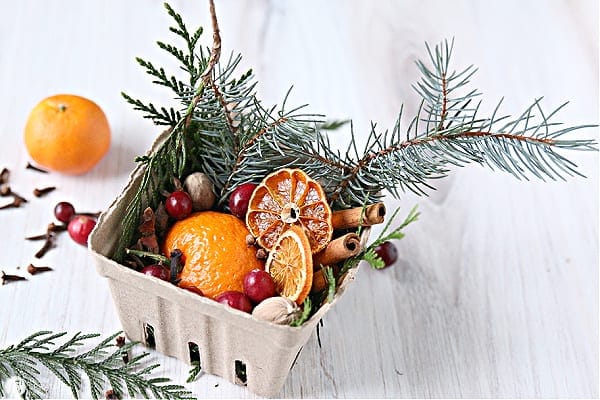 Homemade Potpourri for Christmas
Pine, Cedar, Fir greenery
Fruits: Oranges, cranberry, apple, pomegranate
Whole Spices: Allspice, Cloves, Star Anise, Nutmeg, Cinnamon Sticks
Dried Orange Slices

If you're giving as a gift, gather a few of each ingredient and place them in a jar, a cotton gift bag, or a berry carton.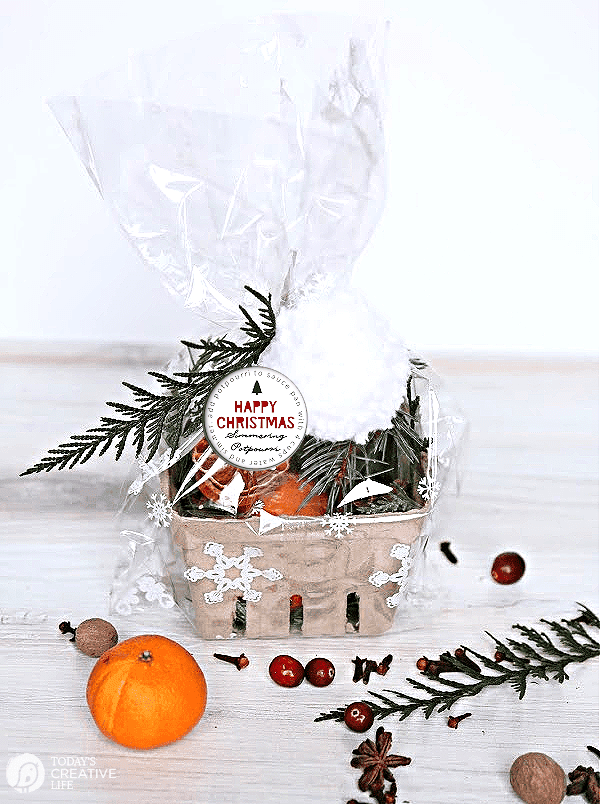 Wrap it up, add one of my printable instruction gift tags and you've got a quick and thoughtful holiday gift idea.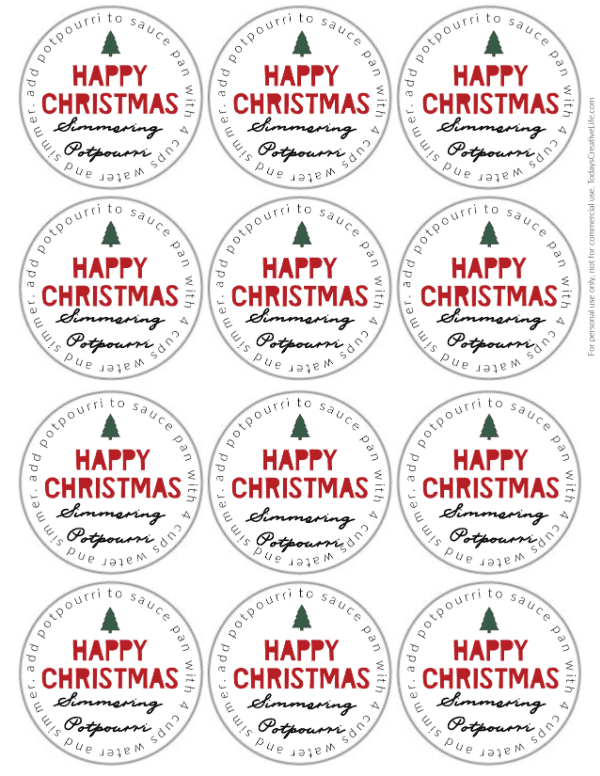 You can find all the free printables in the Printable Vault. Subscribers have free access. Subscribe here.
Simmering Potpourri for Fall
Sliced Apples
Cinnamon Sticks
Cloves
Stovetop Potpourri for Spring
Sliced Lemons, Oranges & Limes
Herbs: Mint, Thyme, Pineapple Sage
Simmering Potpourri for Summer
Sliced Lime & Lemons
Herbs: Basil, Rosemary
Lavender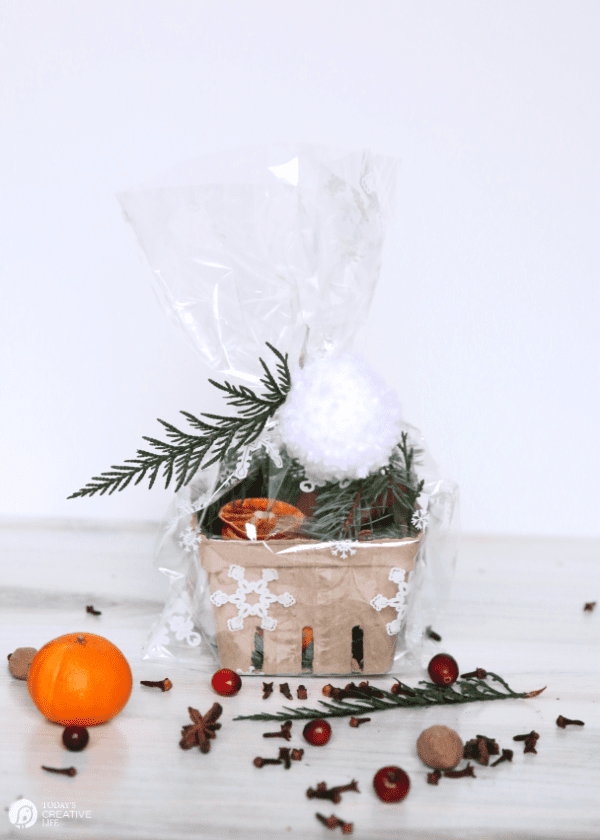 How Long Does Stovetop Potpourri Last?
Before you simmer, all the ingredients that aren't fresh will last over a year if stored in an airtight container. Once you start to simmer, I only simmer for one day. It doesn't take a lot to give your home that holiday scent.
How to Use Simmering Stovetop Potpourri?
Grab a large saucepan and fill 3/4 of the way with water. Add your potpourri ingredients to the water and set your burner on low or simmer. Do not cover. As it simmers, you'll see steam faintly rise from the pot. Check on your water levels every half hour or so, depending on the size of your pot. Don't let the water get too low.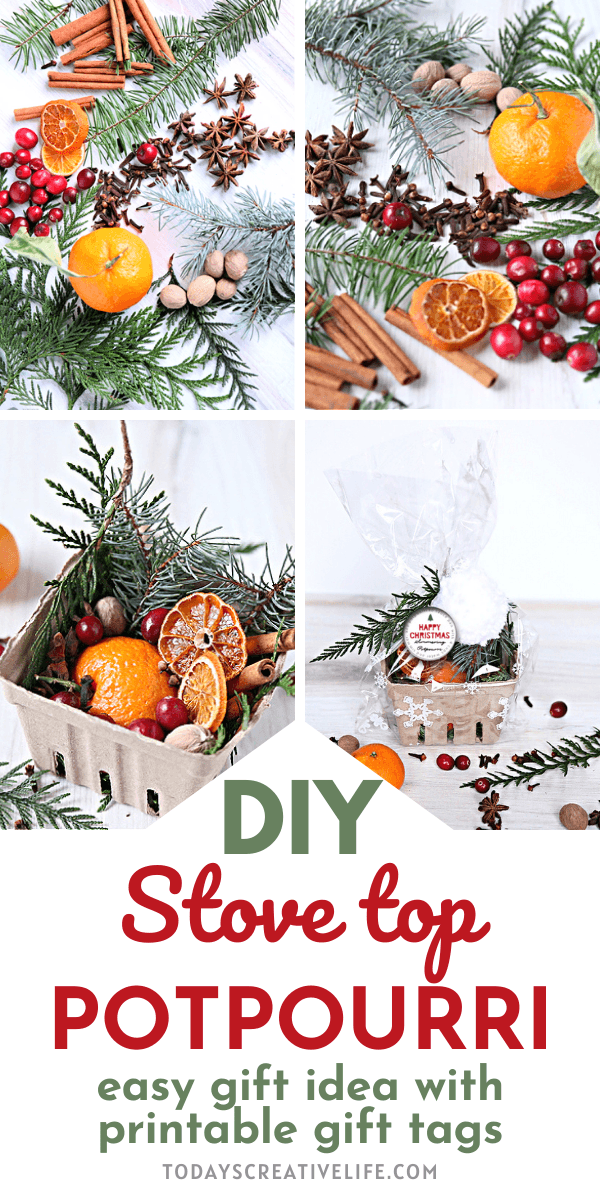 Holiday Gifts from the Kitchen
Simple and easy homemade edible holiday gift ideas!
Who doesn't love cookies?
Another great gift idea you can make.
This is a delicious homemade gift.
Eat as is, or drop them in a mug of hot cocoa.
The secret ingredient makes this homemade gift even better!
Simple, easy and they are beautiful!
Photo Credit: www.texanerin.com
These make great party favors too!