Dad's Peanut Butter Fudge Recipe is a holiday tradition going back to my childhood. Creamy rich peanut butter taste that melts in your mouth made with marshmallow cream and no sweetened condensed milk.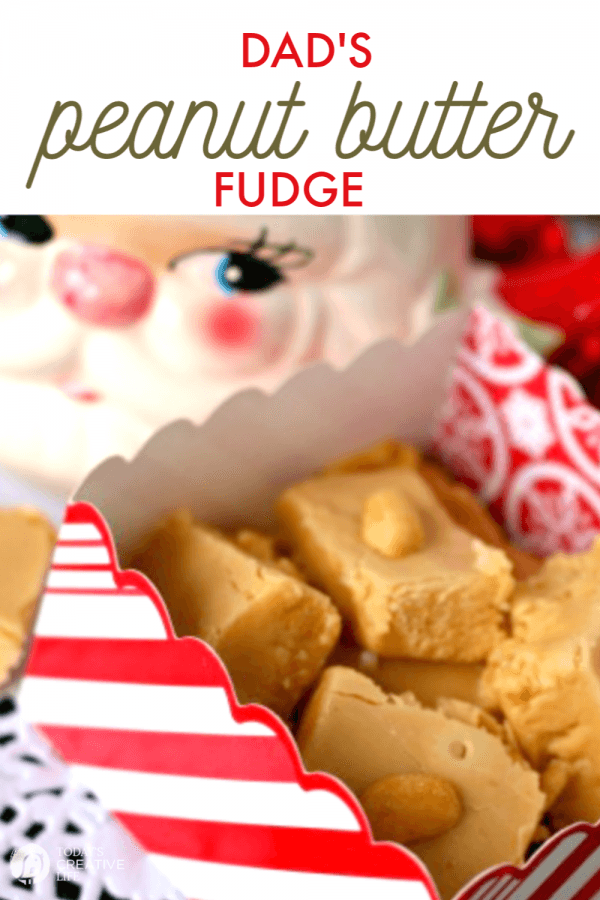 I spent Saturday with my dad making his famous Peanut Butter fudge recipe……..he passed away 11 years ago. He knew the recipe by heart and would never use a candy thermometer. Making peanut butter fudge every year for the holidays is my way of spending time remembering him.
He used to pour it onto a plate instead of a baking pan to set. He liked thin pieces, not your typical chunky pieces of fudge. So I make it thin, just like him. He liked using chunky peanut butter, but I can't do everything like him, …….. I like using smooth and add peanuts. I'm stubborn, just like my dad.
Peanut Butter Fudge Recipe
This fudge has the right amount of sweetness…….not too much. I'm warning you…….it won't last. It's SO so yummy!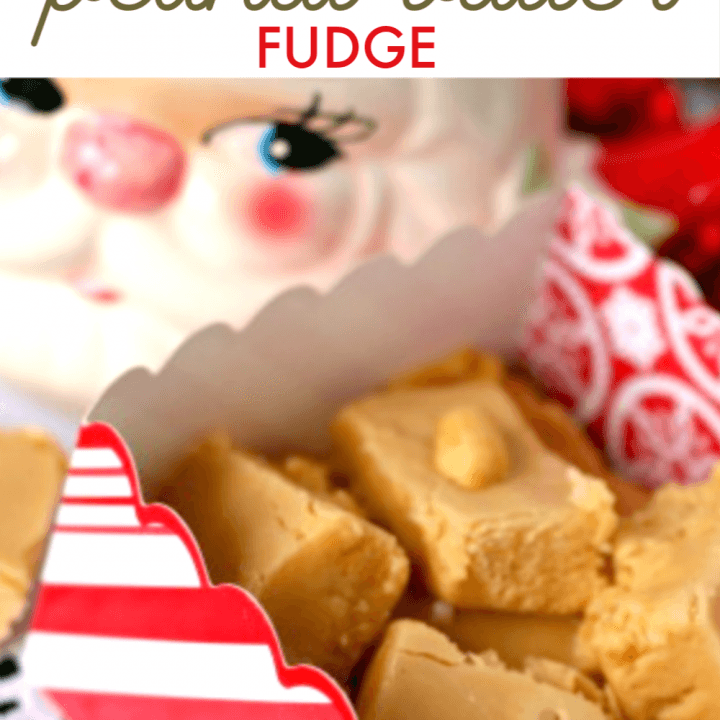 Peanut Butter Fudge Recipe
Yield: 24
Prep Time: 5 minutes
Cook Time: 20 minutes
Additional Time: 1 hour
Total Time: 1 hour 25 minutes
Creamy and rich peanut butter fudge made without sweetened condensed milk.
Ingredients
3 cups sugar
3/4 cup butter
3/4 cup evaporated milk
4 heaping tablespoons peanut butter (smooth or chunky)
7 ounce jar marshmallow cream
1 cup chopped peanuts (optional)
1 teaspoon vanilla
Instructions
Combine sugar, butter and milk in medium saucepan.
Bring to a rolling boil, constantly stirring.
Continue to boil for about 5 minutes until it reaches 235-245 degrees, stir constantly.
Remove from heat and add peanut butter. Stir until melted
Add marshmallow cream (my dad used to also just use about a half a bag of large marshmallows)
Add nuts and vanilla
Stir until blended.
Pour into a buttered 9x9 dish, or any dish you'd like to use. He would use about 3 or 4 dinner size plates.
enjoy!
Looking for quick and easy gifts (with matching printable tags) you can make for your neighbors, or family. I've got a few. Also, don't forget to make up some
Magic Reindeer Food
to sprinkle on your lawn Christmas Eve.