Payday Candy Bars have been one of my favorite treats since I was a child. My Easy to Make Payday Peanut Squares reminded me of them, so that's what I named them! You can finally say you've found a Payday Candy Bar Recipe to make at home. These No-Bake Copycat Payday Candy Bar squares are easy to make with honey roasted peanuts, sweetened condensed milk, and more. They also remind me a little of my homemade peanut butter fudge, a wonderful tradition started by my dad.
Payday Peanut Squares Recipe
This payday peanut squares recipe is a great holiday treat and is all made on the stovetop. These would make great neighbor gifts. Just put them in a paper candy box with one of my printable Christmas tags and you're set! Creamy smooth with a crunch is delicious any time of year though.
Candy Boxes – Here is my affiliate link for a variety that has great prices when you buy more than 10 at a time.
I have used honey-roasted peanuts before, but this time I chose just roasted or blistered peanuts because they were right in front of me and I couldn't find the honey roasted. That's how I roll sometimes.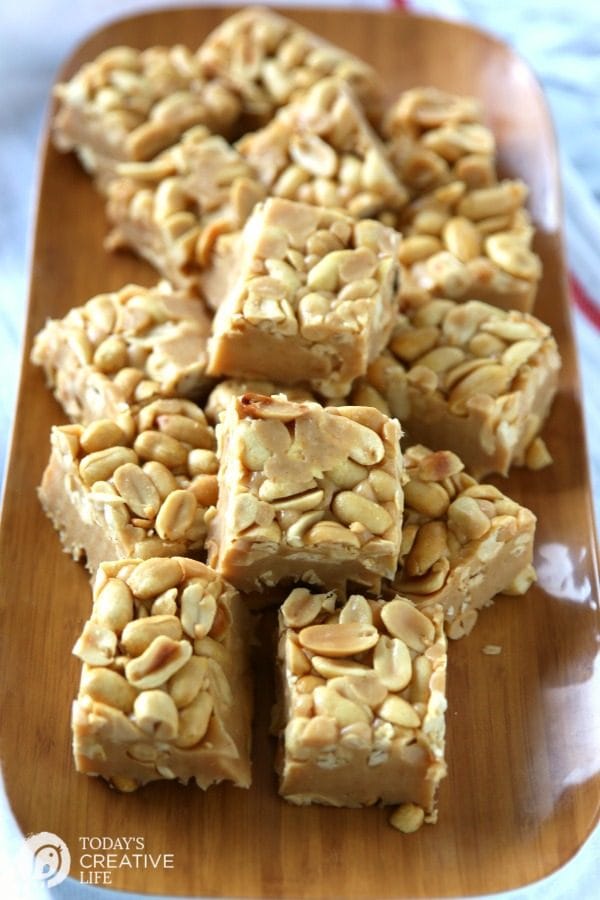 How to Make Copy Cat Payday Peanut Squares
Gather everything you'll need for making your own payday candy bars.
Ingredients:
Honey roasted peanuts or regular.
Sweetened condensed milk
Peanut Butter
Peanut Butter chips
Mini Marshmallows
Butter
Supplies:
Medium saucepan for melting
13 x 9 in baking pan
Parchment Paper
Rubber spatula
I've made this both ways, with honey-roasted peanuts and regular or blistered peanuts. I tend to like using blistered better to bring out the sweet-salty flavor combo. Although I've never tried it, you can also make this with other nuts if you'd like.
When melting some of the ingredients, make sure it's melted and heated completely through. If you don't cook it long enough, it could result in the recipe not setting properly.
This candy recipe can be cut right from the baking pan or inverted and flipped, then cut into squares. It's completely up to you.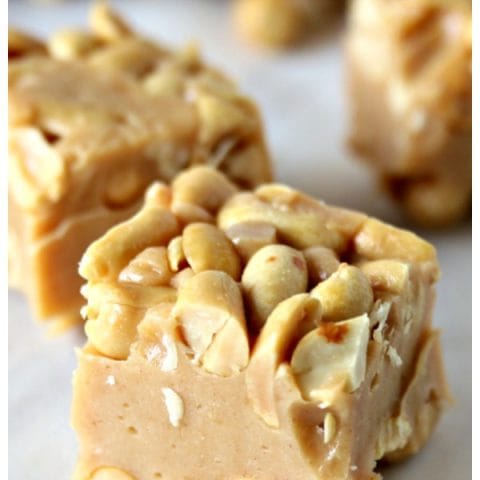 Payday Candy Bar Recipe
Yield: 4 doz
Prep Time: 1 hour
Cook Time: 20 minutes
Total Time: 1 hour 20 minutes
These No-Bake Copycat Payday Candy Bar squares are easy to make with honey roasted peanuts, sweetened condensed milk, and more.
Ingredients
4 cups roasted or honey roasted peanuts
1 can sweetened condensed milk (14oz)
1 package mini marshmallows (10-12oz )
1 package peanut butter chips (10oz)
1/2 cup peanut butter
1/2 cup butter
Instructions
Line a 13 x 9 inch baking dish foil.
Coat foil with cooking spray.
Sprinkle 2 cups of the peanuts on the bottom of the pan.
In a medium to large saucepan, combine sweetened condensed milk, marshmallows, peanut butter chips, butter and peanut butter.
Cook over medium heat until melted and smooth. Stir often to avoid scorching the bottom of the pan.
Pour into your prepared dish over the peanuts.
Spread evenly.
Sprinkle the remaining peanuts over the smooth mixture and press down. I used parchment paper between my hands and the peanuts.
Cover and place in the refrigerator for at least an hour.
Lift foil out of the pan. Sometimes I flip it over onto parchment paper, then remove the foil.
Cut into squares.
Store in an airtight container.
Notes
Some readers have reported the recipe not hardening up as much as it should. I've never had this issue, but they may have needed to heat longer before pouring.
Recommended Products
As an Amazon Associate and member of other affiliate programs, I earn from qualifying purchases.
Nutrition Information
Yield 24
Serving Size 1
Amount Per Serving
Calories 212
Total Fat 18g
Saturated Fat 5g
Trans Fat 0g
Unsaturated Fat 12g
Cholesterol 11mg
Sodium 128mg
Carbohydrates 9g
Fiber 2g
Sugar 5g
Protein 7g
We do our best to calculate, however, nutrition information may not be accurate.
Can You Freeze Peanut Butter Squares?
Cut into the squares and freeze in an airtight container for up to 6 months. Thaw completely before eating.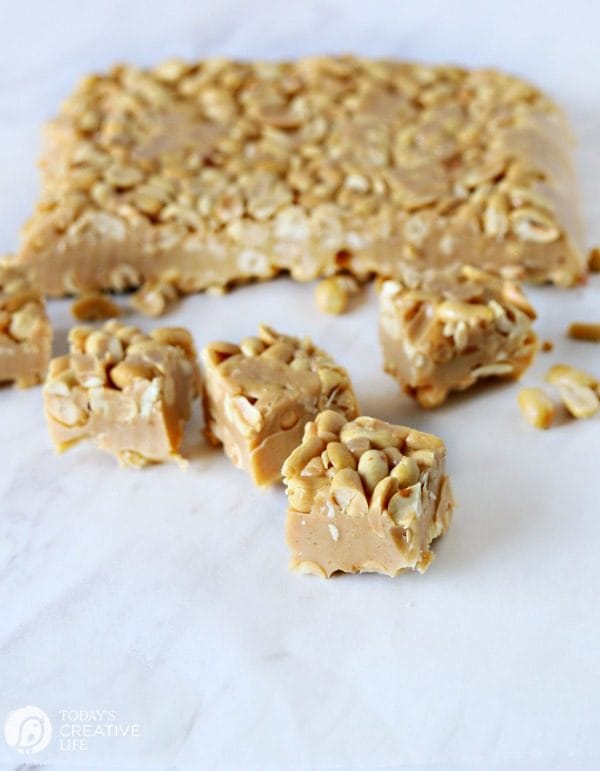 Believe it or not, I'll choose a peanut butter treat over chocolate any day! I'm going to try these no-bake peanut butter bars next!
How to Store Copycat Peanut Butter Squares?
If you're just storing for personal use, you can just place aluminum foil or plastic wrap over the pan. You can also wrap each square in wax paper, which makes it easy for gift giving.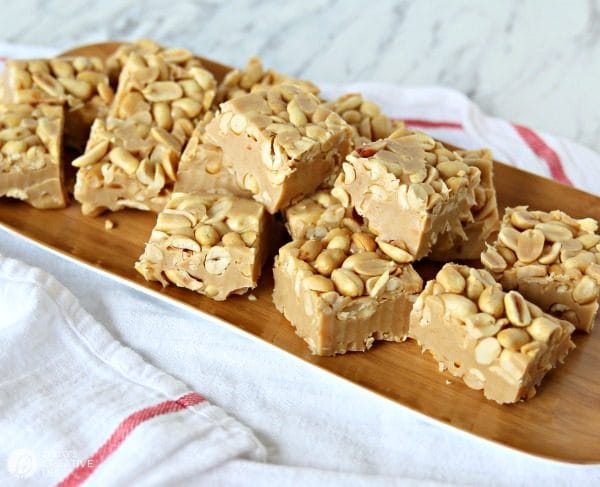 Recipe Substitutions for Payday Peanut Squares
You've definitely got some wiggle room with some of the ingredients of this payday candy bar recipe.
Peanut Butter Chips – These are found next to the chocolate chips in the market, but if you can't find them, try using butterscotch. I've never used chocolate chips, but I bet they'd be delicious.
Peanuts – I like using salted, dry roasted or honey roasted. They're all great.
Marshmallows – You can use marshmallow cream or large marshmallows as long as the amounts work out to be the same.
Recipes Using Peanut Butter
Peanut Butter is a family favorite. I using it in a variety of recipes.
This quick bread recipe using peanut butter and butterscotch chips is great toasted or just smeared with butter.
Creamy and rich peanut butter fudge made without sweetened condensed milk.
These easy blondies feature chewy peanut butter chocolate chip blondies topped with a classic chocolate fudge frosting. These blondies pair the indulgent combination of peanut butter and chocolate and are an easy, homemade recipe.
Crispy on the edges, chewy in the middle make these peanut butter cookies the perfect recipe.
The combination of chocolate and peanut butter is a classic.
Whip up a batch of peanut butter whipped cream for your next cup of hot cocoa.
The perfect combo of peanut butter and bananas for delicious snack bars.
Using cake mix as your base for the most perfect peanut butter brownies.
This recipe for No-Bake Peanut Butter Cereal Bars will be your favorite to make when you need something quick and tasty! 
This recipe combines two favorite flavors for the most delicious cake ever!
The best cake mix hack you'll ever make!
Every bite of these chocolate peanut butter cookies is delicous!