Digging through my recipes I found this crumpled up, well-used recipe for Chocolate Peanut Butter Sheet Cake that I hadn't made in a very long time! It's one of my favorite sheet cake recipes! Made from scratch with sour cream and peanut butter frosting makes this cake so rich and delicious!
My son prefers a homemade vanilla cake, so maybe that's why this recipe was tucked away. Now that he's away at college…. this momma's making some chocolate cake!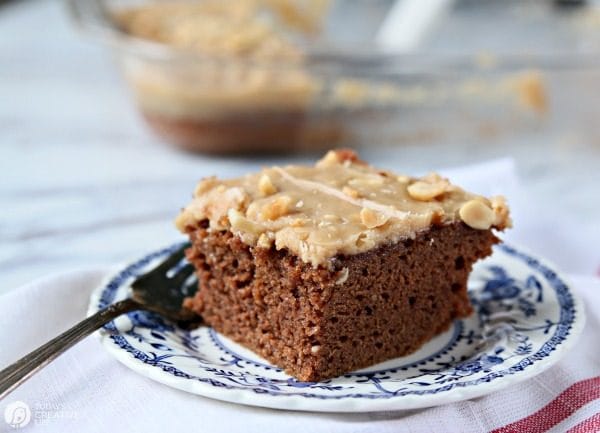 Chocolate Peanut Butter Sheet Cake
I think this recipe originally came from Taste of Home. I love their magazine. It's one of my must-have subscriptions. (here's an affiliate link for a year subscription for only $6.95) The recipes are easy and always delicious.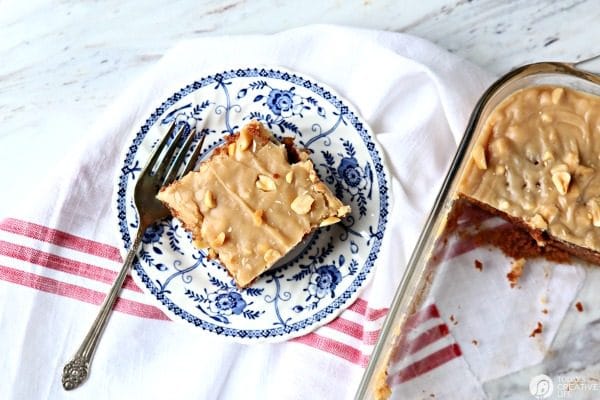 Truth be told, I rarely make a layered cake. Sheet cakes, like my Chocolate Mayonnaise Cake, are just so much easier. The risk factor of it not turning out is gone! I'll use a bundt pan and make a bundt cake like this chocolate peanut butter chip cake if I want to get fancy!
Making a Cake from Scratch
I love using a cake mix and see no shame in doing so. In fact, I love using cake mixes for cookie and muffin recipes too!
Read your Recipe
When making a cake from scratch, read your recipe carefully before getting started. I know that sounds like a no brainer, but I have messed up so many recipes because I just skim over the recipe and directions.
Gather What You Need
I always gather all my ingredients onto the counter, making sure I have everything needed. I also grab all my measuring spoons and cups to have them handy. I find that when baking from scratch, following the recipe is even more important. Some recipes want the eggs separated, or whisked before adding. This recipe has you heating up a few ingredients which is different than many other cake recipes.
Follow the Recipe
Be prepared and ready for each step and if you're making this chocolate peanut butter sheet cake, you'll be rewarded with a delicious treat.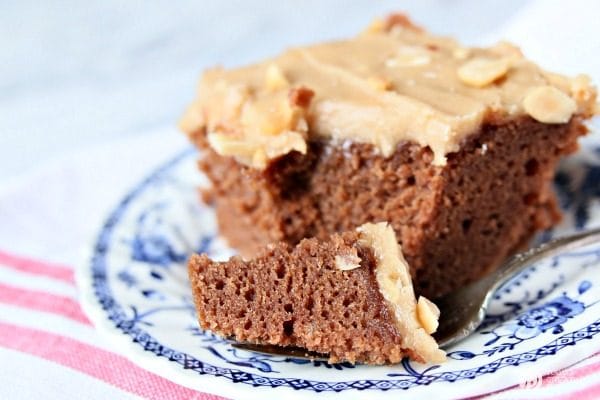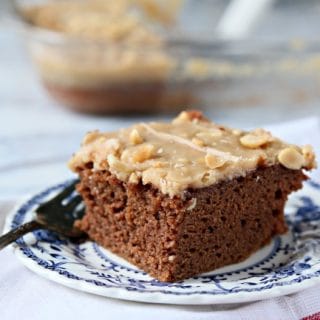 Chocolate Peanut Butter Sheet Cake
Yield: 12
Prep Time: 20 minutes
Cook Time: 25 minutes
Total Time: 45 minutes
This recipe combines two favorite flavors for the most delicious cake ever!
Ingredients
2 cups flour
2 cups sugar
1 teaspoon baking soda
1/2 teaspoon salt
1 cup water
1/2 cup butter
1/2 cup creamy peanut butter
1/4 cup cocoa
3 eggs
1/2 cup sour cream
2 teaspoons vanilla
FROSTING
3 cups confectioners sugar (powdered sugar)
1/2 cup creamy peanut butter
1 cup 2% milk
1/2 teaspoon vanilla
1/2 cup chopped peanuts. (salted, unsalted or honey roasted)
Instructions
Preheat oven to 350°
Grease 13x9-in. baking pan or dish.
In a large bowl, combine flour, sugar, baking soda and salt and set aside.
In a small saucepan, add peanut butter, water, cocoa, and butter over medium heat to just to a boil. Stir occasionally.
Remove from the heat and add to the flour mixture and stir until moistened.
Whisk eggs, sour cream and vanilla in a small bowl until combined well.
Add to the flour mixture stirring until completely blended.
Pour into a prepared pan.
Bake 25-30min, or until a toothpick inserted comes out clean.
Prepare frosting while the cake is baking.
In a large bowl, combine powdered sugar, peanut butter, milk, vanilla and peanuts until smooth. I used my electric mixer.
When the cake is finished baking, remove from the oven and pour the frosting over immediately.
Option: Make a poke cake by poking the cake with the end of a wooden spoon before pouring the frosting.
Sprinkle a few more peanuts over the top.
Cool and enjoy.
Nutrition Information
Yield 12
Serving Size 1
Amount Per Serving
Calories 612
Total Fat 26g
Saturated Fat 9g
Trans Fat 0g
Unsaturated Fat 13g
Cholesterol 74mg
Sodium 420mg
Carbohydrates 88g
Fiber 3g
Sugar 65g
Protein 11g
We do our best to calculate, however, nutrition information may not be accurate.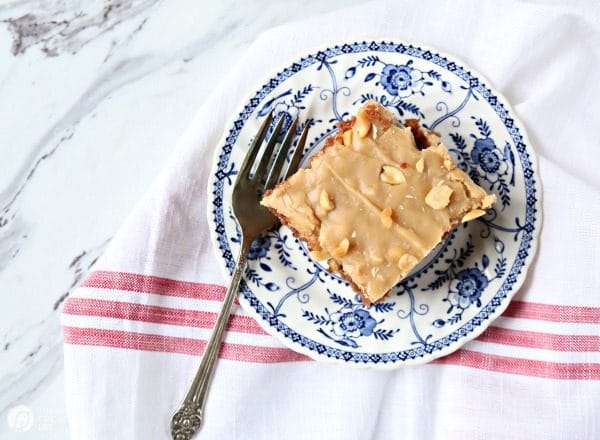 This Chocolate Peanut Butter Sheet Cake recipe is great all year long. Perfect for Sunday dinner, or even a birthday cake for the chocolate & PB lover. It's easy to transport for a potluck or BBQ, or just make it when you have a hankering for something sweet!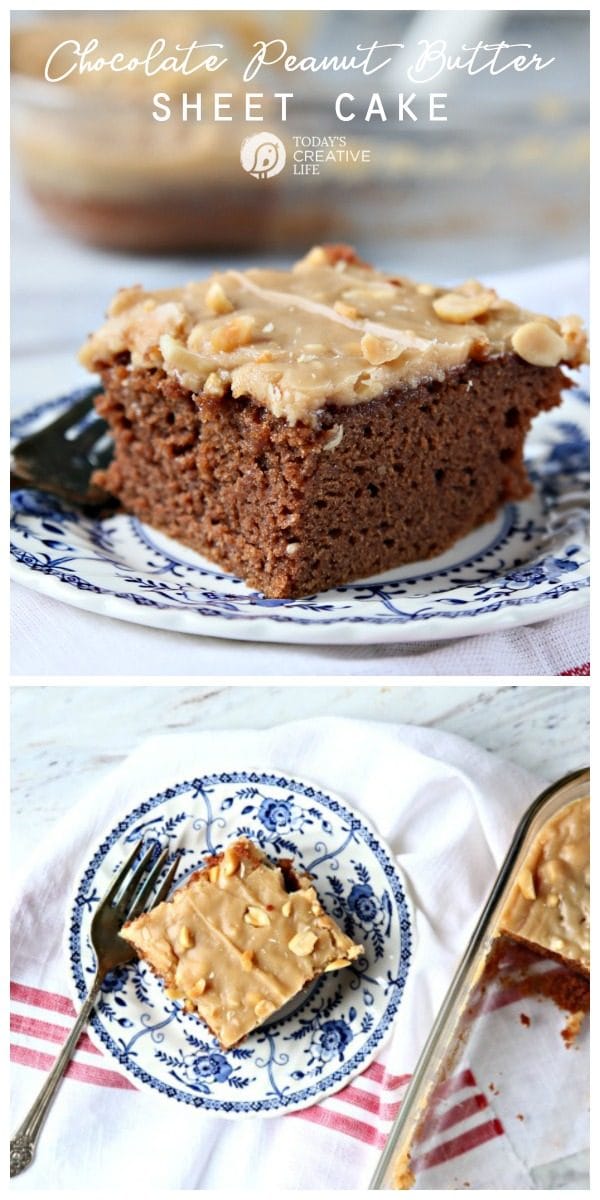 Follow along on Instagram | Pinterest | Facebook
Easy Dessert Recipes
Easy desserts for when the craving hits.
This is a seasonal favorite year after year.
Baked from scratch, this chocolate cake uses it's secret ingredient, Mayo for an extra moist with a rich chocolate taste.
Refreshing sweet lemon dessert recipes.
If you love a chocolate and peanut butter combination, then this is your dessert.
Cool & refreshing dessert great for spring and summer! Creamsicle in a pie!
Light and fresh, no bake dessert!
Photo Credit: tidymom.net
Easiest pie you'll ever make!
Photo Credit: ashleemarie.com
Pucker up! This amazing pie is bursting with flavor!