It's a holiday tradition in the TCL household to bake this most delicious Cream Cheese Spritz Cookie Recipe. I make mine with lemon zest or almond extract, lots of butter and of course cream cheese. They almost have a shortbread taste that makes them the most addicting Christmas cookie I make. Almost as addicting at my Dad's famous Peanut Butter Fudge.

Cream Cheese Spritz Cookie Recipe
Spritz cookies are a Christmas classic cookie recipe using my favorite ingredients, butter, and cream cheese! Using a cookie press with all the different plate templates is how you make all the different shapes.
I remember being mesmerized by the cookie press and its different shapes. I would study the packaging which showed each disc and what shape it would make. My favorite cookie press was an old metal one I found at a garage sale years ago and somehow, I must have misplaced it. So I bought a new one and I hate it. I'll be investing in a new one soon.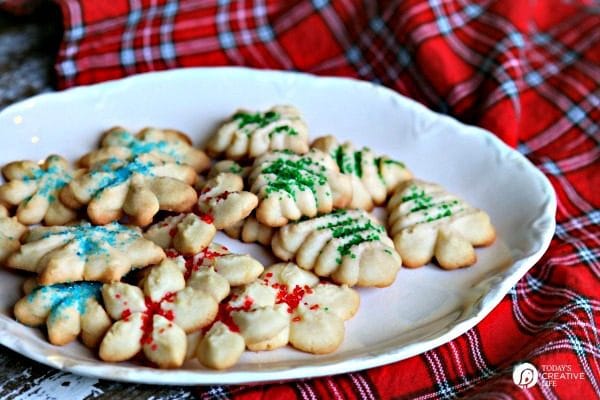 This year I made the tree shape with green sprinkles and two other shapes that look like snowflakes and poinsettias after I added the colored sugar crystals.
How to Make Cream Cheese Spritz Christmas Cookies
Supplies needed
Recipe Ingredients – listed below
Silicone Baking Mat – this is optional, but I never bake without them.
Cookie Press – This inexpensive Cuisinart one looks good. I like the ones with a hand squeezer, rather than a pump.
Green or Red Food coloring – optional
Following the recipe, one of my secrets is to really cream together the butter and cream cheese so it's really smooth.
After you've mixed up your cookie batter, this is when you need to decide if you want to make colored shapes, like green Christmas trees. If the answer is yes, then divide your batter and mix in the color desired.
Form cookie dough into log shapes and fill the cookie press. If the dough is too warm, you may have issues with it releasing from the press. This is when I place in the refrigerator for about 30 minutes.
Press cookies onto your cookie sheet.
I have found the most success by pressing and lifting directly up. The cookie should have stuck to the pan.
Before baking, sprinkle for color.

Can you make spritz cookies without a cookie press?
Yes! Drop Spritz Cookies are just as tasty. Although they are traditionally made using a cookie press, you can skip that step and just scoop by the spoonfuls directly onto your cookie sheet and bake accordingly.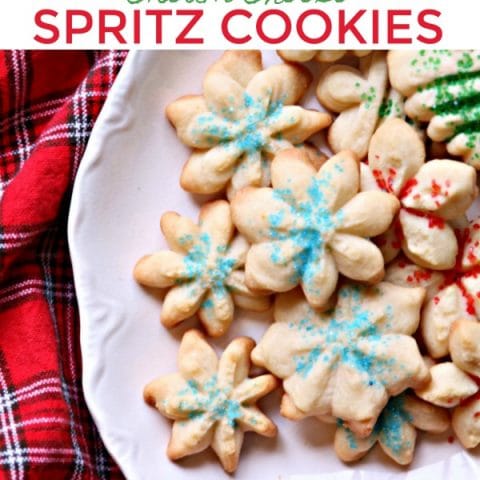 Cream Cheese Spritz Cookie Recipe
Yield: 4 doz
Prep Time: 10 minutes
Cook Time: 12 minutes
Total Time: 22 minutes
Cream Cheese Spritz Cookies are a holiday tradition. This classic Christmas cookie will melt in your mouth.
Ingredients
1 cup softened butter
1 (3oz) package softened cream cheese
1 cup sugar
1 egg yolk
1 teaspoon vanilla extract
1 teaspoon grated lemon zest
2 1/2 cups flour
1/2 teaspoon salt
Instructions
Preheat oven to 350 degrees.
Cream butter and cream cheese together. I use a mixer to get it as smooth as possible.
Add sugar, mixing until light and fluffy.
Add egg yolk, vanilla, and lemon peel and mix well.
Gradually add flour and salt to cream together.
Shape dough into small logs to place into cookie press.
Press onto an ungreased cookie sheet or line with a baking mat.
If you're having difficulty with the shapes, try chilling your dough for about 30 min before pressing.
Baking time is 12 min.
Notes
- If you want to make green trees or any other colored shapes, separate the dough and add food coloring before pressing.
Recommended Products
As an Amazon Associate and member of other affiliate programs, I earn from qualifying purchases.
Nutrition Information
Yield 48
Serving Size 1
Amount Per Serving
Calories 77
Total Fat 4g
Saturated Fat 3g
Trans Fat 0g
Unsaturated Fat 1g
Cholesterol 15mg
Sodium 55mg
Carbohydrates 9g
Fiber 0g
Sugar 4g
Protein 1g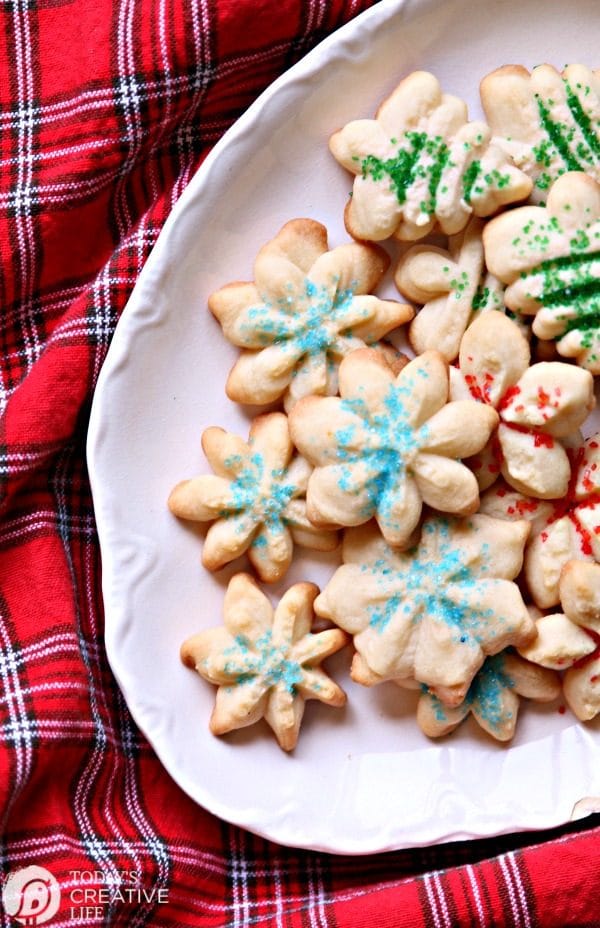 Other flavors for Spritz Cookies
A popular flavor choice is using almond extract. I've also used orange zest instead of lemon. You can make gingerbread spritz cookies or even chocolate spritz by adding cocoa. It's a pretty versatile holiday cookie recipe. Just google with your flavor idea.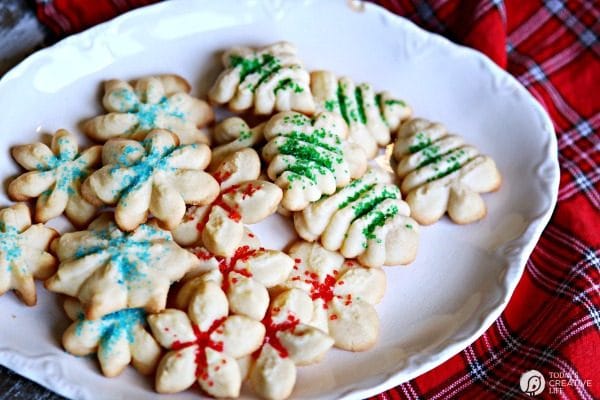 What is the difference between Spritz and Shortbread Cookies?
"Spritz cookies are tender and have an enriched dough. You can take most spritz cookie and shortbread recipes and side by side the only difference in ingredients is a single egg. … The egg in spritz cookies makes the cookie dough more pliable and therefore easy to shape into a number of designs" The Kitchn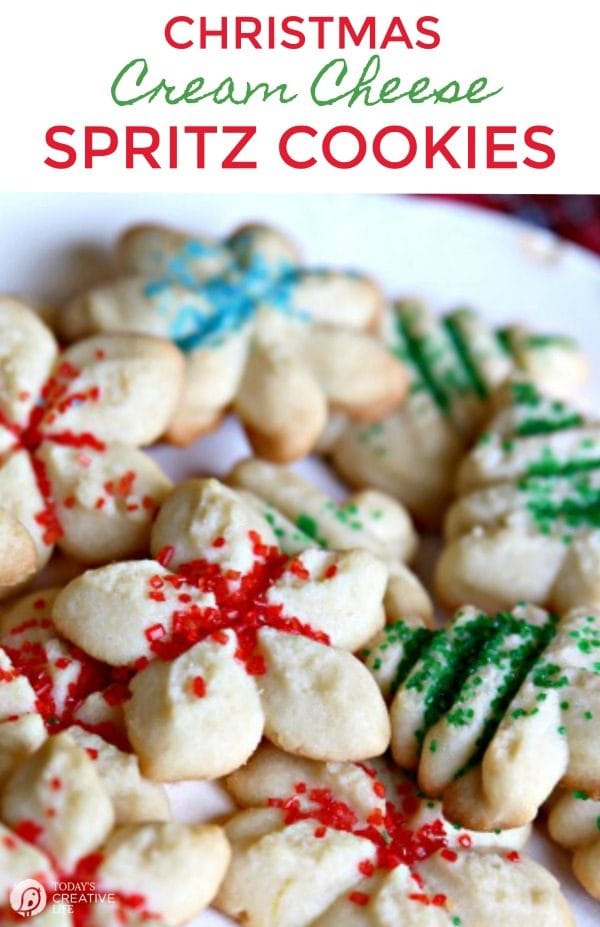 Be sure to pin this Cream Cheese Spritz Cookie Recipe, because it will no doubt become one of your holiday favorites.
If you make these, please take a photo and tag me on Instagram! @TodaysCreativeLife – I'd love to see your creations!
Follow along on Instagram | Pinterest | Facebook
Holiday Gifts from the Kitchen
Simple and easy homemade edible holiday gift ideas!
Who doesn't love cookies?
Another great gift idea you can make.
This is a delicious homemade gift.
Eat as is, or drop them in a mug of hot cocoa.
The secret ingredient makes this homemade gift even better!
Simple, easy and they are beautiful!
Photo Credit: www.texanerin.com
These make great party favors too!
---