This Pepper Jelly Cream Cheese Party Dip is the easiest and best appetizer you'll ever taste and make! 2 ingredients is all you need.
If you're looking for a super easy and inexpensive potluck appetizer recipe idea, I've got a few for you! This Pepper Jelly Cream Cheese Party Dip is a keeper! Any party dip that starts with cream cheese gets my approval!
Like my Cream Cheese Shrimp Cocktail Dip, you only need a few ingredients for this simple and fast to make appetizer.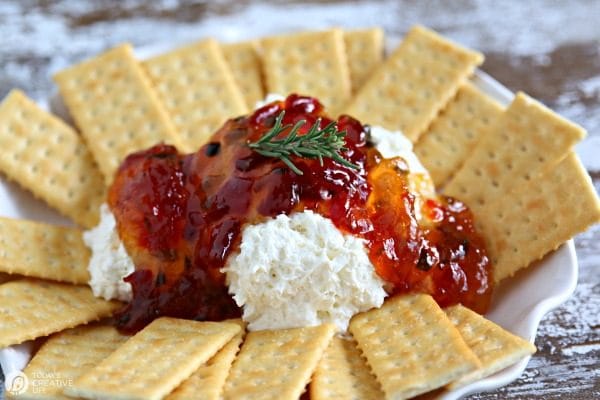 How to Make Pepper Jelly Cream Cheese Party Dip
You need 2 ingredients.
Whipped Cream Cheese
Pepper Jelly or Jam
I usually buy my pepper jelly at Trader Joe's, but I've purchased other brands at my local grocery store too. It's usually on the top shelf it seems.
I use the whipped cream cheese because it's easier and lighter to scoop with crackers. If you want to use a regular block of cream cheese, just warm to room temperature and mix it up a little to soften.
It's SO easy, you literally scoop out some cream cheese, and pour pepper jelly over the top. That's it! People are always surprised by how much they like it.
Can you use Low Fat or Fat-Free Cream Cheese?
Of course! If you're trying to cut calories, this is a great option.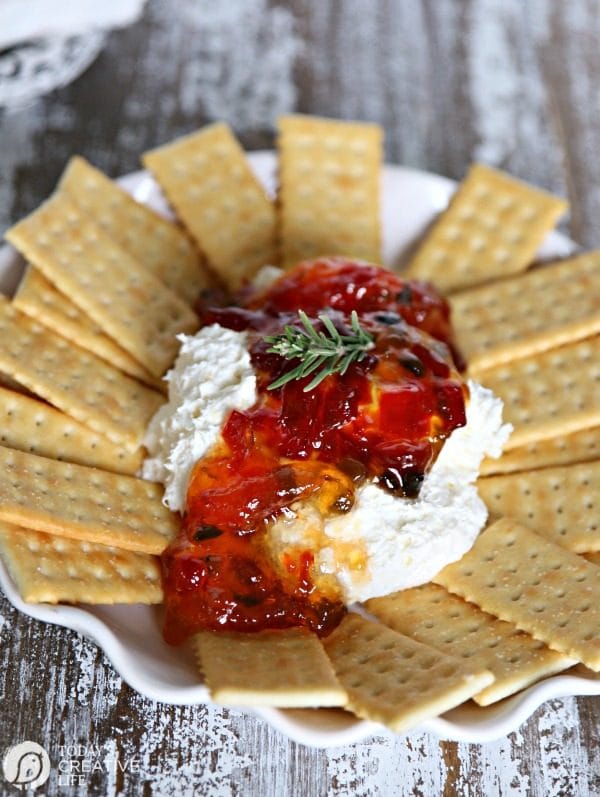 What do I serve with Pepper Jelly Cream Cheese Dip?
I usually use any party cracker I have one hand. But it's a very versatile party dip. Anything you use as a vehicle to scoop it into your mouth will be perfect. Here are a few ideas.
Crackers
Celery Sticks
Zucchini sticks
Large Fritos
Sliced Baguette
Tortilla Chips
Baked Pita Chips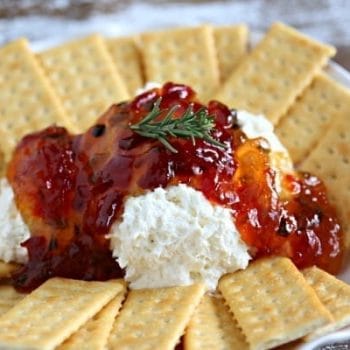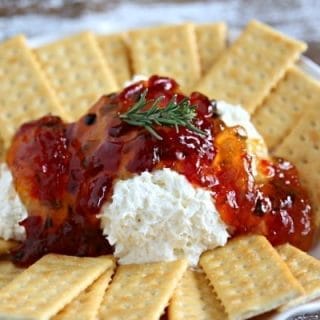 Pepper Jelly Cream Cheese Party Dip
Yield: 6
Prep Time: 3 minutes
Total Time: 3 minutes
Quick, Easy and DELICIOUS!
Ingredients
1 (8 oz.) container whipped cream cheese
3 large spoonfuls Pepper Jelly
Instructions
This recipe is about balancing the ingredients, so don't worry about exact measurements. Make as little or as much as you need.
Spoon cream cheese onto your serving platter or plate.
Stir jelly so it's smooth and spoon directly on top of the cream cheese.
Add whatever you're going to dip.
Notes
I use whipped for the ease and light texture. You can use block cream cheese if it's at room temp and then stirred for smoothness.
Use, crackers, celery, zucchini, fritos or sliced baguette for your dipping.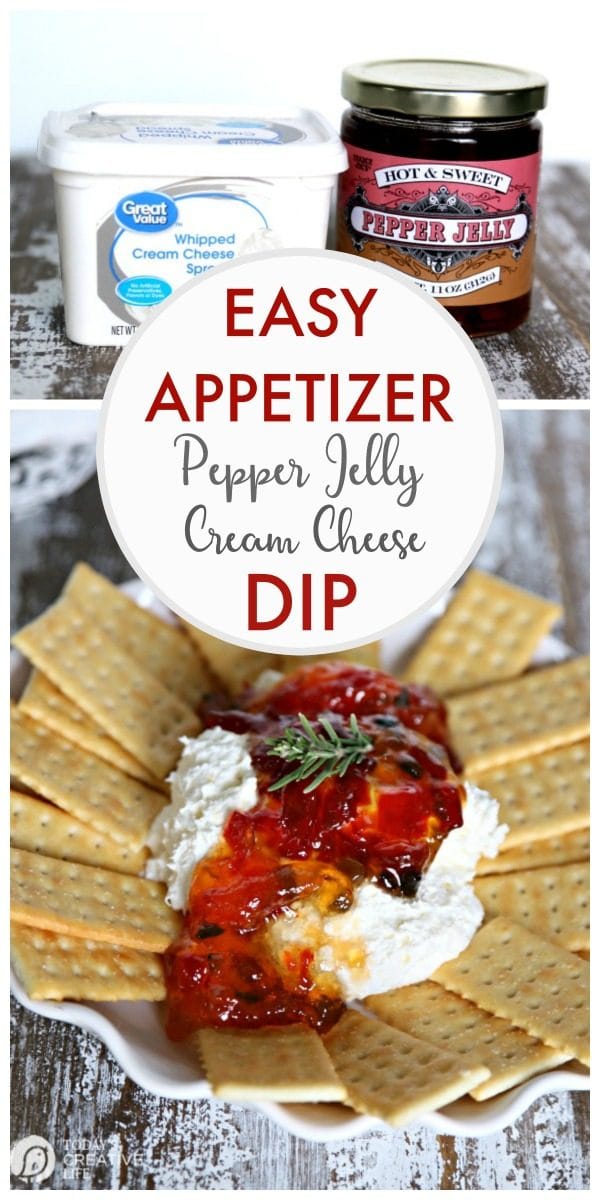 Follow along on Instagram | Pinterest | Facebook
---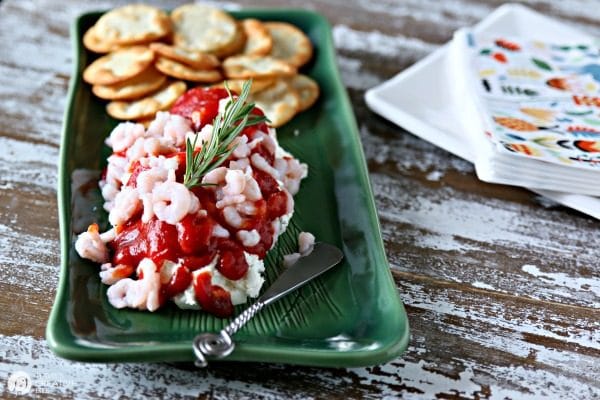 Cream Cheese Cocktail Sauce with Shrimp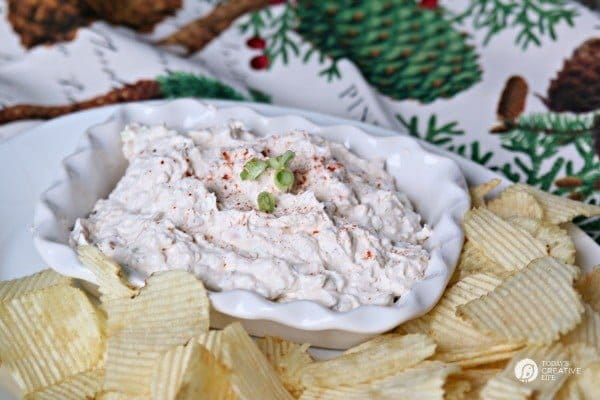 Easy Clam Dip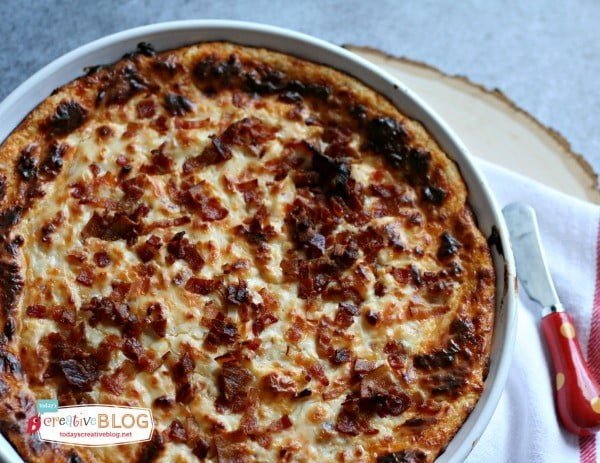 Hot Cheesy Bacon Dip