This Slow Cooker Chicken Caesar Salad is just one of the recipes you can make from the Slow Cooker Caesar Chicken recipe. You can also make these Caesar Chicken Lettuce Wraps. So many things from just one recipe!
You can honestly make up the slow cooker chicken and make several meals! This not only saves money and time, but it's going to save your sanity! Especially with school starting soon. Another easy recipe I'm adding to the menu is this Caprese Chicken! Looks perfect for busy nights.
Slow Cooker Chicken Caesar Salad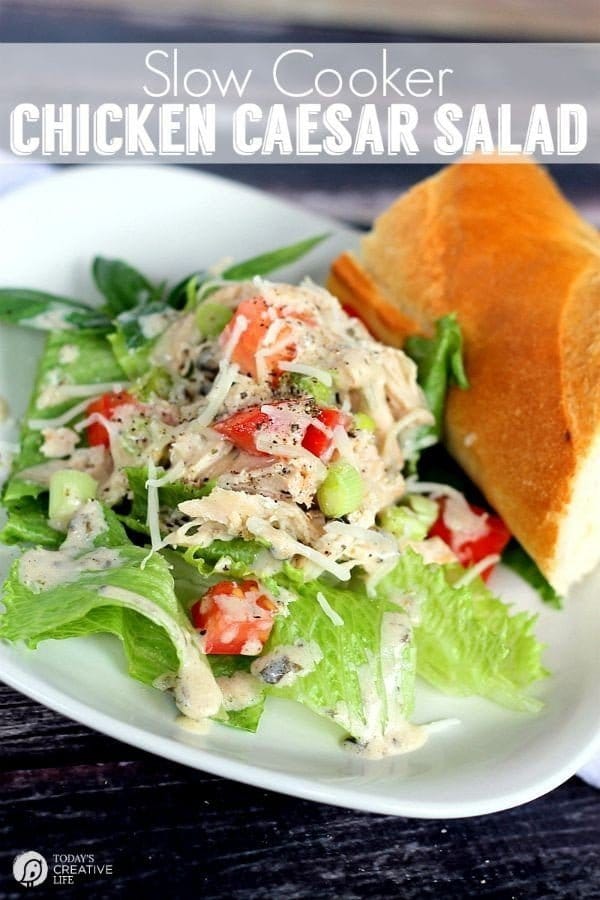 Having a meal that's easy to put together during those busy evenings sure makes it nice! Heck…….. just having a meal ready is enough to celebrate, but when it's also healthy! YAY!
Adding a nice big piece of crusty bread is a must and will really make this meal satisfying.
I'm talking like this has to always be for dinner…….. no no no. It's for lunch too! Whenever you want it! Weekends are great too!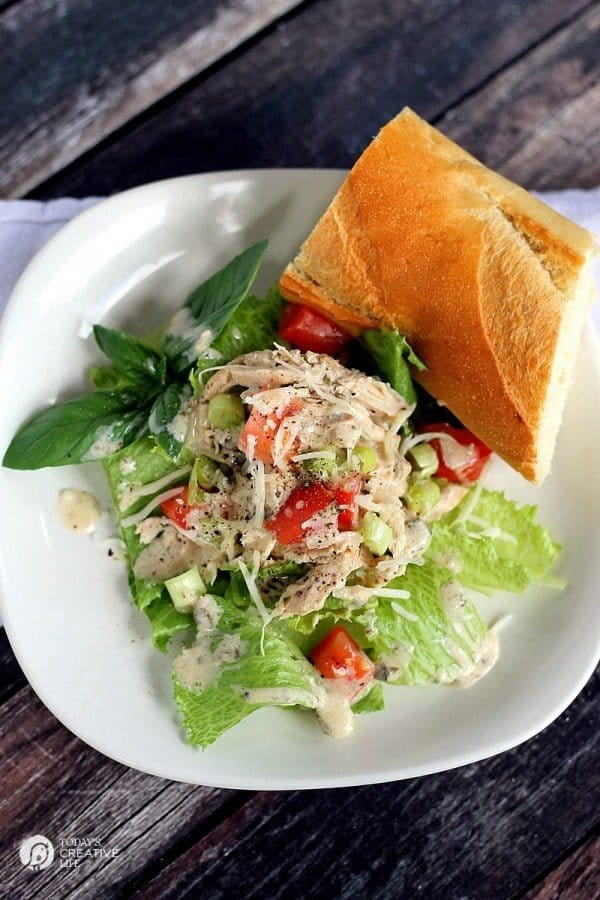 I prefer romaine and iceberg lettuce for my salads, I like the crunch, the freshness. I'll eat a Spring Mix, but it's just always seemed so blah to me. Proof that I'm not a true "Foodie"…… You gotta love spring mix to be a true foodie, right?
The typical Caesar salad uses romaine, but who's to say you can't add a spring mix to this too? If that's your thing. Any way is a good way when we can get our greens in for the day.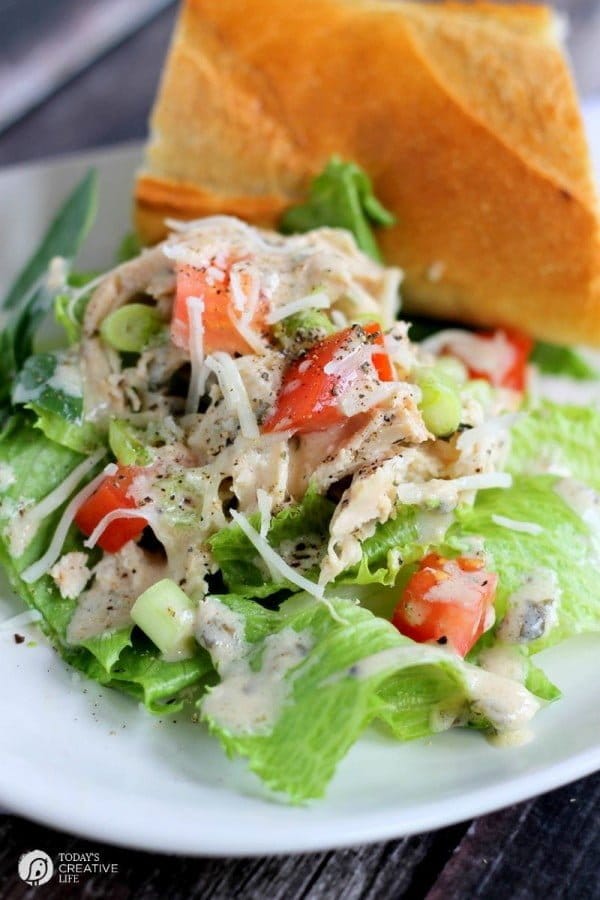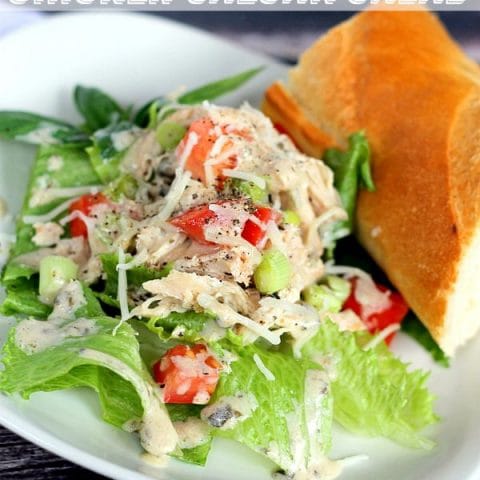 Slow Cooker Chicken Caesar Salad
Ingredients
4-5 boneless, skinless chicken breasts
¾ cup creamy caesar dressing (I like Ken's light -or low fat is a great option)
⅛ tsp black pepper
⅛ tsp salt
¼ cup packed fresh basil, chopped (if you don't have fresh, substitute with 1 tsp dried)
½ tsp dried parsley
4 hearts of romaine, chopped roughly, rinsed and spun dry
2 large tomatoes, diced
4 green onions, chopped
½ cup freshly grated Parmesan or Asiago cheese
freshly cracked black pepper
loaf of french bread for serving with salad (if desired)
Instructions
In a bowl mix dressing, pepper, salt, basil, and parsley; pour into the pot of a slow cooker. Place chicken into sauce mixture, and then flip chicken over so that both sides are saucy. Cover and cook on high for 5-6 hours, or low for 7-8 hours.
Remove chicken from slow cooker and shred using 2 forks. There will be some sauce left in the slow cooker, reserve in a bowl and set aside.
To assemble your salads, divide the lettuce into fourths, then place into bowls/plates. Top each salad with ¼ of the diced tomatoes, ¼ of the green onions, a couple TBS of cheese, and then spoon 2 TBS of warm sauce over the top (the sauce that you reserved from the crock pot).
Garnish with black pepper if desired and serve a slice of bread along the side.
---
Easy Slow Cooker Recipes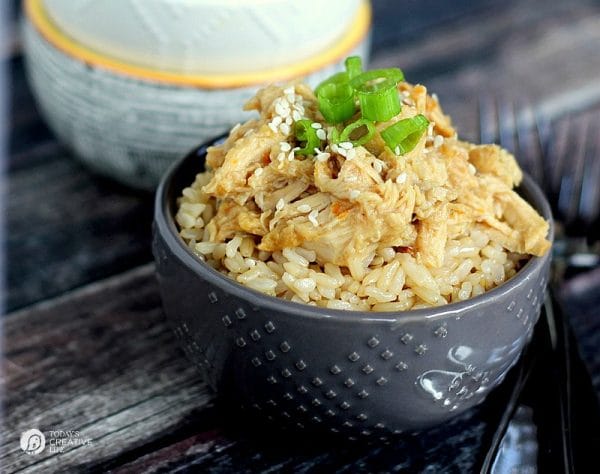 >> Slow Cooker Orange Chicken <<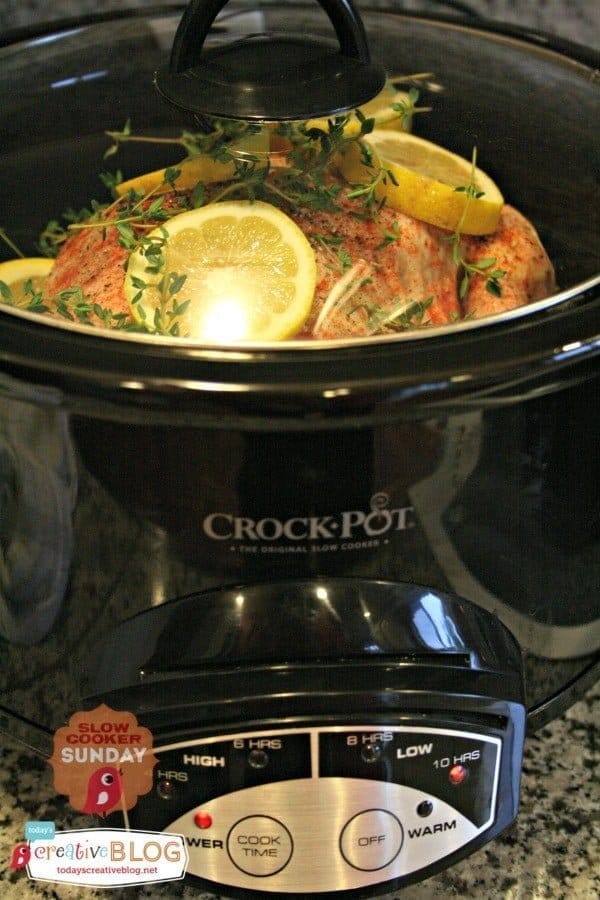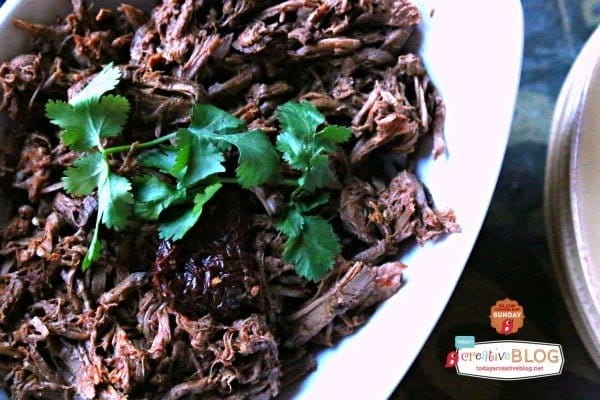 Slow Cooker Chipotle Pepper Shredded Beef