I'm always looking for meals that I can cook in my slow cooker, ones my family asks for time and again and can be used in other recipes as well.
This Chipotle Pepper Crockpot Shredded Beef hit the mark. It turned out so good, I had to share it as a Slow Cooker Sunday recipe.
Chipotle Pepper Crockpot Shredded Beef Recipe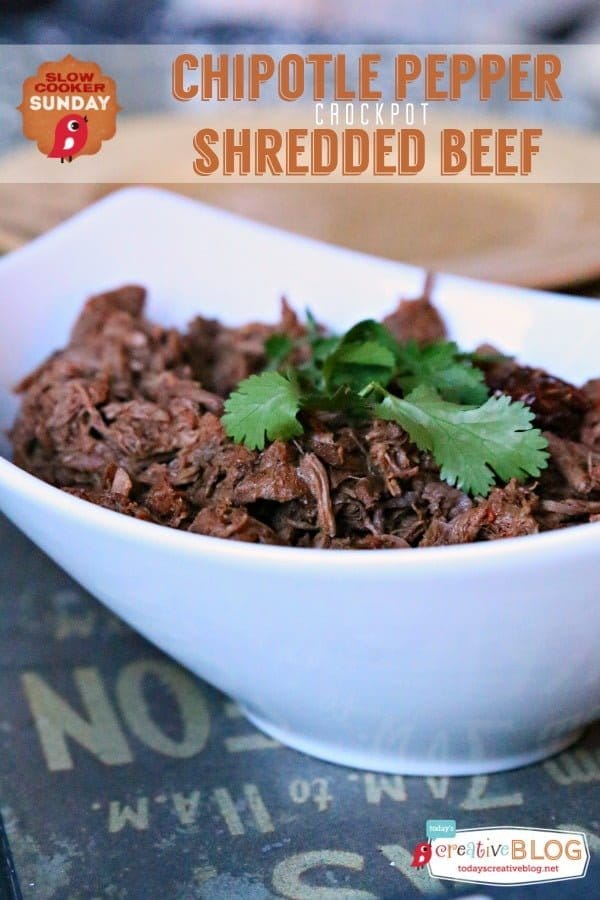 I'm warning you up front……little kids may not like this. It was spicy. Not "make your eyes water or your nose run spicy" but it had a kick to it that my son probably wouldn't have liked when he was small. I would say it's equivalent to a medium salsa spicy. It was the Chipotle Peppers in Adobo Sauce. I have never cooked with them before, but that's going to change. The sweet smokey little can of these peppers smells so wonderful! I added about 5 of the peppers, but you could reduce the amount to reduce the amount of kick.

Typically, we are not a left overs type of family, unless it's Chinese food or pizza. But when I make my Copy Cat Cafe Rio Shredded Chicken or my Slow Cooker Chili, we save the left overs. This Chiptole pepper Shredded Beef is now on the list to save as left overs.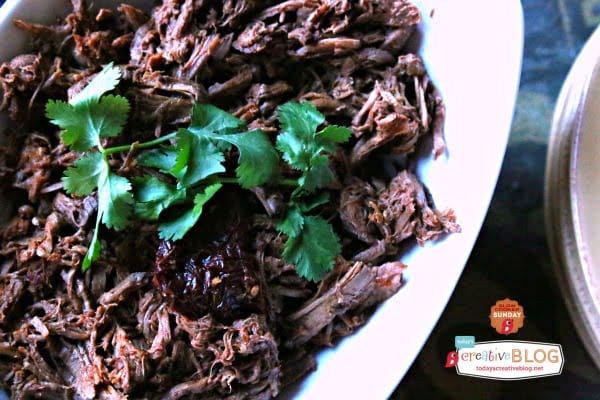 We had burritos the first night using the uncooked tortillas……..but we of course cook them before eating. I use the Tortilla Land brand since it's the only uncooked tortilla in my grocery. These are SO yummy! If you can't find them in your area, I found the Tortilla Land brand in corn and another brand for the flour on Amazon. (these images as well as the ones at the bottom of the post, contain a referral affiliate link. All that means is that I will receive a teeny tiny % of your purchase if you choose to purchase. I am required by law to disclose this information)

As mentioned, we saved the left overs. My husband treats beef like it has a crown……as he should since this roast was $22. It was great for making a shredded beef salad the next day. I can also see using it in a burrito bowl, or a chili or taco soup.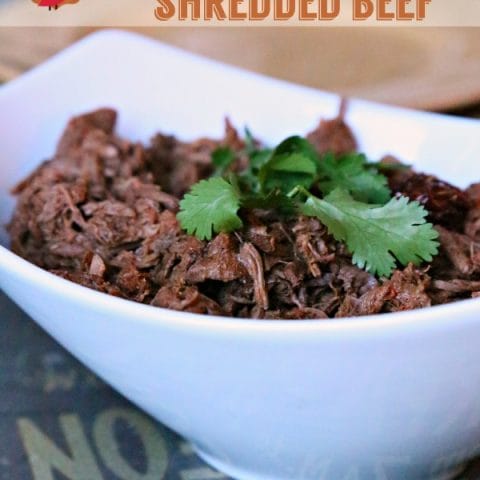 Chipotle Pepper Crockpot Shredded Beef
Prep Time: 15 minutes
Cook Time: 8 hours
Total Time: 8 hours 15 minutes
Ingredients
1 Chuck Roast (mine was about 3 1/2 lbs)
1 1/2 Cups Beef Broth
5 or 6 Chipotle peppers
1 Tablespoon Chipotle Pepper Adobe Sauce from the same can
Juice of one lime (about 3 tablespoons if using store bought)
2 Tablespoons Chili Powder
1 Tablespoon Cumin
1 teaspoon onion powder
3 Cloves Garlic - diced or pressed with a garlic press
1 teaspoon sea salt - regular salt works too
1/4 teaspoon fresh ground pepper
1 teaspoon smoked paprika
Instructions
Place all your ingredients into the crockpot, except for the beef. Stir to blend all the spices with the broth.
Place the beef on top.
I use a small ladle to spoon some of the sauce over the beef.
Place the lid on top and cook on LOW for 8-10 hours.
Once it's done, take the roast out and place it in a baking dish. Use 2 forks to shred the beef.
Place the shredded beef back into the crockpot and mix with the juices.
Use tongs or a slotted spoon to use for burritos, salads, soups and more!
For your convenience, here are a few items that I used for this recipe.
See more Slow Cooker Sunday Recipes here and on my Slow Cooker Pinterest Board.
Follow Kim Demmon (today's creative blog)'s board Crockpot & Slow Cooker Recipes on Pinterest.