This vintage classic salad is quick to make with mostly canned fruit and instant vanilla pudding for this Vanilla Pudding Fruit Cocktail Salad Recipe. This side dish is an Easter dinner favorite but can be served any time of year. You can even serve it as dessert!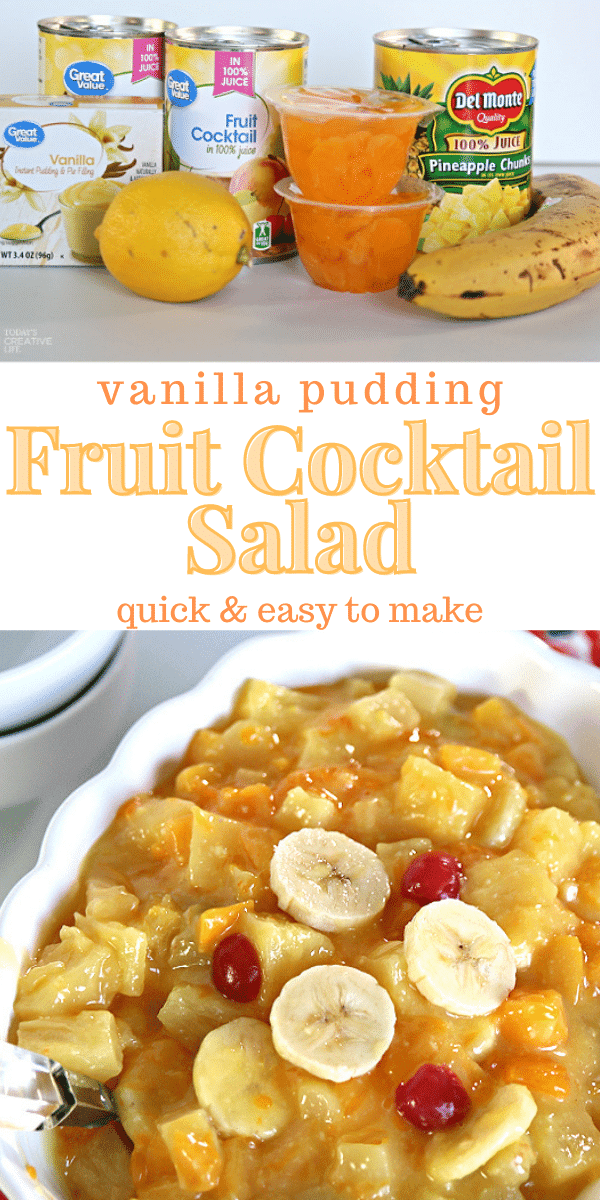 Vanilla Pudding Fruit Cocktail Salad Recipe
There are many ways to make fruit cocktail, but none will have the creamy taste of vanilla pudding. Years ago, I found this recipe in a Taste of Home magazine. I altered it a bit, because who can just leave a recipe as is?
The wonderful thing about this recipe is how quickly you can put it together. It's literally a "dump it all in" type of recipe and uses canned fruit. No chopping, other than the banana. Just stir and you're ready to eat. I do prefer to refrigerate the vanilla pudding fruit cocktail for a bit before serving, but it's not necessary. Fruit salads are always a hit around here, especially if they don't take a lot of time.
Vanilla Pudding Fruit Cocktail Salad Ingredients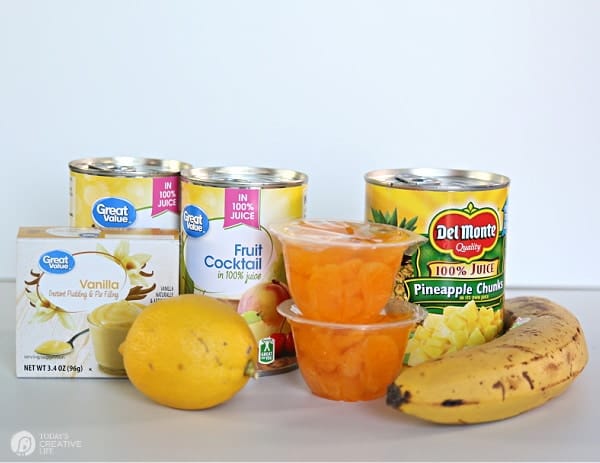 Canned Fruit Cocktail (2)
Instant Vanilla Pudding (3.4 oz.)
Canned Pineapple chunks (20 oz.
Canned Mandarin Oranges (11 oz.)
Lemon Juice (1 TBS fresh or bottled)
Bananas (1 or 2)
How to Make Fruit Cocktail with Vanilla Pudding
As mentioned, this recipe is really easy to pull together. Keep scrolling for the printable recipe below.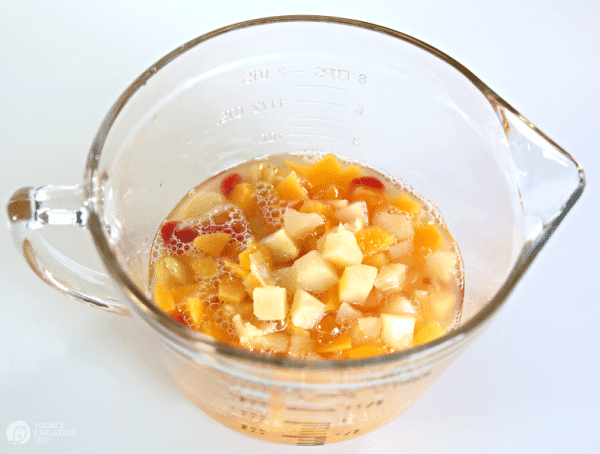 I started with a large 8 Cup bowl, any medium to large bowl will do. Open the 2 cans of fruit cocktail and empty them into the bowl. Add the lemon juice too.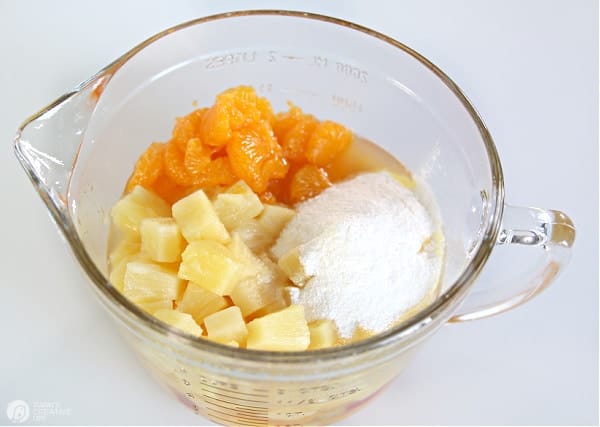 Sprinkle the instant pudding over the fruit cocktail and then drain the pineapple and the mandarin oranges and add to the mixture. Stir it up until it starts to thicken.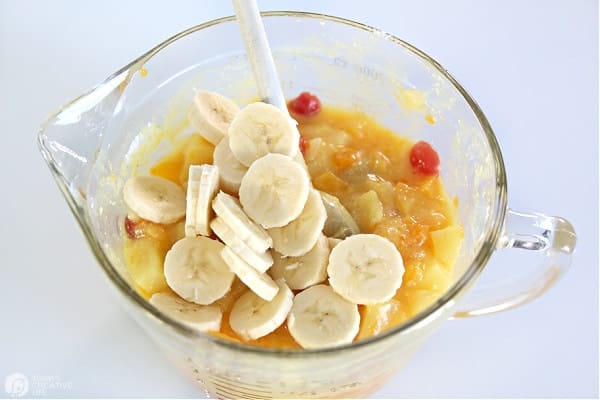 Fold in the bananas. Place it in the fridge until you're ready to serve.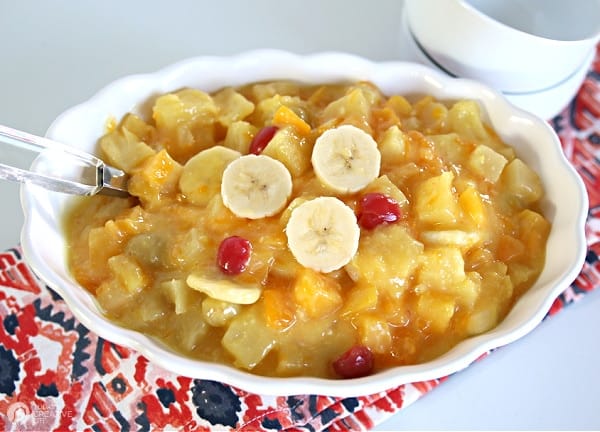 Can I Use Fresh Fruit instead of Canned for Fruit Cocktail?
Some people aren't a fan of how the fruit looks in canned fruit cocktail, so using fresh fruit is definitely an option. You'll have to use orange or pineapple juice to substitute for the juice that naturally comes with canned.
Fruits to include:
Pineapple
Tangerines, mandarin, or regular oranges
Grapes
Pears
Peaches
Cherries
Cut all into bite-size chunks.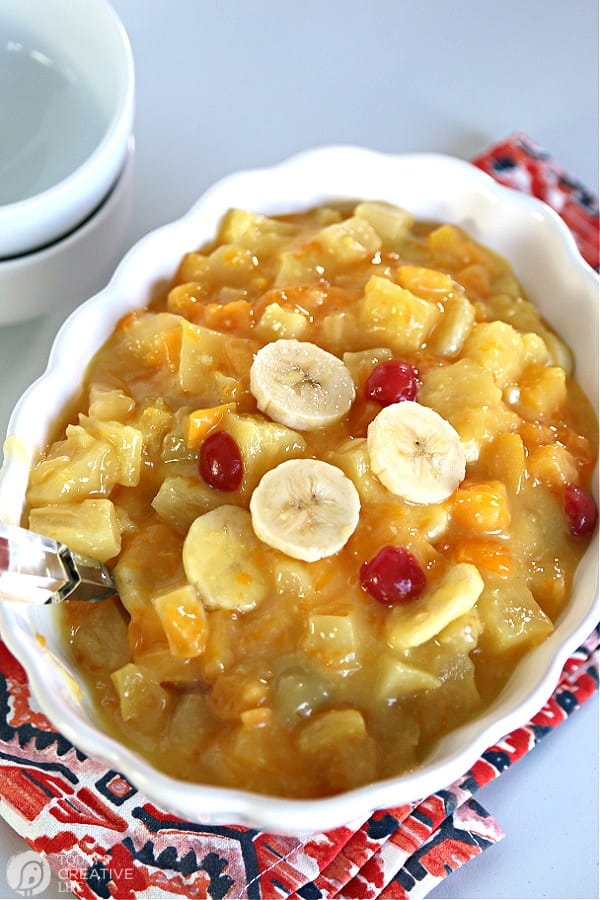 Can I make this recipe up ahead of time?
This recipe is easy to make up a few hours before, but I'd wait to add the bananas until a few minutes before serving. I find if I make it up the night before, it seems to have a slimy texture, but that could just be me. If you try and it's fine, please leave a comment below.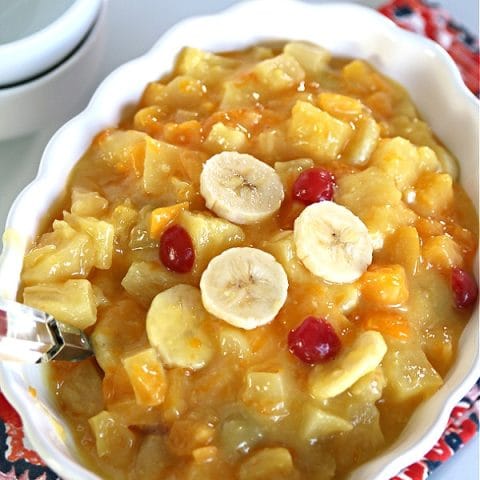 Vanilla Pudding Fruit Cocktail Salad Recipe
Yield: 12
Prep Time: 10 minutes
Easy to make Vanilla Pudding Fruit Cocktail Salad using canned fruit and instant pudding.
Ingredients
2 cans (16 oz.) fruit cocktail, undrained
1 can (20 oz.) unsweetened pineapple chunks - drained
1 can (11 oz.) mandarin oranges - drained
1 tablespoon lemon juice
1 package (3.4 oz.) instant vanilla pudding mix
1 or 2 bananas - sliced
Instructions
In a medium bowl, combine the first 4 ingredients: fruit cocktail, drained pineapple, drained mandarins, and lemon juice.
Sprinkle vanilla pudding mix over the fruit.
Stir carefully until the mixture thickens.
Fold in the bananas carefully so you don't smash them.
Place it in the fridge until you're ready to serve.
Notes
If you want to make this up ahead of time, just omit the bananas until it's time to serve.
Recommended Products
As an Amazon Associate and member of other affiliate programs, I earn from qualifying purchases.
Nutrition Information
Yield 12
Serving Size 1
Amount Per Serving
Calories 95
Total Fat 0g
Saturated Fat 0g
Trans Fat 0g
Unsaturated Fat 0g
Cholesterol 0mg
Sodium 120mg
Carbohydrates 19g
Fiber 1g
Sugar 16g
Protein 0g
We do our best to calculate, however, nutrition information may not be accurate.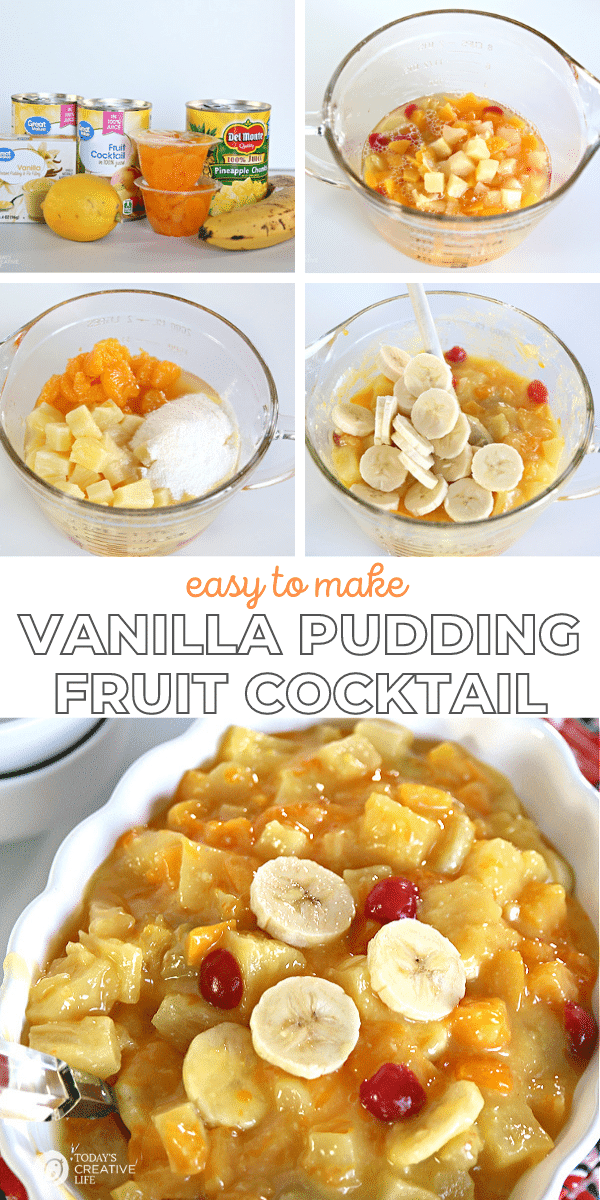 Salads with Fruit Recipes
Salad side dishes with a fruit for a bit of sweetness.
Mixed fruit salad with a creamy tangy sour cream dressing is great for breakfast or a side dish.
Cabbage, apple and pecans give this salad crunch.
Family favorite creamy fruit salad is a hit.
This classic spring side dish can also be a dessert!
Classic recipes never disappoint.
Grapes, apples, celery make this vintage salad a must-have for spring and summer
This healthy Chopped Chicken Salad is great for a summer side dish, BBQs, or potluck ideas.
Sweeten up your green salad with a few strawberries.