Popular in the spring, especially for Easter dinner, this Pineapple Pretzel Fluff Recipe can be a side salad, a dessert or even an apple dip. This salty-sweet recipe is made with cream cheese, whipped topping pretzels and more!
I've been wanting to make this Pineapple Pretzel Fluff for a long time! You'll only need 6 ingredients to make this delicious side dish, dessert or a fruit dip. Call it whatever you want, I guess it all depends on how you want to eat it.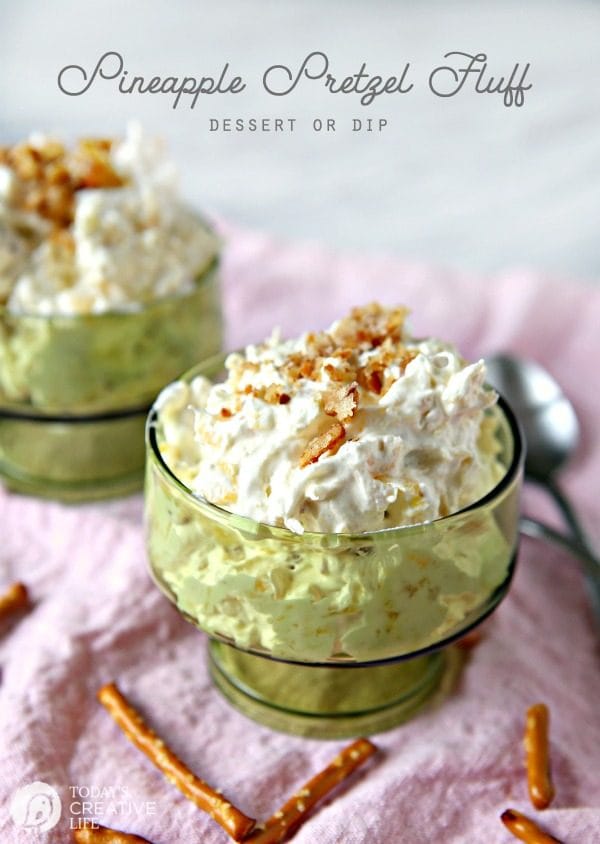 Pineapple Pretzel Fluff Recipe
This is another delicious recipe from Taste Of Home Magazine. You can use my affiliate link to grab a year subscription for only $6.95
I've enjoyed this sweet recipe as written, but have also given an altered no-bake, less sweet option you'll see on the printed recipe. Instead of baking the pretzel mixture for a candied addition, I like just adding plain broken pretzels.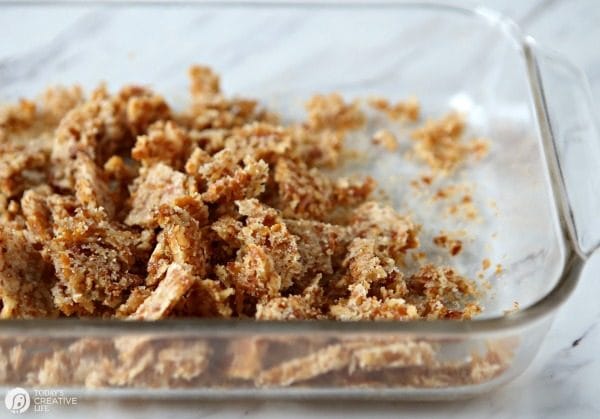 I think it's sweet enough without adding the baked sugary pretzel toffee-like crumble. But you may disagree!
I would, however, eat the crumble all by its self!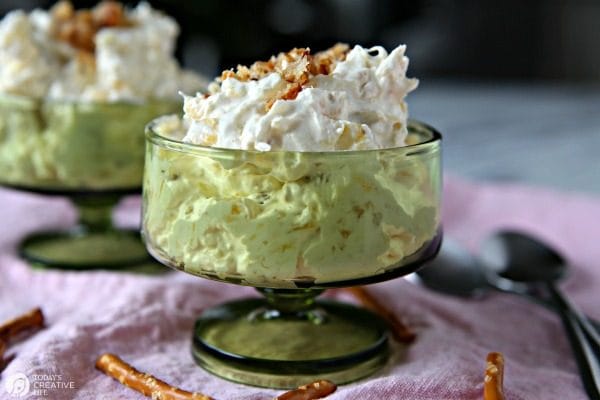 How to Make Pineapple Pretzel Fluff Salad or Dip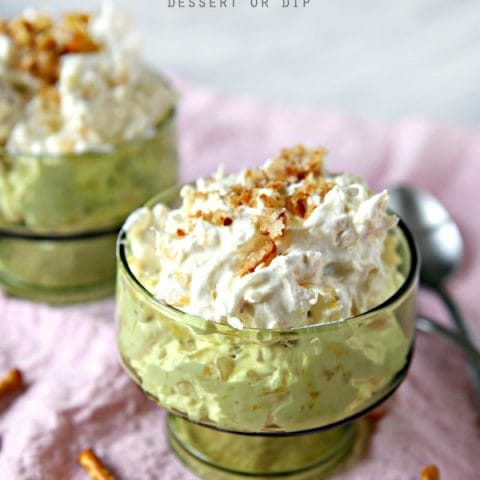 Pineapple Pretzel Fluff
Yield: 6
Prep Time: 15 minutes
Total Time: 15 minutes
This recipe can be served as a rich dessert or as a dip for graham crackers or apples.
Ingredients
1 cup broken pretzels (small pieces)
1 cup sugar - divided
1/2 cup butter, melted
1 package (8.oz) cream cheese, softened to room temp
1 can (20 oz.) crushed pineapple, drained
1 carton frozen whipped topping, thawed
Instructions
In a bowl, combine melted butter, pretzels and only 1/2 cup sugar. Press into the bottom of any baking pan or cookie sheet. Bake at 400° for 7 minutes. Set aside and cool.
In a mixing bowl beat cream cheese and the rest of the sugar with an electric mixer until creamy.
Fold in pineapple and whipped topping.
Place in the fridge to chill until it's time to serve.
Break up pretzel mixture to add to pineapple mixture right before serving so it doesn't get soggy.
Notes
I've made this dessert without the baked pretzel mixture, just using crushed pretzels instead. It's less sweet.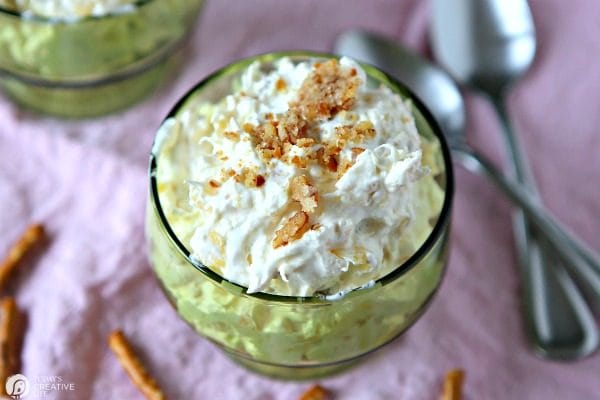 How long does Pineapple Fluff with Pretzels last?
It's all about the pretzels getting soggy. You want to add the pretzel mixture right before serving. Saving any pineapple fluff dessert that's leftover isn't going to be that good the next day because the pretzels take on too much moisture. Part of what makes this recipe so good is the crunch from the pretzels.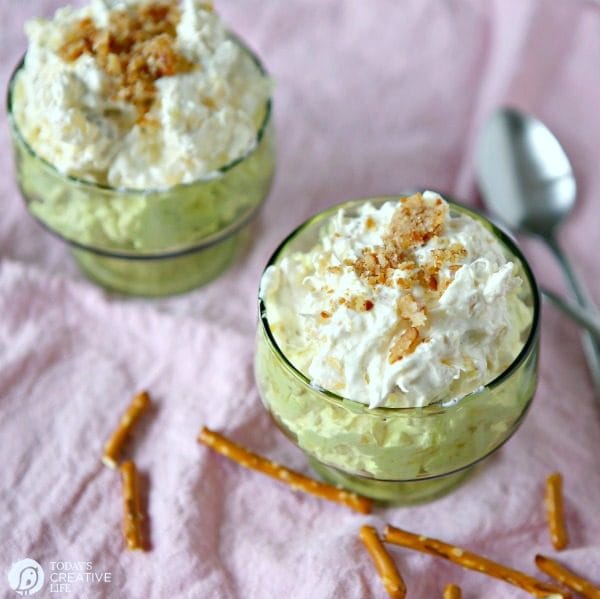 This Pineapple Fluff with Pretzels Recipe is great for spring and summer events like Easter, picnics, BBQ's and potlucks.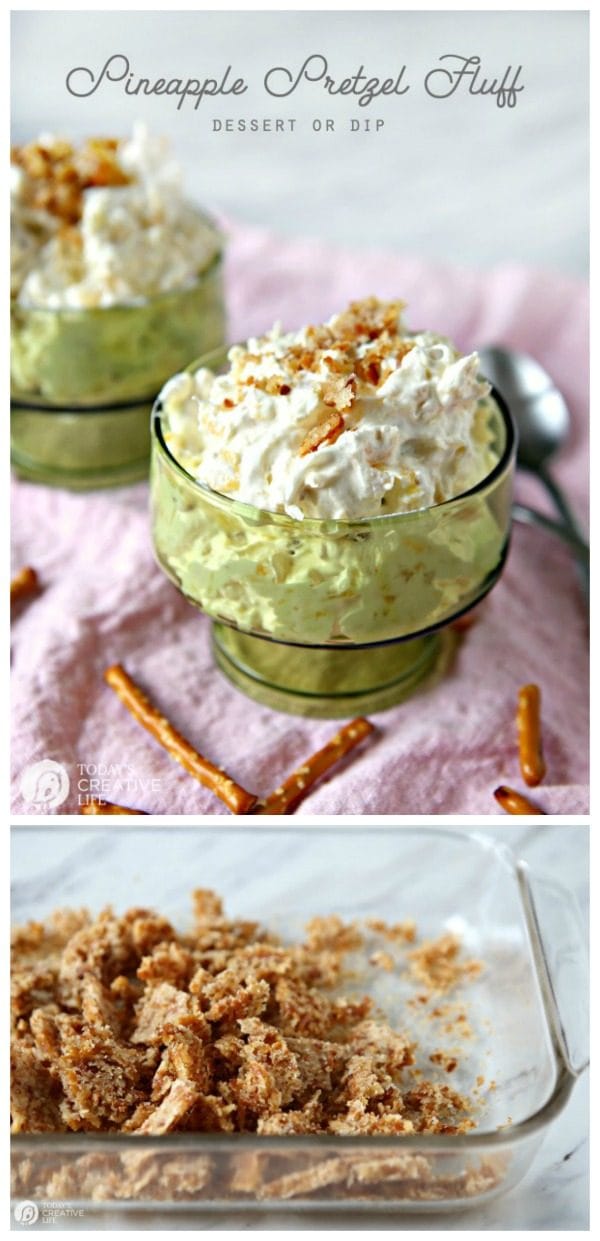 Follow along on Instagram | Pinterest | Facebook
---
Fruit Recipe Ideas
Simple and delicious fruit recipes.
Fruit Pizza for a fun treat.
Mixed fruit salad with a tangy sour cream dressing!
Fruit ice cubes make every beverage better.
The perfect spring salad recipe.
Refreshing berry dessert idea.
Slab Strawberry Pie is a summer favorite.
Easiest and most delicious cobbler recipe you'll ever make!
Easy to make, fancy to look at!