Chocolate Crinkle Cookies are not only my husband's favorite Christmas cookie but his favorite all-time cookie! 
They are usually made around Christmas time, but they really are a cookie to enjoy any time of year. Crinkle Cookies are a classic that can be made in other flavors too.
Chocolate Crinkle Cookies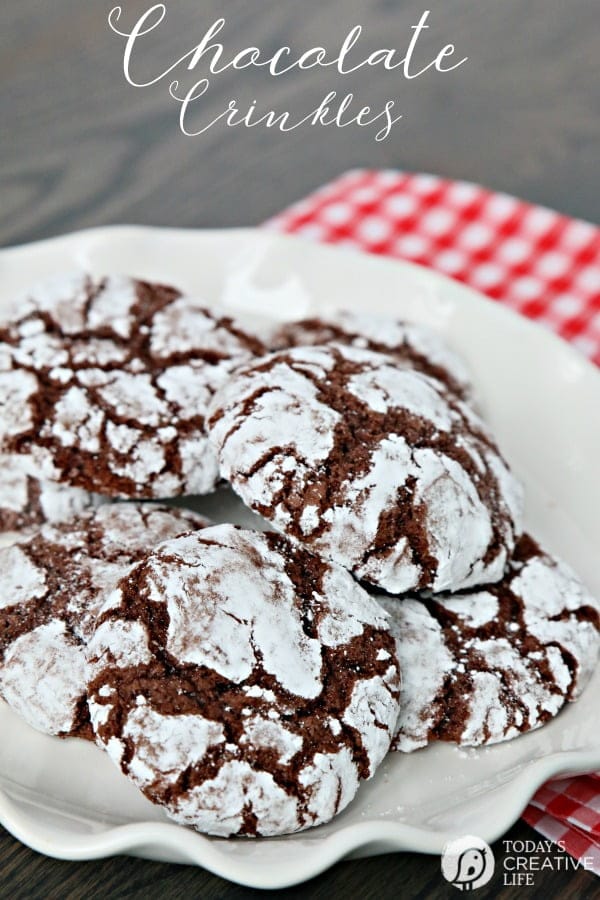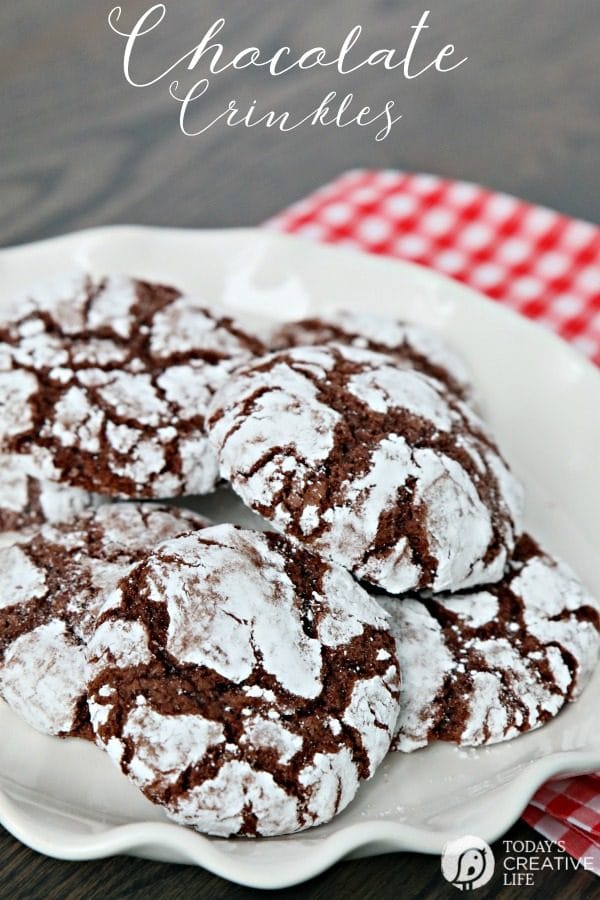 My mother-in-law used to make these for my husband for Christmas. He'd get his own tin full of these as one of his gifts, and he would hoard them all for himself.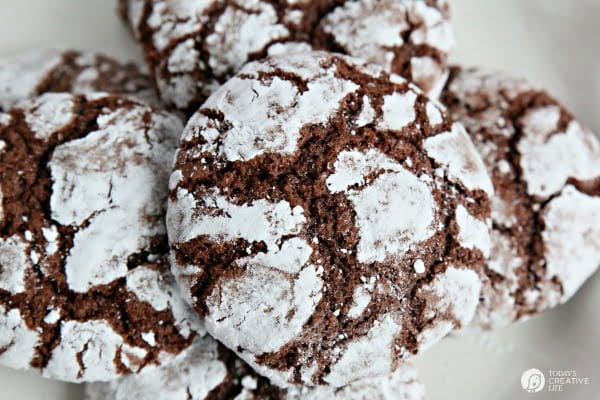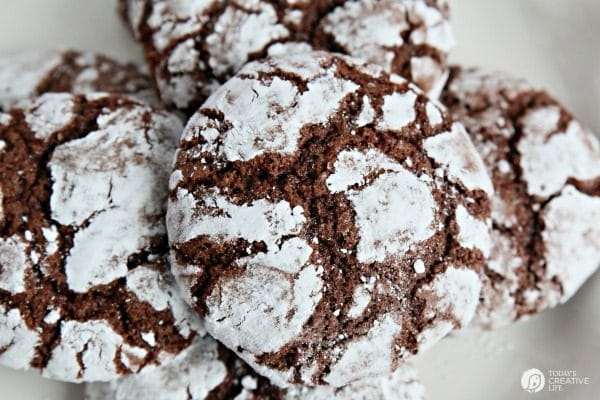 This Crinkle Cookie recipe is one of the easiest cookie recipes to make, but I always forget that I need to allow a little extra time to chill the dough after mixing it up.
It has to be chilled 1 to 4 hours before, so it can be easily rolled into a ball before you roll in powder sugar. My rolling tip is to rub your palms with a teeny bit of vegetable oil or butter so the dough doesn't stick to your hands. If it's really sticky, then it hasn't chilled long enough.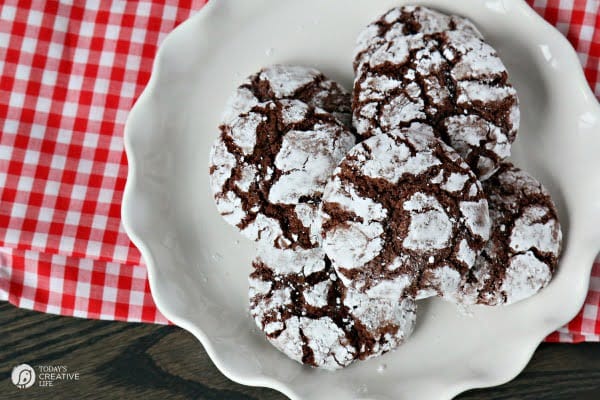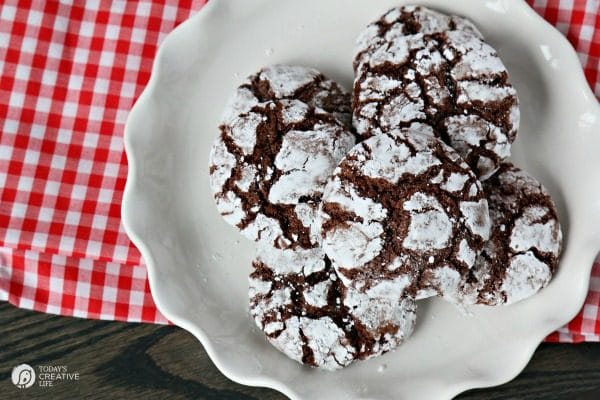 I love how the crackling occurs while baking and how chewy and moist they turn out. Still great for dunking!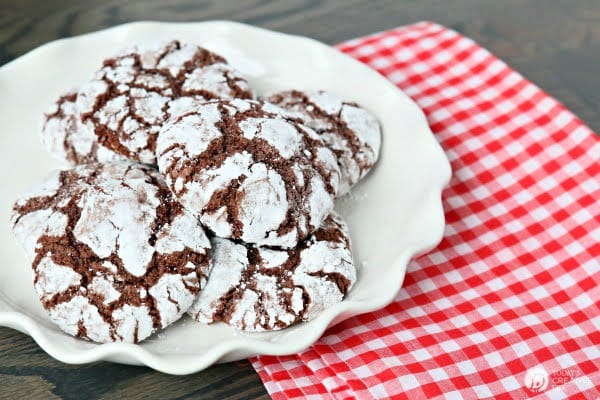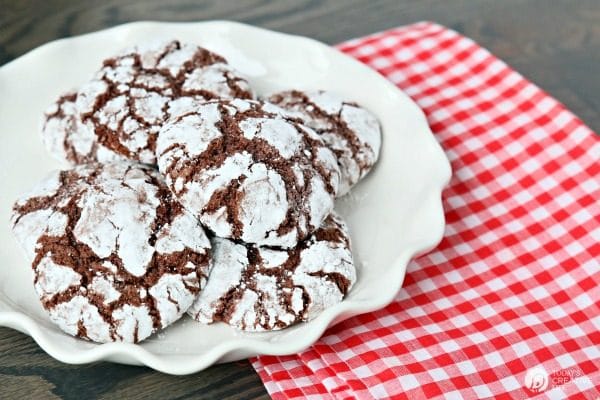 Classic Christmas Cookies
This year I whipped up a batch of these Chocolate Crinkles to take on our annual Christmas Tree Tailgater. These traditional Stained Glass Cookies would be great too! We meet up with my in-laws at our favorite tree farm, and after we've all cut our trees, it's time for a tailgater. We have hot chocolate, Spanish coffees, cookies, crackers etc… It's a tradition.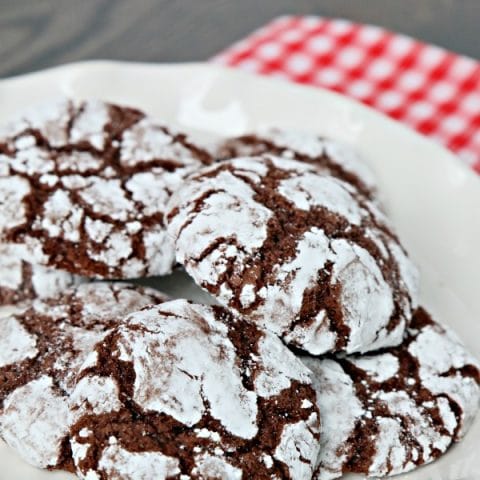 Chocolate Crinkle Cookies
Yield: 20
Prep Time: 1 hour
Cook Time: 10 minutes
Total Time: 1 hour 10 minutes
Ingredients
3/4 cup unsweetened cocoa powder
1 1/2cup sugar
1 1/2 cup all-purpose flour
2 teaspoons baking powder
1/4 teaspoon salt
1/2 cup vegetable oil
3 eggs
1 1/2 teaspoon vanilla extract
1 cup powdered sugar
Instructions
Mix the first 5 items together in a medium-size bowl (cocoa powder, sugar, flour, baking powder and salt). Set aside.
In another medium-size mixing bowl, combine oil, eggs and vanilla extract. Use a mixer on low for about 20 seconds.
Slowly add the dry ingredients until the batter is completely mixed. The batter will be thick and sticky.
Cover with plastic wrap and chill in your refrigerator for at least one hour.
Preheat oven to 350 degrees while you line your cookie sheets with a silicone baking mat or parchment paper.
Pour the powder sugar into a bowl.
Using a spoon, take a large scoop of batter and roll into a ball, then roll around in the powdered sugar. Coat the dough ball completely.
Place on the prepared cookie sheet, about 2 inches apart.
Bake for 10-12 min.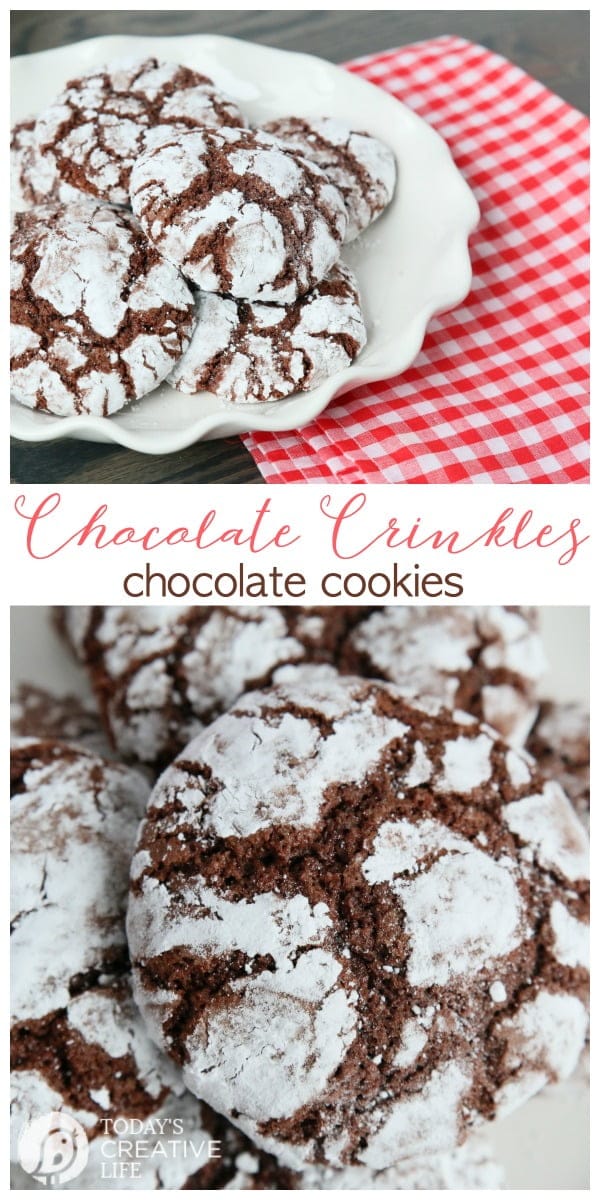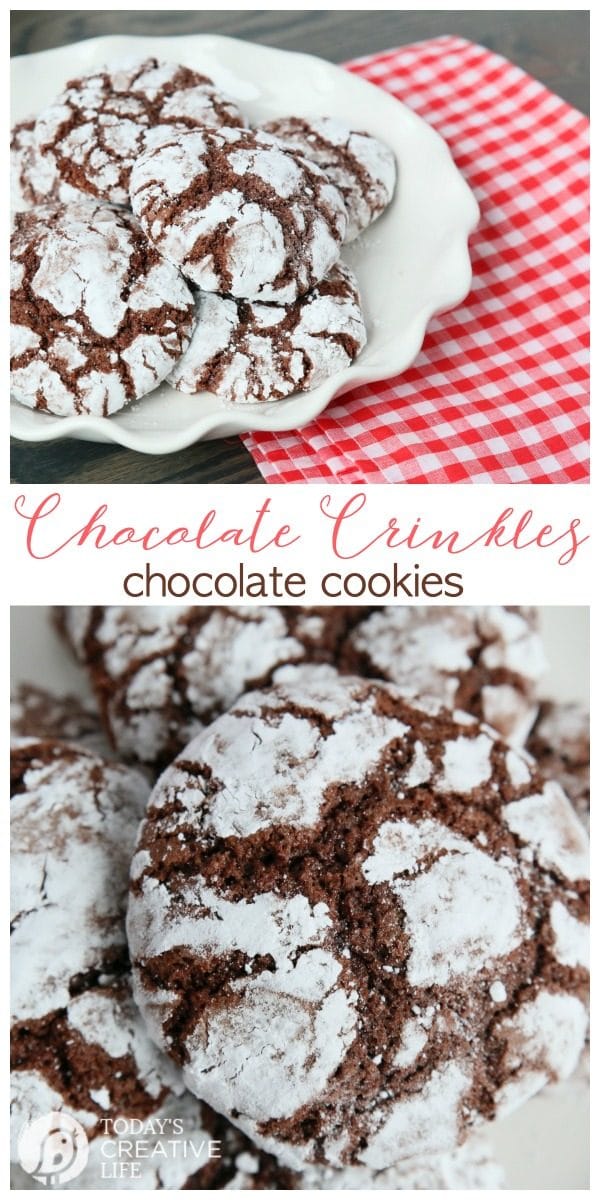 ---
More Cookie Recipes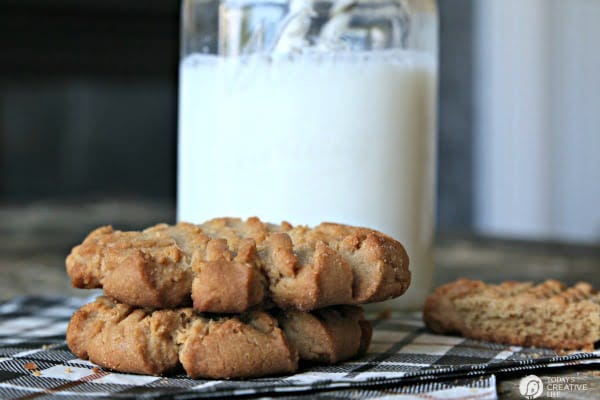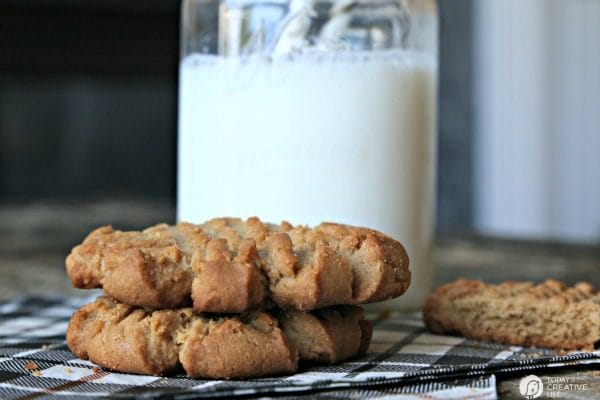 Peanut Butter Cookies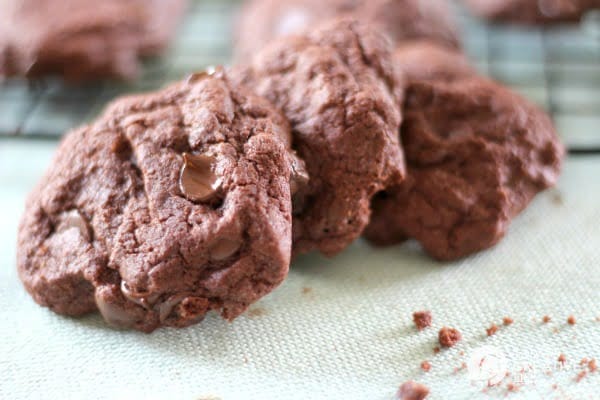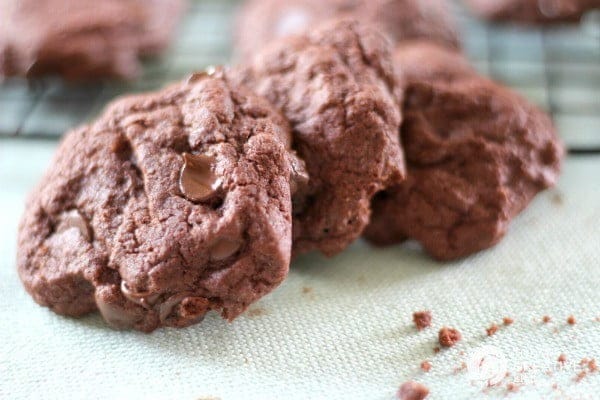 Chocolate Chocolate Chip Cake Mix Cookies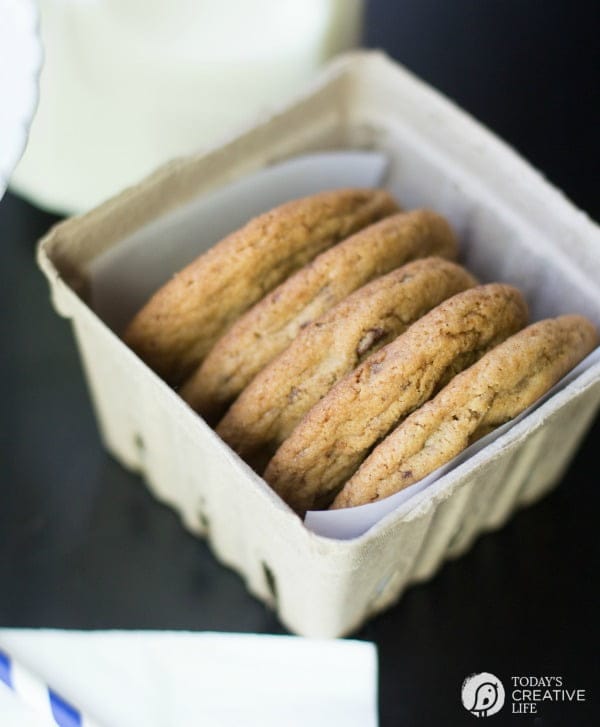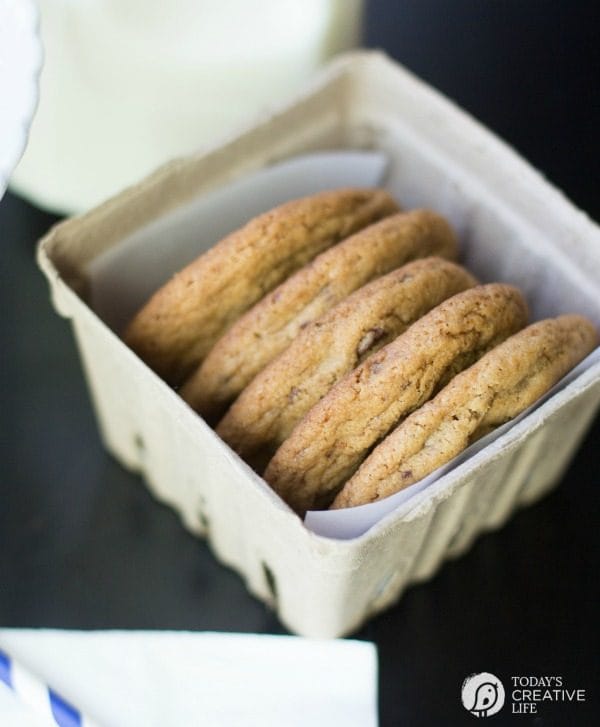 Chocolate Chip Cookies