Canned biscuits are a true game-changer in the kitchen. I think you'll enjoy this roundup of creative ways to use canned biscuits. Their versatility allows you to create a wide range of dishes, from breakfast to dessert. The dough is soft and flaky, making it perfect for both sweet and savory treats. With just a few simple ingredients, you can transform canned biscuits into delicious meals that will leave everyone wanting more. Whether you're in the mood for something savory or craving a sweet indulgence, canned biscuits have got you covered.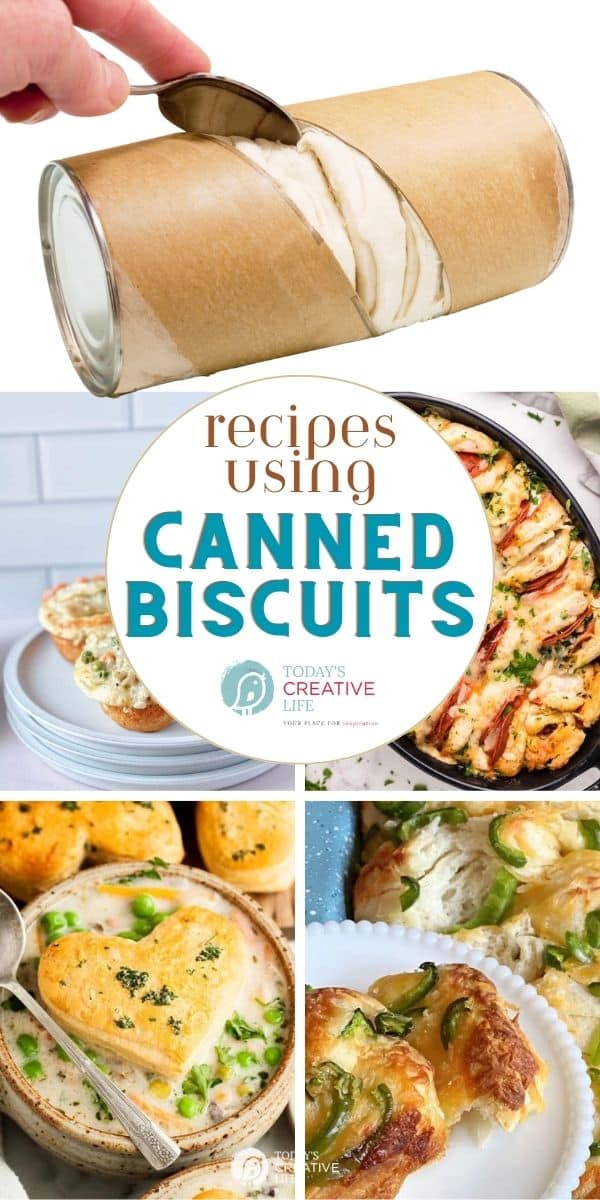 There are various types of refrigerated biscuits are available in the market, including buttermilk, flaky, and even whole wheat options. Choose the one that suits your taste and dietary preferences. These biscuits can be easily found in the refrigerated section of your local grocery store. So, no matter where you are, you can enjoy the convenience and versatility of canned biscuits.
The best part about working with canned biscuits is that they save you valuable time in the kitchen. You don't need to worry about making dough from scratch or waiting for it to rise. With canned biscuits, you can have a homemade meal on the table in no time. So, let's explore some exciting ideas to revamp your meals and make the most of these delightful dough rounds.
Breakfast Recipes using Canned Biscuits
Breakfast is the most important meal of the day, and what better way to start your morning than with a delicious and creative dish made with canned biscuits? Here are some ideas to inspire your breakfast creations.
Grab and go! A full delicious breakfast in one egg biscuit!
This is a ready-made breakfast you can make ahead of time to deliver to friends and family or have ready for yourself. Comes with a printable gift tag and a baking instruction tag.
Breakfast casserole recipes like this are easy to make and everyone loves them! Eggs, breakfast meats, cheese, and biscuits!
Photo Credit: crayonsandcravings.com
Pop this breakfast casserole into the oven for a great start to the day that everyone will appreciate. This is so easy to whip up that you are going to want to make it often on weekends.
Photo Credit: bitzngiggles.com
Grab a can of biscuits and pop them in the air fryer to start this easy semi-homemade donut recipe. You can use your favorite sprinkles and frosting for a unique flavor.
Photo Credit: Jessbeecreates.com
This egg bake is easy and cheesy! Make this ahead of time for meal prep or take it along to a brunch party. Everyone will love the way this bakes up to perfection.
All the comfort in this warm, gooey, and buttery pull-apart bread.
These are just a few examples of how you can transform canned biscuits into a scrumptious breakfast. The possibilities are endless, so don't be afraid to get creative and experiment with different flavors and ingredients. Let your taste buds guide you, and enjoy a breakfast that is both delicious and satisfying.
Lunch or Dinner Ideas with Canned Biscuits
When it comes to lunch or dinner, canned biscuits can be your secret weapon for creating quick and satisfying meals. Here are a few ideas to inspire you.
Photo Credit: sourandsweets.com
These little biscuits have all of the flavor of a good pot pie, wrapped up in a flaky biscuit! These are great for a cozy and easy meal that the entire family will love.
Photo Credit: xoxobella.com
This creamy pot pie soup is the perfect place to add a biscuit for a tasty topping. This is a really comforting dish to serve!
Photo Credit: www.spendwithpennies.com
This easy chicken skillet is perfect for a weeknight meal. It is hearty and delicious for a fuss-free family dinner that everyone will want seconds of.
Photo Credit: www.fromvalerieskitchen.com
Make the easiest pot pie ever in a skillet! This is comfort food made fast. Canned biscuits make for such a handy shortcut!
Photo Credit: www.annsentitledlife.com
This casserole is tangy, meaty and so satisfying. Top it with canned biscuits for a really great family meal that is super simple to assemble.
Photo Credit: fantabulosity.com
his casserole is beefy, cheesy and has a yummy biscuit topping for a dinner the family will love. Serve with fries or a salad for a hearty and easy meal.
Photo Credit: dailyappetite.com
This is the easiest way to make cozy chicken and dumplings! I know you are going to love this after a long day at work.
Photo Credit: cookingwithjanica.com
This casserole has all of the pizza flavors you crave but is so easy to make with a can of biscuits and your favorite toppings.
These lunch and dinner ideas are just the tip of the iceberg when it comes to revamping your meals with canned biscuits. Let your creativity shine and experiment with different flavors and ingredients. You'll be amazed at how these simple dough rounds can transform your everyday meals into something extraordinary.
Dessert Recipes Using Canned Refrigerated Biscuits
Canned biscuits are not only perfect for savory dishes but also for satisfying your sweet tooth. Here are some ideas for indulgent desserts and sweet treats.
Move over S'Mores....We're making Woof'ems! This camping and fireside treat makes a delicious dessert that uses canned biscuits and pudding!
Photo Credit: www.kyleecooks.com
These apple dumplings are so tasty! They are also so easy thanks to a simple can of biscuits!
Photo Credit: comfortcooks.com
This cherry pie is made with a can of biscuits for a bubbly good dessert that is sweet and best of all, easy!
Photo Credit: wholesomefarmhouserecipes.com
These easy elephant ears are just the thing to make when you are craving fair food! You only need 4 ingredients to make these and I know you are going to love the way they taste!
Photo Credit: balancingmotherhood.com
These sticky buns are semi-homemade. Start with canned biscuit dough and get a bakery-quality goodie at home, in no time.
Quick and easy apple dumplings made with sprite and crescent rolls make a quick dessert or fast weekend breakfast idea.
This seasonal favorite pull-apart bread is sticky, gooey, and delicious! Another Monkey bread that can be served for dessert or breakfast! Or both!
Great as a weekend or holiday breakfast or a dessert served with a scoop of ice cream. Use canned biscuits or Rhodes frozen roll dough.
These sweet treats and desserts are just a starting point for exploring the world of canned biscuit desserts. Let your imagination run wild and experiment with different flavors and toppings. The result will be desserts that are not only delicious but also easy to make.
Appetizer and Sides You Can Make with Canned Biscuits
Canned biscuits make the persfect addition to many meals., They are not only delicious with soups, pasta, and salads but also quick and easy to make. Here are a few ideas to get you started.
Photo Credit: seasonandthyme.com
No need to fire up the oven! This method makes refrigerator biscuits a breeze to make in the air fryer.
Mayo, Parmesan cheese, garlic, and more make the most delicious baked-on spread. Perfect to serve with pasta, soup or salad.
Photo Credit: www.mashupmom.com
This easy bread starts with biscuits and ends up tasting just like a Trader Joe's fan favorite! This spicy cheesy pull apart bread is going to be a bold hit with your family.
These appetizers and sides are just a taste of what you can create with canned biscuits. Let your imagination run wild and experiment with different flavors and spreads. Serve with salads, soups or just with dinner.
Tips for Working with Canned Biscuits
Working with canned biscuits is easy, but there are a few tips and tricks that can help you achieve the best results:
Handle with Care: Canned biscuits are delicate, so handle them gently to avoid deflating the dough. Be sure to follow the instructions on the packaging for the best results.
Flour as Needed: If the dough is sticky, lightly flour your hands or the surface to prevent sticking. This will make it easier to work with the dough and prevent it from becoming tough.
Preheat the Oven: Always preheat your oven before baking canned biscuits. This will ensure that they rise properly and bake evenly.
Avoid Overcrowding: When baking canned biscuits, make sure to leave enough space between each biscuit to allow for proper rising and browning. Overcrowding can result in uneven baking and dense biscuits.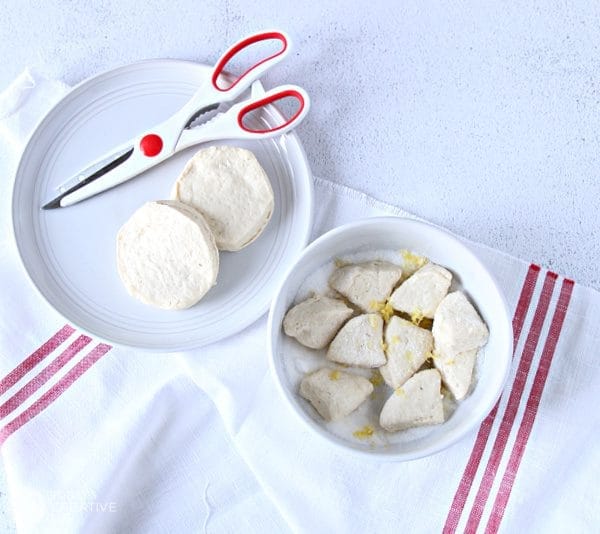 With these tips in mind, you'll be well on your way to creating delicious meals and treats with canned biscuits. So, don't be afraid to get creative and have fun in the kitchen!
Canned Biscuit Hacks and Shortcuts
In addition to the ideas and tips mentioned above, there are a few hacks and shortcuts that can make working with canned biscuits even easier:
Freeze and Reheat: If you have leftover canned biscuits, don't let them go to waste. Freeze them in an airtight container and reheat them in the oven whenever you need a quick and tasty bread option.
Canned Biscuit Waffles: Use canned biscuit dough in a waffle iron to create fluffy and delicious waffles. Simply place a piece of dough in each section of the waffle iron and cook until golden brown. Serve with your favorite toppings for a unique and tasty breakfast.
Canned Biscuit Cinnamon Rolls: Create homemade cinnamon rolls by rolling out canned biscuit dough, spreading it with melted butter, cinnamon, and sugar, and rolling it up. Slice the roll into individual rolls and bake until golden brown. Drizzle with icing for a sweet and indulgent treat.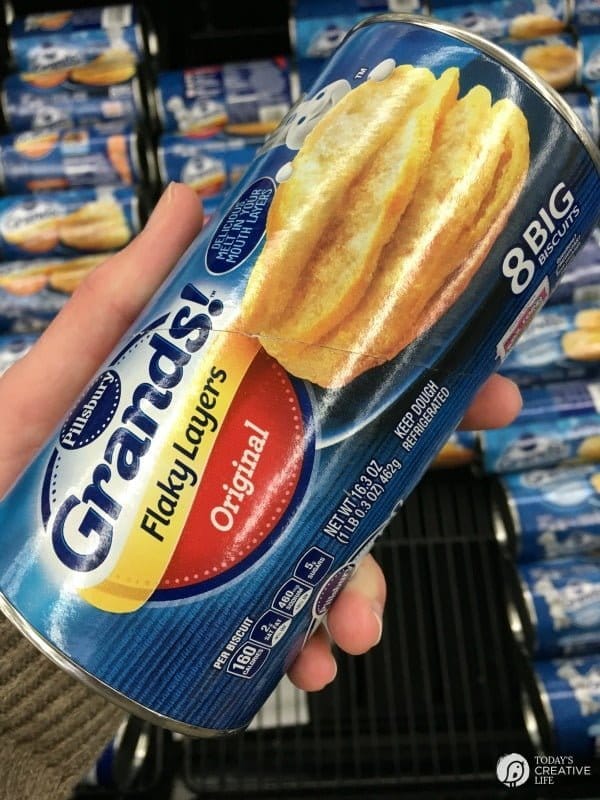 These hacks and shortcuts are just a few examples of how you can make the most of canned biscuits in your kitchen. Feel free to get creative and come up with your own ideas. The possibilities are endless!
Alternative Uses for Canned Biscuits
While canned biscuits are most commonly used for baking, there are a few alternative uses that may surprise you:
Dumplings: Add canned biscuit dough to soups, stews, or casseroles as a quick and easy alternative to homemade dumplings. The dough will cook in the liquid and become fluffy and delicious.
Crusts: Use canned biscuit dough as a shortcut for pie crusts. Simply roll out the dough and use it as you would a traditional pie crust. This is perfect for when you're short on time but still want to enjoy a homemade pie.
Empanadas: Fill canned biscuit dough with your favorite sweet or savory fillings and bake until golden brown. These handheld treats are perfect for a quick snack or a party appetizer.
These alternative uses for canned biscuits are just a glimpse into the many possibilities they offer. Don't be afraid to think outside the box and experiment with different flavors and ingredients. You'll be amazed at how versatile these dough rounds can be.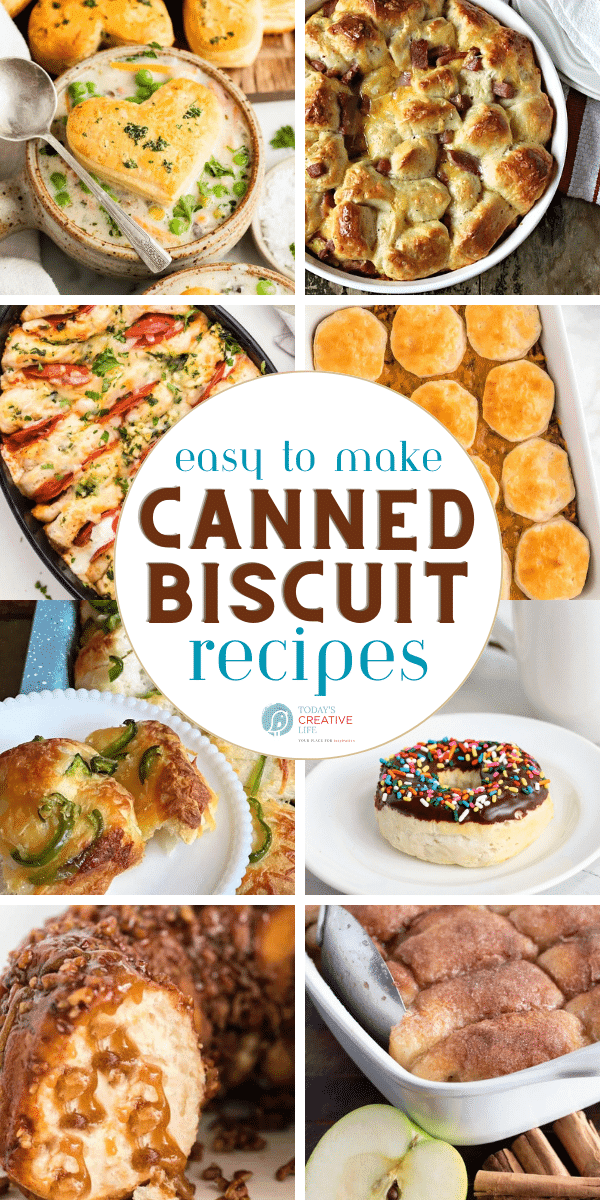 Canned biscuits are a versatile and convenient ingredient that can transform your meals into something extraordinary. Whether you're looking to revamp your breakfast, create delicious appetizers, or satisfy your sweet tooth, canned biscuits have got you covered. With the ideas and tips shared in this article, you'll be well on your way to creating mouthwatering dishes that will impress your family and friends. So, don't be afraid to get creative and let your taste buds guide you. Grab a can of biscuits, roll up your sleeves, and embark on a culinary adventure that will leave you wanting more. Happy cooking!