My love for Puff Pastry runs deep! It's one of the easiest ingredients to work with. I whipped up these easy to make Puff Pastry Garlic Parmesan Spirals to go along with my Strawberry Gorgonzola Salad we were having for dinner. My Creamy Garlic Cheese Bread would have been delicious too!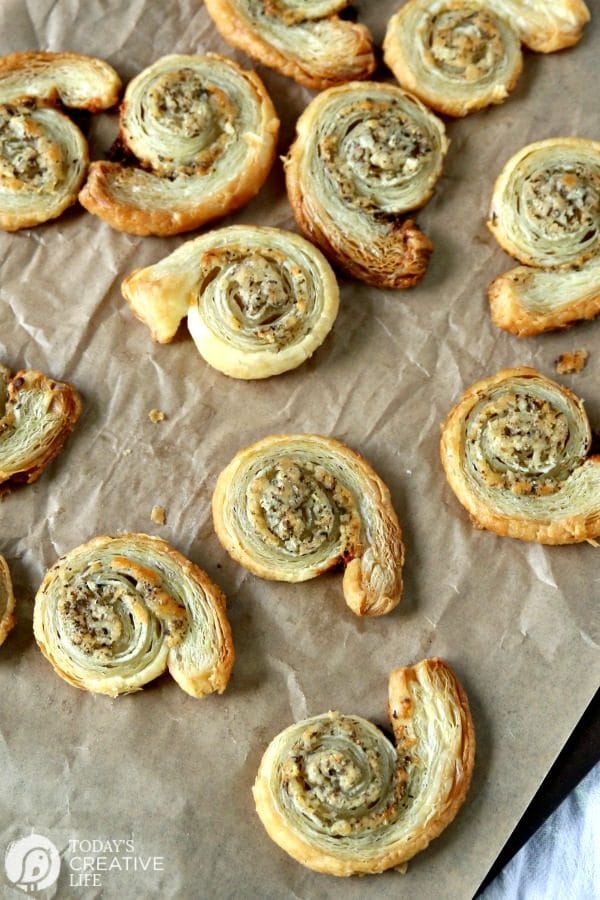 If you need an easy and quick appetizer for a potluck or party, these rolled up pinwheels full of flavor may be exactly what you're looking for. Or these Asparagus Swiss Mini Quiches.
They are also great to serve with soup! A hot bowl of this slow cooker minestrone soup and everyone is happy!
Puff Pastry Garlic Parmesan Spirals
As mentioned, I love baking with this stuff. It makes everything look amazing! One of my latest things I love making is Puff Pastry Breakfast Braids.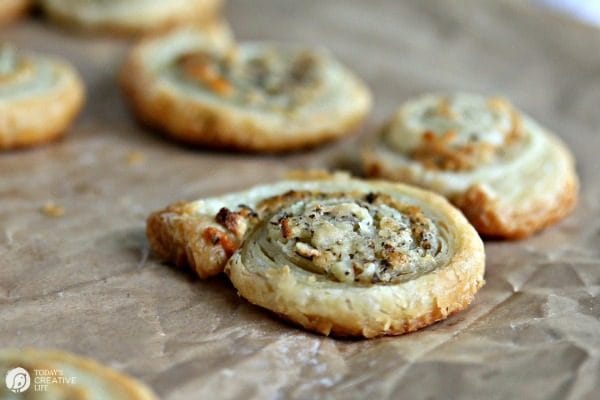 Honestly…. one of the most impressive and easiest things you'll ever make. You will look like a French pastry chef.
How to Make Puff Pastry Garlic Parmesan Spirals
I've got a printable recipe below for your convenience.
You want to take the pastry out of the freezer and let it thaw to room temperature before unfolding. I roll it out just a little to create a larger piece. If you don't have a rolling pin, use a drinking glass.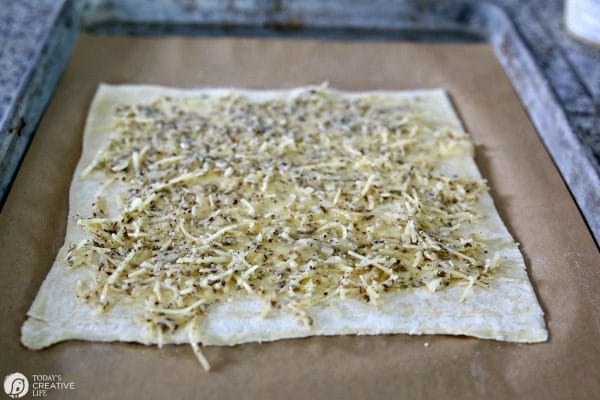 Smear your ingredients on and simply roll up. I decided to place my rolled up pastry in the fridge for a while to make slicing easier. Cold dough is much easier to cut.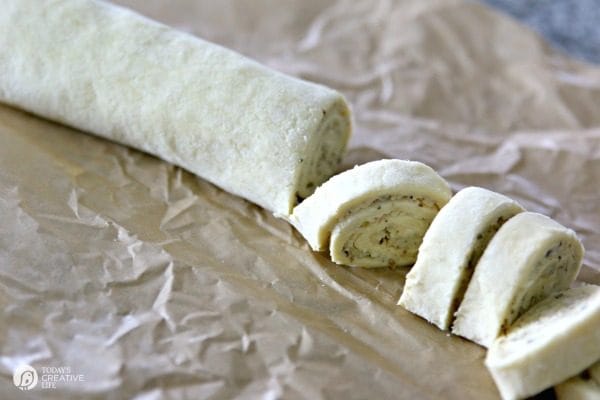 Place on your baking sheet and you're moments away from warm and delicious Garlic Parmesan Puff Pastry Spirals. I love using these parchment paper baking sheets. They fit my pans perfectly.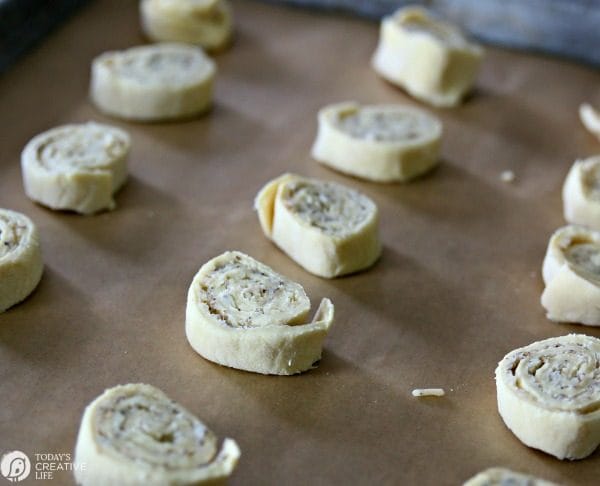 You could make these with pizza dough and maybe even pie crust.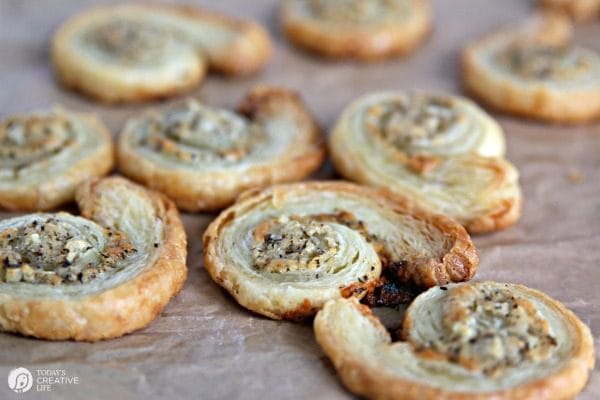 This is a great recipe for kids helping in the kitchen!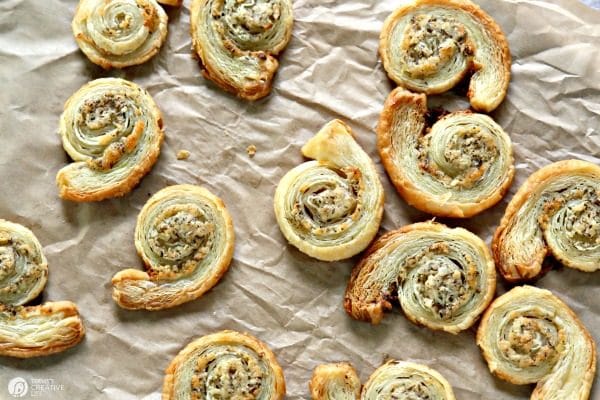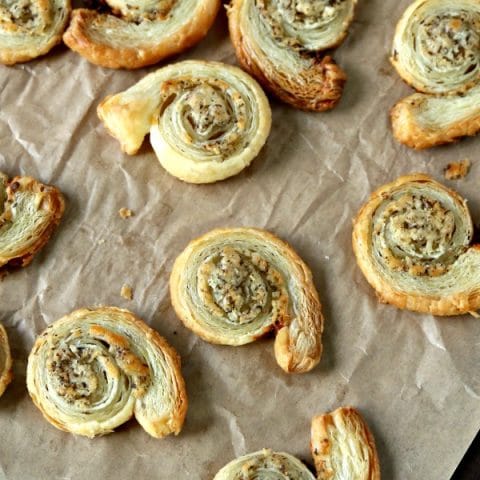 Puff Pastry Garlic Parmesan Spirals
Yield: 12
Prep Time: 15 minutes
Cook Time: 11 minutes
Total Time: 26 minutes
Easy to make using puff pastry, garlic, butter and parmesan! Great with salads and soup or take as an appetizer.
Ingredients
1/4 cup butter - melted
3 tablespoons grated Parmesan
2 tablespoons oregano
3 cloves garlic - chopped
1 sheet puff pastry
Instructions
Thaw puff pastry to room temp. Once thawed, unfold.
Roll dough out slightly, but not too thin.
In a small bowl, melt butter.
Add the rest of the ingredients to the butter and stir.
Smear onto puff pastry.
Roll up like you're making cinnamon rolls.
Cut into 1/2 inch slices.
Place slices on parchment papered cookie sheet.
Bake at 425 degrees for 10-12 minutes.
Notes
- If the dough is hard to cut, try putting it in the refrigerator for 20-30 min.
Nutrition Information
Yield 12
Serving Size 1
Amount Per Serving
Calories 56
Total Fat 5g
Saturated Fat 3g
Trans Fat 0g
Unsaturated Fat 2g
Cholesterol 11mg
Sodium 62mg
Carbohydrates 2g
Fiber 0g
Sugar 0g
Protein 1g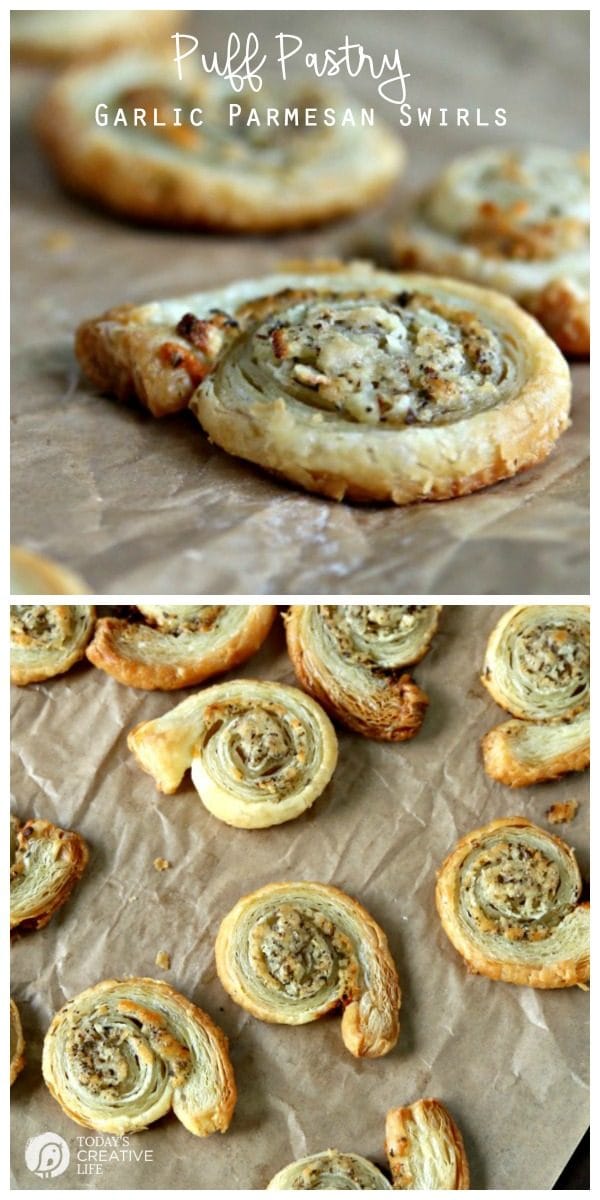 ---
Puff Pastry Appetizer Ideas
Puff Pastry is one of the easiest ingredients to work with. You'll come out looking like a professional pastry chef every time.