No one will believe that you didn't buy these Puff Pastry Cinnamon Twists from a fancy French bakery.
Puff Pastry Cinnamon Twists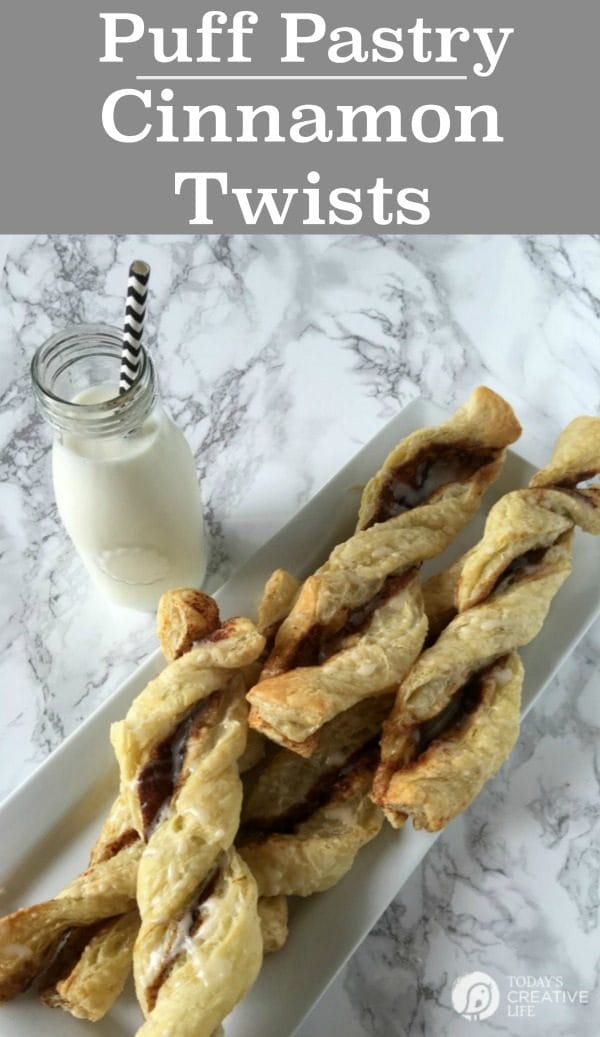 And you won't believe how easy and quick they are to make! You'll impress yourself with your culinary skills. If you need to feel like a rock star in the kitchen, then grab a box of Puff Pastry.
I love baking with puff pastry. Every time I use it, I'm amazed how easy it is. I'm not the greatest baker, but I feel like I am when I'm making things like my Puff Pastry Tomato Pesto Tart or my Turkey and White Cheddar Pinwheels. Or this amazing Chocolate Braid Recipe I must try!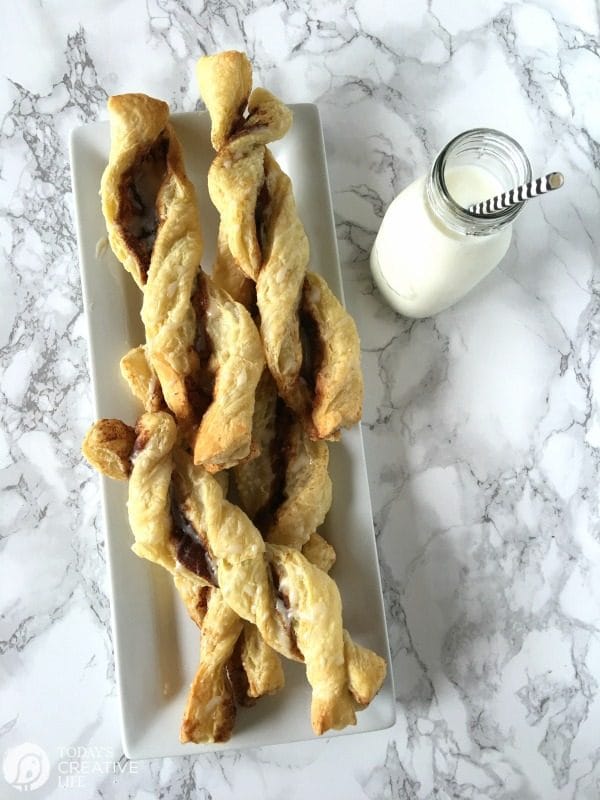 I was sitting here working away, when I suddenly got a craving for donuts. It was the middle of the day and it's about 5 miles to the closest donut shop, and I was lacking motivation to even think about leaving the house. Now that's pathetic isn't it. To lazy to get a donut.
That's when I remembered I had a box of puff pastry in the freezer. It's always a good idea to keep a box for last minute appetizers or when you get a donut craving. Puff Pastry Cinnamon Twists are the next best thing!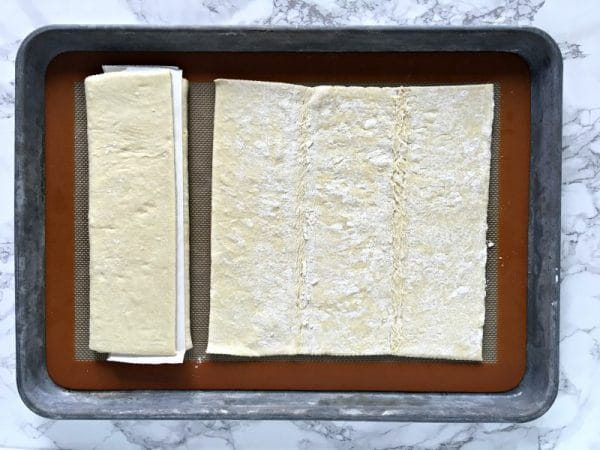 How to Make Puff Pastry Cinnamon Twists
(printable recipe below)
Puff Pastry about 40 minutes to thaw, so you'll want to take the box out of the freezer before your craving gets out of control.
You'll need 3 ingredients. Butter, Brown Sugar and Cinnamon. I never really measure, so if you're a person that needs specific directions, this isn't your recipe. But trust me…. it's super easy and very difficult to mess up.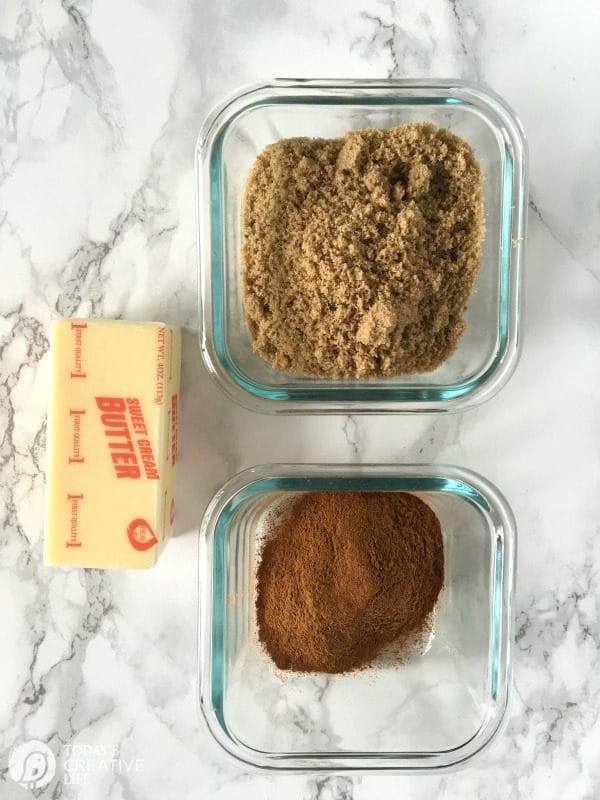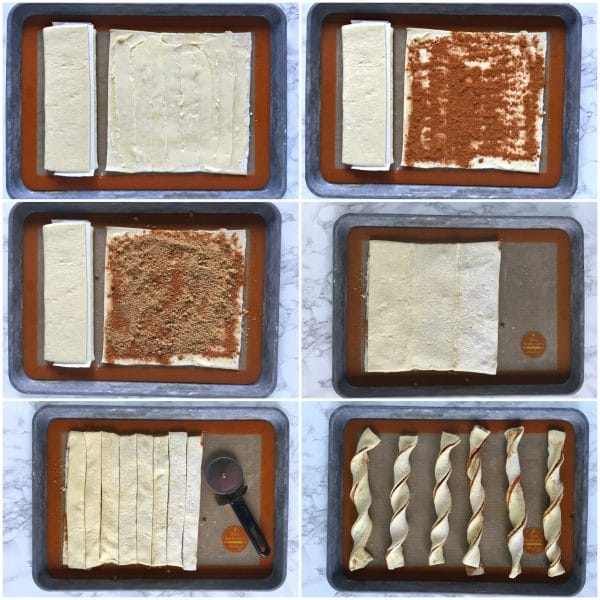 Unfold one sheet and smear with butter.
Sprinkle a liberal amount of cinnamon.
Sprinkle a liberal amount of brown sugar.
Place the second sheet of puff pastry on top of the prepared one and press down a little.
Using a pizza cutter, cut into strips.
Pick up each strip by the ends and carefully twist in opposite directions.
Line them up on your pan. I used a silicone liner, but parchment paper can also be used.
Bake for about 10 min or until lightly browned.
Drizzle with a vanilla glaze.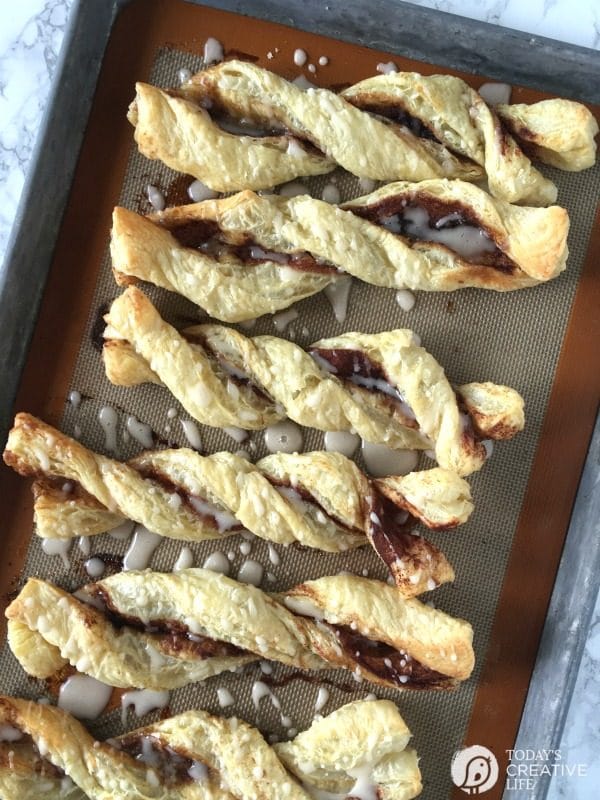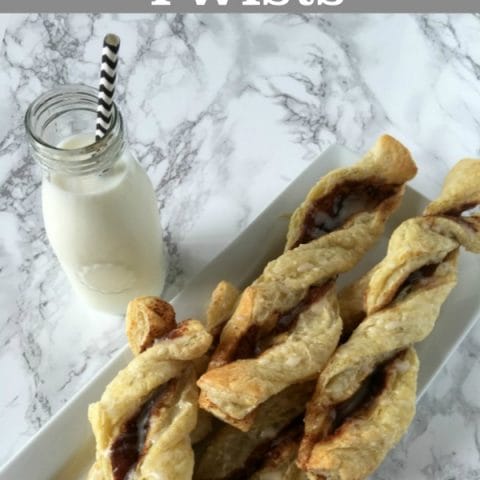 Puff Pastry Cinnamon Twists
Prep Time: 10 minutes
Cook Time: 10 minutes
Total Time: 20 minutes
This recipe does not contain exact measurements.
Ingredients
Puff Pastry - 2 sheets (Find it in your freezer section and they usually have 2 to a box)
Brown Sugar
Cinnamon
Butter - softened
Vanilla Glaze Ingredients
2 Cups Powder Sugar
2 teaspoons milk
1/2 teaspoon vanilla
Instructions
Using a cookie sheet, either line with parchment paper or use a silicone liner.
Set out your Puff Pastry to thaw, about 40 min as directed on the box.
Once it's thawed, unfold one sheet and smear with butter.
Sprinkle cinnamon and brown sugar over the butter.
Place the 2nd sheet on top and press down slightly.
Using a pizza cutter, cut into strips.
Pick up each strip on the ends and twist in the opposite direction of each other.
Place on your prepared cookie sheet. They will get larger as they bake, so leave enough space between.
GLAZE DIRECTIONS
Mix powder sugar, with milk and vanilla. Stir vigorously with a fork or whisk. Add more milk if it's to thick.
Using a spoon, drizzle over the the cinnamon twists after you pull them out of the oven.
Notes
Try this with other ingredients. Make a savory twist with parmesan and garlic!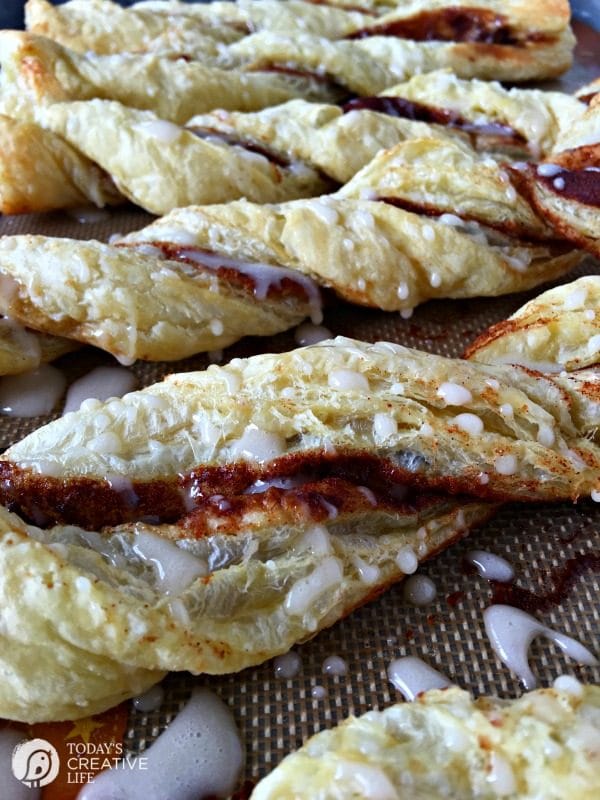 ---
See more Puff Pastry Recipes