Get ready to indulge in a mouthwatering delight that brings together the best of flaky pastry, pesto and juicy tomatoes. Introducing the irresistible Puff Pastry Tomato Pesto Tart! This Mediterranean-inspired treat is a perfect blend of buttery layers and sun-kissed tomatoes. With each bite, you'll experience the delightful combination of tangy tomatoes, aromatic herbs, and the incredible texture of golden puff pastry. Whether you savor it as a starter or enjoy it as a main course, this Tomato Tort promises to satisfy your cravings and transport your taste buds to a world of incredible flavors. Prepare to be captivated by this visually stunning and utterly delicious creation that will leave you craving for more.
Remember when I made that easy pesto recipe with those really expensive pine nuts? Well, I made it because I knew I was also going to be making this Puff Pastry Tomato Pesto Tart. I had some puff pastry in the freezer that was just begging to be used.
That stuff is magic! Baking with Puff Pastry honestly makes you feel like a master pastry chef. I recently made 2 different fruit filled Puff Pastry Braid recipes that are so easy and fast to whip together. You can use any filling you'd like for some time sweet or savory.
Puff Pastry Tomato Pesto Tart
Since we have a ton of tomatoes right now, I'm looking for ways to use them. I'll also be making up a large batch of my Tomato Ravioli Soup for the freezer and maybe some marinara sauce too.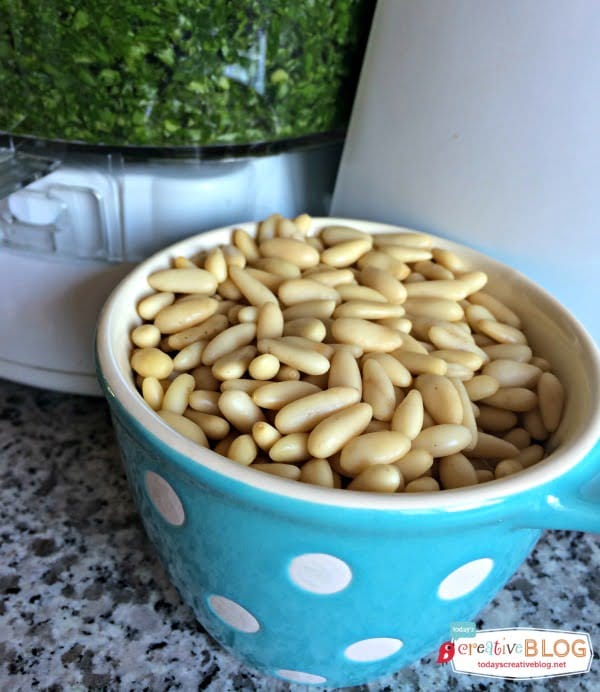 While my Puff Pastry was thawing, I made up some pesto using this easy & delicious pesto recipe. I made a lot, so I'll be freezing some for later. Shop around for your pine nuts… after spending way too much money on mine, I found them at Trader Joe's for a LOT less.
Puff Pastry Tomato Pesto Tart Supplies
Puff Pastry sheets – I buy the Pepperidge Farm brand and it's in the freezer section of your local grocery store.
Pesto – homemade pesto or store-bought will work. Find my Homemade Pesto Recipe Here.
Roma Tomatoes or an heirloom variety.
Cheese – I used a blend an Italian blend, but Parmesan only would also work.
Rolling pin
baking sheet
How to Make a Puff Pastry Tomato Tart
Once thawed, I opened up one sheet and rolled it out onto my stone since I didn't have a 12 x 12-inch jelly roll pan. Poked a few holes in it so it wouldn't over poof. That's a new kitchen term…….over poof.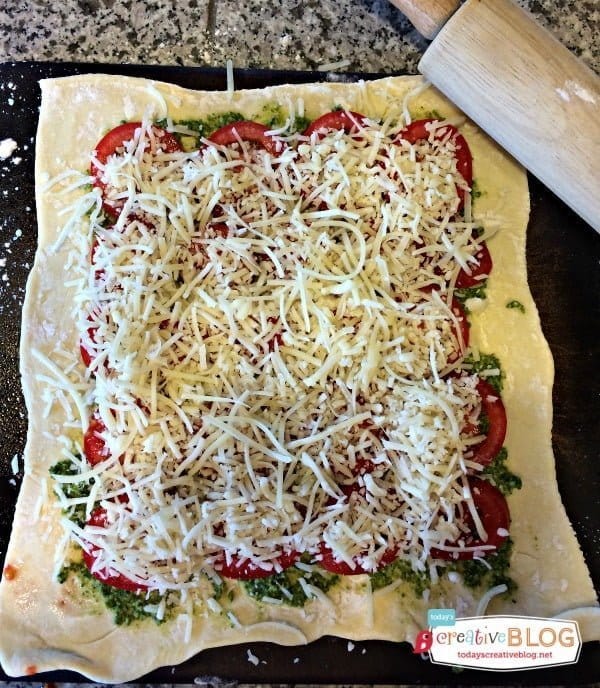 I spread pesto over the top leaving the edges clear. Placed my gorgeous homegrown sliced plum tomatoes in a pretty pattern, sprinkled with cheese and threw it in the oven.
Edited to add: I have since learned to score the edges about one inch in. This allows the puff pastry to puff up even more. Scoring the edge is using a knife or pizza cutter, but not cutting all the way through.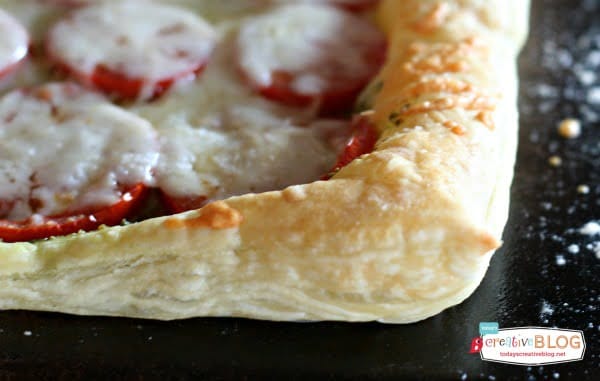 After about 13 minutes, we had a wonderful tart to go with our salad. Even my 15 yr old loved it. So simple and it looked amazing!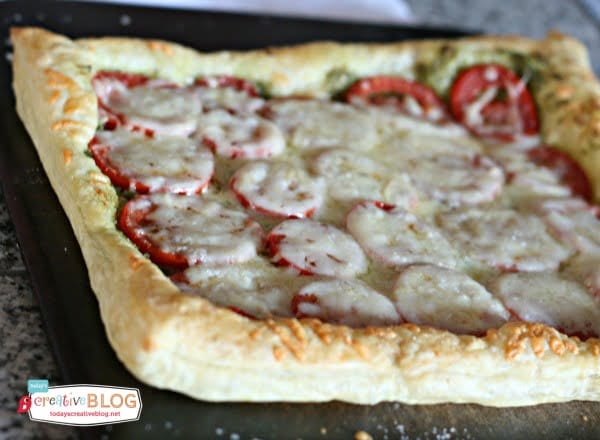 This is one of those recipes that looks so fancy, but is so simple! Great for parties, or a light dinner like we used it for.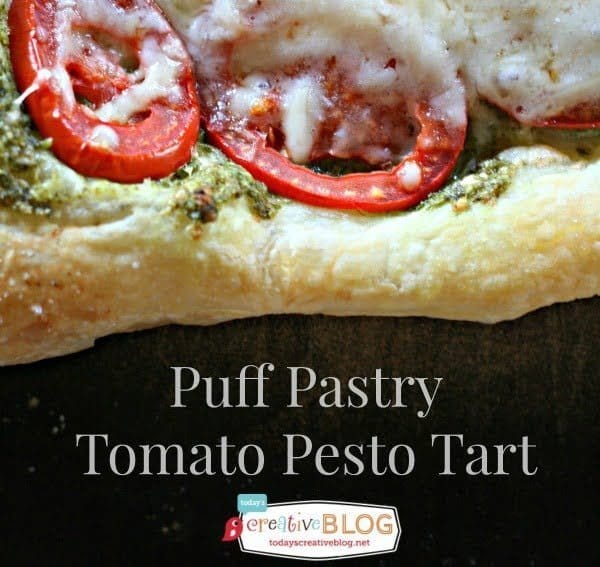 Can't you just smell the pesto?
Puff Pastry Tomato Pesto Tart Recipe
Yield: 9
Prep Time: 10 minutes
Cook Time: 13 minutes
Total Time: 23 minutes
Indulge in the irresistible flakiness of puff pastry with the vibrant flavors of sun-ripened tomatoes and fragrant pesto sauce. With its golden crust, juicy tomato slices, Pesto, and a touch of cheesy goodness, this tart is a true feast for the senses.
Ingredients
1 sheet of Puff Pastry (they usually come 2 to a pack in the freezer section)
1/4 cup Pesto (use my recipe! It's delicious)
3 large plum tomatoes or alternate rows with plum tomatoes and sliced yellow cherry tomatoes
1/2 cup Quattro Formaggio Cheese (Trader Joes of Parmesan, Asiago, Fontina and mild provolone.)
Basil leaves for garnish if desired.
Instructions
Preheat your oven to 400° F.
I used my Pampered Chef Stone and did not grease. Other options would be any jelly roll pan or a 12-pan. Grease or use parchment paper.
Carefully unfold your thawed puff pastry onto a piece of parchment paper. Roll it out, then place onto the baking sheet.
Score the edge with a knife and poke a few holes in the pastry using a fork. This will give it a nice raised edge and prevent bubbling.
Spread your pesto onto the pastry, leaving the edges clear.
Arrange your tomato slices in rows.
Sprinkle cheese over the tomatoes
Bake 12-13 minutes. Your puff pastry should be golden brown.
Enjoy!
Notes
If you don't have a Trader Joes near, you can use Parmesan cheese only. It will still be delicious!

Recommended Products
As an Amazon Associate and member of other affiliate programs, I earn from qualifying purchases.
Nutrition Information
Yield 9
Serving Size 1
Amount Per Serving
Calories 94
Total Fat 7g
Saturated Fat 2g
Trans Fat 0g
Unsaturated Fat 4g
Cholesterol 8mg
Sodium 91mg
Carbohydrates 5g
Fiber 1g
Sugar 2g
Protein 3g
We do our best to calculate, however, nutrition information may not be accurate.
Recipes Using Puff Pastry
Create fluffy flaky recipes using store bought puff pastry. Easy to make ideas for sweet or savory.
Pinwheels are delicious, quick and easy snacks or appetizers, made with puff pastry. This recipe for Turkey and White Cheddar Pinwheels makes a great lunch for kids, too.
Easy to make Bread sticks using puff pastry
This recipe does not contain exact measurements.
This savory tart made with spreadable cheese is a great appetizer recipe.
Use any fruit, pie filling or fruit spread with this easy to make puff pastry braid.
Great for an appetizer, or serve with soup and salad,