If you have beef lovers in your family, then this Slow Cooker Mexican Pot Roast will be ranked as one of their favorites like the Crock Pot Mississippi Roast in no time!
Slow Cooker Mexican Pot Roast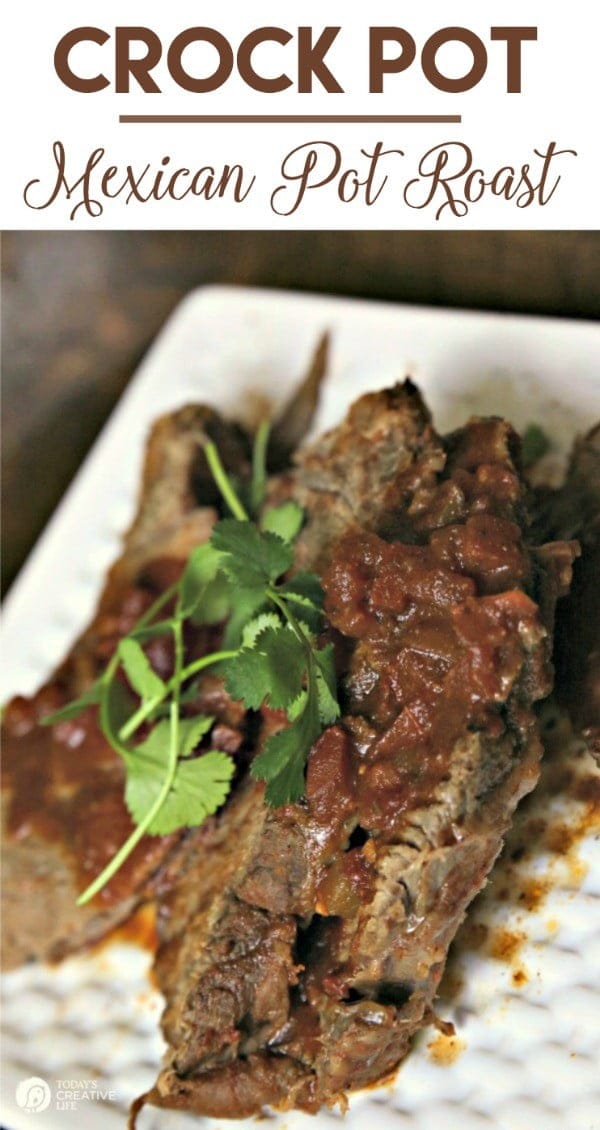 I hesitated in sharing this, only because the photos really don't do it justice. It was one of those drizzly pacific NW days and by the time the roast was finished cooking, it was pretty much dark, making it impossible to get a good shot. But it is just too delicious not to share, so I'm taking one for the team.
In addition to the challenges I was already facing… I had my son and husband banging their forks and knives on the table, chatting "We want food". Well…. that last part isn't true, but they were hungry and asking when they could eat. They seemed overly excited to try this Slow Cooker Mexican Pot Roast.
That's the life of a blogger. I've got them trained to ask if they can eat anything before a photograph.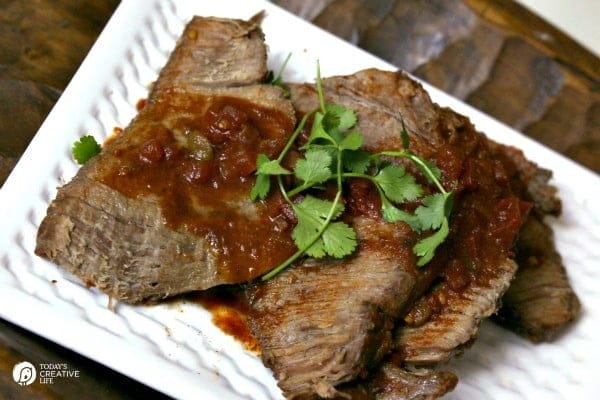 So how about you just try the recipe because I'm telling you it's so delicious? Ok?
The next time I make it, I'm going to shred it for tacos or enchiladas instead of slicing it and serving with beans and rice. My husband being the carnivore that he is, was craving a hunk of meat, so I sliced it …. he was a happy camper.
The sauce it leaves behind is delicious drizzled over the top, or if you're shredding, you'll want to place all the shredded meat back in with the sauce. Yum!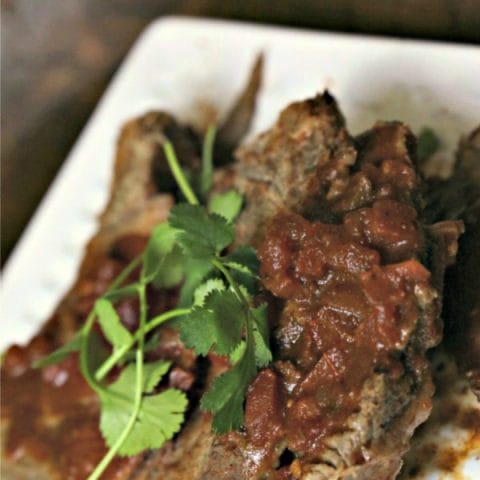 Slow Cooker Mexican Pot Roast
Cook Time: 8 hours
Total Time: 8 hours
This is even better shredded and used for burritos or enchiladas.
Ingredients
1 1/2 cups chunky salsa
1 cup beef broth or beer
1 can (6 oz) tomato paste
1 package taco seasoning
3-4 lb beef round roast
1/2 teaspoon sea salt
1/2 teaspoon black pepper
2 Tablespoons peanut butter
1/3 cup chopped cilantro
Instructions
In a 5 or 6 qt slow cooker, place the first 4 ingredients inside and stir.
Rub the roast with salt and pepper, then place it in the crock on top of the sauce.
Spoon some of the sauce over the roast.
Cover and cook on LOW 8 hour or until the roast is tender and cooked.
Remove the roast to a large plate or cutting board and either slice or shred.
Stir peanut butter and cilantro into the sauce.
Either return the shredded beef back into the sauce and stir, or use the sauce to pour over the sliced beef.
This is one of those "dump it in" slow cooker recipes, making it perfect for putting in the crockpot in the morning and having dinner magically ready that evening.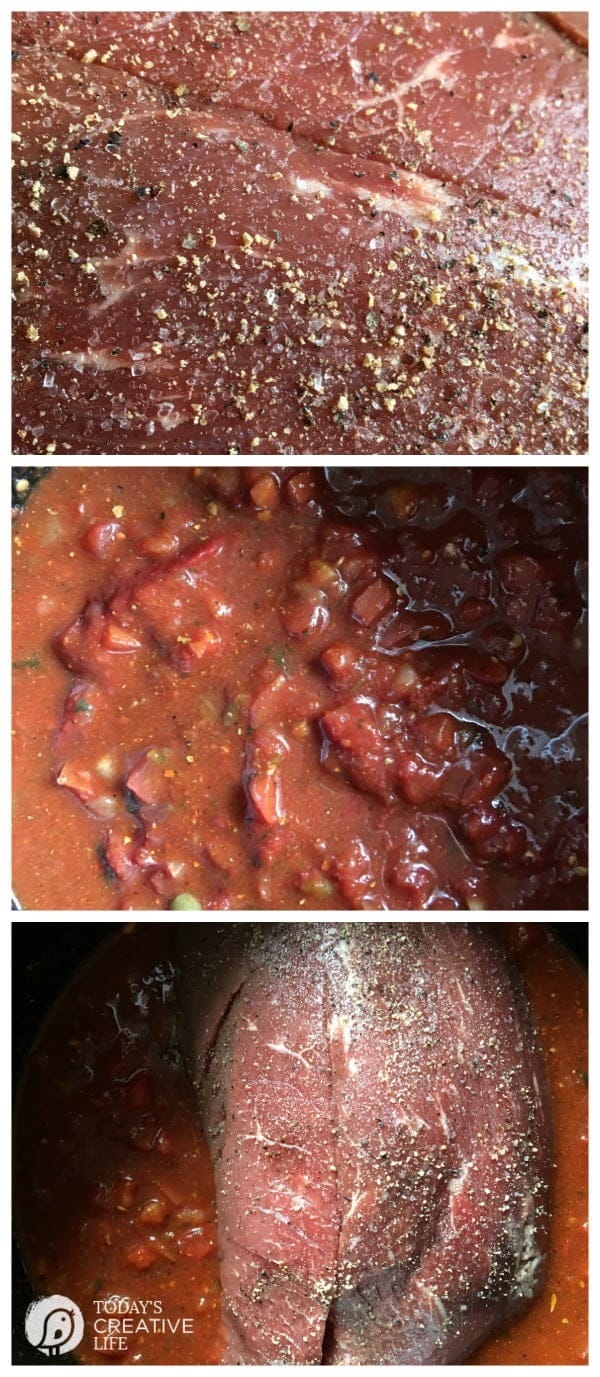 I first rubbed my roast with sea salt and freshly ground black pepper, then mixed up the sauce ingredients. I then placed the roast on top of the sauce and spooned a bit of the sauce over the roast. I put the lid on and set it on LOW and went on my merry way. Simple.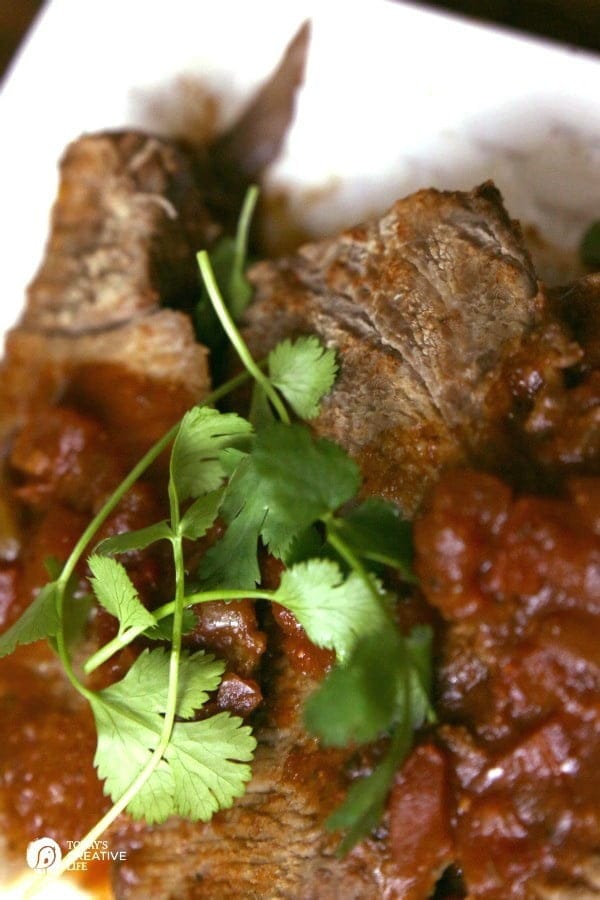 Enjoy!
---
See more Slow Cooker Recipes here.
My favorite slow cooking supplies:
5 quart Slow Cooker – this is the exact one that I have.
Crock pot liners – these make clean up a breeze.
A good slow cooker recipe book – 5 Ingredients or Less – This book is a life saver!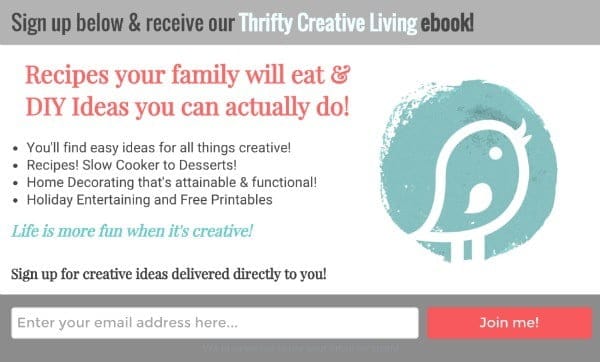 This post contains affiliate links for the supply list. This cost you nothing extra, but if you do decide to click and purchase, TCL will receive a teeny amount in return. Why am I telling you this? Because it's the law. Why don't celebrities or radio DJs have to disclose? My guess is as good as yours.