Inspired by monkey bread pull apart recipes, I thought I'd try making a Monkey Bread Loaf instead. This is a great option for when you don't have a bundt pan. Cinnamon, brown sugar, pecans and more make this pull-apart bread so good!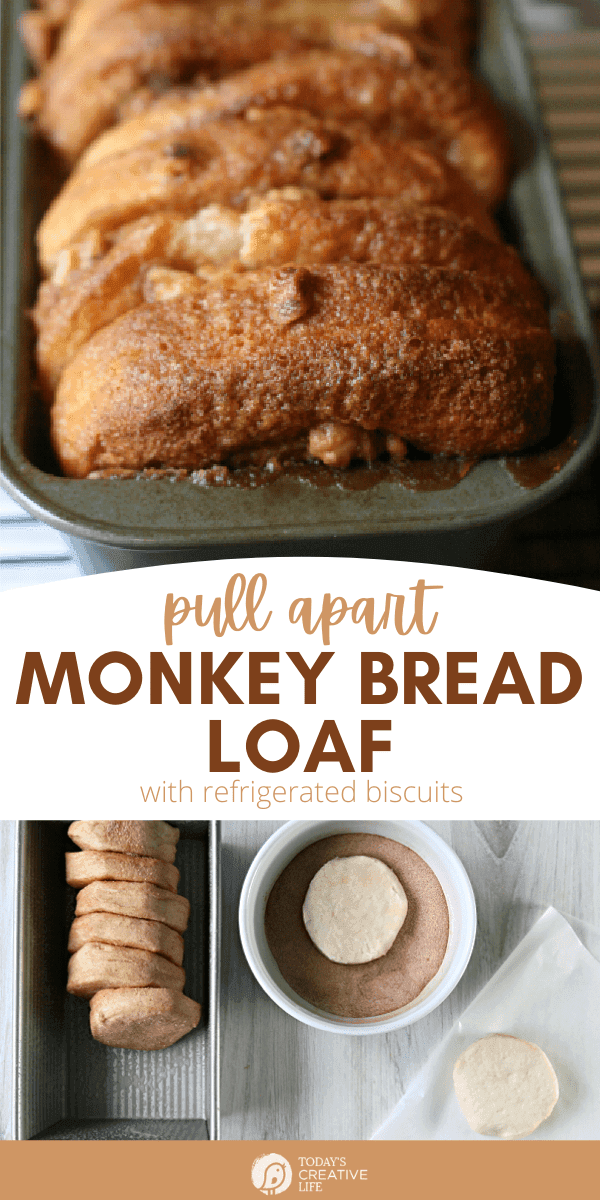 Pull-Apart Monkey Bread Loaf
When it comes to easy weekend breakfast recipes, this one is right up there. Using refrigerated biscuits makes it simple for anyone to make. Add a few other pantry ingredients and you've got yourself a special breakfast treat.
What is Monkey Bread?
Monkey Bread is basically a pull-apart bread made with a refrigerated tube of biscuits covered with the sweet taste of caramel and cinnamon, like a cinnamon roll. I've also used the Rhodes frozen biscuits too, like in my Pumpkin Spice Monkey Bread recipe.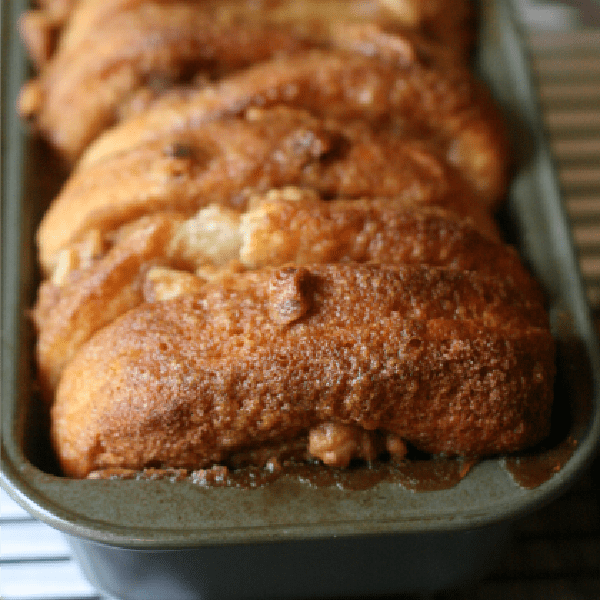 Monkey Bread Loaf Ingredients
1 or 2 tubes of refrigerated biscuits
cinnamon
brown and granulated sugar
butter
optional items are raisins and nuts.
How to Make a Monkey Bread Loaf
When making a monkey loaf instead of traditional monkey bread in a bundt pan, I find it easier to coat the biscuits using a bowl.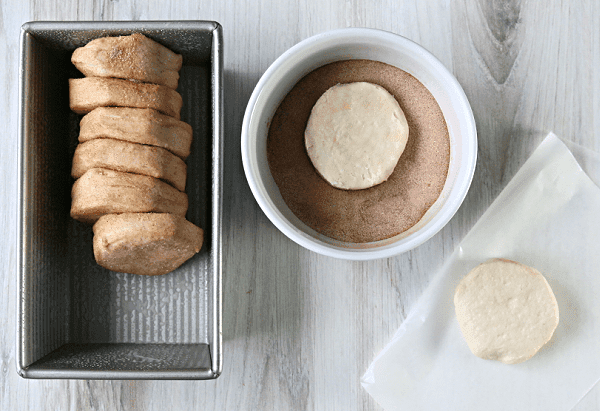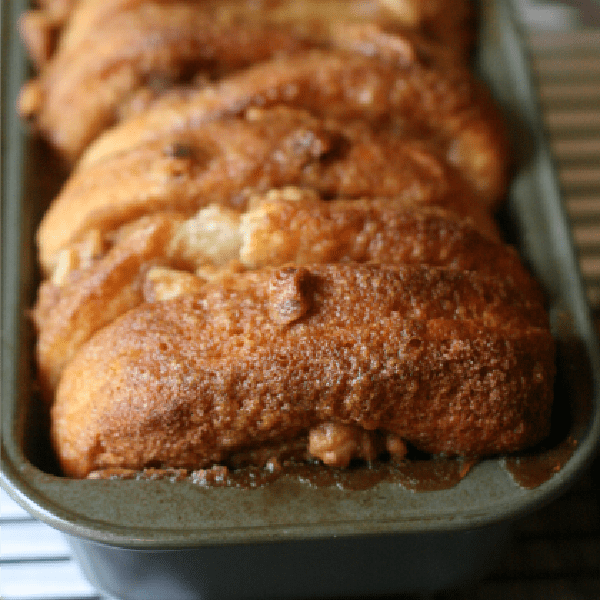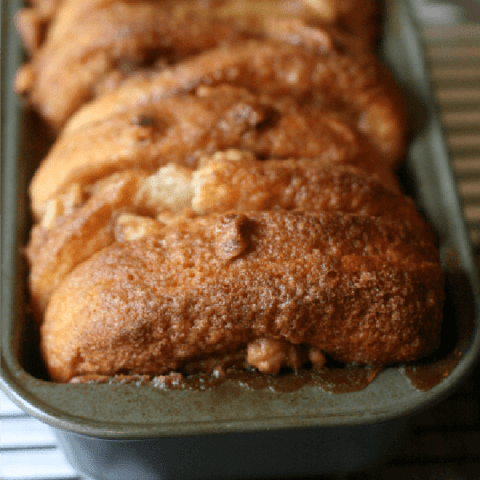 Monkey Bread Loaf Recipe
Yield: 12
Prep Time: 25 minutes
Cook Time: 40 minutes
Total Time: 1 hour 5 minutes
All the comfort in this warm, gooey, and buttery pull-apart bread.
Ingredients
1/2 cup granulated sugar
1 teaspoon cinnamon
1 cans (16.3 oz each) Refrigerated Biscuit Dough
1/2 cup chopped pecans or walnuts, if desired
1/2 cup raisins, if desired
1
1/2 cup firmly packed brown sugar
1/2 cup butter or margarine, melted
Instructions
Heat oven to 350°F. Generously grease a regular size bread pan.
Mix granulated sugar and cinnamon into a medium size bowl.
Separate each biscuit.
Roll each piece in cinnamon sugar, coating all sides.
Line up in the pan placing the biscuit on it's edge.
Add nuts, placing them between and on top.
Sprinkle remaining sugar and cinnamon mixture over the top.
In a small bowl mix brown sugar and melted butter; pour over the biscuits. Be sure to separate each one to allow the mixture to seep in between.
Bake 30-40 min or until golden brown and no longer doughy in the center. You may need to cover with tin foil the last 10 min of baking to avoid over-browning.
Cool in pan for 5 mins. You can use a spatula and dish out as is, or you can turn the pan upside down onto a serving plate.
Notes
Option: Following the same instructions, use 2 cans of biscuits, cut into quarters and using a bundt pan, making more of a traditional monkey bread pull apart.
Nutrition Information
Yield 8
Serving Size 1
Amount Per Serving
Calories 291
Total Fat 17g
Saturated Fat 8g
Trans Fat 1g
Unsaturated Fat 8g
Cholesterol 31mg
Sodium 164mg
Carbohydrates 36g
Fiber 1g
Sugar 30g
Protein 2g
We do our best to calculate, however, nutrition information may not be accurate.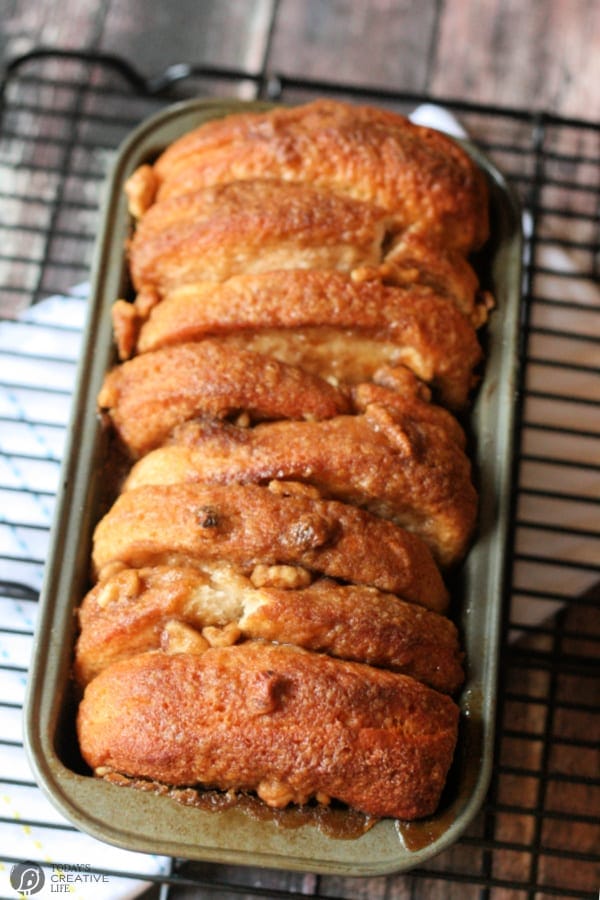 Do you Turn Monkey Bread Upside Down?
Anytime I've used a classic bundt pan, I always invert before serving. But when using a loaf pan, sometimes I just scoop straight out of the pan. If you'd like to invert it, place a serving tray or plate over the top and flip the pan over. You'll want to do this about 5 minutes after taking it out of the oven.
Monkey Bread Loaf Recipe Options
Cinnamon is usually a favorite, but using pumpkin spice, or a blend of cinnamon, nutmeg, ginger, and cloves is wonderful too. I even used pudding mix for this butterscotch monkey bread and it worked deliciously at creating that caramel flavor. In addition to raisins, you can try any dried fruit you'd like or maybe even chocolate chips. I find pecans and walnuts the best nuts to use in pull-apart bread recipes.
Make-Ahead Monkey Bread
Using store-bought biscuit dough is a huge time saver, but sometimes it's nice to be even more prepared to be able to make something ahead of time. You can prepare the dough ahead of time by covering with cinnamon sugar and then tightly cover with foil up to an hour before baking. When you're ready to bake, complete the recipe by adding the raisins, nuts, and pour the butter/brown sugar over the top, then bake as directed.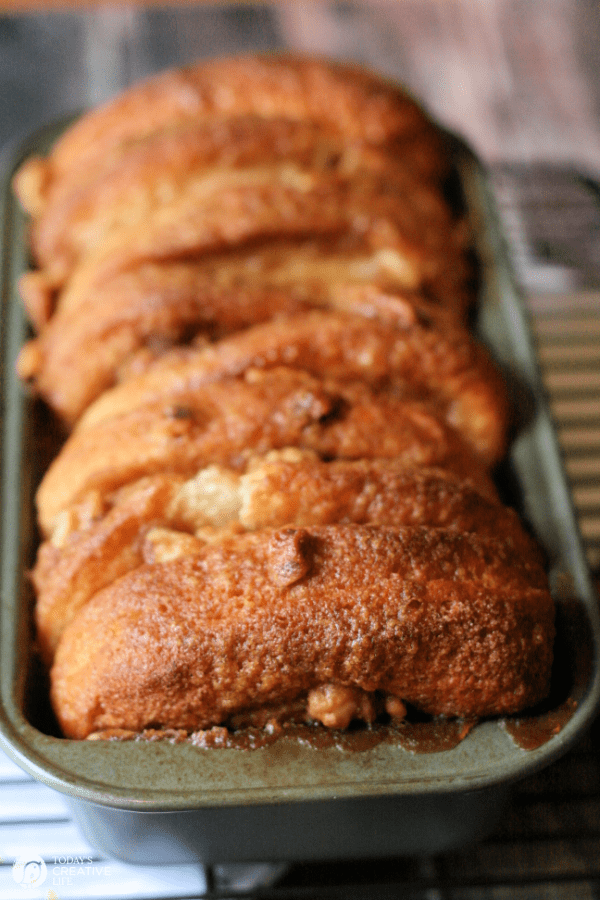 How to Make Monkey Bread in a Bundt Pan
You basically follow the same recipe, except you'll need 2 tubes of biscuit dough. You'll cut each piece into quarters, coat with cinnamon sugar in a Ziploc bag and arrange into the pan. Cooking time may vary since you're working with a deeper pan and more dough.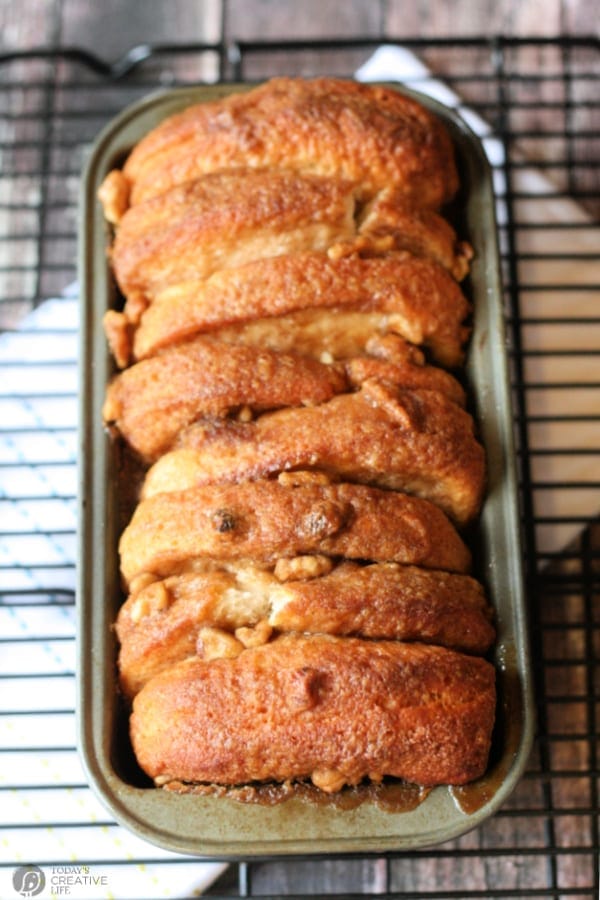 Monkey Bread Recipes & More Fall Ideas
The taste of fall is homemade.
Made with Rhodes rolls and butterscotch pudding!
Instead of a bundt pan, why not a sheet pan?
Traditional Pumpkin Cookies from an old family recipe book.
This is a fall favorite breakfast!
Brunch, holidays and weekends are perfect for this recipe.
Easy, Delicious and Impressive!
Homemade blends are always better.
Pumpkin Crunch Cake is the ultimate cake mix dump cake for fall.