Make this pumpkin cream cheese puff pastry braid using store bought puff pastry. This melt in your mouth pumpkin flavored cream cheese filled pastry is flaky, beautiful and most importantly, delicious!
Puff pastry made into a braid is an easy dessert or brunch idea that everyone loves. With the holiday season fast approaching, It's always nice to have a few easy appetizer and dessert ideas handy for quick entertaining! This Puff Pastry Braid is an easy and impressive puff pastry dessert! It also makes for a special holiday breakfast! Making a braid with puff pastry looks difficult, but you'll be shocked how simple it is! Follow my step by step directions further down.
This post is sponsored by Safeway!
What is a puff pastry dessert?
Puff Pastry is a flaky when baked with an light crunch. It is a great foundation to many desserts. You'll see it used on turnovers, pies and more. Puff pastry is one of my secret weapons in the kitchen because it always looks so fancy. It's honestly so easy to work with and always has impressive results. I was thrilled to work with Safeway in creating a festive dessert using their O Organics® Brand products.
What is puff pastry used for?
Puff pastry is very versatile! It can be used for everything from sweet desserts to savory appetizers, and even puff pastry dinners. Use it as a topper for chicken pot pie, make a tomato tart, or cinnamon sugar twists.
Are pie crust and puff pastry the same?
Although both are light and flaky, a puff pastry dessert is much different than a pie. Here are just a couple of the differences between the two:
While pies need to be baked in a pan, recipes made with puff pastry are typically free-form and are baked on a sheet pan.
The amount of butter used in puff pastry dough is much higher than that of a pie crust.
Pie crust is a single sheet of dough, while puff pastry is several layers of dough, separated by butter. As puff pastry bakes, the butter expands, causing the layers of dough to "puff up"
Ever since I made my first puff pastry braid, I couldn't wait to try a more seasonal flavor, using the O Organics 100% Pure Pumpkin. My local Safeway store makes healthy eating easier with a wide variety of high-quality, affordable O Organics products, including everything you need for your favorite holiday treats, like eggs and cream cheese which I also needed for this pumpkin cream cheese puff pastry braid.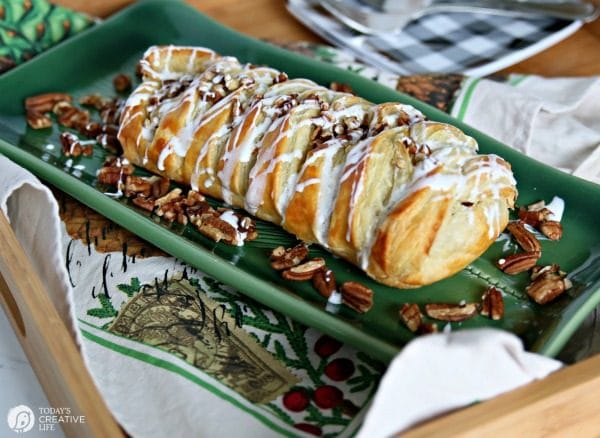 How to Make a Pumpkin Cream Cheese Puff Pastry Braid
There is a printable recipe below, but here are the basic steps to making the puff pastry braid.
Gather all your ingredients.
While my puff pastry was thawing, I grabbed 2 bowls to whip up my cream cheese mixture and the pumpkin mixture.
Rolling out the dough is optional. I have used it both ways and I tend to like it rolled out just a little. Just be sure to place it on parchment paper.
Cut equal strips on each side and create a small notch on each end. I find that a pizza cutter works best. Sometimes a knife may pull on the dough.
Smear the cream cheese first and only in the middle section.
Time to add the pumpkin mixture. And sprinkle a few chopped pecans on top of the pumpkin like I show in the video if desired. Of course, adding any kind of nut is optional, you can even swap out pecans for walnuts.
Now the fun begins! Start by folding up the end notch before braiding.
Start with one side, lifting one piece and draping it at an angle. Don't pull or press. Repeat alternating each side, layering over and at an angle. Continue until you get to the last two pieces. Fold in the notch before finishing with the last 2 strips.
Brush with an egg wash before transferring to a cookie sheet, paper and all.
Put it in the oven and bake until golden brown. While it's baking, make the glaze. Printable Recipe below.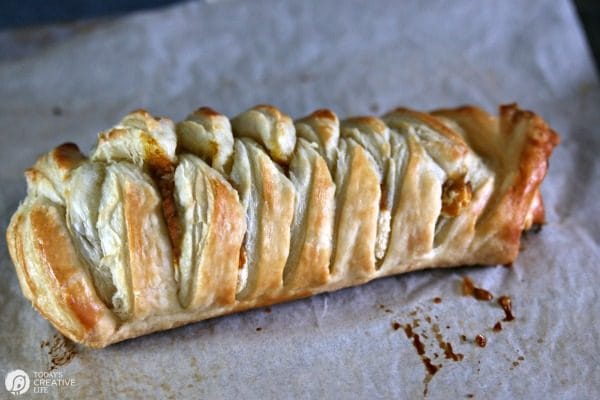 Transfer your puff pastry dessert to a beautiful serving tray, add the glaze, garnish with a few more pecans and you will look like a world famous chef! I also have a pumpkin glaze recipe if wanted.
Look at that beauty! It looks like a professional pastry chef made it!
Savory puff pastry recipes like this smoked salmon quiche are also great for the holidays!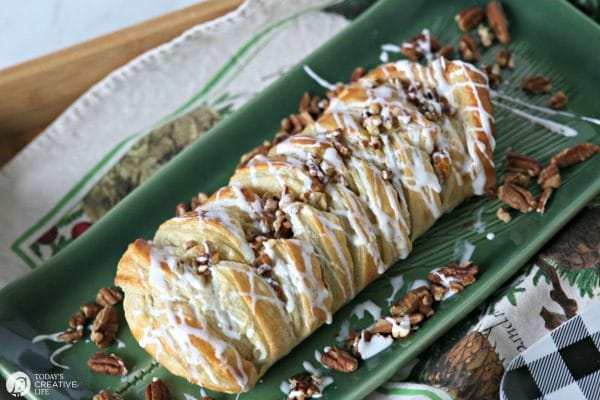 Braided Puff Pastry Dessert Recipe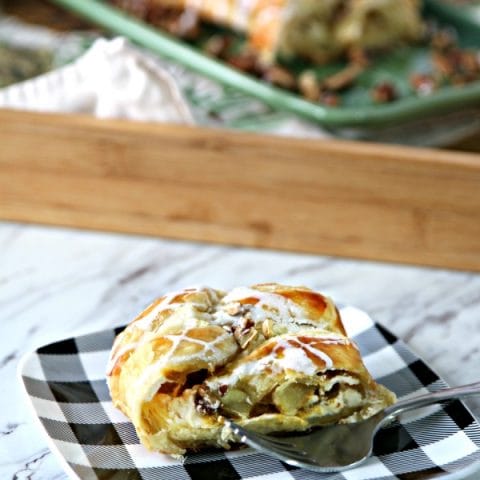 Pumpkin Cream Cheese Puff Pastry Braid
Yield: 6
Prep Time: 15 minutes
Cook Time: 20 minutes
Total Time: 35 minutes
Easy, Delicious and Impressive!
Ingredients
1 sheet puff pastry - thawed
4 oz. cream cheese - softened
1/2 c. powdered sugar - divided
1/2 c. pumpkin puree
1/2 teaspoon pumpkin pie spice
2 tablespoons chopped pecans (optional)
1 teaspoon vanilla
1 egg
1 tablespoon water
GLAZE:
1 c. powdered sugar
3 Tbsp. cream cheese
1-2 Tbsp. milk
Instructions
Preheat oven to 400 degrees F.
In a small bowl, mix cream cheese, vanilla, and 1/4 cup powdered sugar until smooth. Set aside.
In another small bowl, mix pumpkin puree, 1/4 cup powdered sugar, and pumpkin pie spice until well blended. Set aside.
Carefully unfold puff pastry on a small sheet of parchment paper. Roll the pastry if you'd like, but not too thin.
There will be 3 sections of pastry. The right side, the middle and the left side. You're going to cut strips about one inch in size on the right and left sections, using a pizza cutter or knife. Cut to where the middle section begins. Leave the middle uncut.
To create a notch, remove the top and bottom strips on each end. The middle will be longer on the top and bottom.
Spread cream cheese evenly onto the middle section only.
Add pumpkin mixture on top of the cream cheese and spread evenly.
Starting at one end, fold the notch up first, then start layering the side strips, alternating across each other as you move down creating a braid.
Create an egg wash by adding 1 tablespoon water to an egg and beat. Using a pastry brush, paint a light coat covering the pastry.
Transfer braid with parchment paper to a cookie sheet. You can also use a silicone baking mat.
Bake for 18-20 minutes.
While the braid is baking, make up the glaze.
Mix ingredients together; 1 cup powder sugar, 3 Tablespoons cream cheese and 1-2 tablespoons milk until smooth, drizzle over the braid right after you pull it out of the oven.
With easy recipes like this pumpkin cream cheese puff pastry dessert, holiday entertaining will less overwhelming.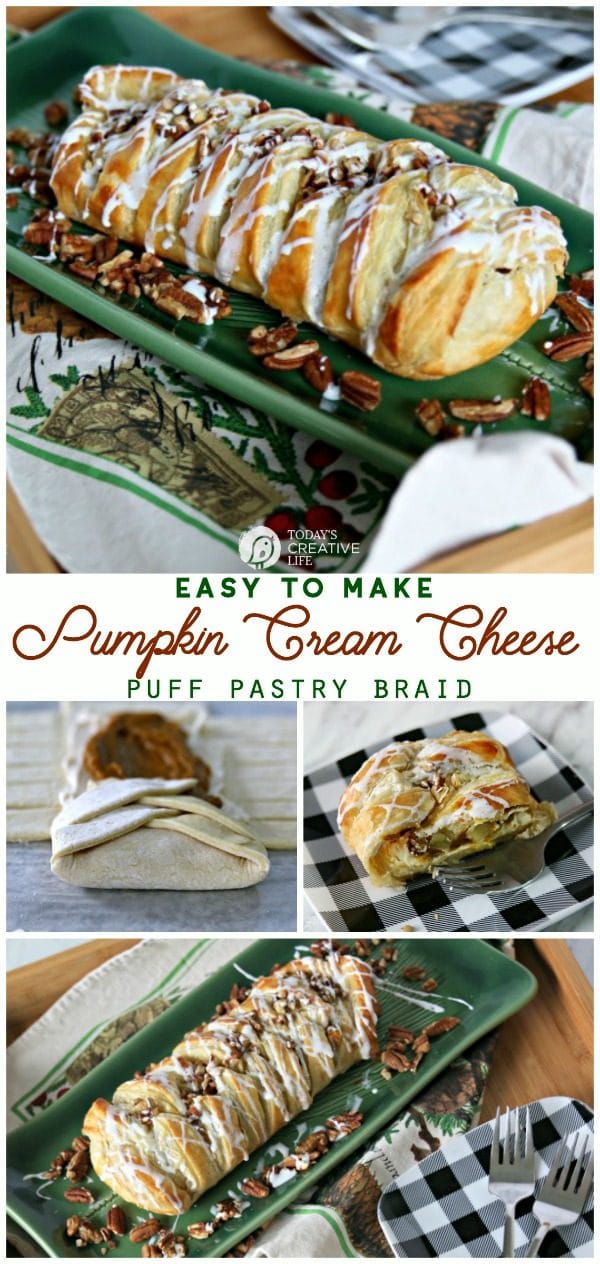 This post is sponsored by Safeway and the O Organics brand. All ideas and opinions are 100% mine.
Recipes Using Puff Pastry
Create fluffy flaky recipes using store bought puff pastry. Easy to make ideas for sweet or savory.
Pinwheels are delicious, quick and easy snacks or appetizers, made with puff pastry. This recipe for Turkey and White Cheddar Pinwheels makes a great lunch for kids, too.
Easy to make Bread sticks using puff pastry
This recipe does not contain exact measurements.
This savory tart made with spreadable cheese is a great appetizer recipe.
Using tomatoes from my garden, I created this delicious summer treat! Serve this puff pastry tomato pesto tart with soup, salad or on it's own.
Use any fruit, pie filling or fruit spread with this easy to make puff pastry braid.
Great for an appetizer, or serve with soup and salad,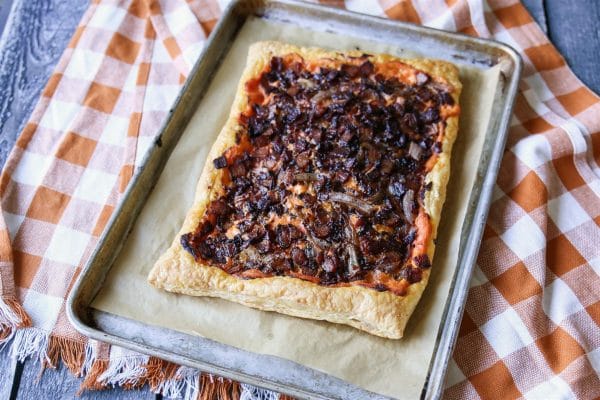 Puff Pastry Savory Tart Appetizer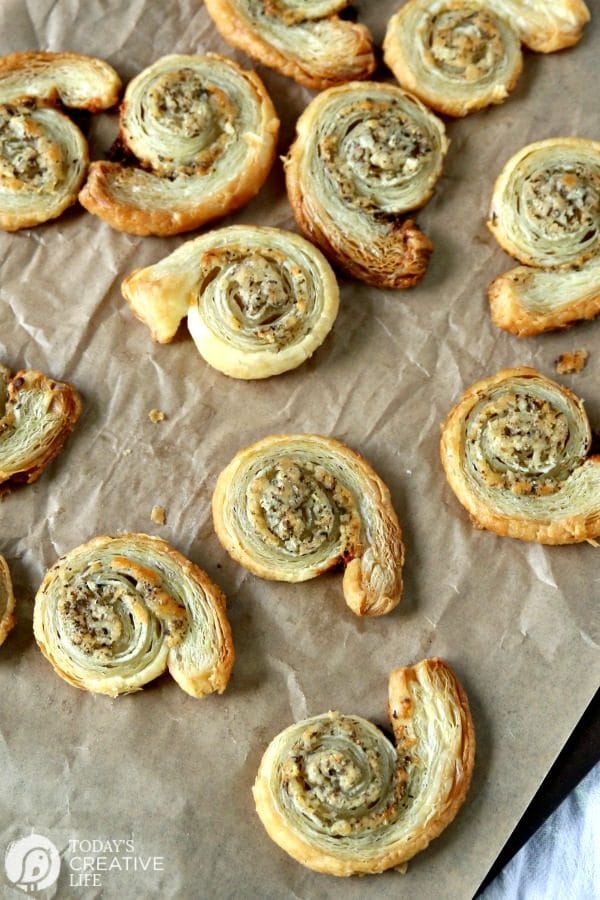 Puff Pastry Garlic Parmesan Pinwheels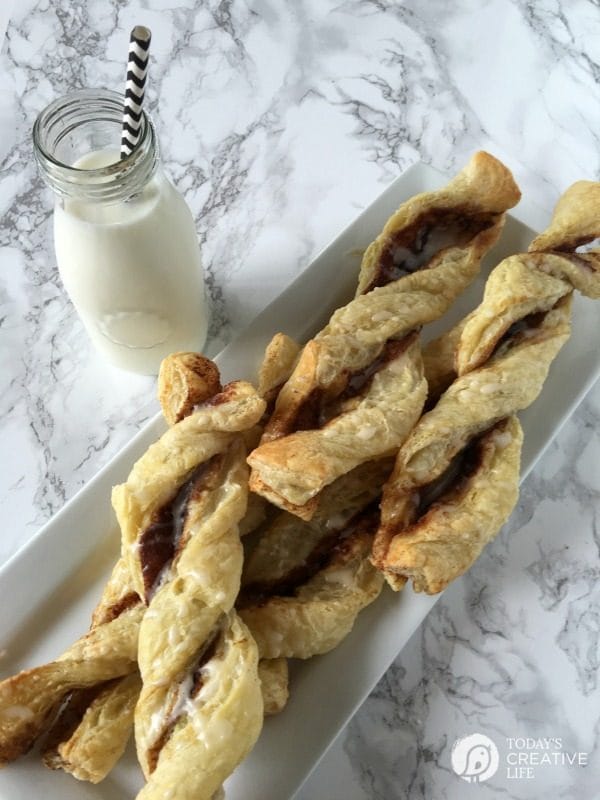 Puff Pastry Cinnamon Twists