With the holiday season coming, you are going to love this Puff Pastry Savory Tart Recipe for a quick holiday appetizer. Made with puff pastry, bacon, caramelized onions, and my favorite Port Wine Spreadable Cheese by Kaukauna®. This easy to make party appetizer is a slam dunk!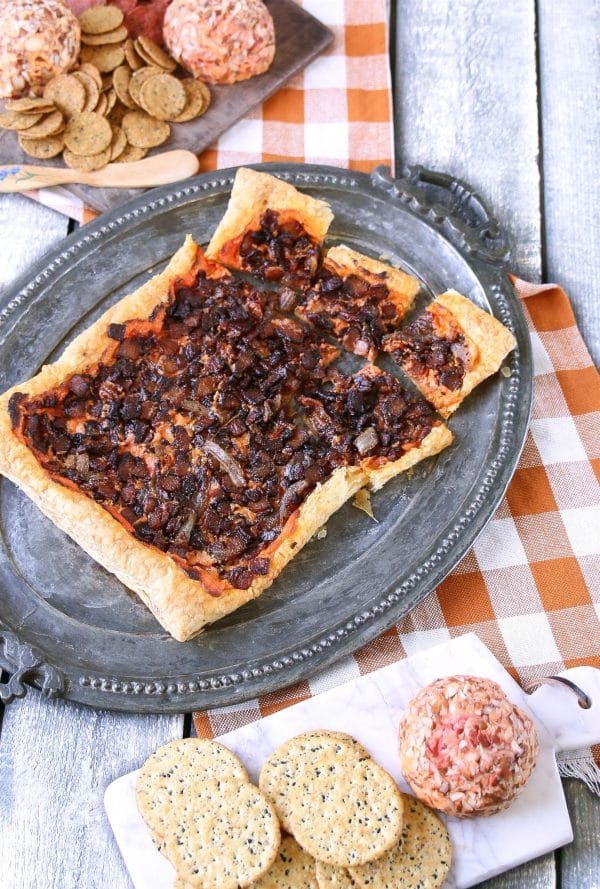 Puff Pastry Savory Tart Recipe
I was pretty darn happy to partner up with Kaukauna® as they Celebrate 100 years as America's Favorite Spreadable Cheese with the Launch of New "No Artificial Anything" Cheese Balls. Free of artificial flavors, colors, and ingredients, all that's left is cheesy goodness!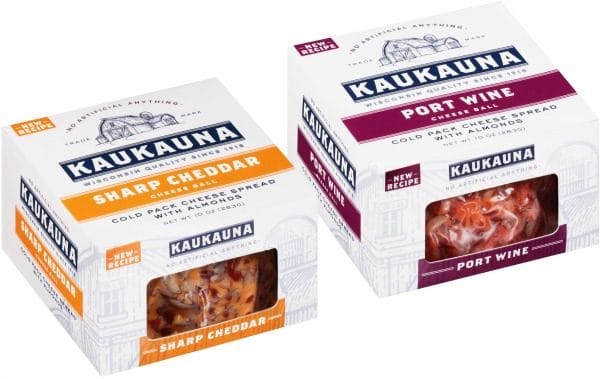 Back in the 1930's, Kaukauna Spreadable Cheese was served in fine hotels and supper clubs across Wisconsin and acquired the nickname "Club Cheese." You would typically find it on the iconic relish trays that were a mainstay in these family-oriented restaurants dotting the state of Wisconsin and the northern Midwest states. So let's celebrate this tradition by pouring yourself an Old Fashioned and downloading some Sinatra, it's party time!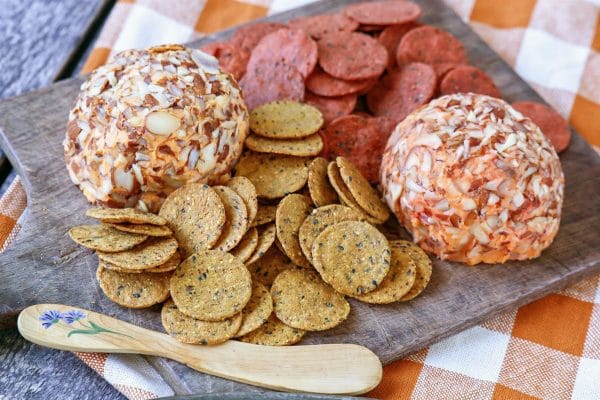 Everyone LOVES a cheese ball! Everyone's favorite at any gathering. The new 10-ounce balls will first be available in the two most popular flavors, Sharp Cheddar and Port Wine. Other no-artificial-anything flavor varieties will be rolled out in 2019. I found these in the deli section of my local grocery. Find where Kaukauna is sold near you.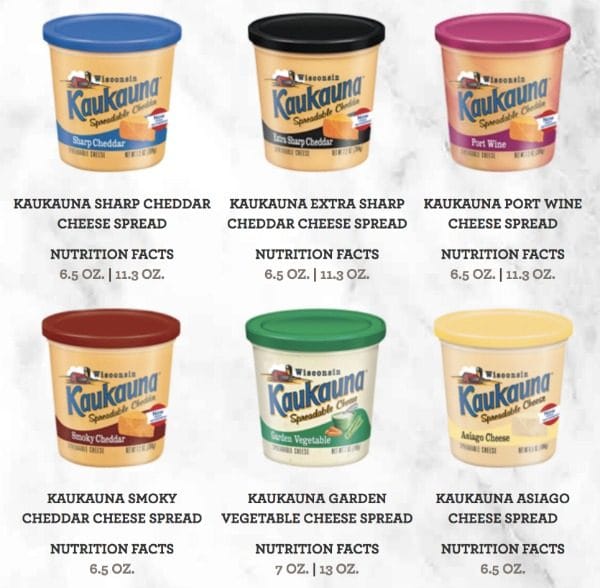 How to Make a Savory Tart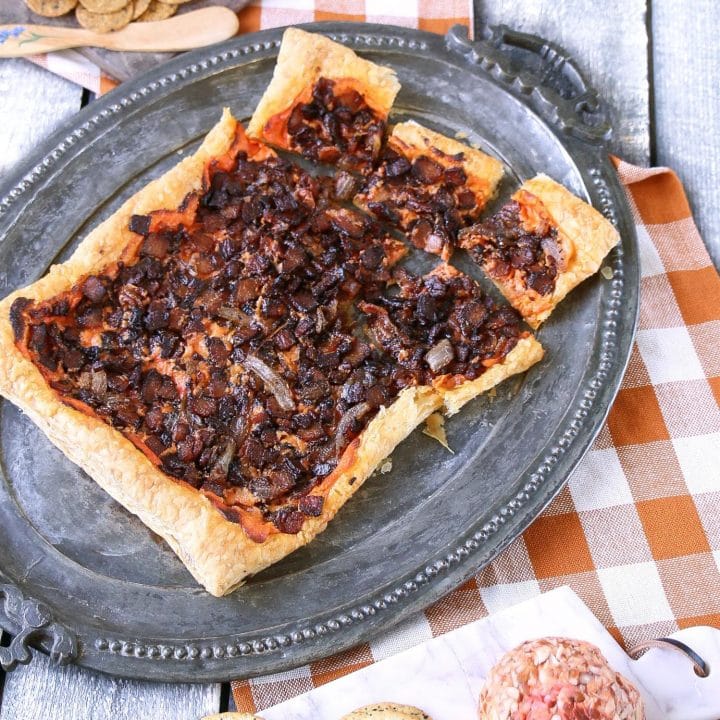 Puff Pastry Savory Tart Recipe
Yield: 15
Prep Time: 20 minutes
Cook Time: 25 minutes
Total Time: 45 minutes
Ingredients
1/2 lb bacon cut into small pieces
1 container of the Portwine Kaukauna Spreadable Cheese (6oz)
1 medium onion - sliced
1 sheet puff pastry
Instructions
Preheat oven to 400 degrees
Cut bacon into small pieces and slice onions.
Fry bacon and onions on Medium-Low heat until crispy and caramelized.
While the bacon is frying, set out your puff pastry and spreadable cheese to bring them closer to room temperature.
Once the puff pastry is thawed, unfold and use a rolling pin to roll out into a large rectangle.
Place on a parchment paper lined cookie sheet. - I used a 13 x 9 baking sheet.
Score one inch from the edge being careful not to cut all the way through.
Spread cheese evenly on puff pastry within the scored lines. I used the full amount.
Spread bacon and onion mixture over the cheese.
Bake for 20-25 minutes until the edges are golden brown.
Slice into squares and serve immediately.
I know it looks and sounds fancy, but if you've followed me for any amount of time, you'll know I'm much more into simple ideas that look or taste AMAZING.
Puff Pastry is honestly one of the easiest ingredients to work with. It makes anyone look like a pastry chef with very minimal work. It's also the perfect culinary weapon to pull out during the holidays when you'll be searching frantically for a quick appetizer to make.
I made this using 4 items.
Puff Pastry Sheet
Port Wine Kaukauna Spreadable Cheese – any variety would work.
Bacon
Onion
You'll want to pull the puff pastry out of the freezer and let it thaw for about 20 minutes before unfolding. Once thawed, roll it out into a larger rectangle. My cookie sheet is 13 x 9, so I'm careful not to go any larger than the pan. Once you transfer it to a parchment paper lined baking sheet, I score about one inch from the edge using a pizza cutter. Scoring is not cutting it through. You're just making an indent. This will allow a border as the dough puffs.
Time to spread the Kaukauna Spreadable Cheese on! I also took this out of the fridge at the same time as the pastry to allow it to soften even more to make it easier to spread on the thin dough. Spread it all over within the lines. Did you know? The spreadable cheese products are created by grinding natural cheese to a fine texture and, without heat, combining it with whey solids, dry milk, and flavors such as wine and spices. The flavors come through, and the product remains spreadable at room temperature.
Start your bacon and onions the minute you take the previous items out to warm up. This will take a little while, but it's best if you use a medium heat and cook them slow to caramelize to perfection. Once they are finished, just spread them over the cheese and pop it in the oven.
When the edges are a golden brown, you'll know it's finished!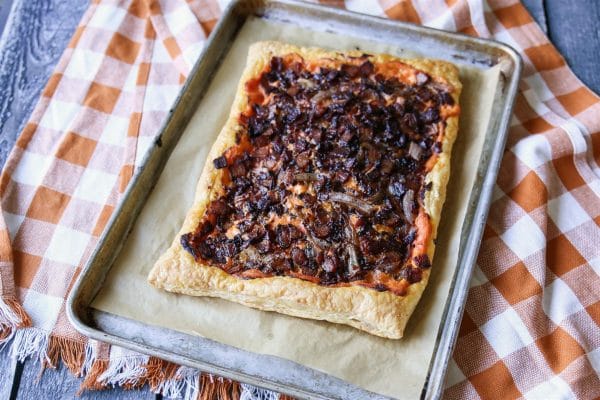 Cut into squares and serve immediately!
It was quick to put together and it only took about 25 minutes to bake. The most time consuming was frying up the bacon and onions.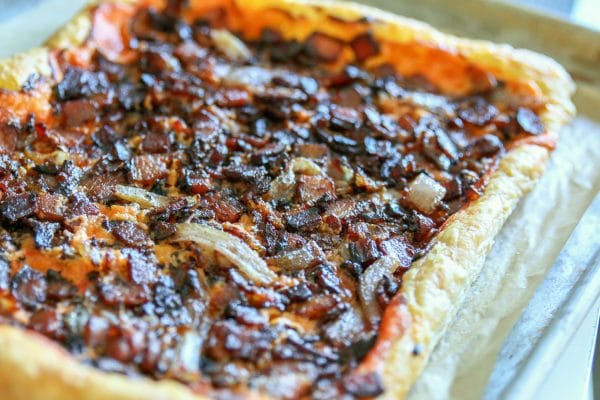 Is your mouth watering yet?
Can You Make It with Other Ingredients?
Yes! You can make this Puff Pastry Savory Tart Recipe with just the spreadable cheese, any variety. Top it with chopped tomatoes or green onions before or after baking and people will love it! You can also try using crumbled sausage, deli meats, or any type of veggies. I'm not a bell pepper type of girl, but I bet many would love sliced peppers.
Other Savory Toppings
Tomatoes
Bell Peppers
Green Onions
Olives
Zucchini
Asparagus
Sausage
Deli Meats
Canadian Bacon
Use your imagination and add anything you love, it will turn out great if you start with the spreadable cheese! Everyone loves that stuff!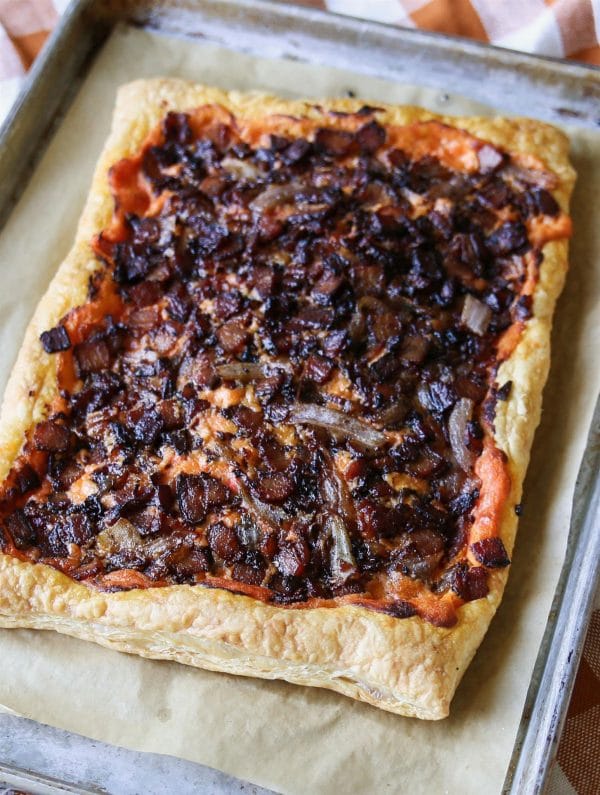 What is a Savory Appetizer?
Anything that's not sweet is considered savory! Simple. Think about anything using a spice blend that's bursting with flavor. My Garlic Parmesan Puff Pastry Spirals and Cheesy Olive Cracker Snacks are both delicious savory appetizers. Savory appetizers are always popular since there tends to be a lot of sweets during the holidays.

Who's ready to experiment and make a Puff Pastry Savory Tart Recipe?
---
More Savory Appetizers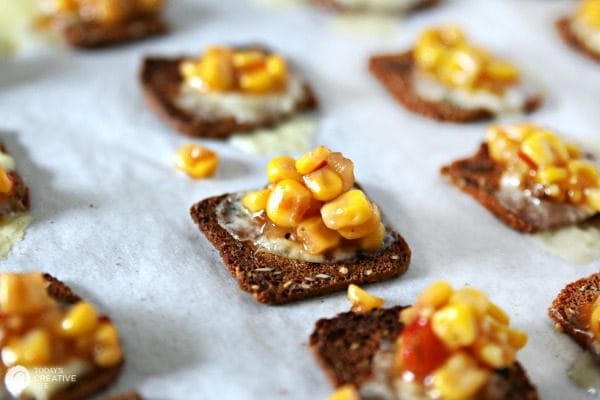 Brie & Corn Salsa Bites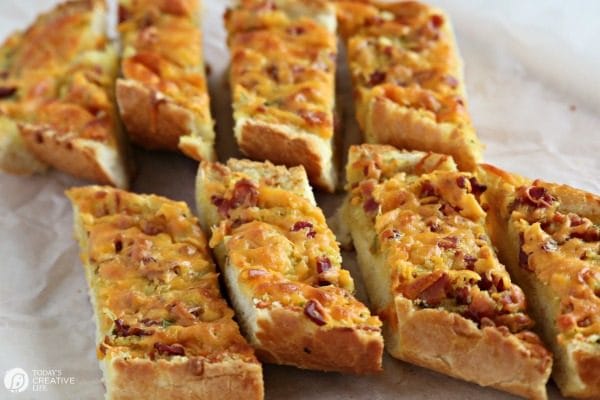 Bacon Cheddar French Bread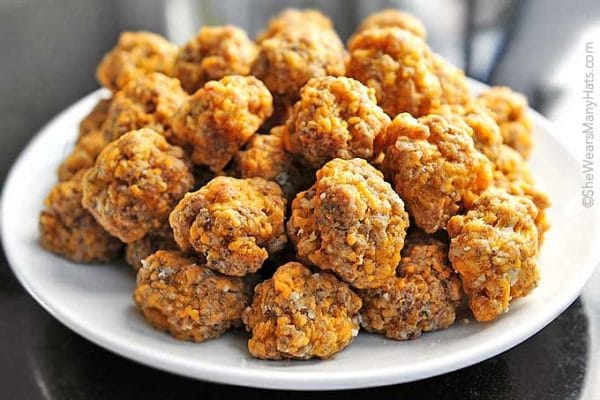 Sausage Ball Recipe