Not all salads have lettuce! This Tomato Avocado Salad with Bacon and Blue Cheese is the reason we grow our own tomatoes! You can also add cucumbers and green onion too! Anything mixed with this homemade Blue Cheese salad dressing is going to be a hit!
Serve as a side dish or as a light lunch or dinner. It's packed with so much flavor and texture, you'll be making it over and over.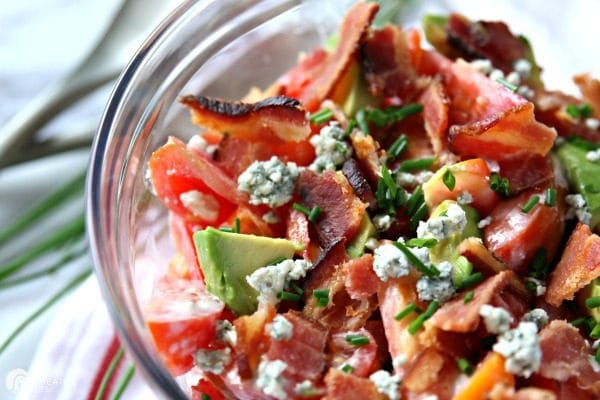 Tomato Avocado Salad with Bacon and Blue Cheese Recipe
Because we have an abundance of tomatoes at the end of summer, I'm always looking for ways to use them up. There is nothing better than using fresh tomatoes in recipes, not to mention a good BLT sandwich!
All these recipes tomato are some of my favorites.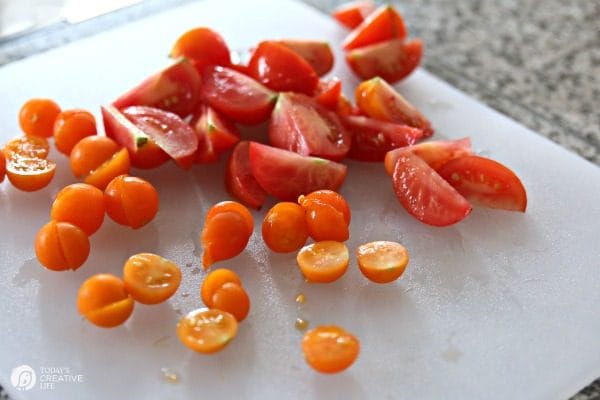 Using and choosing the best ingredients makes this already delicious salad amazing!
Choosing your Tomatoes
Honestly, I'm not that picky. I just pick whatever is ripe. Firm tomatoes obviously hold up nicer and will leave less juice in the bottom of your bowl. I save the mushy more soft tomatoes for making a sauce. I also use any type of tomato. We have 3 different varieties ranging from Heirlooms to Golden Sweets. I personally love a mixture of colors and flavors.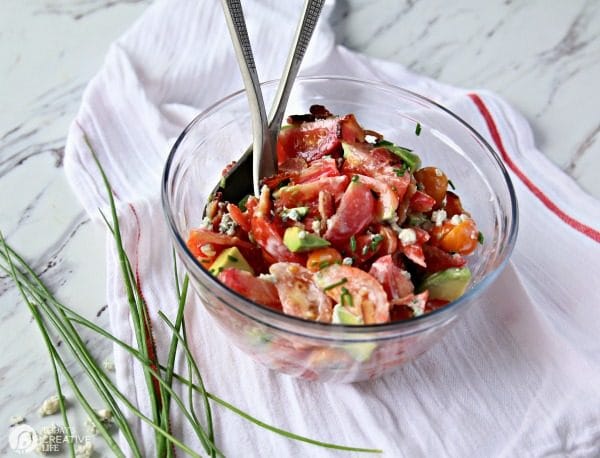 How to Cook Crispy Bacon
Choosing the right cut of bacon is important when you're making a salad. I always choose a thick cut showing more meat than fat. This gives your salad more crunch and flavor. When you're using bacon in a salad, be sure that it's cooked to the perfect crispiness. I will usually bake bacon on a foiled lined baking pan at 400 degrees for about 25 min. If it's your first time baking bacon, check it often and place your rack in the middle. After cooling the bacon, I just crumble with my hands.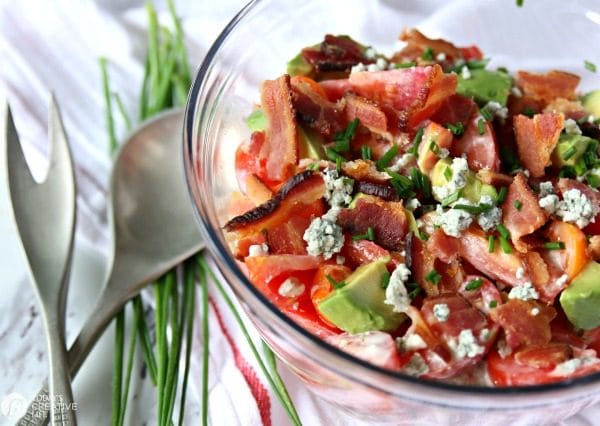 How to Know if an Avocado is Ripe
There is nothing more frustrating than trying to find a ripe avocado, only to get home and it's black inside or way too hard to eat. I've learned a quick method that usually works pretty good for me. I give it a gentle squeeze to see how firm it is. I like a teeny bit of give but the most important is looking at where the stem is or was. If the stem is still attached, I just pop it off and look at the color. If it's a brighter green, it's not ready. If it's pretty brown, it's beyond ripe. You want a nice tone of that greenish brown. I always use this avocado knife too! It's a life saver.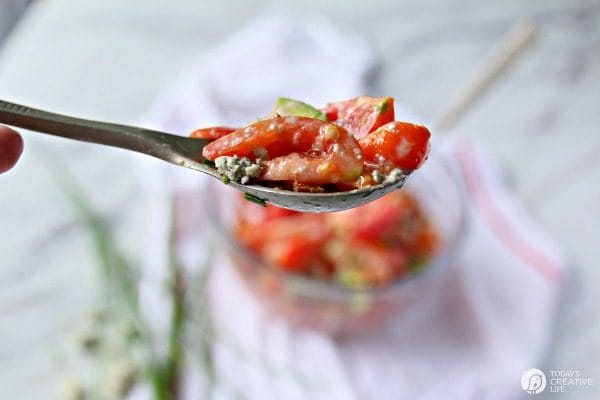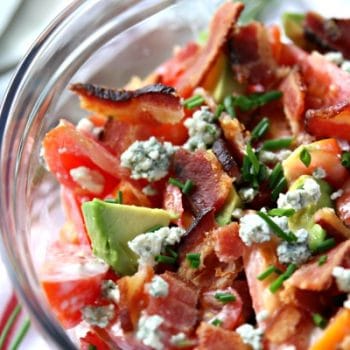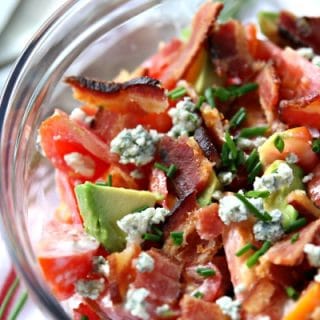 Tomato Avocado Salad with Bacon and Blue Cheese
Yield: 6
Prep Time: 20 minutes
Total Time: 20 minutes
Ingredients
Salad Dressing
1 cup bleu cheese
½ cup sour cream
⅓ cup buttermilk
1 tablespoon white wine vinegar
1 medium clove garlic smashed
3 to 4 dashes of Worcestershire sauce
1 tablespoon fresh chopped parsley
salt and fresh ground pepper
2 to 3 lbs of fresh tomatoes cut into wedges
6 slices of thick-cut cooked bacon
1 avocado cubed
Juice of one lemon
Chives or green onion for garnish
Instructions
DRESSING
Using a blender, puree ½ cup bleu cheese, sour cream, buttermilk, vinegar, and garlic.
Pour into a bowl and add the rest of the bleu cheese, Worcestershire sauce, and parsley.
Season to taste with salt and pepper.
Store in the fridge until ready to use.
SALAD
Crumble the cooked bacon into large bite-size pieces. Set aside.
Place wedged tomatoes with a sprinkle of salt in a large bowl.
Cut your avocado into cubes and toss with lemon juice. Add to the tomatoes and gently fold together.
Drizzle with dressing.
Top with bacon, chives and a bit of blue cheese if you have any left over.
Enjoy!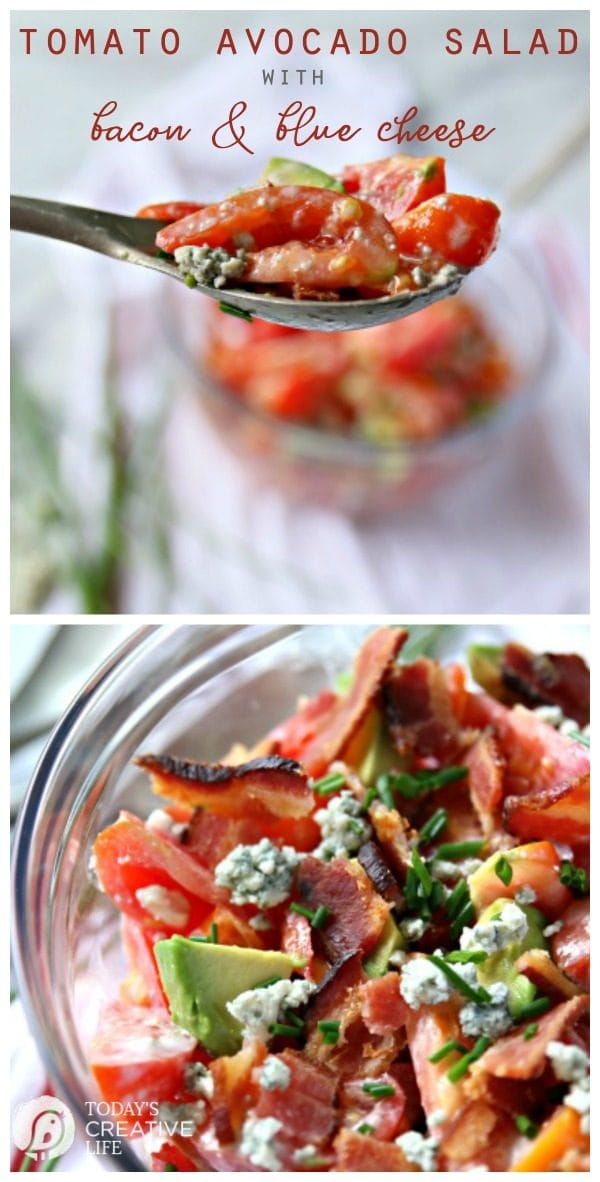 This Tomato Avocado Salad with Bacon and Blue Cheese is so satisfying and will become your most favorite side dish, holiday dish or just a light dinner or lunch.
If you try it, take a photo and tag me on Instagram @TodaysCreativeLife or Facebook.
---
Side Dish Recipes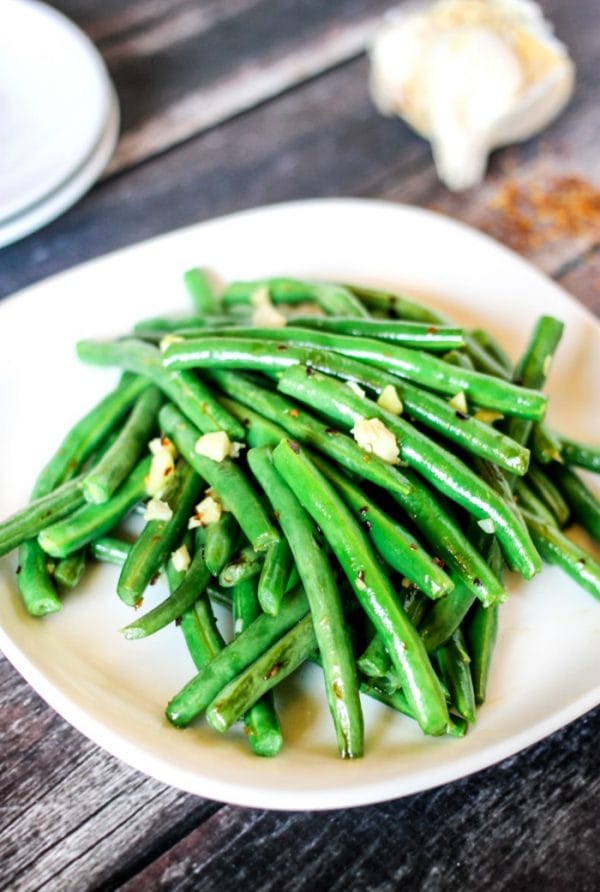 Spicy Green Beans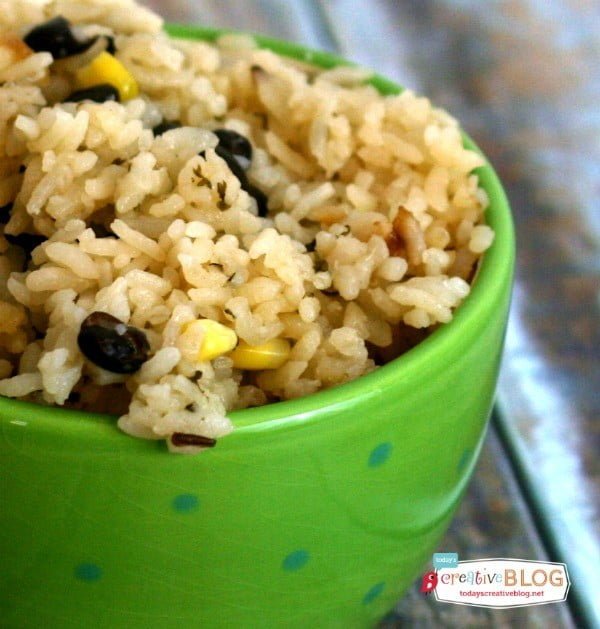 Sweet Rice Southwest Style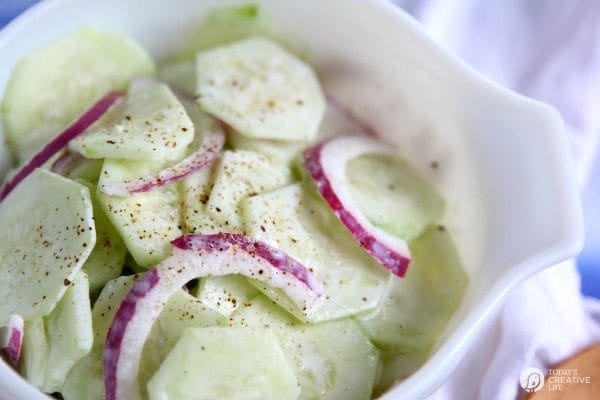 Sour Cream Cucumber and Onion Salad