Make your own suet with this Homemade Bird Suet Recipe. Simple ingredients like oats, cornmeal, sunflower seeds, peanut butter, bacon fat make up this easy recipe.
Our backyard is like a wildlife refuge right now. We have so many birds and squirrels, there is constant movement and activity. I'm curious how they'll enjoy this Homemade Bird Suet Recipe.
I can't wait to sit outside this summer in our outdoor room and listen to all those little darlings singing their thank you's for keeping them fed all winter.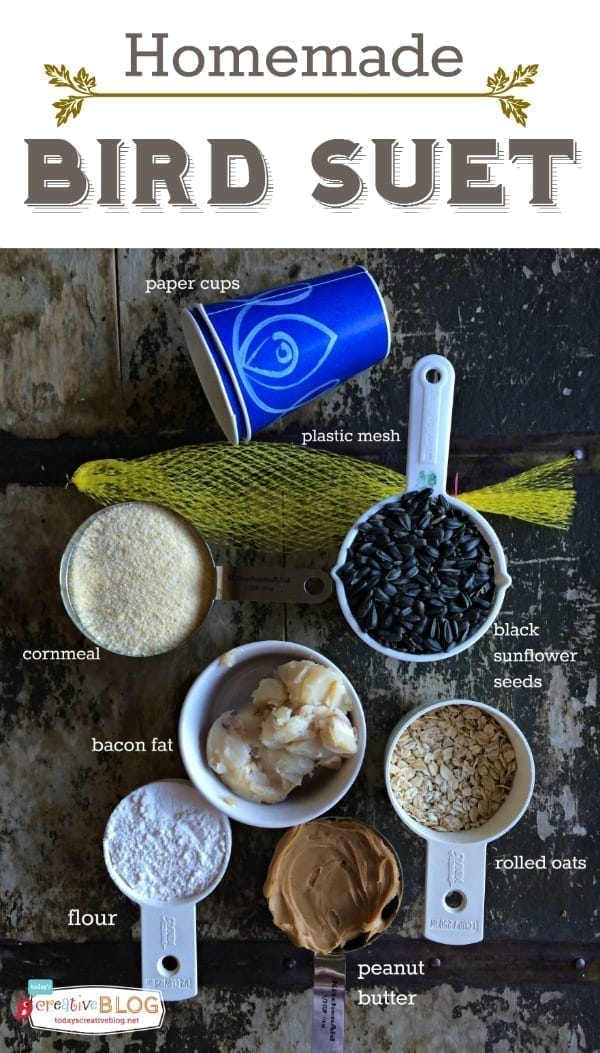 Homemade Bird Suet Recipe
I've had a recipe tucked away for a few years that I found from Martha Stewart. I substituted or added a few ingredients to what I had on hand to concoct a block of bird suet that I thought they may like. We will see.
It may end up being the raccoon's next meal…….those pesky things.
Where Do I Hang Bird Suet?
When I made over my office, I had my husband place a bird feeder outside my window, within my view. Well…… between the squirrels and the raccoons, we were going through 2 feeders a day! They were having a feast once the sun would go down. Come to find out, the bird feeder was too close to the fence, which made it very easy for them to reach the feeder and just shake it.
We have learned to hang the suet at least 5 feet from the ground and away from the fence. I do hang in it a tree, but if I see that a raccoon or squirrel breaking into it, I move it. One of these hangers is perfect or use one that attaches to a deck railing.
We have since invested in a squirrel proof feeder for the seed and so far it's working.
What is Bird Suet?
Bird Suet is a valuable bird food during the winter months. It's a mixture of fatty ingredients, like beef fat, lard, or peanut butter, usually anything that can solidify. This helps birds pack on extra calories, which keeps them warm. It can be as basic and simple as mixing equal parts beef fat with any type of birdseed.
I added a few extra ingredients to make it extra rich in nutrients and calories.
We've only had a couple of cold snaps, but I'm ready for the next! My little birds will be fat happy birds.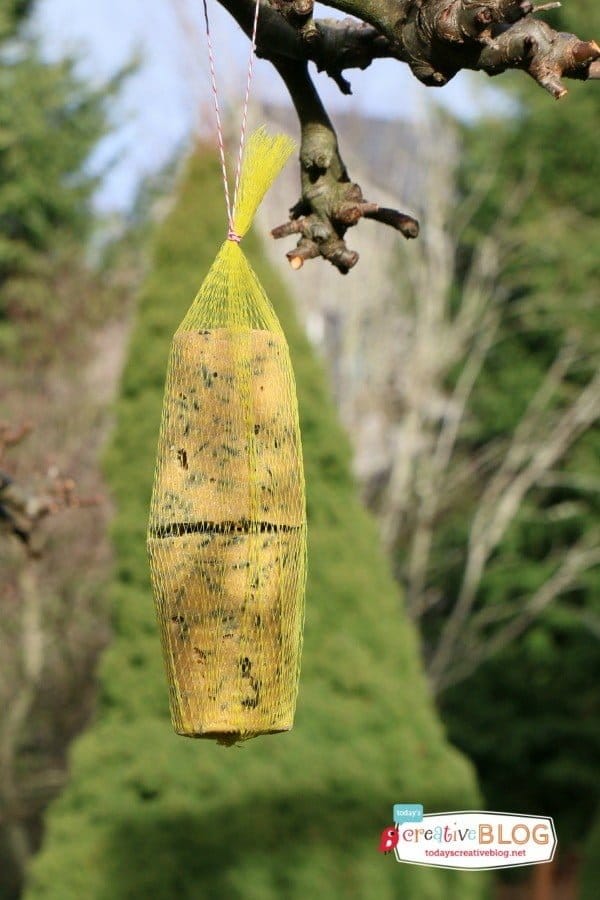 This recipe was easy to whip up and then I put it in the freezer so it was completely solid before placing outside.
Is Bird Suet Only for Winter?
Because bird suet is full of fatty ingredients and higher in calories, it's best reserved for winter and cooler temps. The warmer temperatures of summer and early fall will melt, leaving a mess in your yard. I have also learned that dripping beef fat can damage natural waterproofing on bird feathers.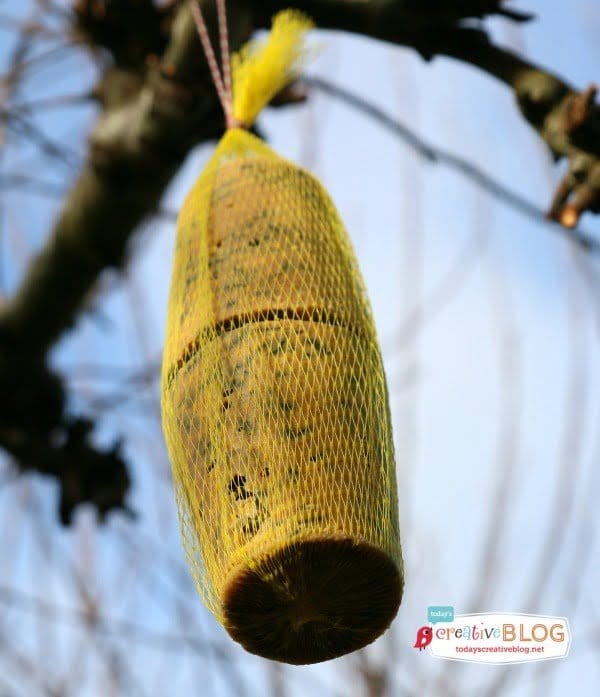 It made exactly enough to fill 2 of the paper cups I had. I could have hung two separate ones, but I only had one plastic mesh bag. You can also use a suet mold.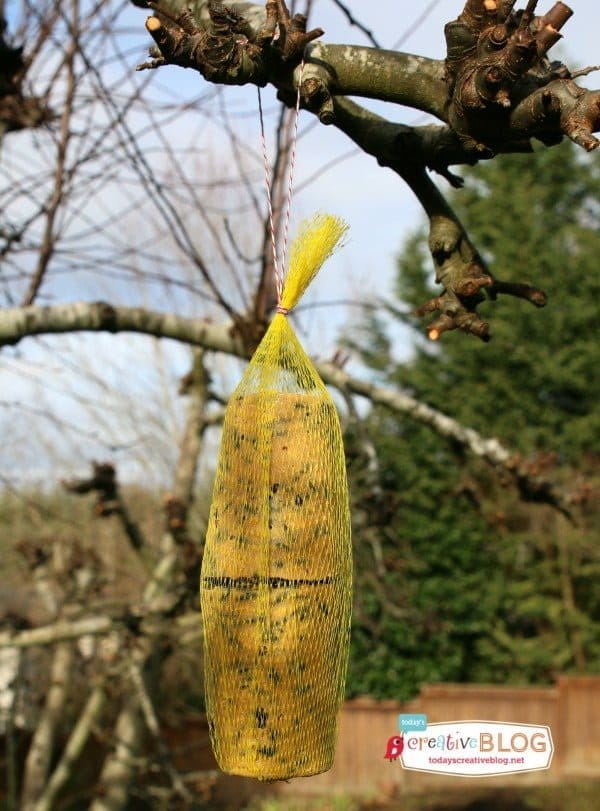 My girlfriend laughed at me when I was shopping for the perfect mesh bag instead of what was inside. This one came with fingerling potatoes ….. which I can't wait to eat.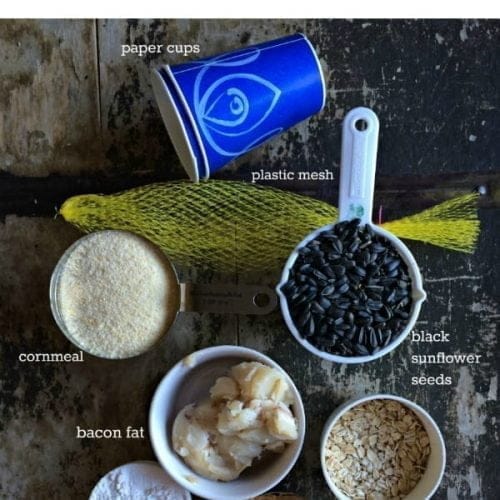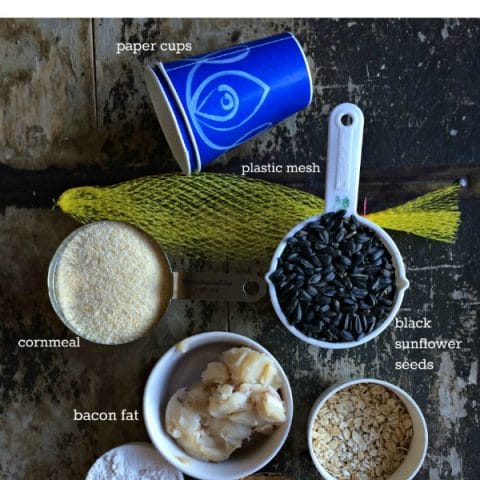 Homemade Bird Suet Recipe
Substitute seeds or bird food for specific species
Ingredients
1/2 Cup Bacon Fat (substitute with lard or shortening)
1/2 Cup Peanut Butter (creamy or chunky)
1 Cup Cornmeal
1 Cup Rolled Oats
1/2 Cup Flour
1 Cup bird seed - Black Sunflower seeds
Instructions
Melt peanut butter and bacon fat in the microwave for a minute or so, mix well.
Mix in the remaining ingredients and stir well.
Spoon into paper cups and place in the freezer or refrigerator
Once it's cooled completely, tear the cup away from the suet and place into the mesh bag.
I tied twine around the opening end and secured it enough to hang from a tree.
Nutrition Information
Yield 2
Serving Size 2 1/2 cups
Amount Per Serving
Calories 1680
Total Fat 120g
Saturated Fat 30g
Trans Fat 0g
Unsaturated Fat 80g
Cholesterol 49mg
Sodium 4254mg
Carbohydrates 124g
Fiber 19g
Sugar 7g
Protein 40g
What Birds will Suet Attract?
Mine has attracted the chickadees and finches in my yard. I've read that suet with beef fat also attracts insect-eating birds such as woodpeckers, wrens, chickadees, nuthatches, and titmice.
If you follow me on Instagram, you probably have seen my "bird cam" highlight for my window bird feeder. It was a gift from my son and it's been the most fun!
My Favorite Bird Feeder Products
Here are a few of my favorite bird-related items.
As an Amazon Associate and member of other affiliate programs, I earn from qualifying purchases.
DIY Projects for Animals
Homemade treats and solutions for the animals in your life.