Our backyard is like a wildlife refuge right now. We have so many birds and squirrels, there is constant movement and activity. I'm curious how they'll enjoy this Homemade Bird Suet Recipe.
I can't wait to sit outside this summer in our outdoor room and listen to all those little darlings singing their thank you's for keeping them fed all winter.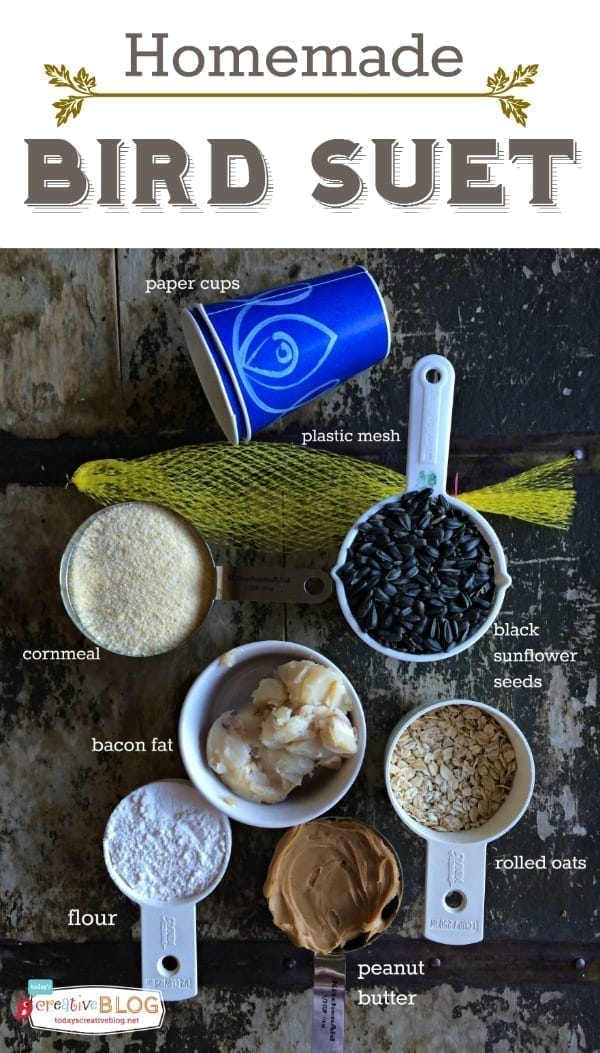 Homemade Bird Suet Recipe
I've had a recipe tucked away for a few years that I found from Martha Stewart. I substituted or added a few ingredients to what I had on hand to concoct a block of bird suet that I thought they may like. We will see.
It may end up being the raccoon's next meal…….those pesky things.
When I made over my office, I had my husband place a bird feeder outside my window, within my view. Well…… between the squirrels and the raccoon's, we were going through 2 feeders a day! They were having a feast once the sun would go down. Come to find out, the bird feeder was too close to the fence, which made it very easy for them to reach the feeder and just shake it. We have since invested in a squirrel proof feeder and so far it's working.
Now the feeder is moved away from the fence and out of my view. They ruin everything.
This bird suet is full of fatty ingredients, which is great for birds when it gets cold. We've only had a couple of cold snaps, but I'm ready for the next! My little birds will be fat happy birds.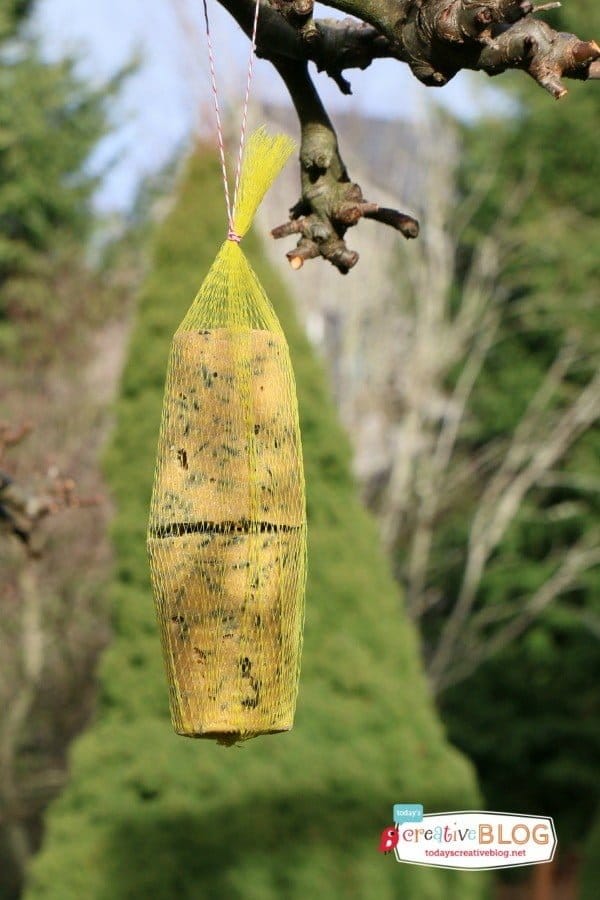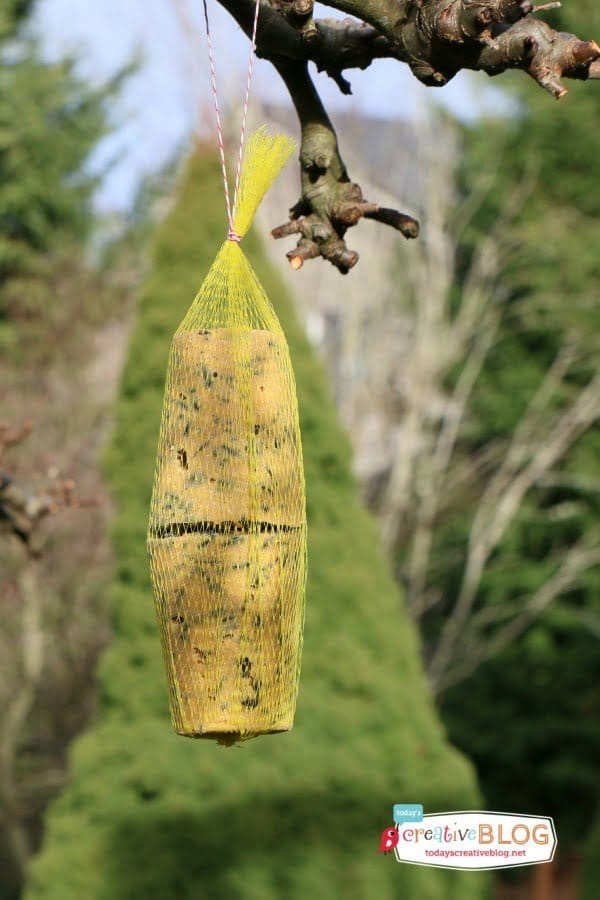 This recipe was easy to whip up and then I put it in the freezer so it was completely solid before placing outside.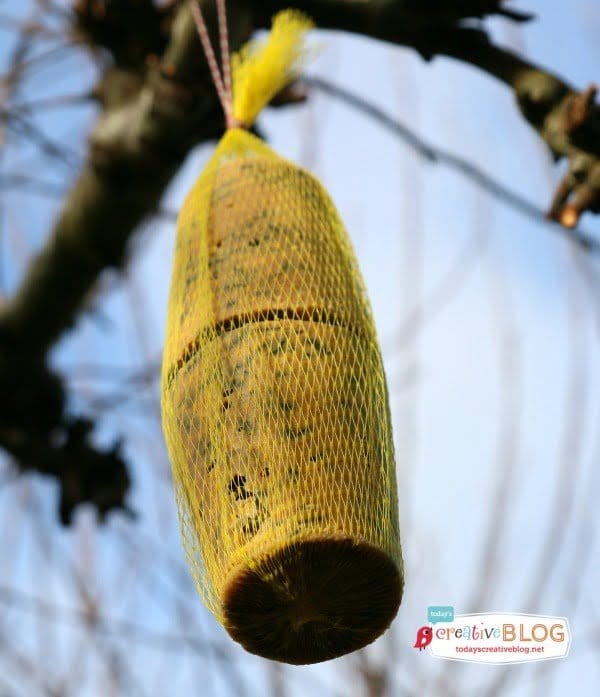 It made exactly enough to fill 2 of the paper cups I had. I could have hung two separate ones, but I only had one plastic mesh bag.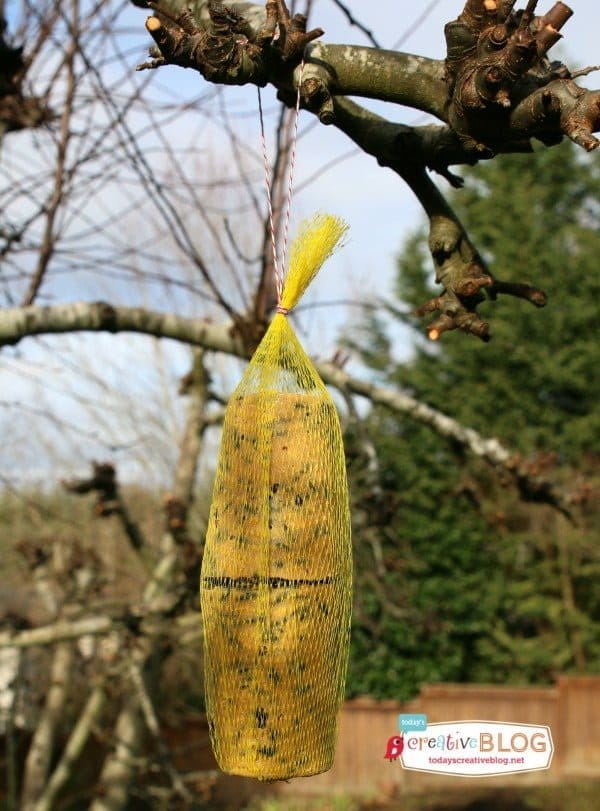 My girlfriend laughed at me when I was shopping for the perfect mesh bag instead of what was inside. This one came with fingerling potatoes ….. which I can't wait to eat.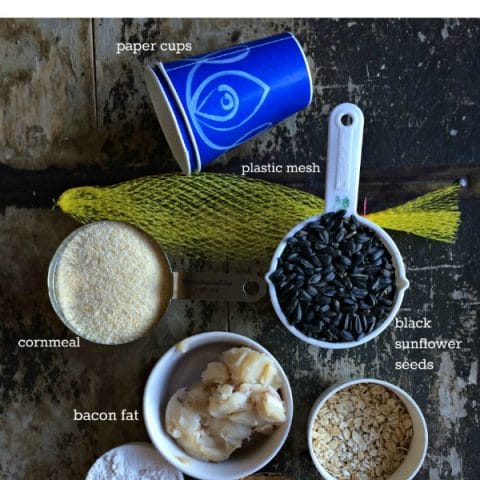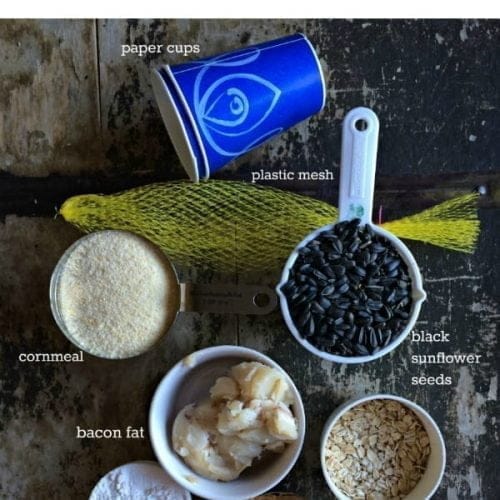 Homemade Bird Suet Recipe
Substitute seeds or bird food for specific species
Ingredients
1/2 Cup Bacon Fat (substitute with lard or shortening)
1/2 Cup Peanut Butter (creamy or chunky)
1 Cup Cornmeal
1 Cup Rolled Oats
1/2 Cup Flour
1 Cup bird seed - Black Sunflower seeds
Instructions
Melt peanut butter and bacon fat in the microwave for a minute or so, mix well.
Mix in the remaining ingredients and stir well.
Spoon into paper cups and place in the freezer or refrigerator
Once it's cooled completely, tear the cup away from the suet and place into the mesh bag.
I tied twine around the opening end and secured it enough to hang from a tree.
Find more interesting ideas from Kim on Pinterest