Making homemade Play-Doh is easy with this Soapy Dough Play Dough Recipe. You'll need dish soap, flour, salt and food coloring.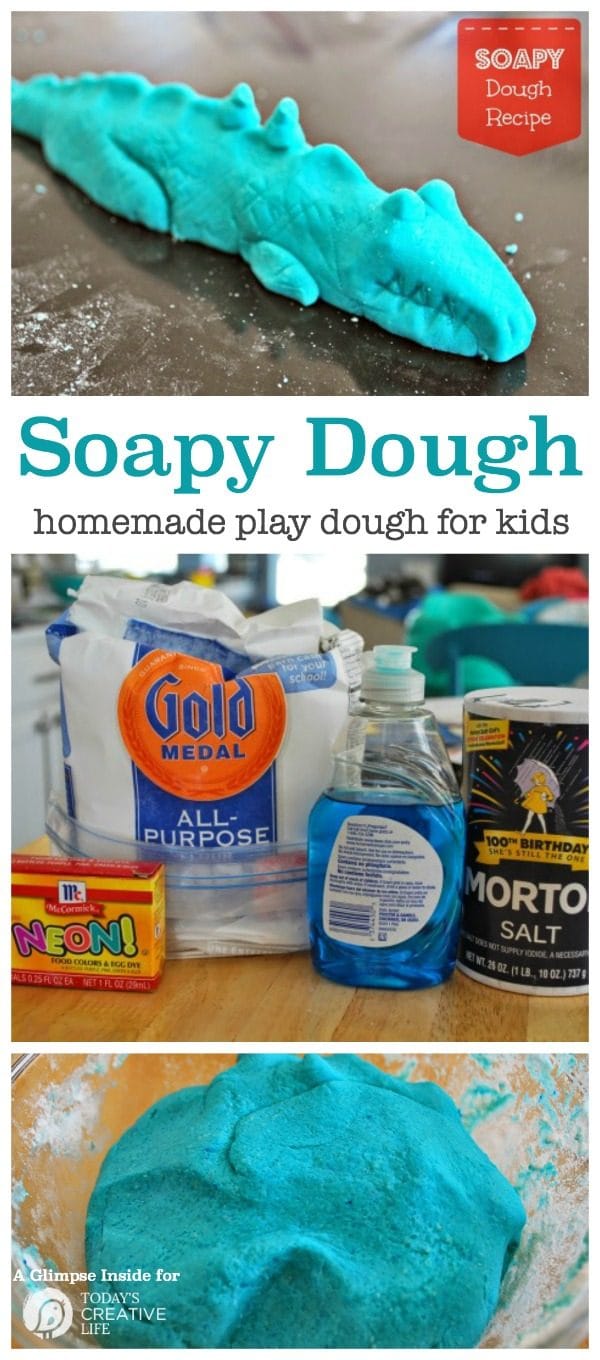 Soapy Dough Play Dough Recipe
Hi everyone!
I'm Allison and I blog over at A Glimpse Inside.
I'm an Army wife and momma to two little girls with a creative side.
I'm thrilled to be here helping Kim out today. I've loved her blog forever and I love her just as much!
My oldest just turned 2 at the end of May so she is just getting to the fun age to make and do different activities with. Today, I am sharing a recipe for some play dough that I made for her.
It is called Soapy Dough. Your kids will love Soapy Dough – Play Dough Recipe.
How to Make Soapy Dough
(Printable recipe below)
This is so easy and only requires a few ingredients. Here is how you can make some for your kiddos.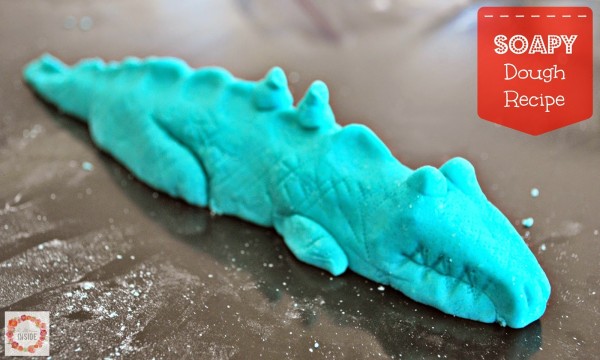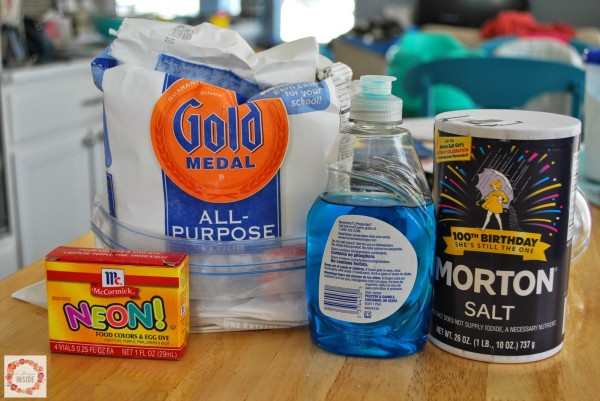 Supplies for making Soapy Dough Play Dough Recipe:
Flour
Salt
liquid soap
food coloring
Water
Print off the How to Make recipe card below. This recipe is as simple as mixing all the ingredients together until your homemade play-doh is ready.
If you want to make a variety of colors, be sure to separate the dough before adding food coloring.
We've found that slowly adding the water until a workable dough is formed makes it easier to gauge the consistency.
Some dish soaps require less or more water. It's all in the brand.
If you find the dough is too sticky, just add a little more flour.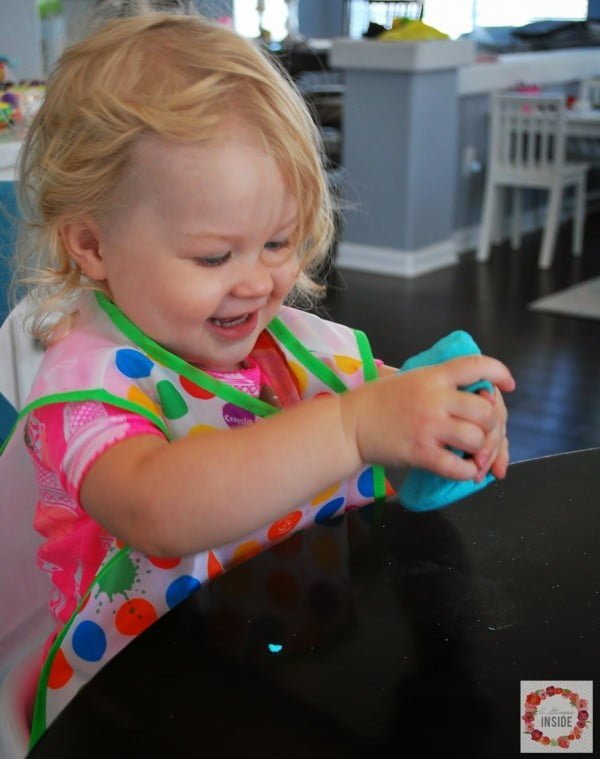 Now it is time to play!!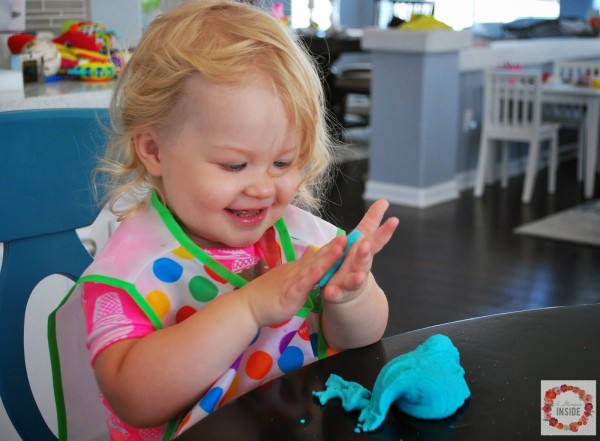 Mold the dough just as you would any other type of dough or clay.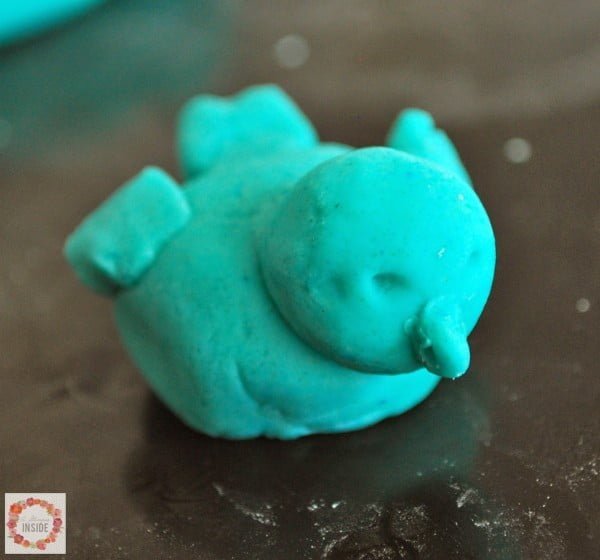 Create a little bird.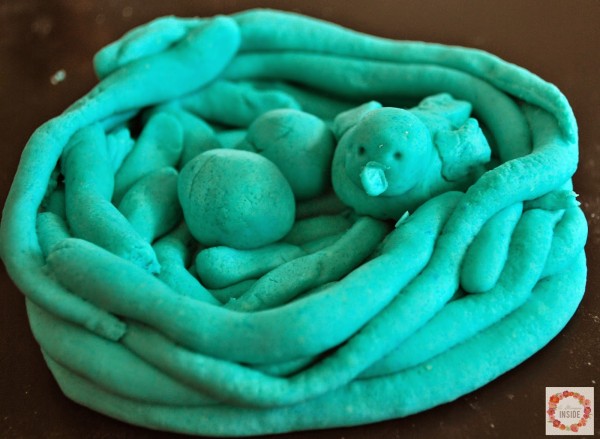 And place it in a nest with some eggs.
Or sculpt and alligator-like the first photo above!
The skies the limit!!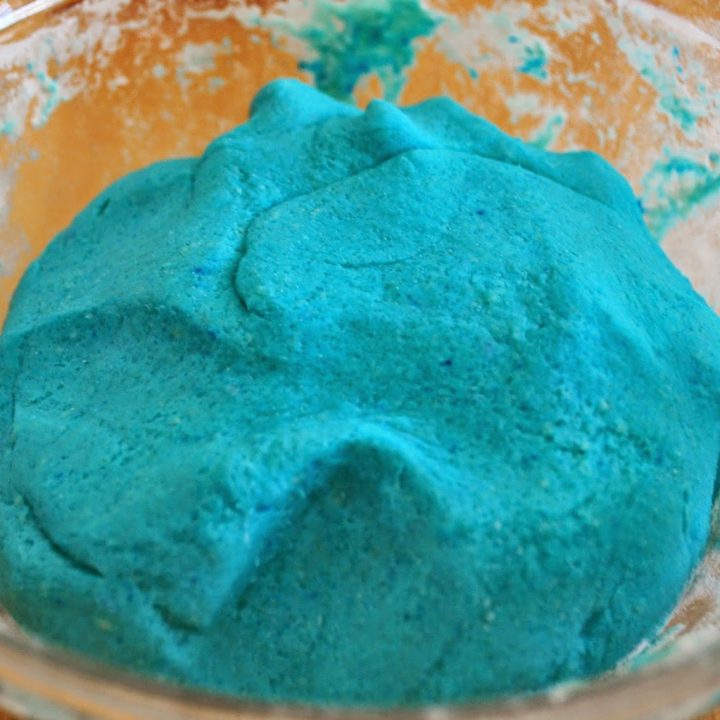 How to Make Soapy Dough Play Dough
Yield: 1
Prep Time: 5 minutes
Active Time: 10 minutes
Total Time: 15 minutes
Difficulty: Easy
Estimated Cost: $5
Make your own Soapy Dough, which is like play dough using household products.
Materials
2 Cups Flour
1/2 cup Salt
1 Tablespoon of liquid soap
6-8 drop of food coloring
Water
Tools
Large Bowl
Measuring Spoons
Measuring Cups
Large Spoon
Instructions
Mix flour, salt, liquid soap and food coloring together in a small bowl.
Slowly add water until a workable dough is formed. The amount of water will vary depending on the brand of liquid soap used. If the dough is too sticky, add a little more flour.
Continue mixing until it's well blended.
Time to play!
Notes
To make different color doughs, leave out the food coloring and separate the dough after you add water and then knead in the food coloring.
Store in an airtight container.
Recommended Products
As an Amazon Associate and member of other affiliate programs, I earn from qualifying purchases.
Is Soapy Dough Safe?
Soapy Dough is safe to play with and will not harm the skin unless your child has an allergy or sensitivity to one of the ingredients. Even though most of the ingredients are baking ingredients we use in our home, kids shouldn't eat Soapy Dough. Kids should not eat raw flour or high amounts of salt. They also shouldn't eat dish soap. If you're concerned about the soap, you could use Castille soap.
How to Store Homemade Soapy Dough Play Dough Recipe
Just like store-bought Play-Doh, Soapy Dough will need to be kept in an air-tight container. Ziploc plastic bags work well.
How to Clean up Soapy Dough
Clean up is super easy too!! Just use a wet paper towel to wipe the tabletop off and since there is soap in it, it comes right clean!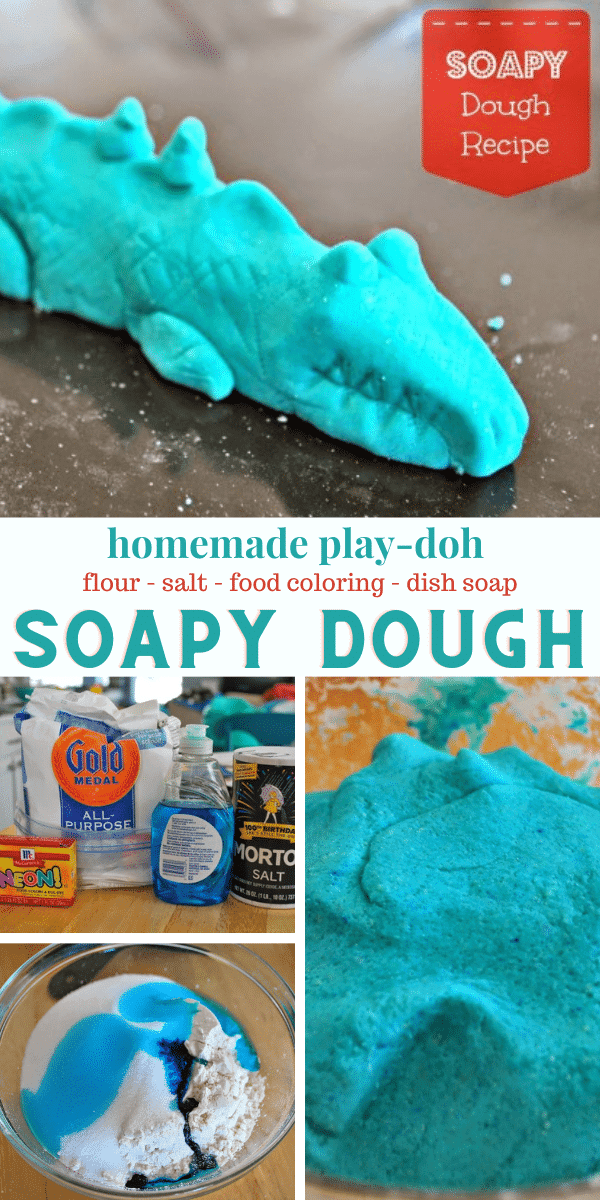 Easy Crafts for Kids
Craft ideas for kids. These activities for kids are for a variety of ages. Science crafts, Slime, Coloring, and more!
This slime recipe doesn't use Borax. Make up a batch for hours of play.
Kids science for all ages. This amazing project makes science fun!
Create decorative paper with bubble blowing. Use for art, cards, gift tags. Who knew bubbles could be long lasting.
Print and color. Create your own style.
This easy craft makes indoor or outdoor exercise fun.
Here's something they can make for their bedrooms. Solar system kids craft for learning more about planets.
Even little ones can get in on the crafting.
Great for so many ages. Dexterity activity for kids.