Using a mild soap like Simple Green for cleaning a composite deck is usually all you need. We are so happy with a lower maintenance deck after building our Deckorators Composite Decking 2 years ago which still looks brand new. There are a few Do's and Don'ts when it comes to cleaning and maintaining your composite deck.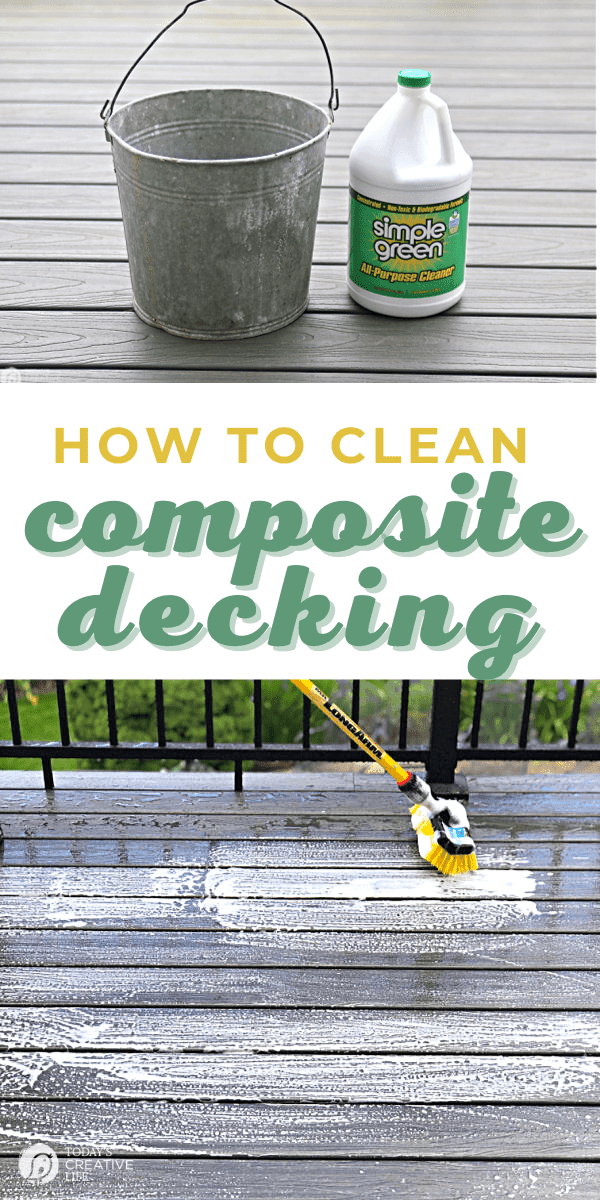 Cleaning a Composite Deck
A composite deck should have at least one good cleaning every year. We clean ours in the spring before putting out our outdoor furniture and then we usually will hose it off in the fall.
Because composite decking is more durable and requires less maintenance than your traditional wood deck, composite is much easier to take care of. There is no sanding, repairing and staining year after year.
How to Clean a Composite Deck
Once April rolls around it's time for us to get our deck ready for summer. Mopping our deck lifts away the winter dirt and grime as well as any moss that accumulates from our wet PNW climate.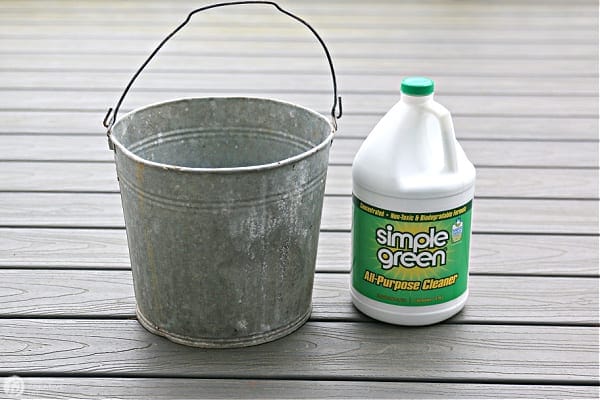 Supplies Needed for Cleaning Composite Decking
Remove all furniture, planters, and rugs so you have a clear space. This gives you a clear view of any problem areas of dirt or algea build up.
Sweep – Give it a quick sweep to remove any loose dirt and grime.
Hose it down to prep stuck on grime.
Fill your bucket with warm soapy water. Follow the directions for how much soap to water ratio. We used Simple Green and used 2 cups per gallon of water.
Poor a small amount of solution over visible dirty areas to soak.
Dip your scrub brush mop into soapy water and start mopping from one end of the deck, working your way to the other side.
Rinsh with a hose.
If you see areas that need extra attention, repeat cleaning steps.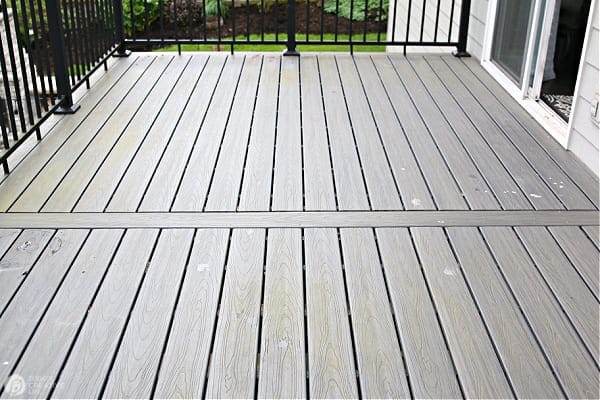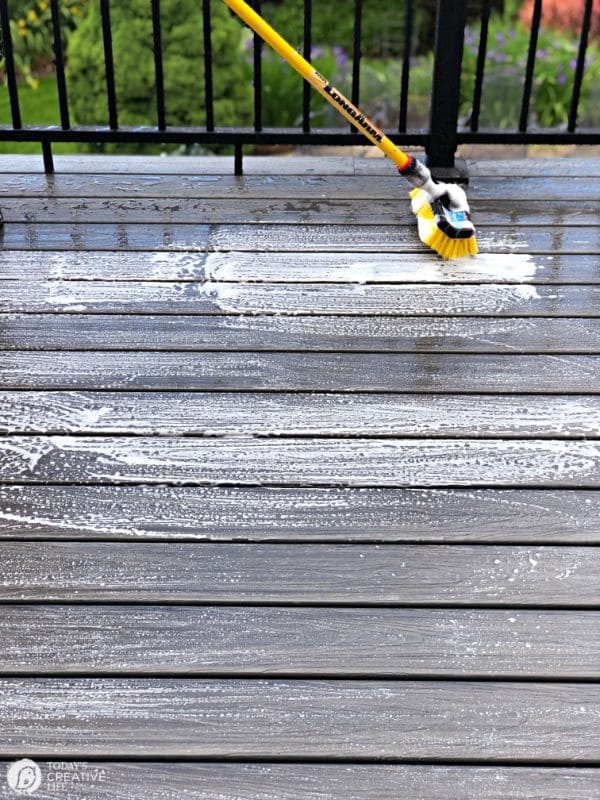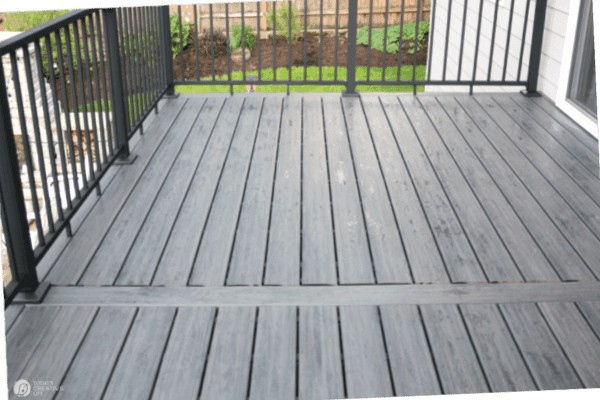 How to Clean Mildew and Mold off a Composite Deck
While mold and mildew can be more destructive to a wood deck, it doesn't do much to damage a composite deck. If you mop as directed above at least once a year, you shouldn't have a problem. If you see more build up, you can definietly mop more often.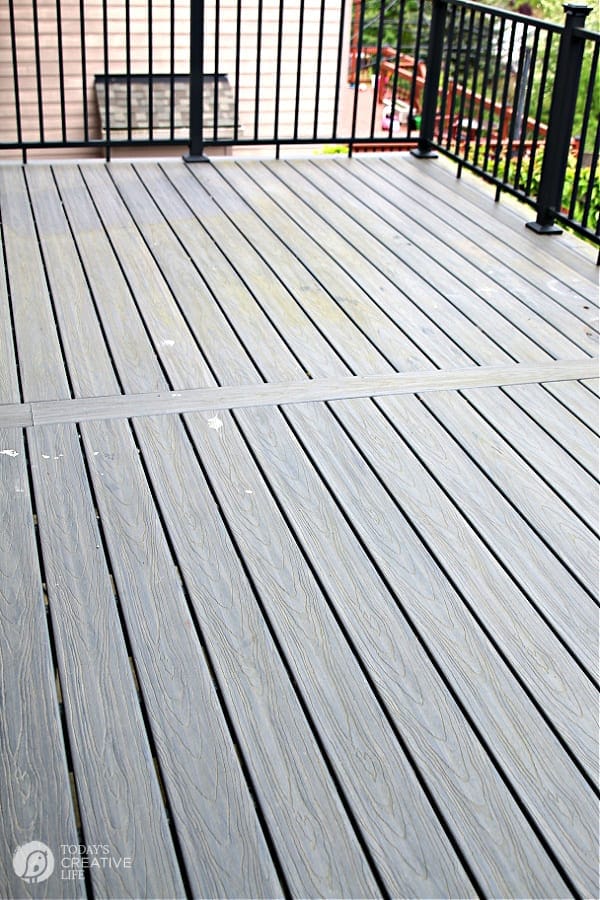 Can You Powerwash a Composite Deck?
I would look at your composite decking manufacture for specific information. Deckorators Composite Decking suggests a fan tip and a low setting. This helps get any trapped dirt between the boards. Higher settings may damage your product.
How to Clean Grease or Food from Composite Decking.
We haven't had any issues to food or grease stains in the 2 years we've had our deck. We just wipe it up as soon as we can. If you find a grease stain that has been sitting, try using a bit of dawn dish soap with warm water and a soft bristle scrub brush. Rinse when you're finished.
How to Clean Rust off a Composite Deck
You might notice slight rust stains from metal plant stands, umbrella stands furniture. Our patio umbrella stand left a slight rust stain and it came right up with the washing method mentioned above. If you have a more stubborn stain, let the soapy solution sit for a bit before scrubbing. Always rinse.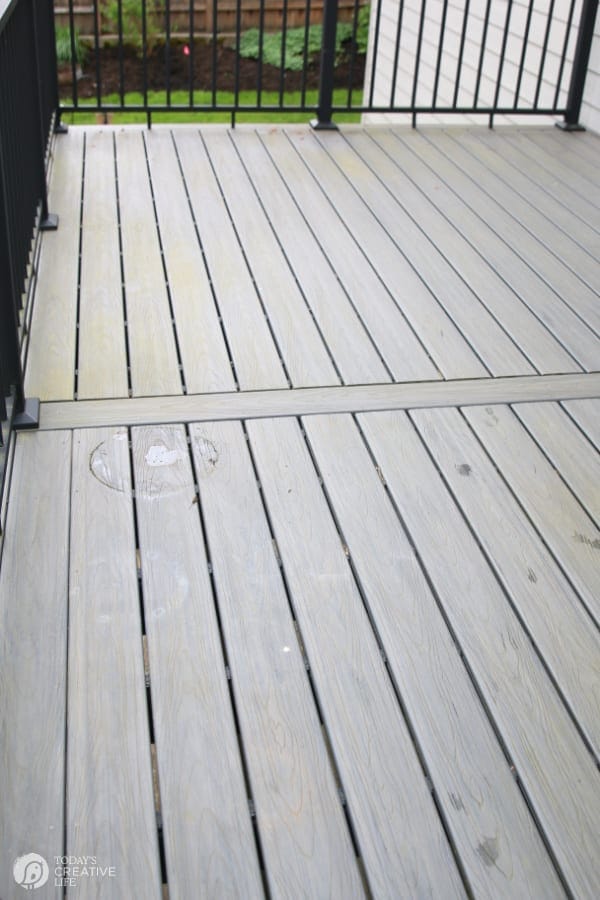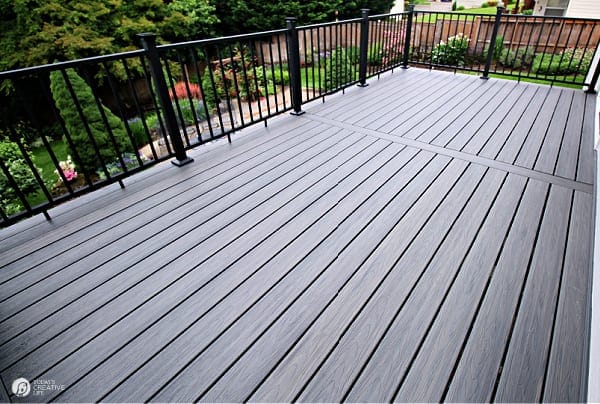 Cleaning a Composite Deck with Vinegar or Bleach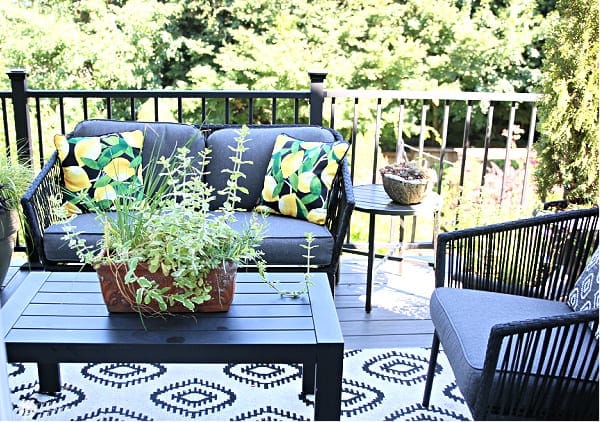 It is not recommended to clean a composite deck with bleach or vinegar. You may be tempted to use a chemical-based cleaner like bleach to clean mildew or mold, but this can damage or break down composite fibers, resulting in voiding your manufacture's warranty. As far as cleaning a deck with vinegar, you'll find conflicting information online. Some say diluted white vinegar is ok, but all agree to never use undiluted vinegar. I recommend looking at what the manufacture of your composite says. It's better to be safe than sorry.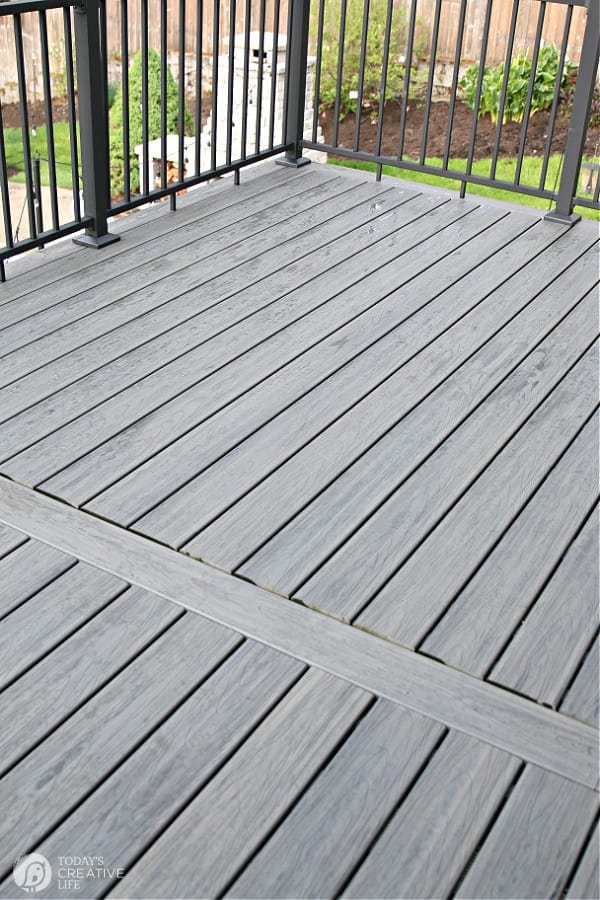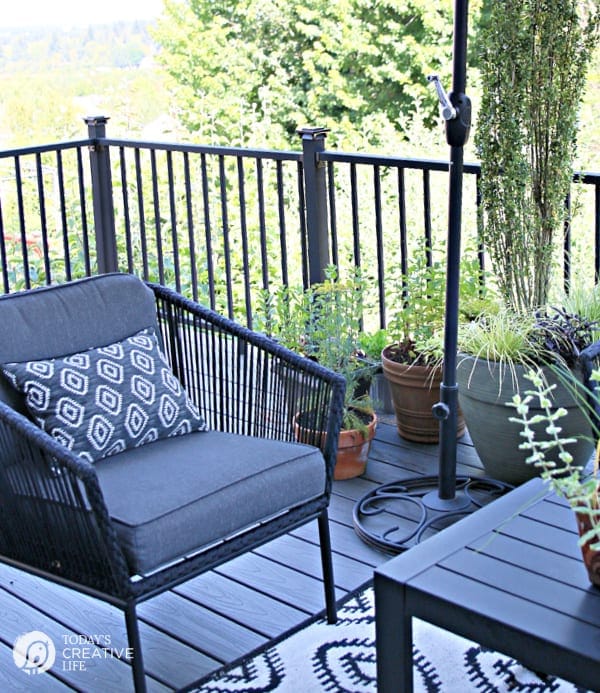 Our Composite Decking
We replaced our old wood deck with a composite decking from Deckorators. Find out the pros and cons between wood or composite decking.
Is composite decking better than wood?
Preassembled Deck Railing explained here.
How to know when it's time to update and replace your existing deck.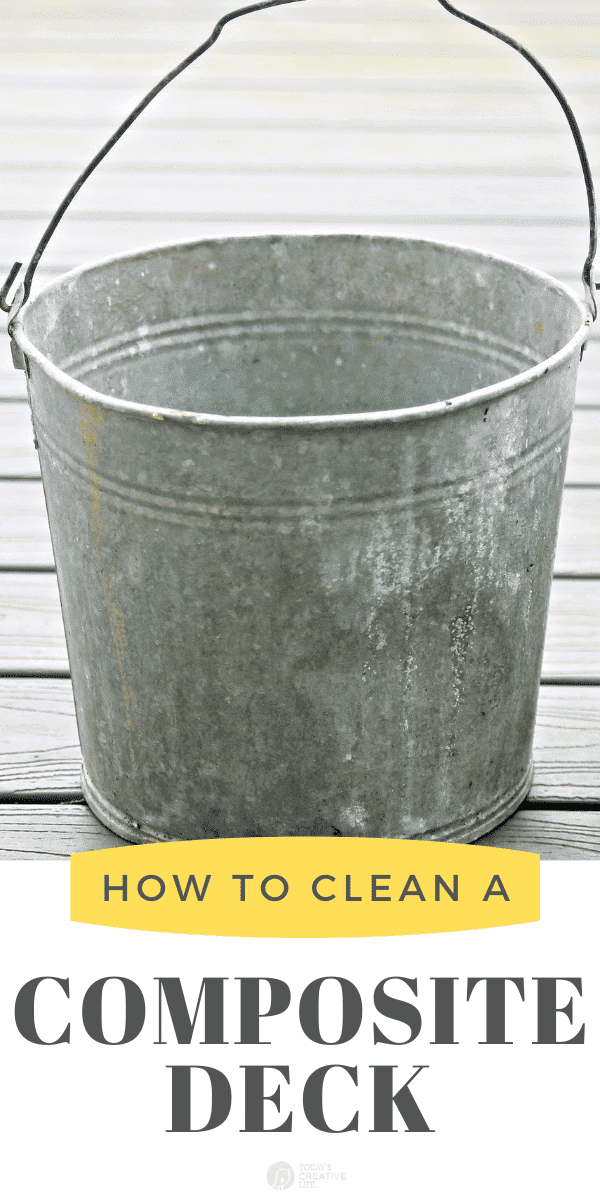 DIY Projects for Outdoor Living
Easy DIY Ideas for Outdoor Living. You'll find many stylish projects to create a better backyard.