Making DIY Mason Jar Solar Lights are easy and quick. All you need is a mason jar and inexpensive solar light picks. Decorating your patio or deck can be budget-friendly and stylish with simple DIY projects.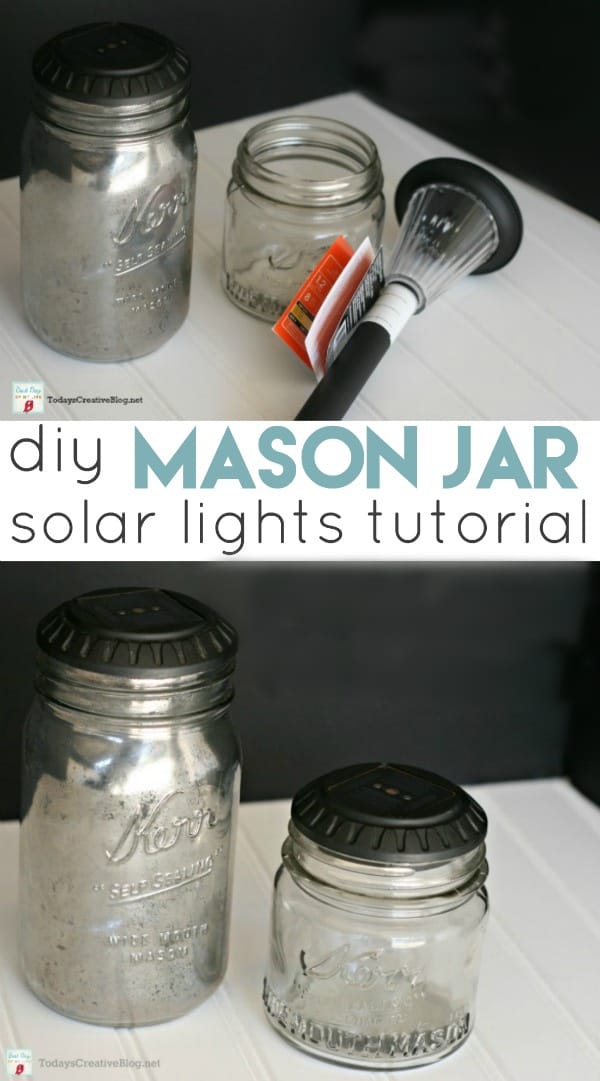 DIY Mason Jar Solar Lights
You know how I LOVE easy DIY projects right? Especially if they're home decor. I made these super simple DIY Mason Jar Solar Lights in the spring and showed them on my monthly morning segment on AMNW as part of the DIY Mercury Glass projects. I have a few around my patio and have fallen in love with the look. They add instant style in minutes. No special skills are needed for this DIY home project.
These can be made with any glass jar and a solar light that fits the mouth of the jar.
Supplies Needed for DIY Mason Jar Solar Lights
Wide Mouth Mason Jars -You'll need the mason jars with a wide mouth. I tried using those adorable new blue mason jars, but the jar mouth was too small. If you can find a smaller solar light, it would work.
Solar Yard Lights –There are so many types and sizes. Mine are the cheapest ones I could find and I found them at Lowes.
Looking Glass Spray Paint – if you want to create a Mercury Glass look you'll need this spray paint. I usually just order it from Amazon because it can be hard to find. Follow my Mercury Glass Tutorial to create this look.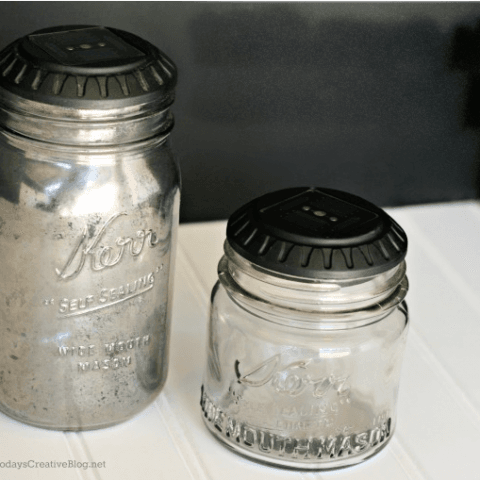 How to Make Mason Jar Solar Lights
Yield: 1
Prep Time: 5 minutes
Active Time: 5 minutes
Total Time: 10 minutes
Difficulty: Easy
Estimated Cost: $10
Easy to Make Outdoor Patio Solar Lights
Materials
Wide Mouth Mason Jar or glass jar.
Yard Solar Light that fits the size of your jar.
Looking Glass or Silver Metallic Spray Paint - only if you want to make them look like mercury glass. 
Apple Cider Vinegar, Water and a Plastic Water Bottle with a fine mist setting. ( only if you're painting the jar.)
Instructions
DIY Glass Jar Solar Light
Unscrew the top of the solar light off and remove any plastic tap to activate the solar light.
Place the light on top of the jar.
Set your new DIY Mason Jar Solar Light where you want it and it will illuminate your patio at nightfall.
HOW TO PAINT MASON JAR SOLAR LIGHTS
Solution: Mix equal parts apple cider vinegar and water into a fine misting spray bottle.
Spray the INSIDE of your clear glass container with the spray paint. If your container has a narrow opening, just spray the outside………it will be OK. This paint is thin and runs really easily. I found spraying short bursts about 6-8 inches away from my vase worked best. It dries pretty quickly too. (This spray paint is highly flammable like all spray paints and should be used in a well-ventilated area and away from your hot water heater.)
Once your vase is dry, mist the vinegar solution over the spray-painted area.
Using a cotton rag, gently blot to achieve the distressed look you're wanting. I made the mistake of using a terry cloth rag at first and it left terry cloth marks.
Allow to dry completely before placing the solar cap on top.
Notes
Painting your jars are completely optional.
Recommended Products
As an Amazon Associate and member of other affiliate programs, I earn from qualifying purchases.
For fun variations, you can try placing decorative items in the jar……..like glass beads. Anything that may reflect off the light.
Simple, quick and looks great! My kind of project.
If you enjoy Mason Jar Crafts, I've gathered a few of my favorites below.
DIY Home & Garden
Simple and creative ideas for your outdoor living.
How to plant a creative herb garden.
Easy to make water fountain.
Budget-Friendly Ways to decorate for outdoor living.
Creative ways to decorate a small deck or patio.
Tips for taking care of your lawn in the Fall.
Here's what to do for a healthy lawn i the summer.
How to know when it's time to replace your deck.
The pros and cons of composite and wood.
Plant an herb garden for your cat.
What you should be doing in the winter for a beautiful summer lawn.
Here's information on when the best time to reseed your lawn.
Create a beautiful feature for your patio or deck.