This puff pastry dessert recipe is great for all occasions celebrating LOVE! Puff Pastry heart-shaped treats filled with Nutella and raspberry jam are ridiculously easy to make! Great for an easy-to-make Valentine's Day dessert, bridal shower or engagement party.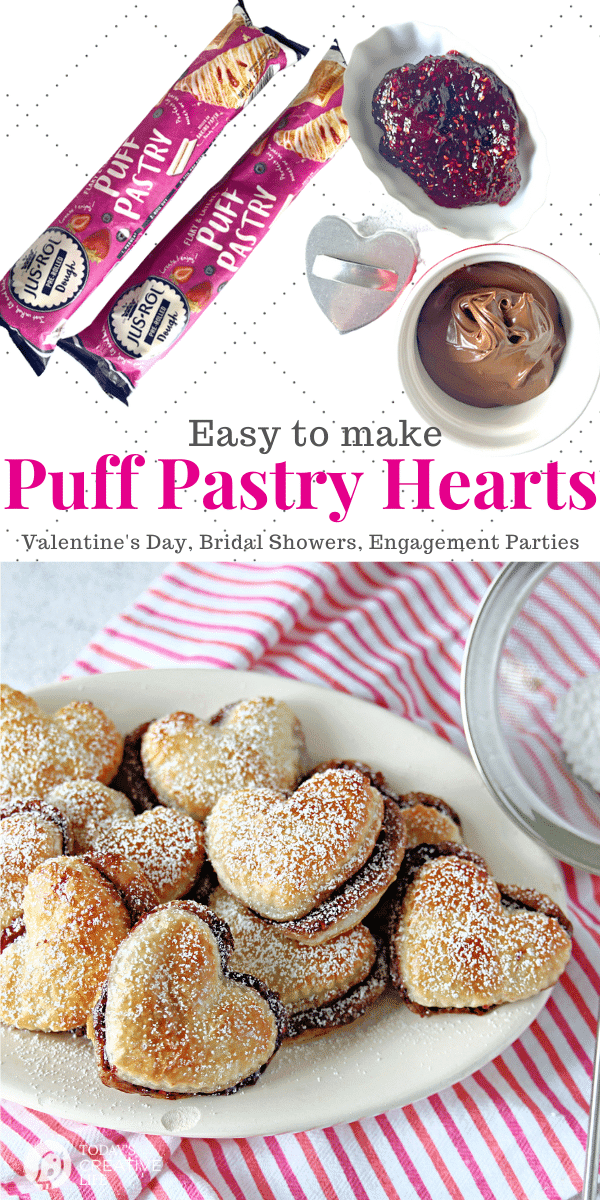 Puff Pastry Dessert Recipe
If you've been a reader of Today's Creative Life, then you know I love working with Puff Pastry because it's so dang easy and it's always impressive. I always feel like a pastry chef with minimal effort or skill.
These little puff pastry sandwiches are another example of that. Since it was close to Valentine's Day, I thought heart-shaped Nutella and raspberry jam treats would be perfect. But you can make them any shape and truth be told, just cutting squares would be much less wasteful. You can also add other fillings, sweet or savory.
Other Puff Pastry Recipes on Today's Creative Life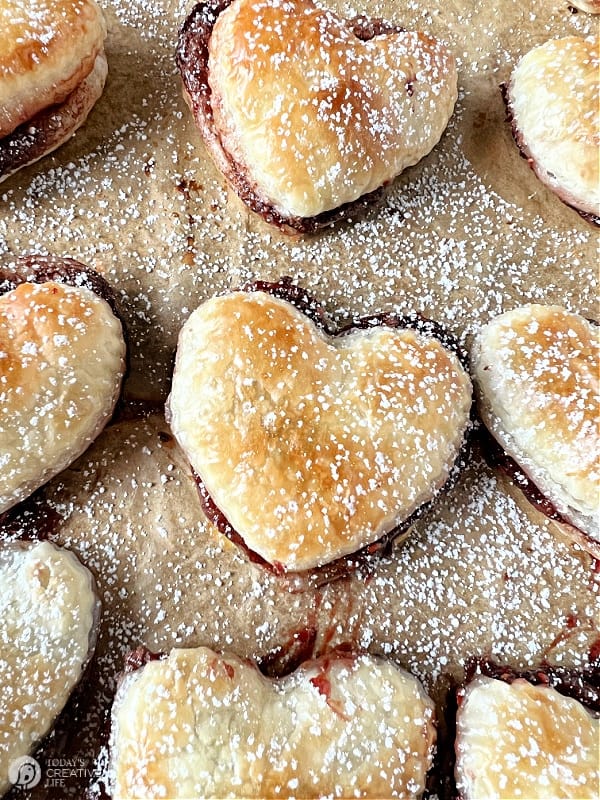 Dessert Recipes for Puff Pastry
For this puff pastry dessert recipe, you'll need the following items.
Puff Pastry – You'll need 2 sheets. I bought mine. I usually find it in the freezer section, but this was by the refrigerated cookie dough. This particular brand came rolled in parchment paper which was really helpful.
Nutella – This chocolate hazelnut spread is an easy way to add chocolate to anything.
Raspberry Jam – I wanted to mix this with the chocolate for a fun Valentine's Day treat.
Powdered Sugar – sprinkling just a little confectioner sugar always makes baked goods look better. I use a fine sifter.
Heart-Shaped Cookie Cutter – The size of your cookie cutter will determine how many hearts you'll be able to cut.
Cookie Sheet
Parchment Paper – I buy mine in sheets. I find it easier to work with.
Frosting spreader – this makes it easier to spread the filling.
Spatula and Cooling Rack
Roll out the dough. If your dough is frozen, you'll want to thaw it before. I place the dough on a piece of parchment paper so it's easy to transfer to my baking sheet.
Spread the Nutella over the whole sheet of puff pastry. I placed the Nutella in the microwave for just a couple of seconds so it was easier to spread and wouldn't pull on the dough.
Now spread the jam on top of the chocolate.
Roll out the second sheet of puff pastry on a separate sheet of parchment paper.
Time to place it on top of the chocolate and jam. I picked up the whole piece of paper with the dough, flipping it over, and placed it on top.
Time to cut the hearts with your cookie cutter. Or cut into any shape. You could even roll the whole thing and cut it like cinnamon rolls.
Continue to cut all your shapes. You can cut shapes after transferring the paper to your baking sheet if wanted.
Transfer each heart to a prepared cookie sheet. Or if you chose to already have it on the sheet before cutting your hearts, then just start removing the excess dough, leaving the hearts behind.
Once you have your hearts on your baking sheet, it's time to add an egg wash. This will give your pastry a nice finished look. Mix about a tablespoon of water with one egg and whip. Brush onto each heart.
Bake to a golden brown. Once you pull them from the oven, give them a slight sprinkle of powdered sugar for a finished look. Or drizzle chocolate across the tops.
Puff Pastry with Chocolate
Puff pastry and chocolate are a great pair. I usually use Nutella because of the consistency, making it really easy to spread. If you're wanting to use chocolate chips or chocolate bars, this recipe teaches you how to make chocolate spreadable. I like to add different flavors of jam or even a cream cheese mixture like I did for the Pumpkin Cream Cheese Puff Pastry Braid.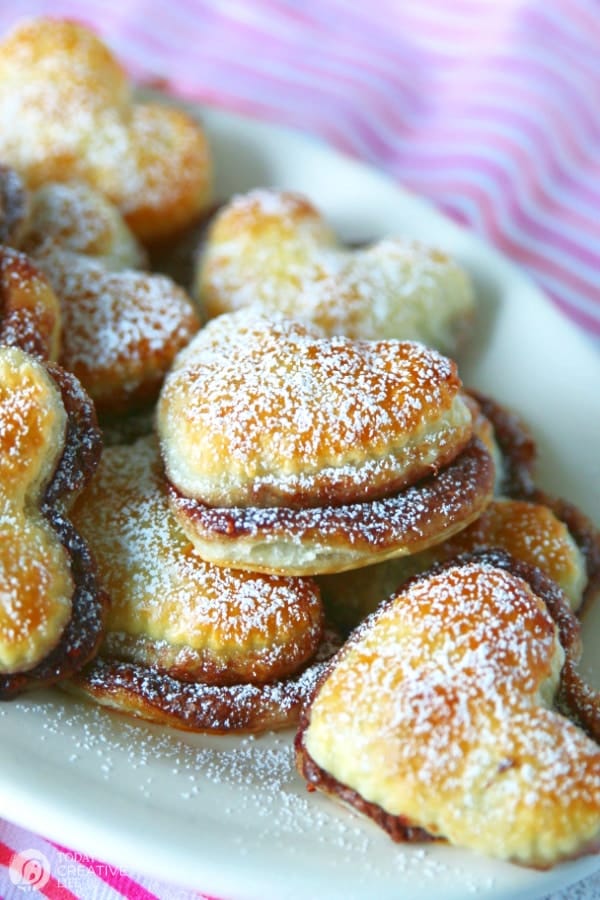 Is Puff Pastry the Same as Phyllo Dough?
Puff pastry and phyllo dough are not the same. They are both doughs, but should not be used as the same. AllRecipes has a good explanation and article on phyllo vs. puff pastry.
The main differences between the two doughs are the preparation method and fat content. Puff pastry is laminated, which means butter is folded into the dough multiple times to create alternating layers of butter and dough. This results in lots of thin layers and an airy texture. Phyllo, meanwhile, is a paper-thin dough that's made with oil instead of butter. The delicate sheets are brushed with butter or oil, then layered and baked.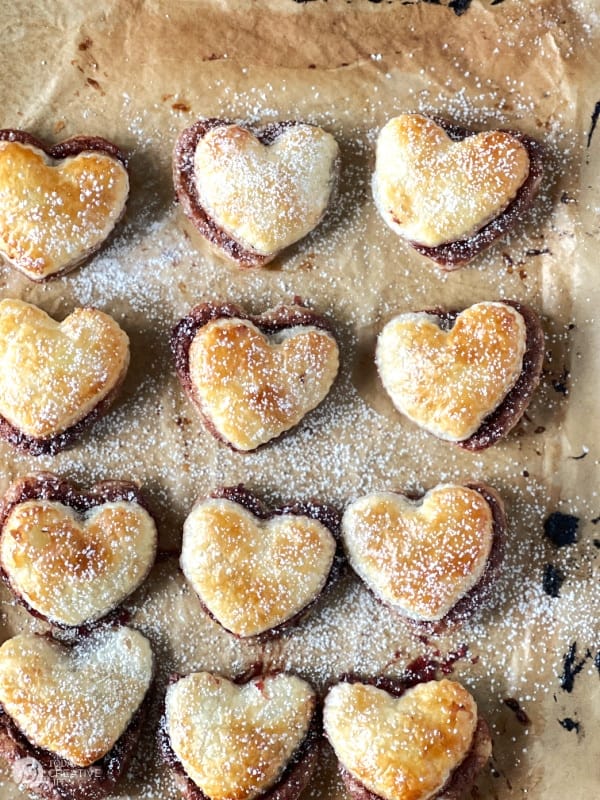 Substitute for Puff Pastry
If you're looking for a quick substitution for puff pastry, you're in luck. The following will work in a pinch, but they won't puff up as much, which won't affect the flavor.
Pie Crust
Pizza Dough
Biscuit Dough
You can make them from scratch but the store-bought varieties work really well too.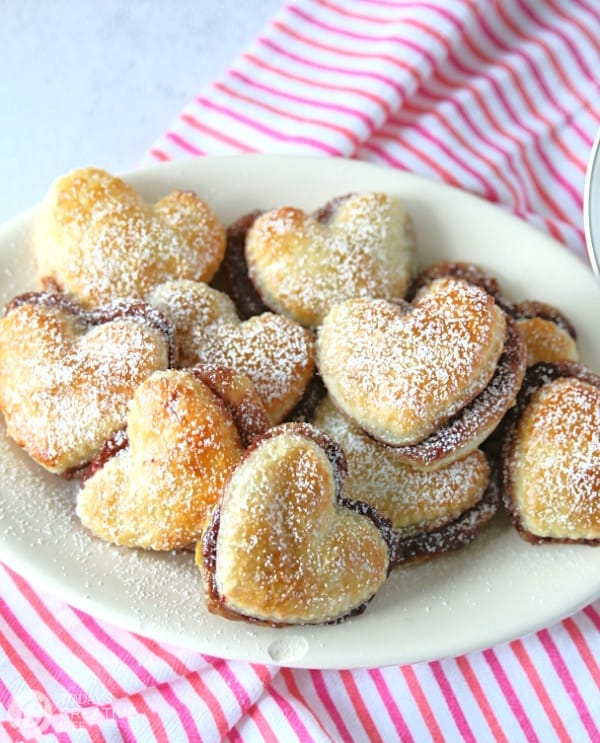 Fillings for Puff Pastry
Choose sweet or savory when choosing what to use with puff pastry. I've made savory puff pastry tarts, bread sticks, and braids, as well as sweet fillings of cream cheese, jams, and pie fillings.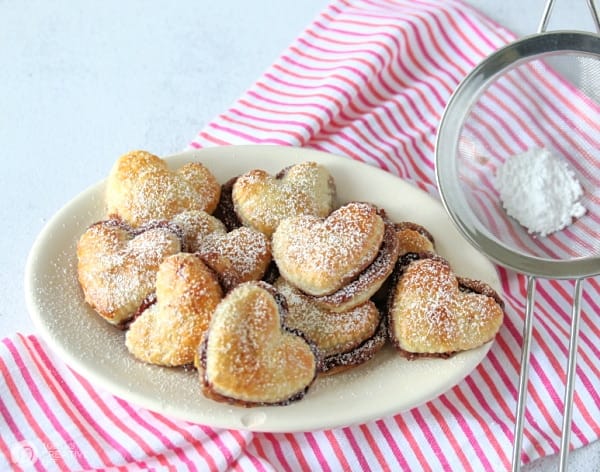 Puff Pastry Savory Recipes
Here are a few simple savory-filling ideas.
Pesto and Parmesan cheese – I used this combo for a puff pastry tomato tart. A little goes a long way.
Garlic, Gorgonzola cheese and salt. Mix it together with a little cream cheese or even mayo and then spread before baking.
Any spreadable cheese is a quick way to add a savory taste. Boursin cheese found in the deli section is great for this.
Puff Pastry Sweet Recipes
Sweet filling ideas are simple with fruits, jams and cream cheese.
Cream cheese filling mixed with a little milk and vanilla. Spread it alone or with any sweet jam.
Lemon Curd and Cream Cheese filling
Strawberry and Cream Cheese filling – use jam or sliced berries. Swap out the jam or berries.
Peach Cream Cheese. I like using sliced peaches with cream cheese filling for braids. Use pears or berries.
Pie Filling – Canned pie filling is great for puff pastry fillings too.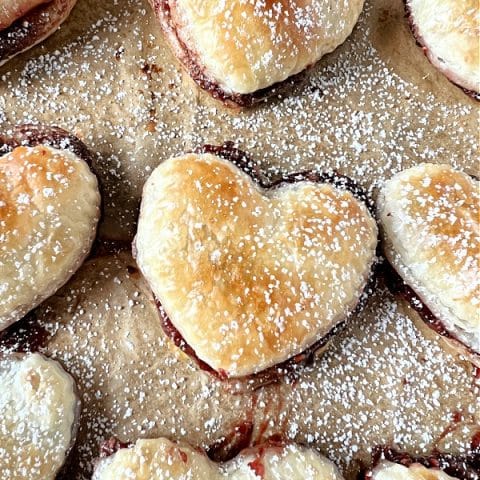 Heart Shaped Puff Pastry Dessert
Yield: 12
Prep Time: 20 minutes
Cook Time: 10 minutes
Total Time: 30 minutes
Puff Pastry heart sandwiches filled with Nutella and raspberry jam make fun treats for all celebrations of love. Valentine's Day, Bridal Showers, Engagement parties, and more.
Ingredients
Store-bought puff pastry ( 2 sheets)
Nutella - I probably used 2/3 cup.
Raspberry Jam (1/2 cup)
Powdered Sugar for sprinkling
One egg for egg wash
Instructions
Set oven to 425 degrees F.
Set the puff pastry out to thaw if it's frozen.
Gather a cookie sheet, rolling pin, parchment paper, and a heart-shaped cookie cutter.
Roll out one sheet of puff pastry onto parchment paper.
Spread Nutella over the sheet of puff pastry.
Add a layer of raspberry jam over the Nutella.
Roll out the second sheet of puff pastry and place it over the other sheet, sandwiching the Nutella and jam between the two sheets.
Cut the heart shapes and transfer them to a parchment-lined cookie sheet.
Make the egg wash by beating one egg with a tablespoon of water.
Using a pastry brush, brush egg wash on each heart.
Bake for 10 min or until golden brown.
Notes
When using a cookie cutter, you will have excess amounts of dough. I usually will cut into bite-size pieces and bake them separately.
Cut any shape you'd like.
You can use any flavor of jam you'd like.
You can use a cream cheese filling with jam instead of chocolate if desired. Mix cream cheese, vanilla, and 1/4 cup powdered sugar until smooth, then spread onto puff pastry before baking. You can add jam, fruit, and Nutella too.
Make it savory with Pesto and Parmesan cheese, or store-bought Boursin spreadable cheese.
Nutrition Information
Yield 12
Serving Size 1
Amount Per Serving
Calories 137
Total Fat 5g
Saturated Fat 4g
Trans Fat 0g
Unsaturated Fat 1g
Cholesterol 31mg
Sodium 24mg
Carbohydrates 20g
Fiber 1g
Sugar 17g
Protein 2g
We do our best to calculate, however, nutrition information may not be accurate.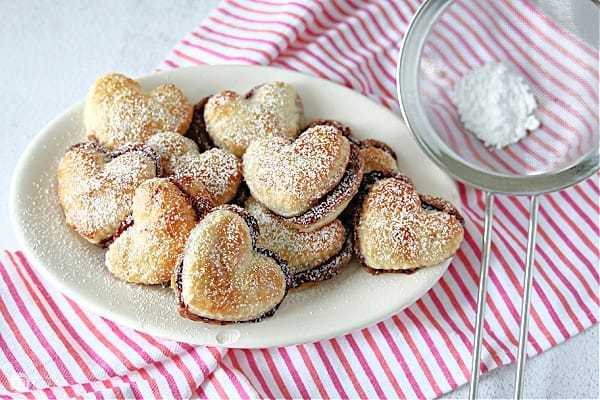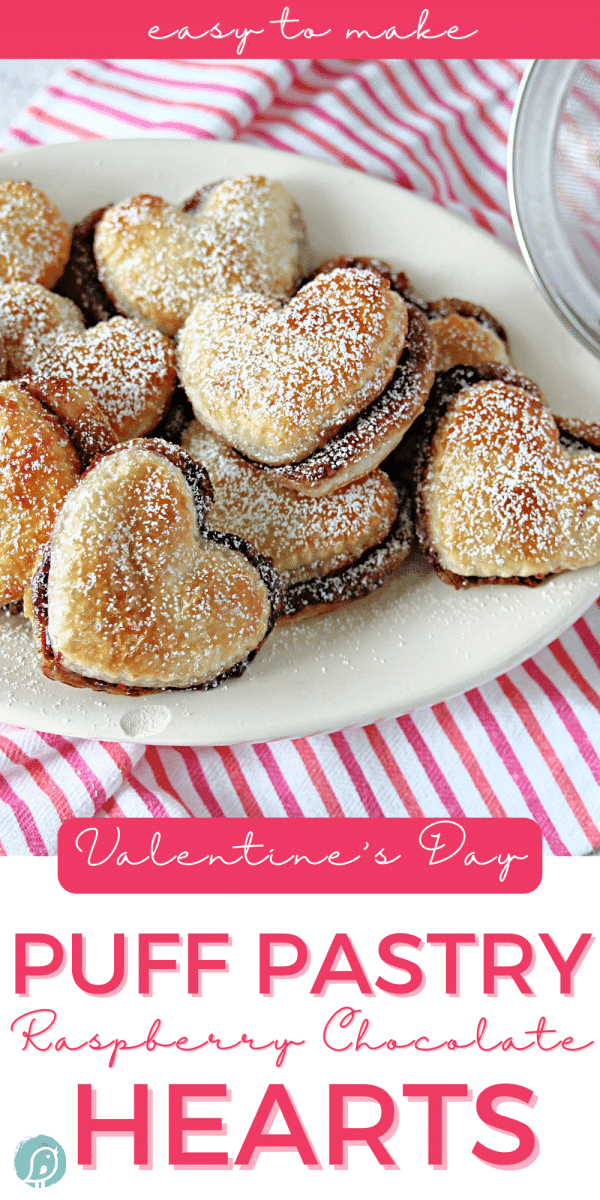 Recipes Using Puff Pastry
Create fluffy flaky recipes using store bought puff pastry. Easy to make ideas for sweet or savory.
Pinwheels are delicious, quick and easy snacks or appetizers, made with puff pastry. This recipe for Turkey and White Cheddar Pinwheels makes a great lunch for kids, too.
Easy to make Bread sticks using puff pastry
This recipe does not contain exact measurements.
This savory tart made with spreadable cheese is a great appetizer recipe.
Using tomatoes from my garden, I created this delicious summer treat! Serve this puff pastry tomato pesto tart with soup, salad or on it's own.
Use any fruit, pie filling or fruit spread with this easy to make puff pastry braid.
Great for an appetizer, or serve with soup and salad,