A peanut butter brownie recipe made with a cake mix… what more could you want?! These cake mix brownies are quick and easy to make, and they are SO delicious!
If it's a peanut butter dessert, I am sure to love it. When it is easy to make, I'll love it even more! Try this Peanut Butter Brownies with Fudge Frosting recipe too!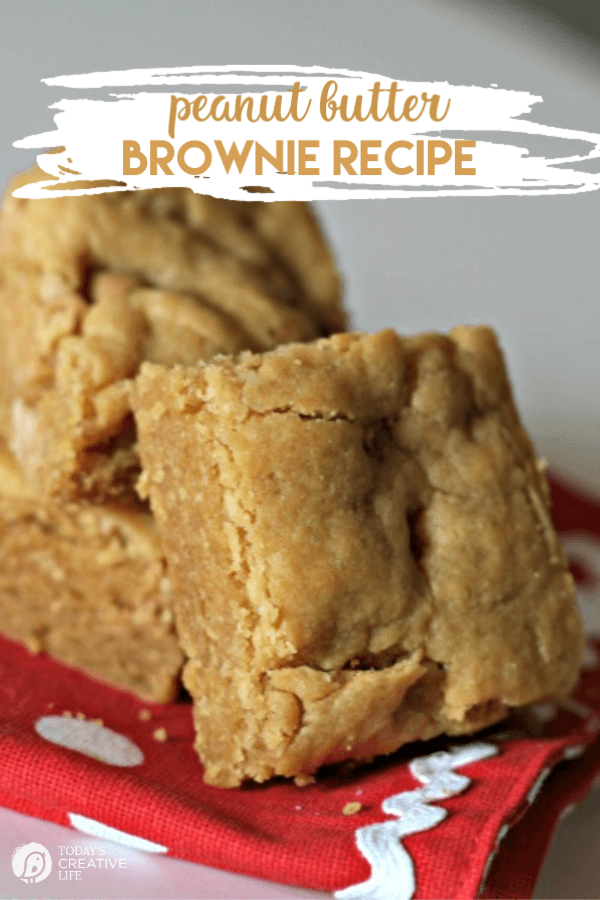 Can I turn a box cake mix into brownies?
Oh yes, you definitely can turn a box cake mix into brownies! Cake mix brownies are probably one of the easiest ways to make a quick but impressive dessert.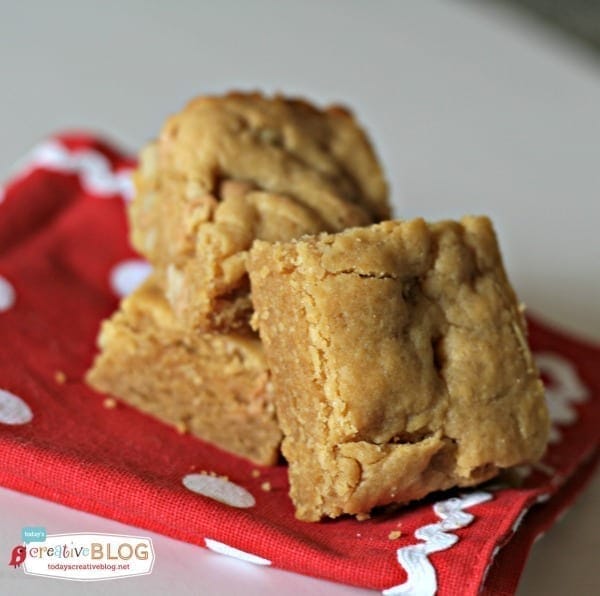 I love shortcuts in cooking or baking and if I can use any type of box mix, I'm doing it! I love making a cake from scratch too, like my Chocolate Mayonnaise Cake, but I use box mixes for less mess!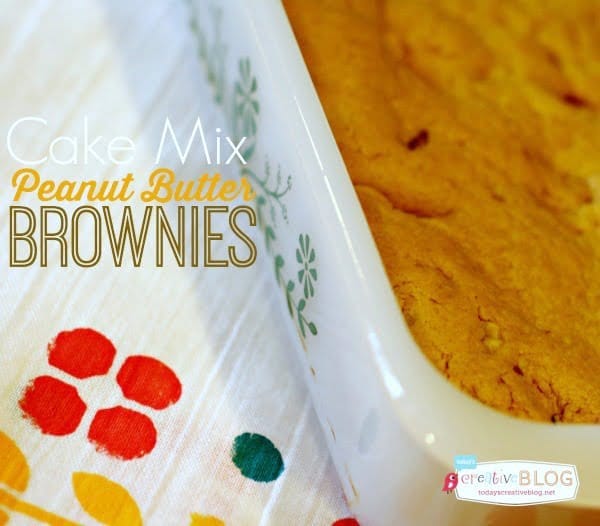 What desserts can you make with cake mix?
Besides the peanut butter brownie recipe, here are other desserts you can make with cake mix:
Cake mixes aren't just for cakes. They can be used to make so many other things. My sister bought me this recipe book, 101 Things to Do with a Cake Mix and it's fun to flip through to see what looks tasty or interesting.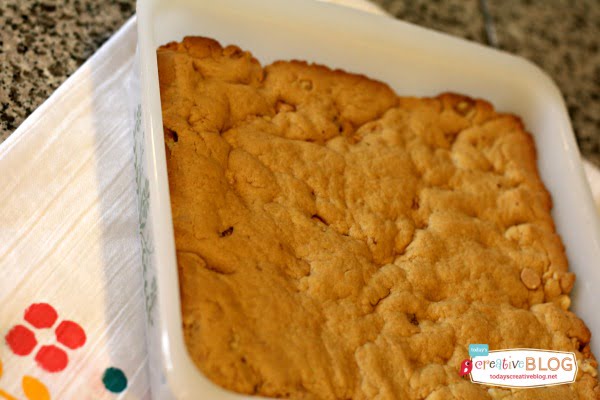 Cake Mix Brownies
Cake mix brownies don't last long enough in our house, but if they did, I'd serve them warm with a scoop of vanilla ice cream and maybe a little chocolate sauce drizzled over the top. Sound good? You can also add a little whipped topping.
Or just eat them by themselves, because they are delicious any way you choose.
How to Make Peanut Butter Brownies from a Cake Mix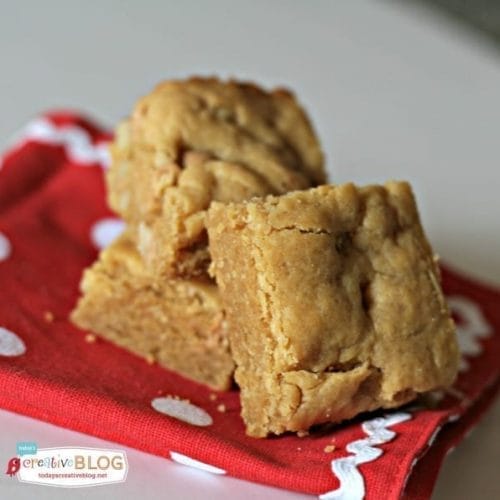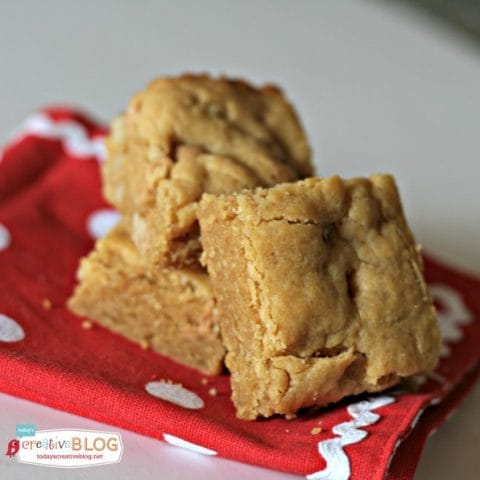 Cake Mix Peanut Butter Brownie Recipe
Yield: 9
Prep Time: 10 minutes
Cook Time: 15 minutes
Total Time: 25 minutes
There is no shame is baking with a cake mix! These Peanut Butter Brownies are chewy, delicious and will conquer your sweet tooth.
Ingredients
1 yellow cake mix
2 eggs
1/3 cup vegetable oil
1/2 cup peanut butter (smooth or chunky)
1 cup peanut butter chips (or chocolate)
1/2 cup peanuts or walnuts
Preheat your oven to 350°
Instructions
Using a hand held or Kitchen Aid Mixer, mix the cake mix, eggs and oil. Add and mix peanut butter. Stir in your nuts and chips. The mixture is thick!
Pat the batter into a 9 x 9 inch pan. 9 x 13 can also be used if you want them a little thinner.
Bake 14-17 minutes at 350° or until golden brown like in the photo. These need to sit for at least 20 minutes after cooking since they are soft and gooey. Cut yourself a piece and enjoy!
Notes
This recipe has a lot of flexibility. If you don't have a yellow cake mix, try another flavor. You can omit the nuts if needed. You can use any flavor chips you enjoy. Heck you can even use whatever nut butter you choose.
Nutrition Information
Yield 9
Serving Size 1
Amount Per Serving
Calories 536
Total Fat 28g
Saturated Fat 6g
Trans Fat 1g
Unsaturated Fat 19g
Cholesterol 42mg
Sodium 588mg
Carbohydrates 62g
Fiber 3g
Sugar 34g
Protein 12g
We do our best to calculate, however, nutrition information may not be accurate.

Easy Baking Recipes
Simple and fast baking recipes!
Weekends are better with this easy recipe.
Who says you have to use a bundt pan.
The most delicious cake you'll ever make.
This makes the best toast.
Use any flavor filling. Jams, pie filling, fresh or canned fruit.
Simple, delicious and fast!
Easy, Delicious and Impressive!
Everyone loves a turnover!
One of my favorite quick breads!
Quick and easy apple dumplings made with sprite and crescent rolls make a fast weekend breakfast idea.