Some days bring on more stress and drama than others. That's life, right? So, yesterday, I stopped everything I was doing and made some Cake Mix Chocolate Chip Cookies, because if there is anything in this world that can turn around a hard day it's a good chocolate chip cookie and a glass of milk.
Cake Mix Chocolate Chip Cookies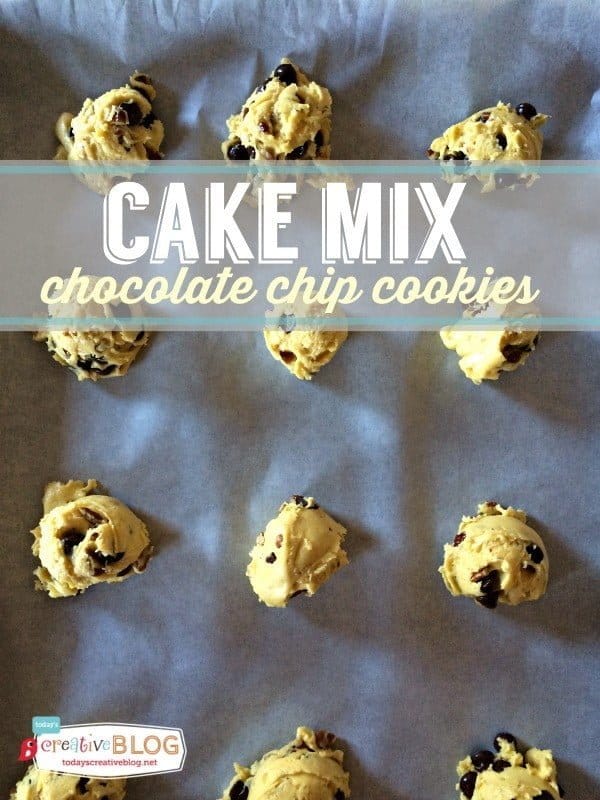 Oddly, I like my cookies with orange juice. I blame kindergarten who gave us orange juice and graham crackers. They really do taste good dipped in orange juice too.
This is one of the easiest recipes you'll ever make and they'll turn out each and every single time. Which I needed. I needed a simple recipe, one I didn't have more than one item to measure. I needed a sure thing and I got it! I thought about making my Cake Mix Peanut Butter Brownies, but I hadn't had the cookies in a while, so I went with them.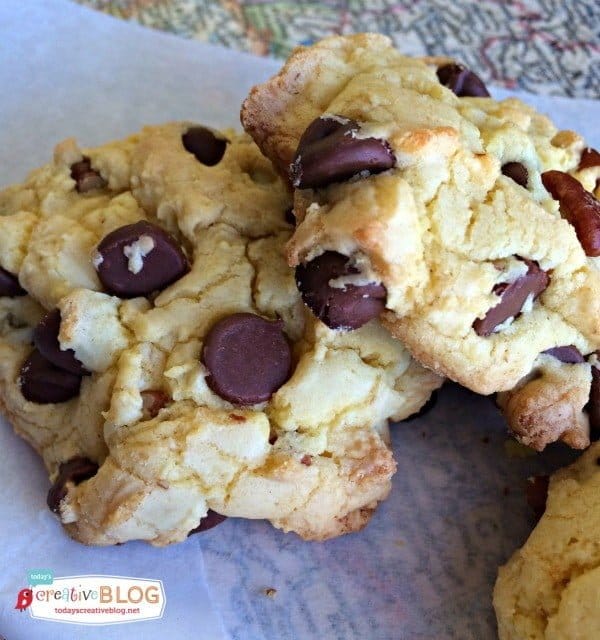 It wasn't long before the smell of fresh baked cookies filled the air creating a warm and cozy home.
I used a yellow cake mix because that's what I had, but you can use white or chocolate too. It doesn't really matter what kind you use, so be creative and try out a few flavors. I also used pecans, but I've used walnuts or hazelnuts before and they are all delicious.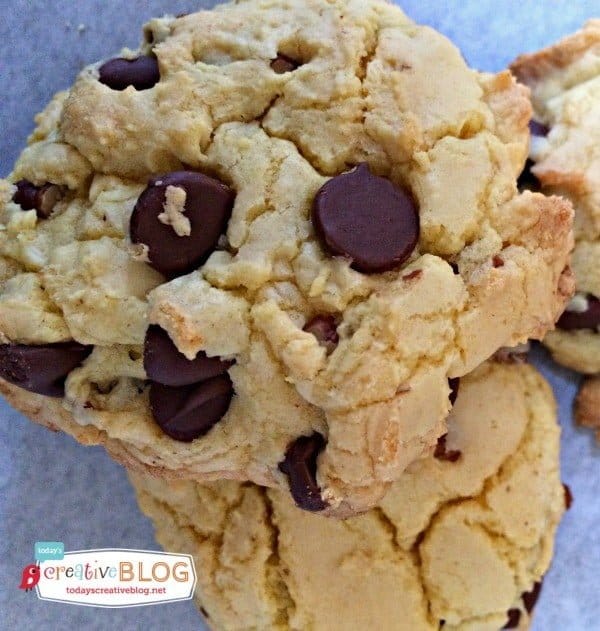 If you made smaller cookies than I did, you'd be able to get about 4 dozen, however I used a kitchen scooper to scoop out perfectly round dollops – I love finding a reason to use fun kitchen tools.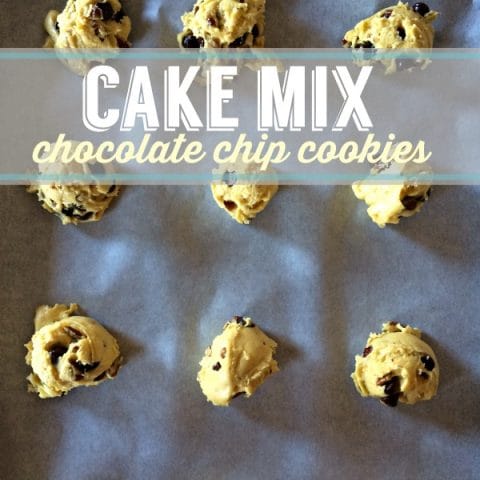 Cake Mix Chocolate Chip Cookies
Yield: 2 doz
Prep Time: 10 minutes
Cook Time: 8 minutes
Total Time: 18 minutes
Ingredients
1 box yellow or chocolate cake mix (16.5 or 18.25-ounce)
1/2 cup vegetable oil
2 large eggs
1 cup chocolate chips (milk chocolate, semi-sweet, or dark)
1/2 cup chopped nuts (pecans, hazelnuts or walnuts)
Instructions
Beat the cake mix, oil and eggs on medium speed with an electric mixer until smooth.
Add and stir in chocolate chips and nuts.
Use a spoon or scooper to drop onto an ungreased cookie sheet. I used parchment paper on my cookie sheet.
Bake at 350° for 8 to 10 min.
Cool cookies on a wire rack.

Other sweet treats you may enjoy!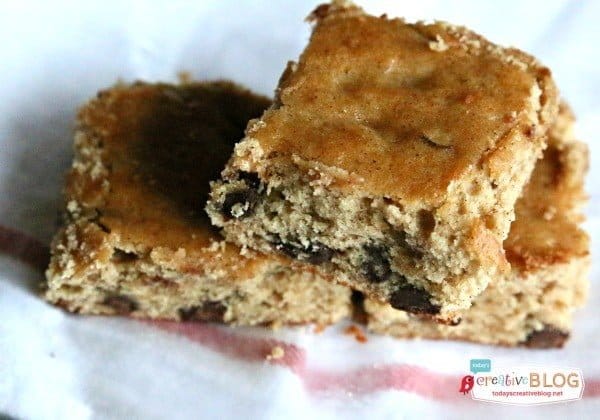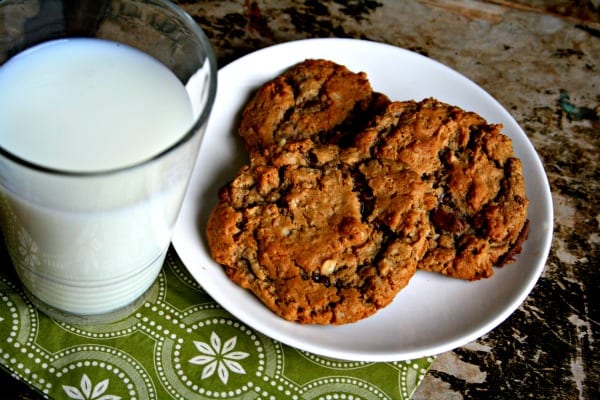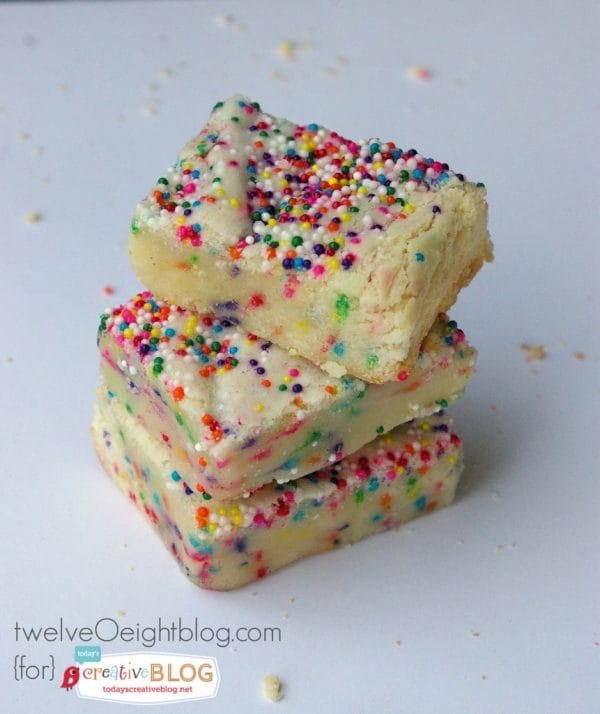 Cake Batter Cookie Batter Bars
Never miss another TCB post again! Subscribe here.

This post contains affiliate links for supplies added for your convenience. This cost nothing extra to you if you choose to purchase any items. It only means I receive a teeny tiny %.