I had a couple of over ripe bananas I was guarding to make banana bread. My husband must have asked me 10 times if he could throw them out and the answer was "NO!" each time.
Then I saw on facebook that my friend Val was raving about the Banana Bars she made. So I did what any ripe banana hoarder would do and asked for the recipe. I changed it a bit and made Peanut Butter Banana Bars instead. I wondered if they were like the frosted banana bars that Mique shared.
Peanut Butter Banana Bars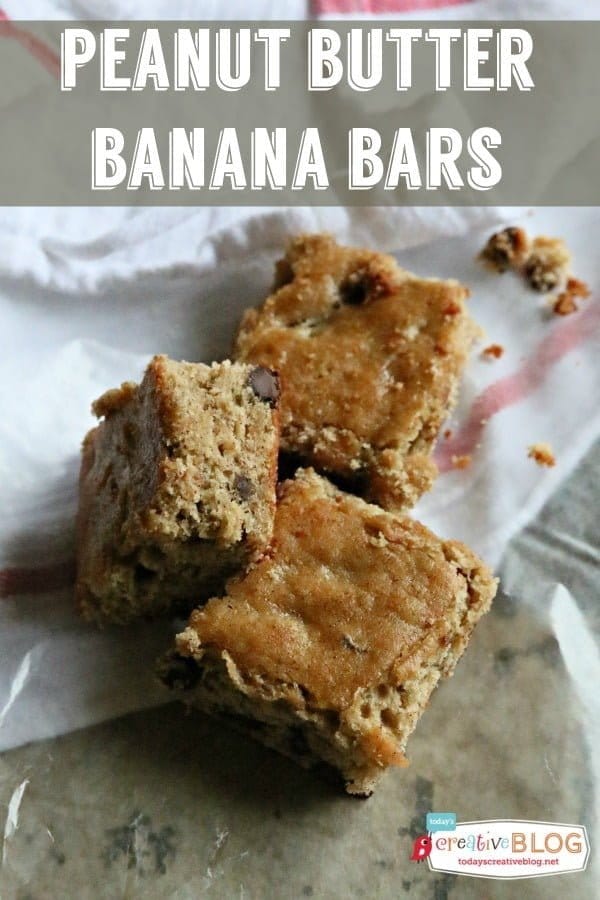 After I baked them, I thought I would eliminate the chocolate chips next time and instead add walnuts. I can't believe I just said that……but they were plenty sweet without adding the chocolate chips.
They had the perfect blend of banana taste and peanut butter taste. My husband tried to tell me they tasted like overly ripe banana's…….He didn't realize that all banana bread, muffins etc… are made with overly ripe bananas.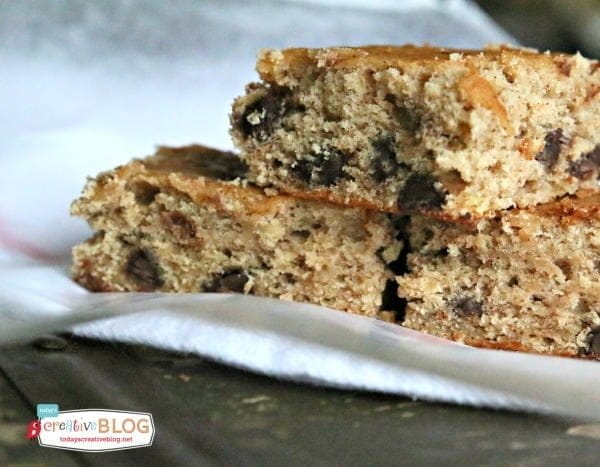 These bars were VERY moist and sweet, so I decided against adding the icing that her recipe had.
So, who's got some banana's that are over ripe? Make these and let me know how you like them!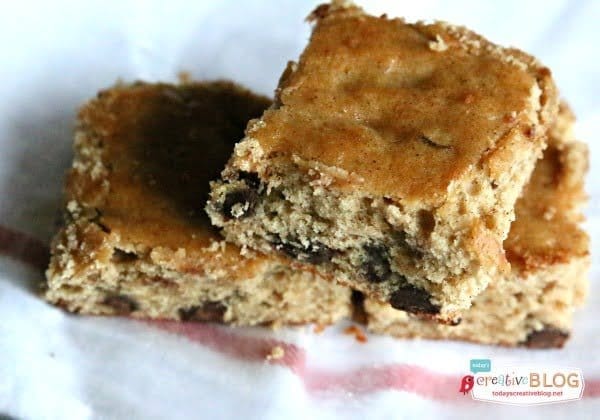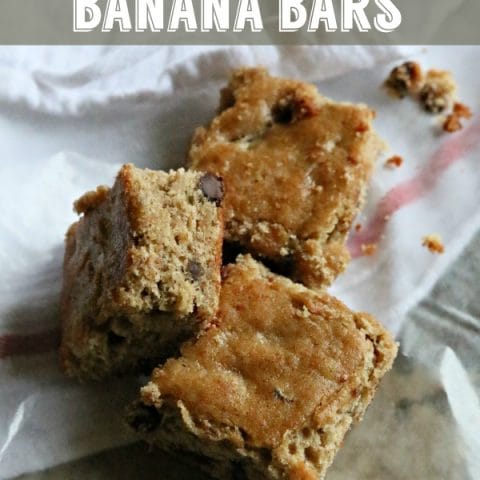 Peanut Butter Banana Bars
Yield: 16
Prep Time: 15 minutes
Cook Time: 30 minutes
Total Time: 45 minutes
The perfect combo of peanut butter and bananas for delicious snack bars.
Ingredients
1/2 cup butter (softened)
1 1/2 cups sugar
1/2 cup peanut butter
2 eggs
1 tsp vanilla
2 cups flour
1 tsp baking powder
1 tsp salt
1/2 tsp baking soda
1 tsp cinnamon
1/2 tsp all spice or pumpkin pie spice
1 cup mashed ripe banana's. (about 2 bananas)
1/2 cup milk
2 cups chocolate chips (I will substitute the chips for walnuts next time)
Instructions
I used my kitchen aid mixer
Cream butter, peanut butter and sugar together
Add eggs and vanilla and mix
Slowly add flour, baking soda & baking powder and spices - mix
Add mashed bananas and milk - mix
Fold in your chocolate chips or walnuts (or both)
Spread into your 13x9 or 15x10 greased pan or jelly roll pan.
Bake at 350 degrees for 20-30 min.
Nutrition Information
Yield 16
Serving Size 1
Amount Per Serving
Calories 357
Total Fat 17g
Saturated Fat 9g
Trans Fat 0g
Unsaturated Fat 7g
Cholesterol 39mg
Sodium 315mg
Carbohydrates 50g
Fiber 3g
Sugar 33g
Protein 6g
Clickable Supply List