This recipe for Banana Praline Bread with a caramelized glaze will make you drool. The bananas make it moist, making it perfect for snacking for breakfast.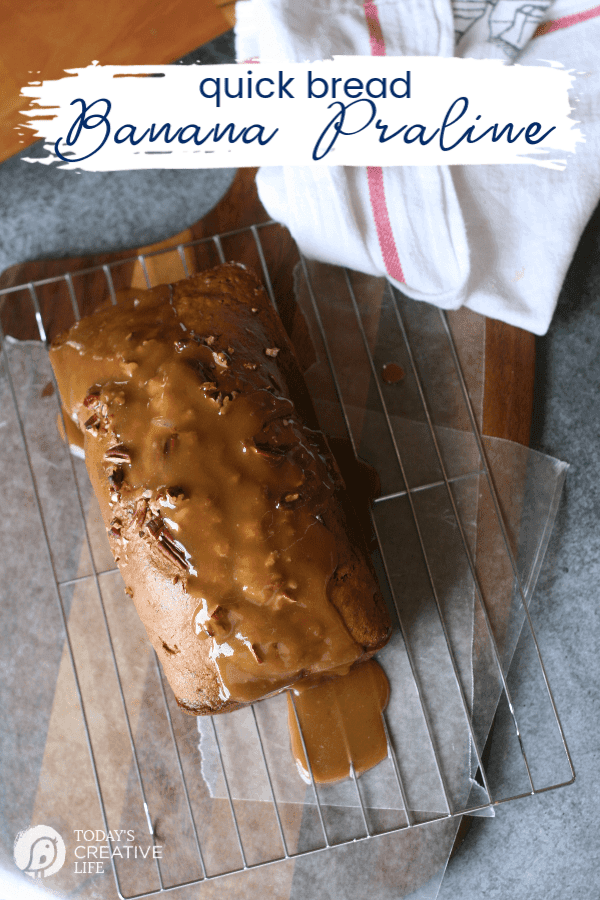 Banana Praline Bread Recipe
Actually the recipe is Apple Praline, but I changed it to Banana's because I had a couple of old bananas I wanted to use up. I do think the apple will be equally delicious, but I'm not sure if it would beat out my Apple Cream Cheese Bread that has been pinned over 50,000 times.
Since I'm not eating these kinds of foods, I knew my son would devour it, especially with the praline sauce and sure enough, he ate a slice then mumbled with a full mouth "Is there any more of that sauce because it's AWESOME!" After he ate 3 slices and was heading for a 4th, I almost didn't stop him since I really do want it gone.
But I think my husband would also enjoy a couple of slices and it would be deliciously toasted for breakfast.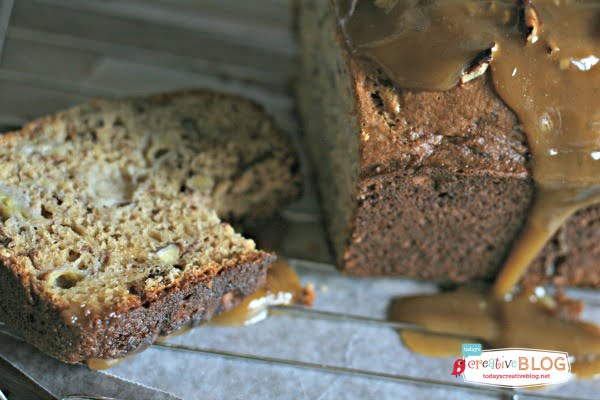 I will admit to having one bite. One. I had to make sure it was edible right? And it is.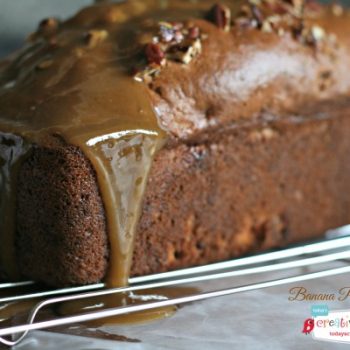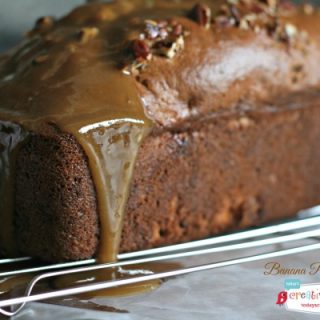 Banana Praline Bread
Yield: 8
Prep Time: 20 minutes
Cook Time: 1 hour
Total Time: 1 hour 20 minutes
Delicious and moist banana bread with a praline sauce.
Ingredients
1 cup sour cream
1 cup brown sugar
2 eggs
2 tsp vanilla
2 cups flour
2 tsp baking powder
1/2 tsp baking soda
1/2 tsp salt
2 large bananas (mushed)
1 cup chopped pecans (divided)
FOR PRALINE SAUCE
1/4 cup butter
1/4 cup brown sugar
Instructions
Preheat oven to 350° and lightly grease a 9x5 inch loaf pan. I greased mine with coconut oil. Set aside.
I used my kitchen aide mixer. Add together, sour cream, sugar, eggs and vanilla, mix on low until well blended.
Add flour, baking soda, baking powder, salt. Beat until well blended.
Add bananas and 1/2 of the pecans to the batter.
Pour into your loaf pan.
Sprinkle the remaining pecans on top.
Bake for about 60 min. Or until a toothpick inserted comes out clean.
I needed to make a tin foil tent at 45 minutes to prevent it from becoming overly browned.
Cool for about 15-20 minutes before transferring to a metal rack.
PRALINE SAUCE
In a small sauce pan over low heat, bring butter and brown sugar to a boil. Lower to simmer for about one minute. Stir constantly until the sauce thickens. Remove from heat and drizzle over the loaf.
Notes
If you're using apples instead of bananas, use 1 1/2 cups.
Try walnuts or a combination if you're looking for a little adventure!
Nutrition Information
Yield 8
Serving Size 1
Amount Per Serving
Calories 508
Total Fat 24g
Saturated Fat 8g
Trans Fat 0g
Unsaturated Fat 14g
Cholesterol 79mg
Sodium 502mg
Carbohydrates 67g
Fiber 4g
Sugar 37g
Protein 8g
Nutrition information isn't always accurate.
Can you freeze banana praline bread?
Yes, you can freeze this quick bread but without the sauce. Wrap the bread in plastic and then place into a gallon size Ziploc bag and free up to 3 months.
Easy Bread Recipes
Easy quick bread recipes that are perfect for snacking or with soup or salad.
What's YOUR favorite quick bread?