Here's the BEST Slow Cooker Minestrone Soup recipe you'll ever need!
Slow Cooker Minestrone Soup Recipe
I could eat soup every day! I love soup! Add a piece of crusty French bread to this Slow Cooker Minestrone Soup and that's all I need. If I could eat every meal out of a bowl, I'm pretty sure my life would be complete!
I heard on the radio about someone coming out with a cookbook with recipes only meant for eating out of a bowl. I did a quick search but couldn't find who they were talking about, but I found this Better Homes and Gardens One-Bowl Dinners. I may have to order that!
Speaking of recipes….. if you're wanting GOOD Slow Cooker recipes, my friend Stephanie has several Slow Cooker cookbooks and I own ALL of them. I haven't made a recipe yet that I didn't like. Her latest is Five Ingredients or Less.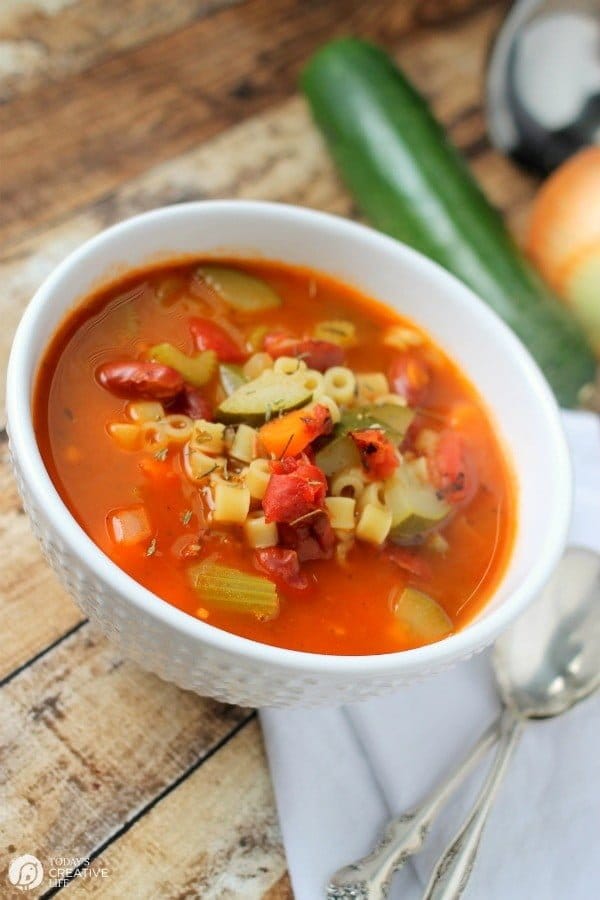 This is the time of year, my crock pot is in overdrive. With all my slow cooker Sunday recipes, it's not uncommon to use both slow cookers in one day. I currently own two larger crock pots, but I keep eyeing a 3 quart version and even a smaller double dip version. So great for the holiday season!
I need a bigger pantry!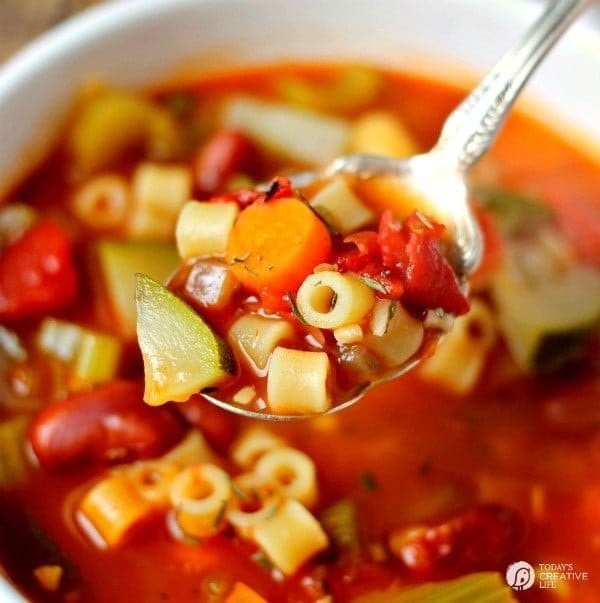 Many of my slow cooker recipes, especially the soups, can be placed in the freezer for later. Because as much as I try to organize a meal plan and stick to it, it rarely happens. Having something ready always comes in handy.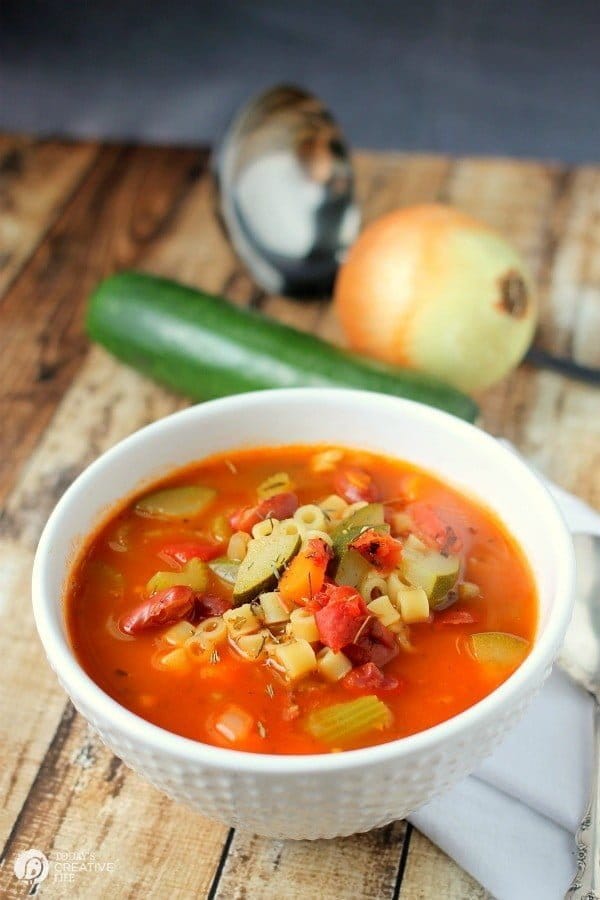 Who's ready for a bowl of soup?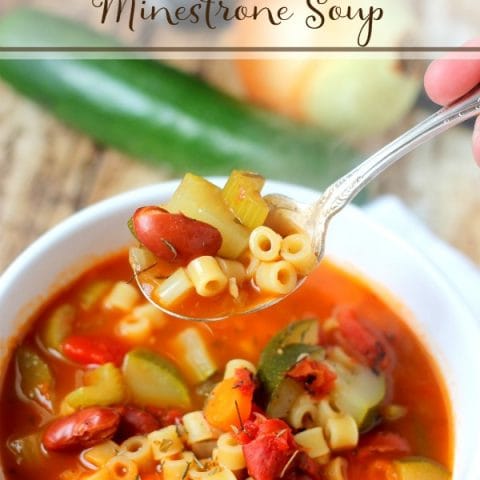 Slow Cooker Minestrone Soup
Yield: 6
Prep Time: 10 minutes
Cook Time: 7 hours
Total Time: 7 hours 10 minutes
You're going to LOVE this hearty, healthy and delicious Minestrone Soup Recipe.
Ingredients
2 small onions, diced
3 cloves garlic, minced
4 stalks celery, cleaned and chopped
4 carrots, peeled and chopped
1 (16 oz.)can red kidney beans, rinsed and drained
1 (14.5 oz.) can fire roasted diced tomatoes (with liquid)
3 cups vegetable broth
3 cups water
1 8-ounce can tomato sauce
2 tsp dried thyme
2 tsp dried basil
2 bay leaves
¼ tsp salt
¼ tsp black pepper
2-3 zucchinis, cut into fourths lengthwise and chopped
Instructions
In a large slow cooker, add all the ingredients EXCEPT zucchini and pasta.
Cover and cook on low for 7-8 hours, or high for 4-5 hours.
Remove lid, add zucchini and pasta.
Cover and cook on high for 30 minutes. Pasta and zucchini should be tender.
Serve warm and season with additional salt and pepper to taste.
Notes
This soup freezes very well. I like to portion out 2 cups into quart size freezer bags and lay flat to freeze. Makes a great cold weather meal!
If you must have meat in your meals, the only thing I would recommend for this soup would be sliced sausage (such as andouille style). I would precook it, and add it at the end when you add the pasta and zucchini.
I also substituteDreamfields elbow Pasta because that's usually what I have on hand.
Nutrition Information
Yield 6
Serving Size 1 cup
Amount Per Serving
Calories 131
Total Fat 1g
Saturated Fat 0g
Trans Fat 0g
Unsaturated Fat 1g
Cholesterol 0mg
Sodium 711mg
Carbohydrates 26g
Fiber 6g
Sugar 8g
Protein 7g
Slow Cooker Soup Recipes
Easy to make Slow Cooker or Crockpot soups are great for busy evenings.
This post contains affiliate links to products that may be helpful. This cost you nothing extra.