Raise your hand if you like Crockpot Chicken Tortilla Soup! This one of those "slow cooker dump meals" where you can dump in all the ingredients, put the lid on, set the temp and walk away!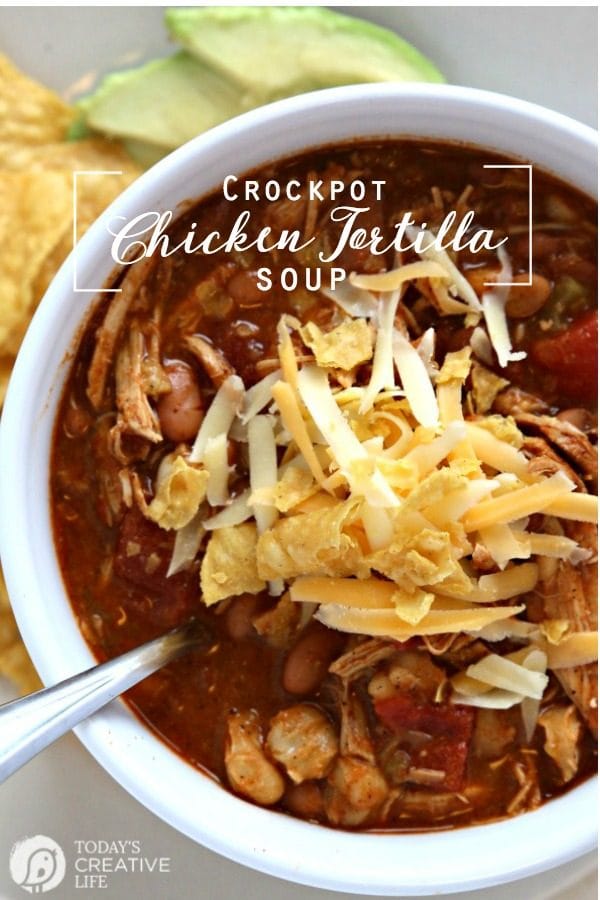 Like my Slow Cooker Apricot Chicken recipe, I save this recipe for those hectic days when your afternoon is packed right up til dinner time.
There is nothing better than knowing you have dinner cooking away in your crockpot. Having a hearty crock pot soup waiting for at the end of the day is pure heaven. Another favorite is my Crockpot Potato Soup! You just can't go wrong with either of these!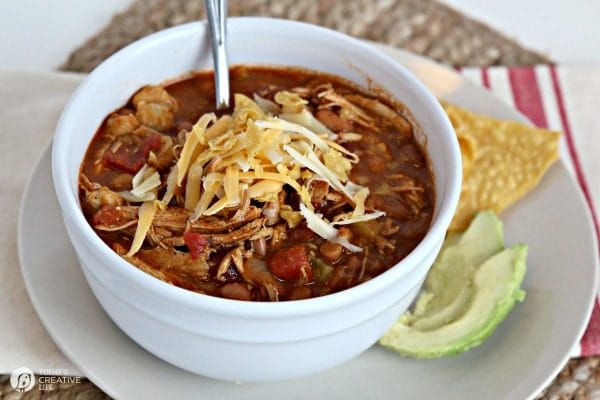 Crockpot Chicken Tortilla Soup Recipe
I haven't met one person who doesn't love their crockpot! Bring up crockpot recipes around a group of mom's with busy kids and you've got an instant conversation starter.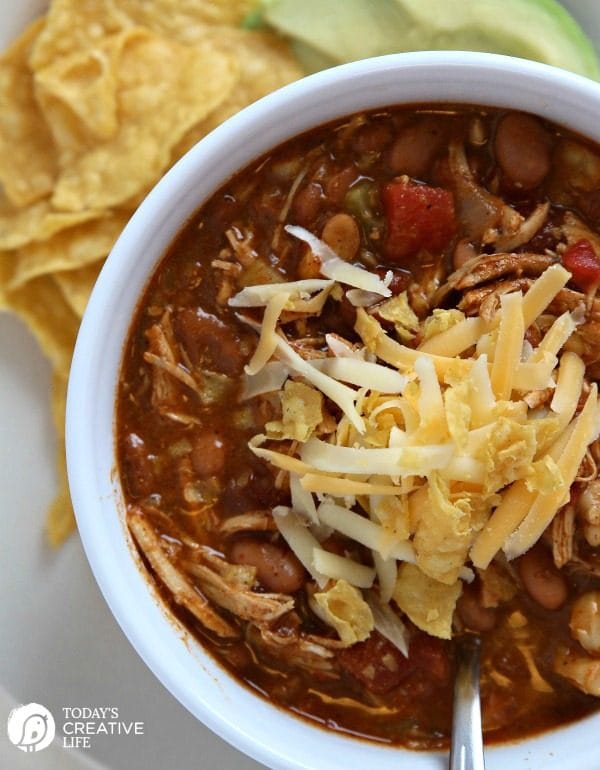 I started to make the Crockpot Chicken Tortilla Soup, using my 6-quart slow cooker and the recipe from my friend Stephanie's book, Make it Fast – Cook it Slow
cookbook as inspiration. I love all her slow cooker cookbooks and that's not just because she's a friend. All her recipes always turn out great for me!
Affiliate links are supplied for your shopping convenience.
I added a few other items she didn't call for. That's the beauty of crockpot recipes. You can pretty much dump anything in and it's good. Before I knew it, I had created my own version with her inspiration.
If I know I'm going to make this soup, I'll bake up a couple of chicken breasts in enchilada sauce, then shred for the soup. I may just add a little bit of that enchilada sauce to my soup too.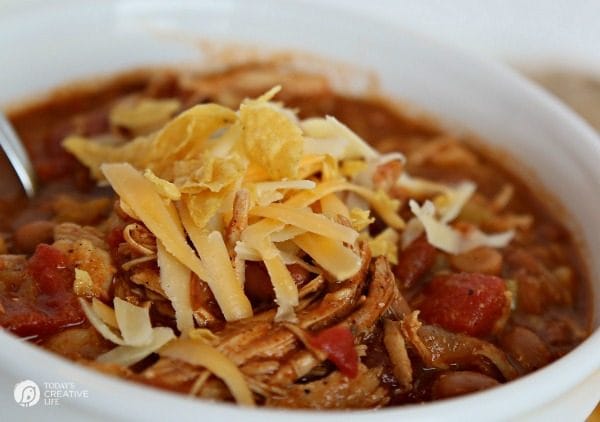 This recipe calls for Rotel diced tomatoes, which can give this crockpot chicken tortilla soup a bit of a kick. If you've got little kids, you may want to swap out the Rotel for regular diced tomatoes.
I couldn't survive the school year with all its after-school activities, soccer practices etc… without easy slow cooker recipes. There is nothing more satisfying than having dinner ready at the time of day we are all the most tired. I don't know about you, but my energy declines rapidly after 4 pm. (yes, I'm one of those annoying morning people)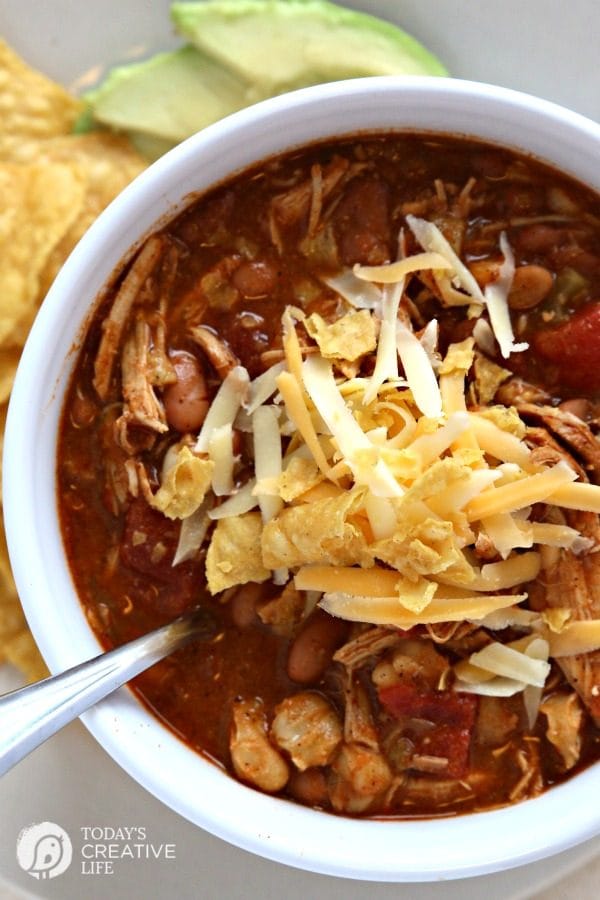 What to Serve with Chicken Tortilla Soup
This soup is hearty and it goes well with corn tortillas. I like scooping out the chunky goodness to wrap up into my own little burrito. We've also been known to make "cheese chips" to go along with it. Just melted cheese on tortilla chips is perfect.
Or you could do the right thing and serve with a small side salad.
How to Make Slow Cooker Chicken Tortilla Soup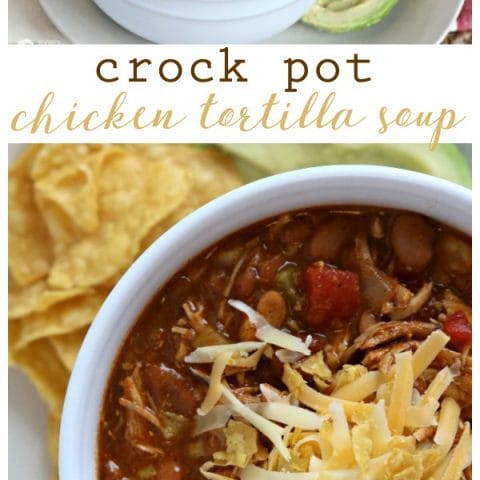 Crockpot Chicken Tortilla Soup
Yield: 12 cups
Prep Time: 10 minutes
Cook Time: 8 hours
Total Time: 8 hours 10 minutes
Ingredients
1 1/2 cups shredded cooked chicken
1/2 cup chopped onion
2 (14oz) cans of diced tomatoes with their juices
1 can (10oz) Rotel
1 can (15oz) Ranch Style Beans
1 cup chopped fresh veggies (celery, carrots)
4 garlic cloves chopped or crushed
1 teaspoon cumin
3 or 4 cups chicken broth (gauge how thick it looks, if it looks too thick, add the 4th cup)
I (15oz) can white hominy (or add roasted corn, frozen or canned)
Instructions
Using a 4-quart slow cooker, add all your ingredients. Cover and cook on low for 8 hours or high for 4 hours.
Adorn the top with sour cream, cubed avocado, olives, and crushed tortilla chips.
Enjoy!
Notes
The Rotel makes it spicy, so if you have little ones in the house, you may want to add regular tomatoes instead, then use spices like cayenne pepper, cumin, chili powder accordingly to taste. I've even been known to throw just a packet of taco seasoning in and a little ranch dressing spice packet.
Nutrition Information
Yield 12
Serving Size 1 cup
Amount Per Serving
Calories 105
Total Fat 3g
Saturated Fat 1g
Trans Fat 0g
Unsaturated Fat 2g
Cholesterol 21mg
Sodium 1090mg
Carbohydrates 13g
Fiber 2g
Sugar 7g
Protein 7g
Can you Make Crockpot Chicken Tortilla Soup on the Stove Top?
You sure can! You can just use a large soup pot or dutch oven and follow the same instructions. However, when I make it on the stovetop, I'll saute the onions, garlic, and fresh veggies first before adding in the tomatoes, seasonings and the rest of the ingredients. Bring to a boil and then simmer for about 15 minutes before serving.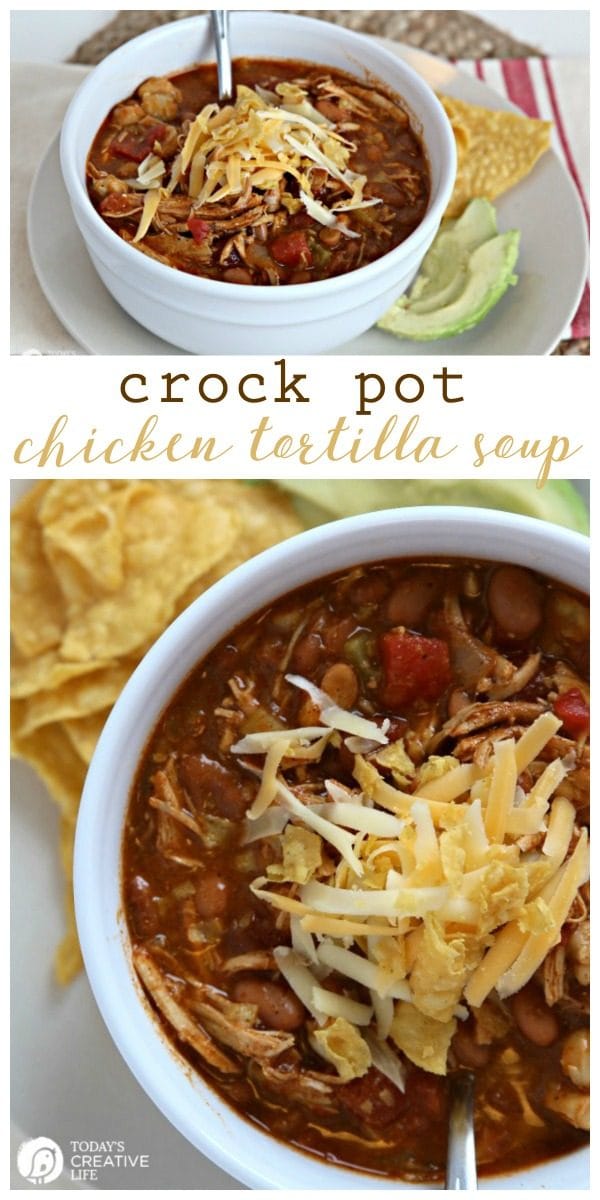 ---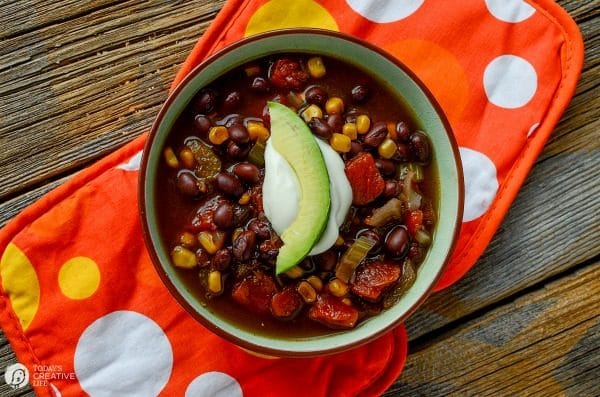 Slow Cooker Black Bean Soup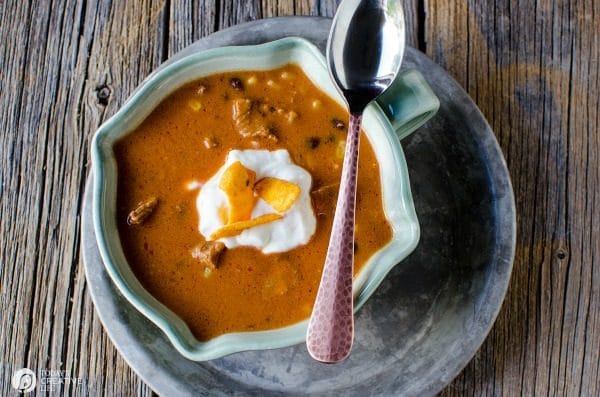 Slow Cooker Enchilada Soup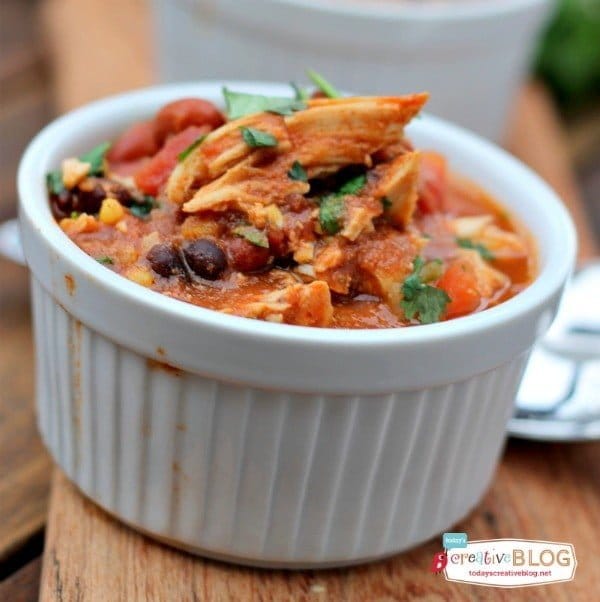 Slow Cooker Taco Chili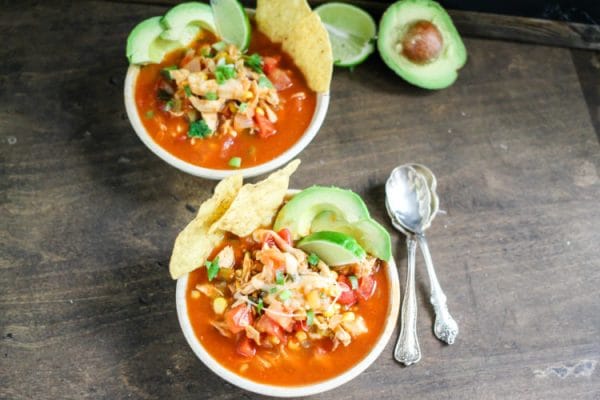 Slow Cooker Tortilla Soup – Domestic SuperHero