If you're looking for a hearty meal that's easy to make and everyone will love, then you better print this Easy Slow Cooker Tortellini and Meatballs recipe.
Easy Slow Cooker Tortellini and Meatballs Recipe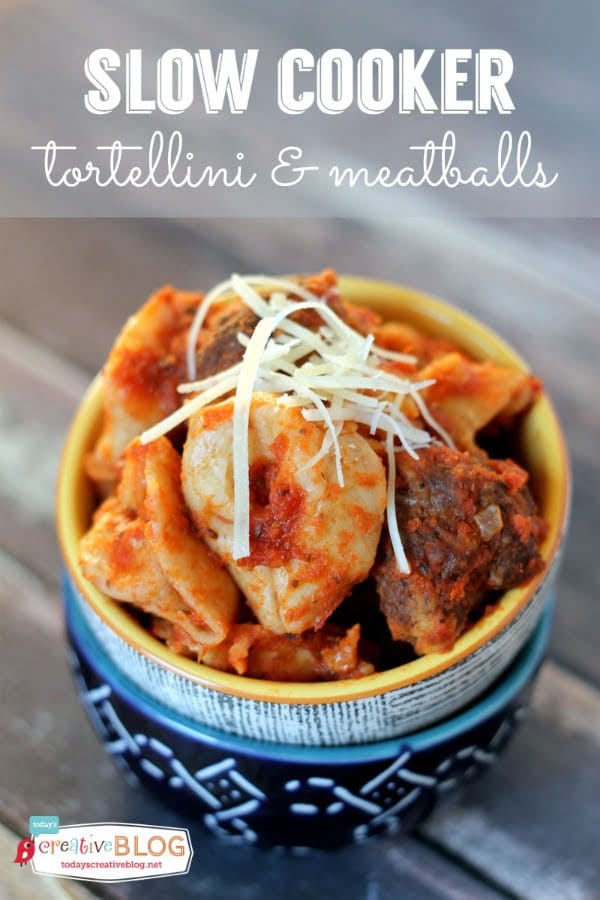 Not only is it easy and delicious, it's made in the crock pot! Win win for mom!

My friend Allison is sharing this recipe for Slow Cooker Sunday. If you have a Crock pot recipe that's a tried and true family favorite, send it my way! I'll feature it if I can!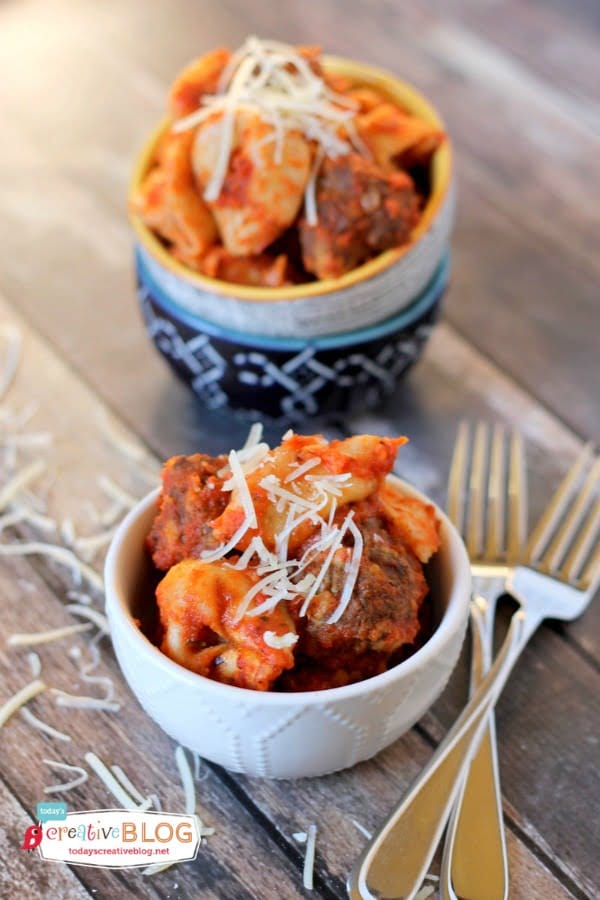 I like that this recipe only takes about 4 or 5 hours to cook. This means that I can still pop it in the slow cooker at 2pm and still have a delicious dinner waiting when we get home from soccer.
Nothing makes this girl more cranky than trying to figure out a decent meal at 6pm at night. Once you get to that point, all healthy choices will most likely be thrown out the window. If you prep your pantry and plan your meals, life is much more enjoyable….. for everyone, am I right?
If you're looking for a printable meal planner, I've got one.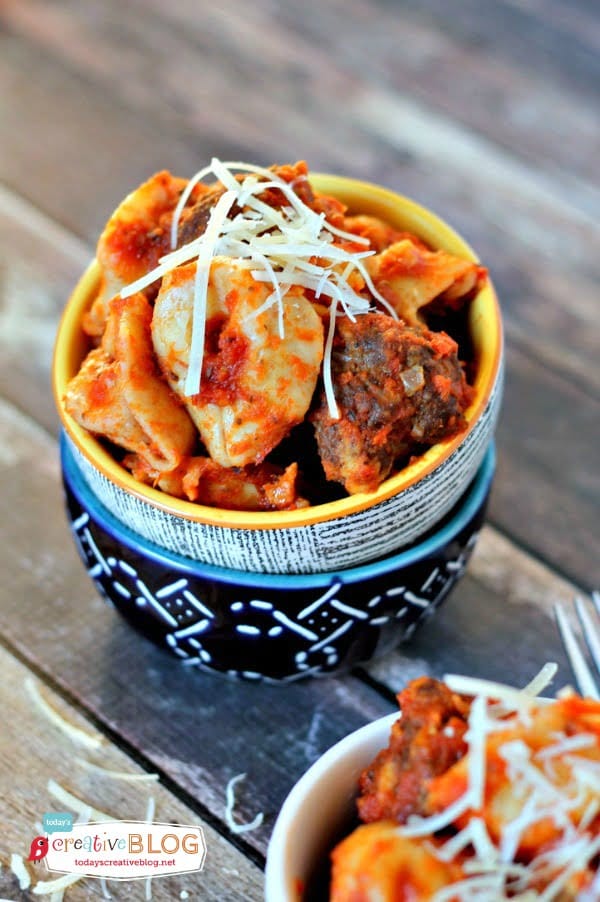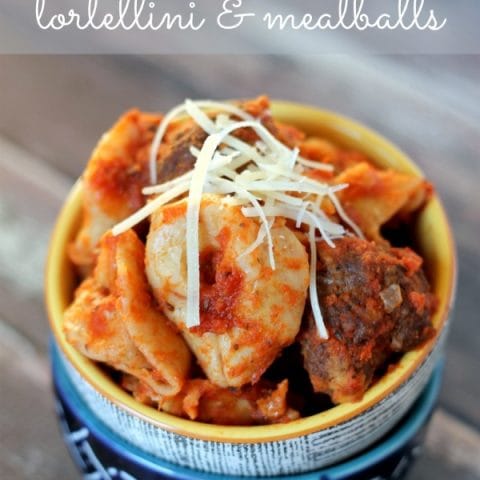 Easy Slow Cooker Tortellini and Meatballs
Yield: 4
Cook Time: 4 hours
Total Time: 4 hours
Ingredients
serves 4-5
Ingredients
20-24 frozen meatballs (or use your pre-made homemade meatballs!)
26 ounces marinara sauce (or your favorite sauce type)
9 ounce package of fresh tortellini (found in the refrigerated section or use frozen tortellini)
1 -15 ounce can of diced tomatoes (do not drain)
1 tsp dried oregano
1 tsp dried basil leaves
½ tsp dried thyme
¼ tsp salt
¼ tsp black pepper
non stick spray
shredded Parmesan cheese, for topping
Instructions
Spray a slow cooker bowl with non stick spray. Add half of the sauce, meatballs, tortellini, diced tomatoes, oregano, basil leaves, thyme, salt, and pepper (in that order), and then cover with remaining sauce. Stir once.
Cook over low heat for 4-5 hours; stir. Serve in bowls topped with Parmesan cheese.

Chipotle Pepper Crockpot Shredded Beef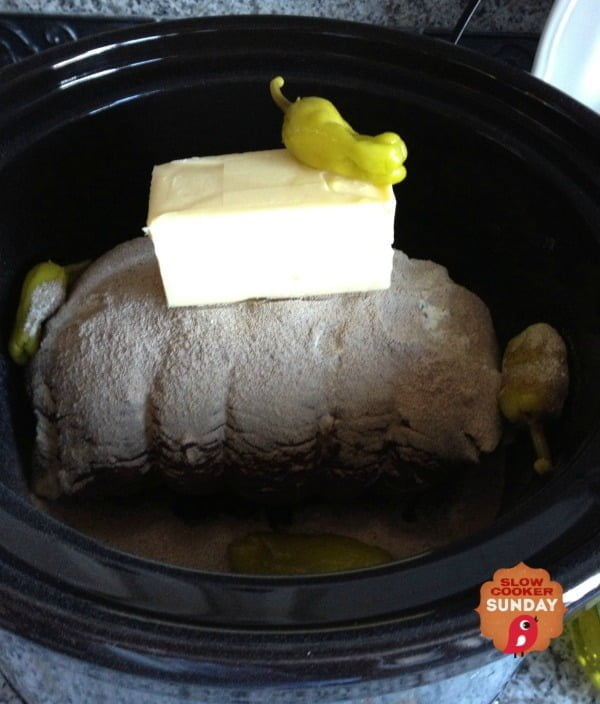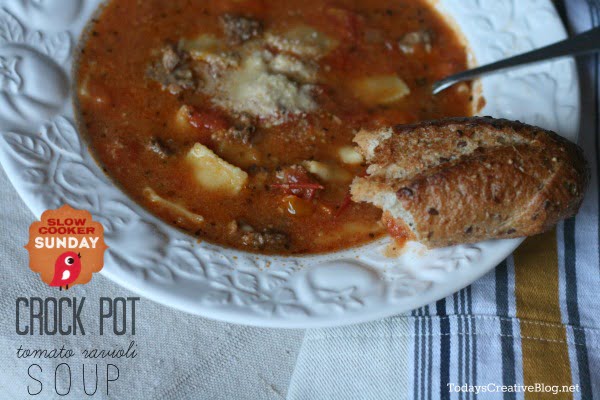 Follow my Crockpot and Slow Cooker Pinterest Board for more ideas!
Follow Kim Demmon (today's creative blog)'s board Crockpot & Slow Cooker Recipes on Pinterest.