Crockpot Mississippi Pot Roast is the best roast you'll ever taste!
I had never heard of Mississippi Pot Roast, let alone, Crockpot Mississippi Pot Roast.  A girlfriend posted something about it on facebook and it piqued my interest and before I knew it, I was looking up Mississippi Pot Roast and found a TON of links. So since there are a TON of them, I will just say I was inspired by all.

Edited: I have made this many many times and have tweaked the recipe. You can see it on this post for Slow Cooker Mississippi Pot Roast.
This was by far one of the easiest recipes I've ever done. It's one of those dump and cook crockpot recipes that really do give your slow cooker the crown it deserves. Just put the ingredients for this crockpot Mississippi pot roast in the crockpot, turn it on, come home 8 hours later to a delicious meal. Sounds pretty heavenly, doesn't it?

It's as easy as my Crockpot BBQ Meatballs recipe, which is another recipe you're family will love!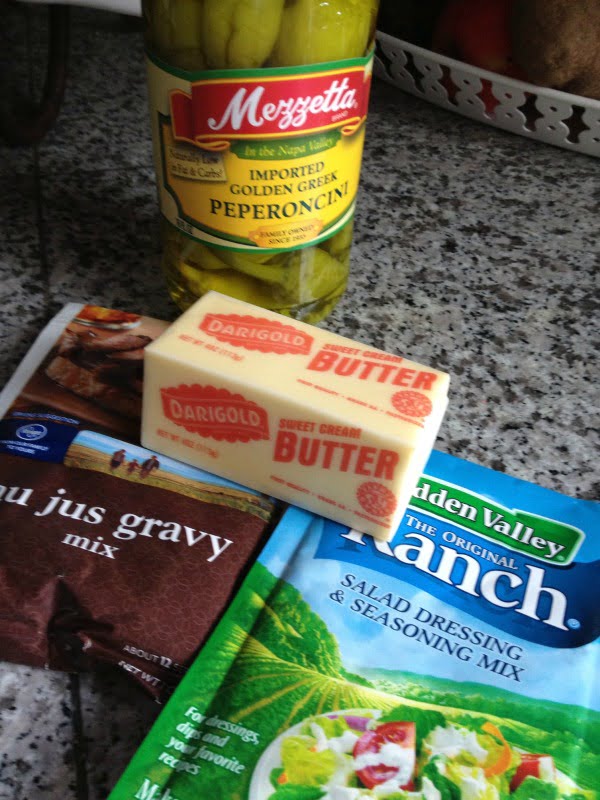 When I asked my husband to pick up a beef pot roast at the grocery, (yes, he does most the grocery shopping because he likes buying all the on sale starbucks coffee without me telling him we don't need anymore since we have 10 lbs in the freezer already) I think he practically did a cartwheel out to the car. The man loves beef and he knows I hate cooking it.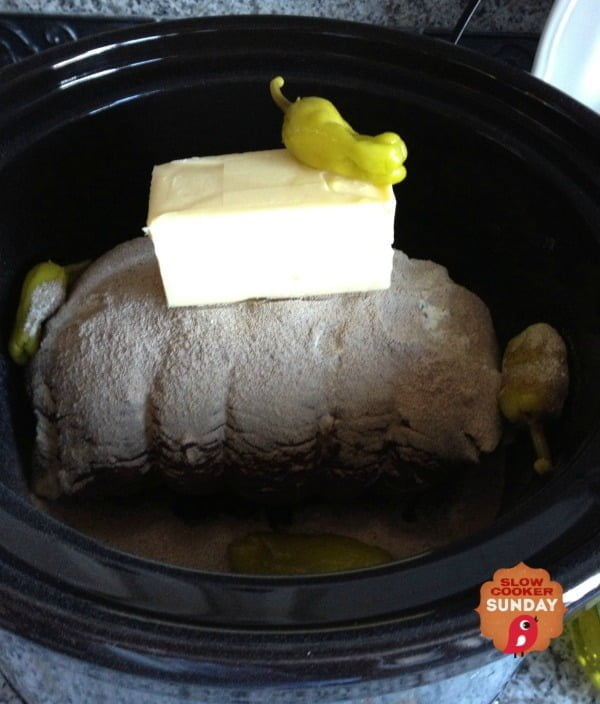 He brought the roast home and was very interested as to WHEN I was planning this meal.
I put this meal together in about 5 min one morning when I knew our evening would be a bit hectic. I put a few baked potatoes in the oven an hour or so before dinner, steamed some veggies and had what I call a Farmer's Dinner. Meat, Potatoes and Veg…..the only thing missing was the bread and butter.  My husband was a happy man. (if your oven has a delayed timer option, you could place your potatoes inside in the morning)
How to make Crockpot Mississippi Pot Roast
Crockpot Mississippi Pot Roast
Ingredients
1 beef roast
1 envelope package of dry Ranch Dressing mix
1 envelope package of dry Au Jus
1 stick of butter (real)
5 or 6 pepperoncini peppers (or more)
Instructions
Place your roast inside your crockpot
Sprinkle both (ranch dressing and au jus) dry seasoning envelopes over the roast.
Place your peppers around the roast.
Place your stick of butter on top of the roast.
DO NOT ADD ANYTHING ELSE.........it will be OK, really.
Turn on Low for 8 hours. Mine looked done after about 7. I suppose you could also try placing on high for 4 hours if you're in a hurry. I haven't tried cooking on high.
When I make this again, I plan on flipping my roast over at the 4 hour mark.
Notes
This makes some yummy gravy! Great for drizzling over baked potatoes or egg noodles.
Other tried and true Slow cooker recipes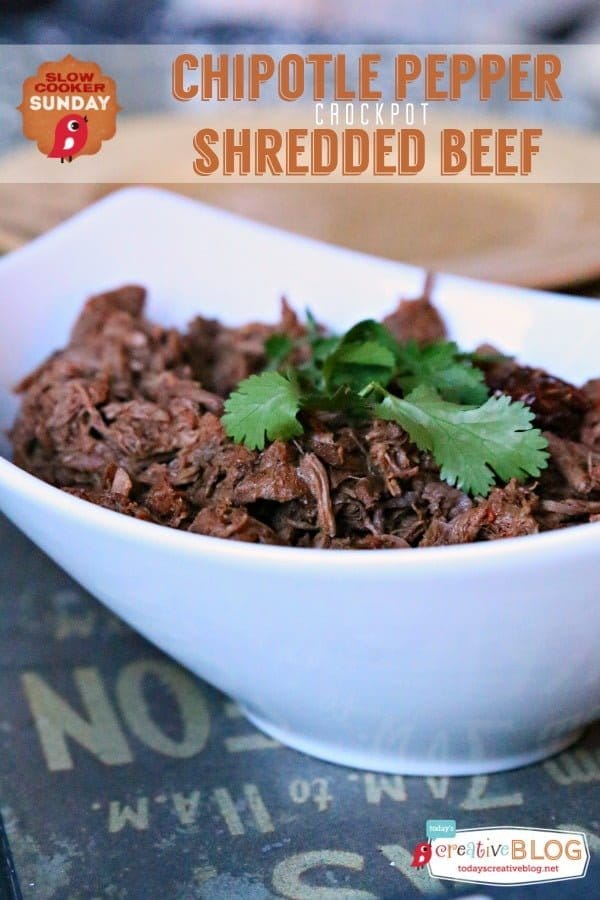 Slow Cooker Chipotle Pepper Shredded Beef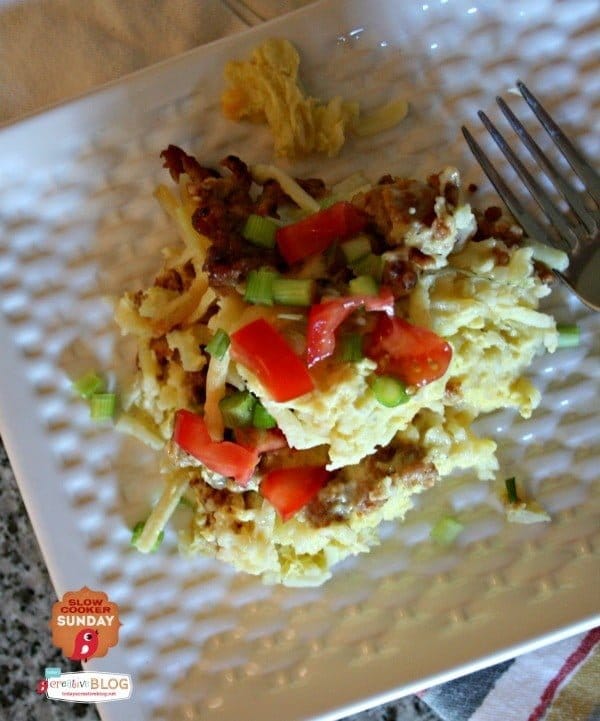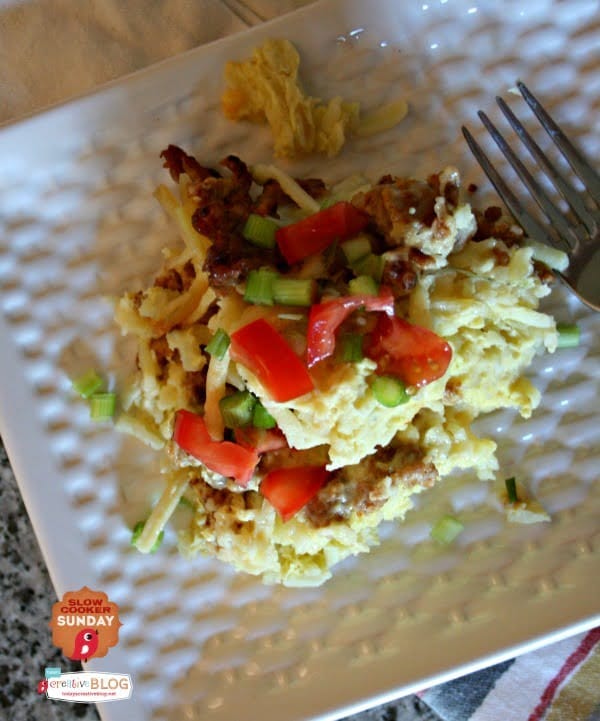 Slow Cooker Breakfast Casserole
You'll also love these below!
Find lots and lots of Crockpot and Slow Cooker Recipes on my Pinterest Board.
Follow Kim Demmon (today's creative blog)'s board Crockpot & Slow Cooker Recipes on Pinterest.