This Slow Cooker Caesar Chicken is going to become your best friend! This is one of those recipes that you make up on Sunday and then make several recipes with it all week long!
Crockpot chicken recipes are always good to have around.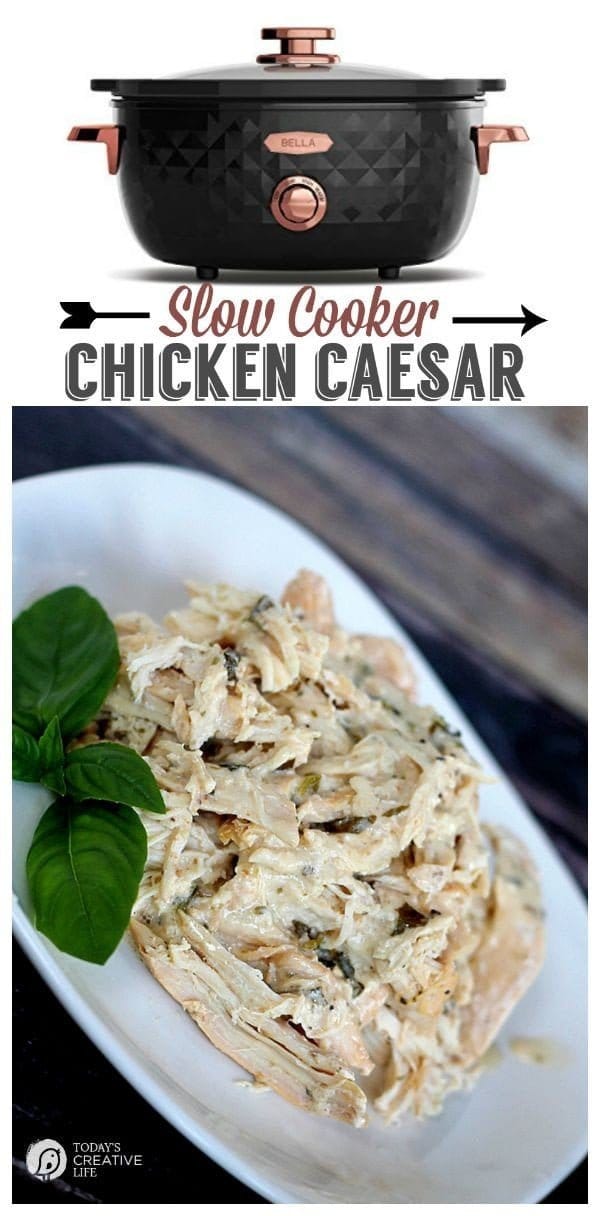 Doesn't that look delicious?
Slow Cooker Caesar Chicken Recipe
The versatility of this chicken recipe reminds me of the Crockpot Copy Cat Cafe Rio chicken recipe I love so much! I make a large batch in my 5-quart crock pot at least 2 times a month. When I can find a recipe that stretches into other meals and the taste is consistent every time I make it, then it's a keeper. Which….. makes this Caesar Chicken a keeper!
I'll be sharing a few recipes in the next couple of weeks that use this slow cooker chicken. It's a great base for so many meals! Don't worry, your family won't get sick of it!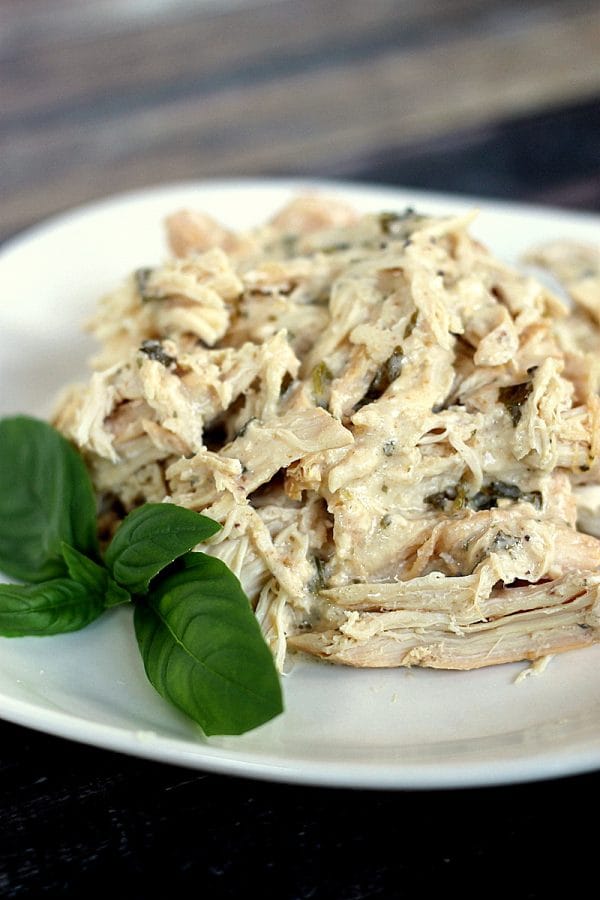 Crockpot meals are a busy families saving grace! When 4:30 pm rolls around, no one can argue that it's a wonderful thing to not have to figure out what to make for dinner. It just makes you feel you've got this "mom" thing down!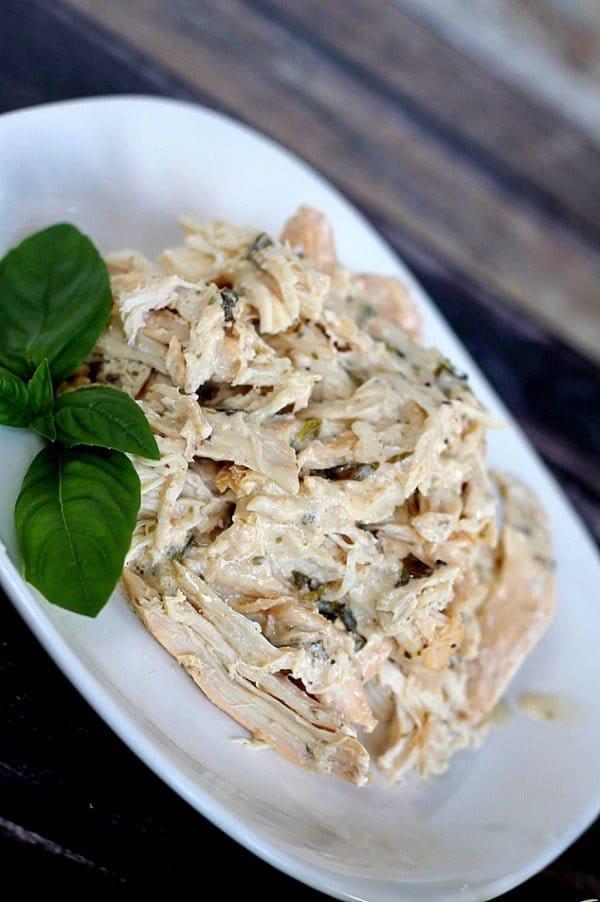 I know once school starts, combined with soccer practice and other school activities, my slow cooker is in overdrive! It has saved the day more than once, that's for sure.
I have so many great slow cooker recipes from soups, to casseroles to desserts! I also have a large collection of slow cooker recipes all neatly organized in a pinterest board.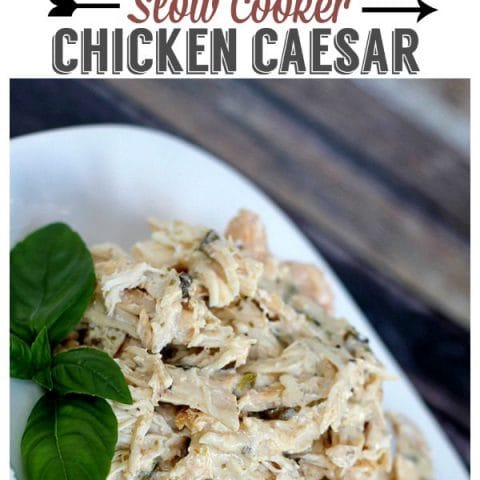 Slow Cooker Caesar Chicken
Prep Time: 10 minutes
Cook Time: 5 hours
Total Time: 5 hours 10 minutes
Ingredients
4-5 boneless, skinless chicken breasts
¾ cup creamy Caesar dressing (I like Ken's light -or low fat is a great option)
⅛ tsp black pepper
⅛ tsp salt
¼ cup packed fresh basil, chopped (if you don't have fresh, substitute with 1 tsp dried)
½ tsp dried parsley
Instructions
In a bowl mix dressing, pepper, salt, basil, and parsley; pour into the pot of a slow cooker. Place chicken into sauce mixture, and then flip chicken over so that both sides are saucy. Cover and cook on high for 5-6 hours, or low for 7-8 hours.
Remove chicken from slow cooker and shred using 2 forks. There will be some sauce left in the slow cooker, reserve in a bowl and set aside. When serving chicken, spoon about 1 TBS of sauce over the top and garnish with fresh basil.
Notes
This recipe would be great to double.
Check in for a few recipes and dishes I'll be making from this Slow Cooker Caesar Chicken.
---
More Slow Cooker Recipes!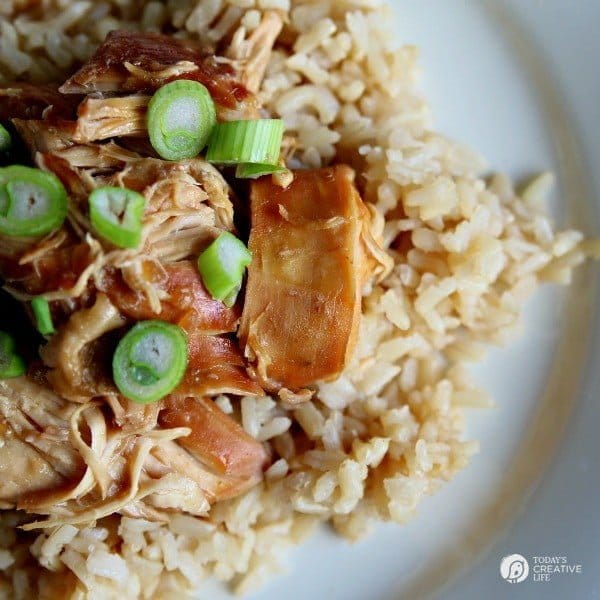 Slow Cooker Teriyaki Chicken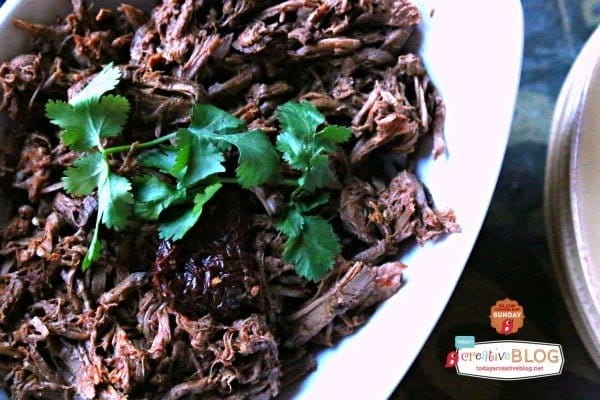 Slow Cooker Chipotle Shredded Beef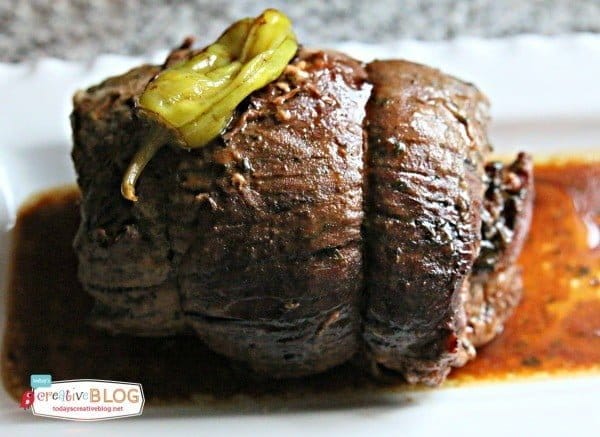 Slow Cooker Mississippi Roast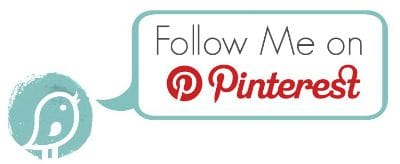 Here's some great Slow Cooker advice! Thank you PartSelect.