This Citrus Herb Seasoned Salt Recipe was so easy. Cutting up your favorite herbs and mixing them with the zest of citrus makes the best homemade herb salt recipe you'll ever taste.
Ever since I received this glass salt jar, I had to make my own Seasoned Salt Recipe. I ended up making Citrus Herb Seasoned Sea Salt blend, and it's SO good!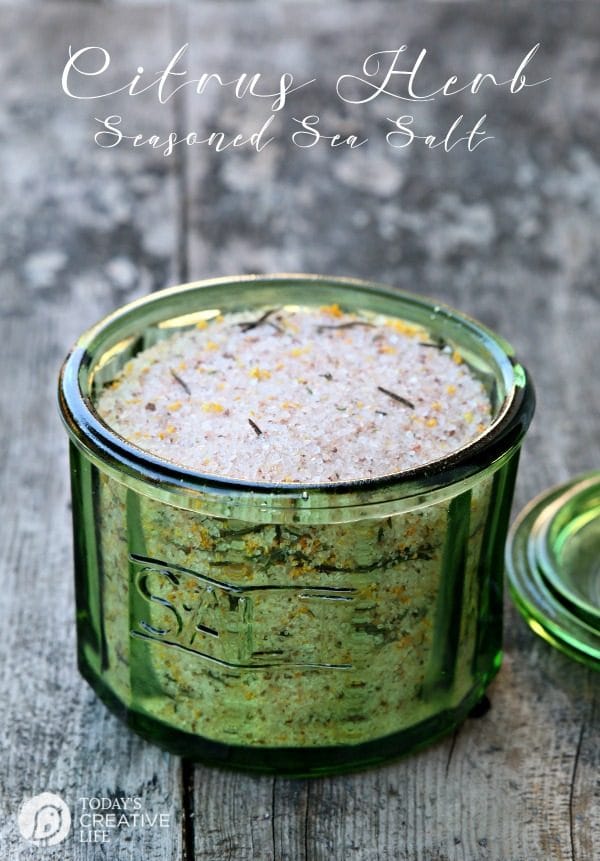 Homemade Seasoned Salt Recipe with Citrus Zest
Making my own seasonings is nothing new. Have you tried my Homemade Steak Rub or my Homemade Caribbean Rub? Or this homemade Taco Seasoning? Delicious! Mixing my favorite herbs and spices together for a custom flavor never gets old.
I had been planning to make my own seasoned salt recipe for a long time. I even bought the sea salt a few months ago and knew that I wanted to incorporate lemon and lime zest and a few herbs.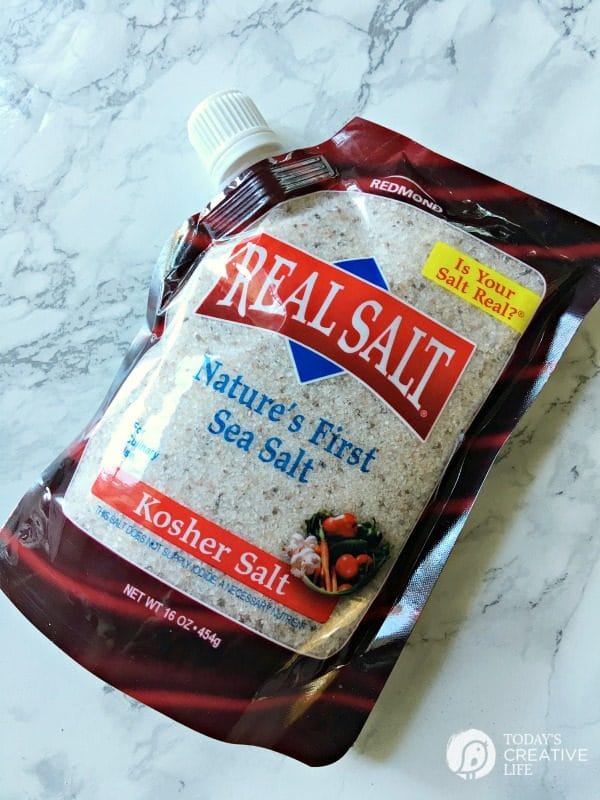 When my new salt jar was included in the box of goodies I received from California Avocados…. (remember I made that amazing shrimp salad?)…. that was the extra push I needed.
Homemade Herb Sea Salt with Citrus Supplies
Sea Salt – Real Salt and Jacobsons Sea Salt are my favorites
Lemons and limes
Herbs – I used rosemary and thyme. But you can add whatever you like cooking with.
Salt Jar – you don't HAVE to have one, but it sure makes it more fun! I've seen them in pink, clear, green and jadeite.
How to Make Citrus Herb Seasoned Salt Recipe
I gathered a few herbs from my yard and herb garden and set them out to dry. I have found it works best to take the herbs off the stem and just set them out overnight. I tried drying them in a warm oven that had been turned off, which worked great for the lemon and lime zest, but the herbs just turned grey.
After they were dry, I used my magic bullet to chop up my herbs, but it didn't really do much, so I'd just rub them between your hands to break them up a bit.
I added my herb mix to my dry lemon and lime zest.
Add your herb citrus mix to the salt and stir.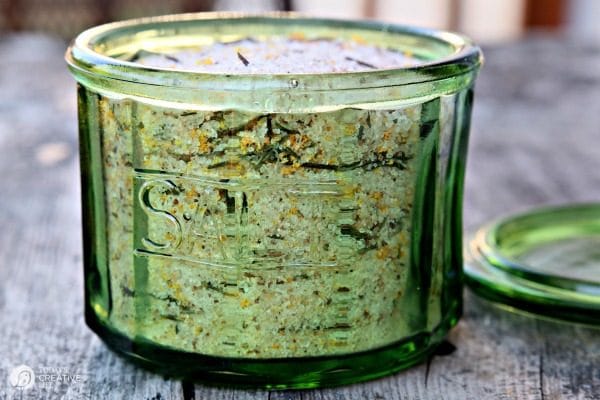 This would make a great gift idea. I'm thinking those small Weck Canning jars would be perfect! Add a cute ribbon with a printable gift tag and you have the easiest and most adorable gift. Keep that in mind for the holidays!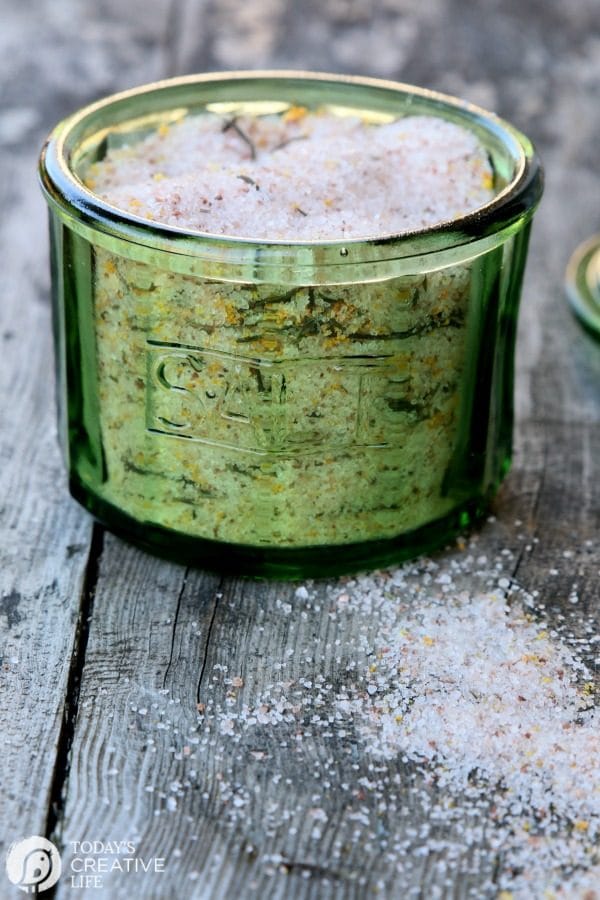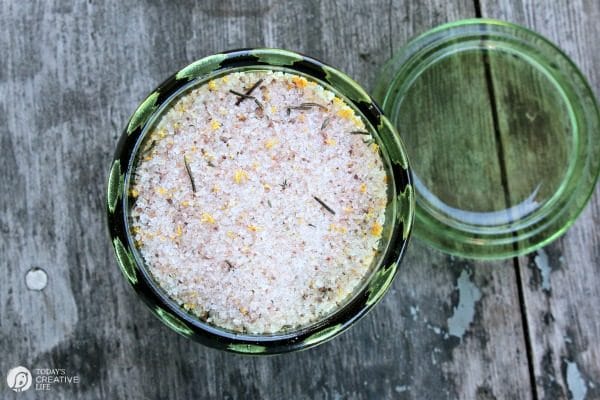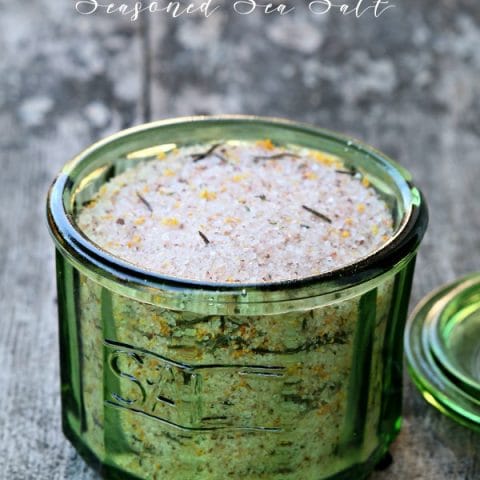 Homemade Herb Salt - Citrus Herb Sea Salt
Yield: 1
Prep Time: 10 minutes
Additional Time: 20 minutes
Total Time: 30 minutes
Seasoned herb sea salt can be tailored to your taste with herbs and citrus zest.
Ingredients
16 oz Sea Salt
Zest from 2 Lemons - Washed
Zest from one Lime - Washed
Variety of fresh herbs - your choice
Instructions
Strip the herbs off the stems and set out to dry overnight or a few hours. Laying them on a cookie sheet in the sun works well.
Using a zester, zest 2 lemons and one lime. Set the zest out to dry. I have used a warm oven that's been turned off to dry them.
Place the salt, dried herbs and dried zest in a medium sized bowl. Stir.
Keep your Citrus Herb Seasoned Salt in a salt jar or shaker.
Notes
Herbs that work well: Rosemary, thyme, sage, parsley, mint, cilantro, basil, dill, oregano.
Citrus: Oranges, Lemons, limes, grapefruit.
Recommended Products
As an Amazon Associate and member of other affiliate programs, I earn from qualifying purchases.
Nutrition Information
Yield 100
Serving Size 1
Amount Per Serving
Calories 1
Total Fat 0g
Saturated Fat 0g
Trans Fat 0g
Unsaturated Fat 0g
Cholesterol 0mg
Sodium 1758mg
Carbohydrates 0g
Fiber 0g
Sugar 0g
Protein 0g
We do our best to calculate, however, nutrition information may not be accurate.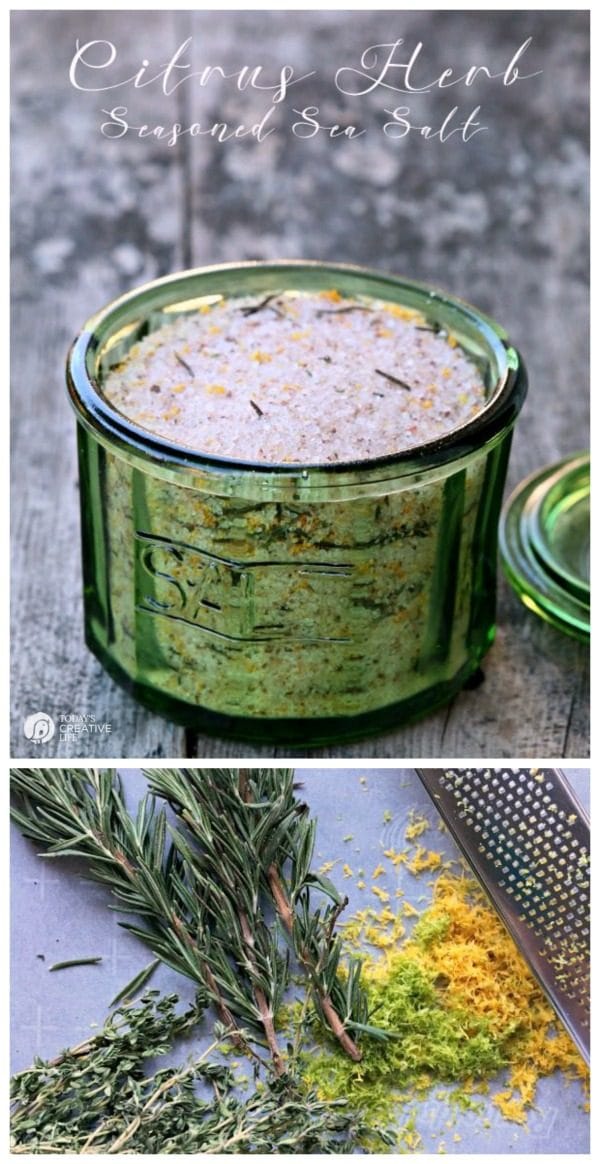 The Best Herbs for Homemade Herb Sea Salt
I prefer to use fresh and dry them myself. They pack more flavor and are much more aromatic. You can use dried herbs that you purchased from the store, but just make sure they're as fresh as possible.
Basil
Rosemary
Thyme
Oregano
Mint
Lavender
Dill
Sage
Cilantro
Magorium
How to Dry Fresh Herbs for a Seasoned Salt Recipe
Remove the herbs from the stems and chop them into small pieces. You can add chopped garlic out to dry too if you're wanting garlic salt. Spread it all out on a cookie sheet to dry. This may take overnight. In the summer, I'll put it out in the sun to dry to speed up the process.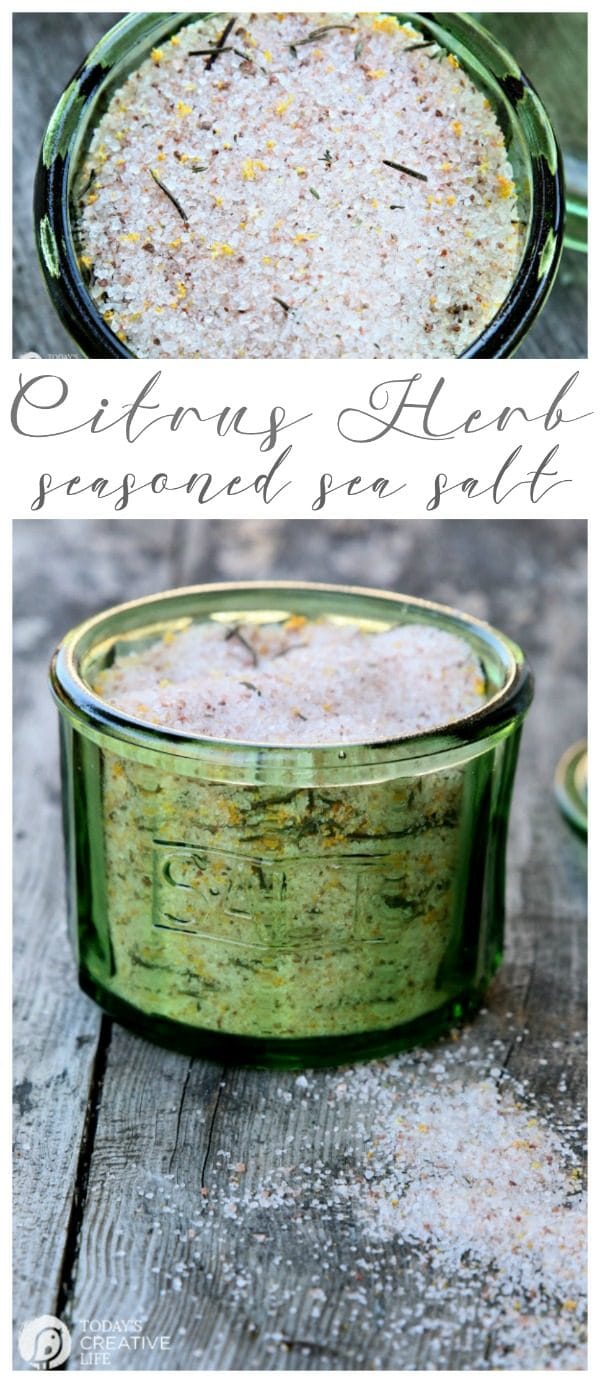 Homemade Seasoning Blends
Mix and match all your favorite flavors to make your own homemade seasoning mixes.
Follow me
Facebook | Pinterest | Instagram | Twitter
---