I now have a new favorite potato soup. This Cheesy German Potato Soup using 2 different kinds of cheese, tender potatoes and topped with crumbled bacon will also become yours too!
I've made a few potato soups and shared them on Today's Creative Life. I'm no rookie when it comes to making and eating Potato Soup! There is nothing better on a cold winter night than a hot bowl of creamy goodness! I love using my slow cooker for a delicious crock pot potato soup too!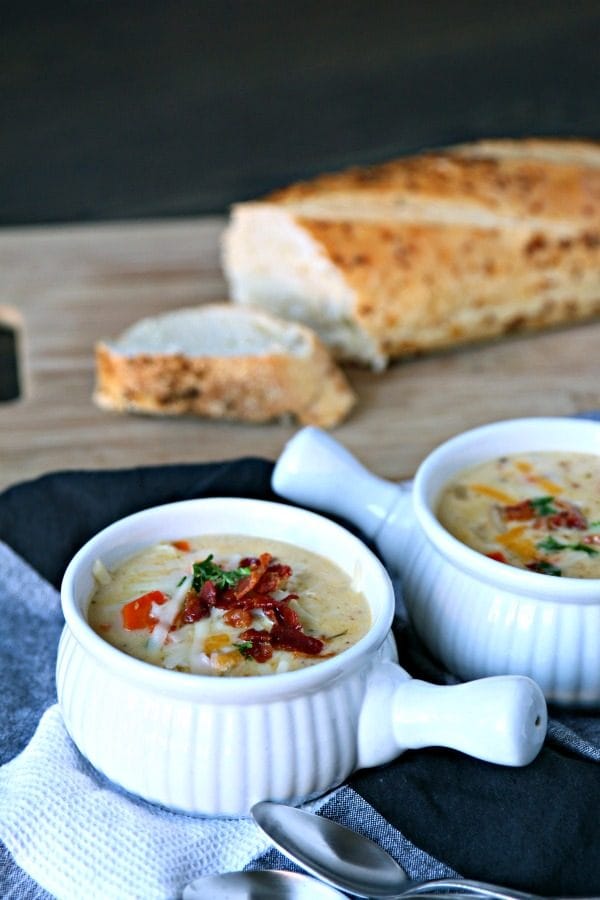 My Crockpot Potato Soup was my go-to recipe, but I've been changed by this cheesy, smoky sweet tasting soup I made using the German Potato Salad by READ Salads. You'll also love the hearty Red Cabbage Kielbasa White Bean Soup I made! It's winter, time to cozy up!
To celebrate soups, winter and cozying up, enter the fun giveaway I have! A gift basket full soup making products and a one year subscription to Netflix. Details below.
This post is sponsored by READ Salads
Cheesy German Potato Soup
I had never had READ German Potato Salad, but I was excited to challenge myself in creating a soup recipe my family would love! This stuff has tenderly sliced potatoes, cured bacon, vinegar, and seasonings. It's tangy smoky flavor really added to this Cheesy German Potato Soup.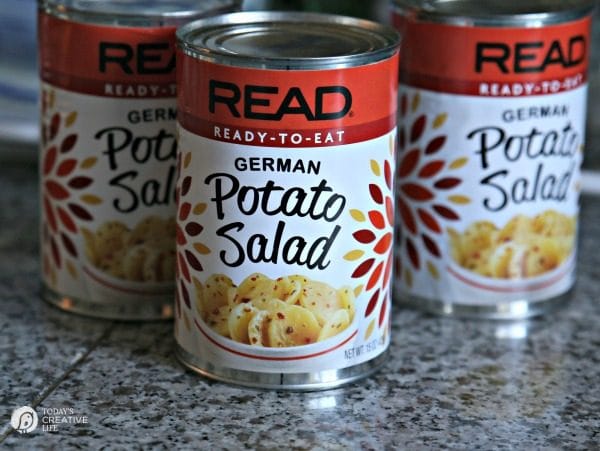 Since the potatoes are already tender and ready to eat, it really cut down on the overall cook time. I also liked that they are already seasoned.
I used my large dutch oven and I made enough to feed a small army. This is a hearty soup, that pares well with a good crusty garlic bread
Potato Soup Recipe
Cheesy German Potato Soup
Yield: 8
Prep Time: 15 minutes
Cook Time: 20 minutes
Total Time: 35 minutes
German Potato Soup made with canned German Potato Salad. Hearty and delicious.
Ingredients
Cheesy German Potato Soup
Prep Time: 20 minutes
Cook Time: 15 to 20 minutes
Ingredients:
1 1/2 cups shredded Cheddar cheese
1 cup shredded Gruyere cheese
3 tablespoons all-purpose flour
8 slices bacon, sliced into pieces
3 large carrots, chopped
1 medium onion, diced
2 cloves garlic, minced
6 cups low-sodium chicken broth
1/2 teaspoon ground black pepper
1/2 teaspoon crushed red pepper flakes
1/2 teaspoon dried thyme
1 tablespoon dried parsley
2 cans (15 ounces each) READ Salad German Potato Salad
1 cup heavy cream
1 cup whole milk
Chopped parsley or chives (optional)
Instructions
Makes 8 (1-1/2 cup) servings
Place cheeses in gallon-size zip top bag. Add flour. Close bag. Shake until all cheese is covered
with flour; set aside.
In a large Dutch oven, cook bacon pieces over medium heat until crisp, stirring occasionally.
Transfer to paper towel-lined plate; set aside for garnish.
Pour off all but 2 to 3 tablespoons bacon drippings; discard excess. Place Dutch oven back on
medium heat.
Add carrots, onion and garlic. Cook until onions are translucent and carrots are
softened, about 3 to 4 minutes.
Add chicken broth, black pepper, red pepper flakes, thyme and
parsley.
Stir in German Potato Salad. Continue cooking over medium heat about 5 minutes or
until potatoes are heated through, stirring occasionally.
Reduce heat to low.
Slowly stir in cream and milk. Cook 5 to 8 minutes, until blended and heated through, stirring frequently.
Slowly add cheeses, stirring until melted.
Serve immediately, topped with reserved bacon, and parsley or chives, if desired.
Option: Add chopped broccoli or cauliflower to soup along with chicken broth.
Nutrition Information
Yield 8
Serving Size 1 1/2 Cup
Amount Per Serving
Calories 483
Total Fat 34g
Saturated Fat 18g
Trans Fat 1g
Unsaturated Fat 14g
Cholesterol 99mg
Sodium 673mg
Carbohydrates 21g
Fiber 2g
Sugar 5g
Protein 24g
Nutrition information isn't always correct.
I suppose you could also add a salad, but a good potato soup with bread is all I need!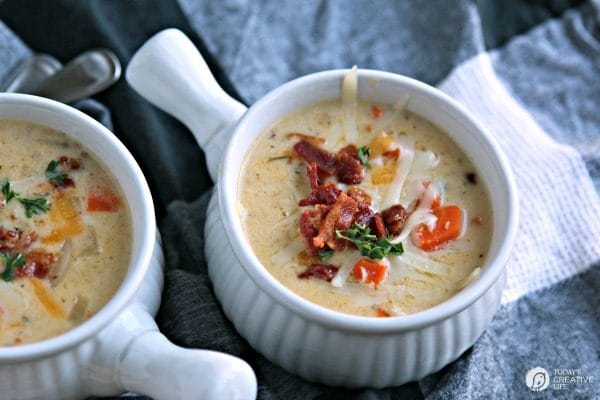 We had enough for leftovers, which was even more delicious the next day for lunch! I'm sure you could also freeze any leftover, I just haven't tried it yet.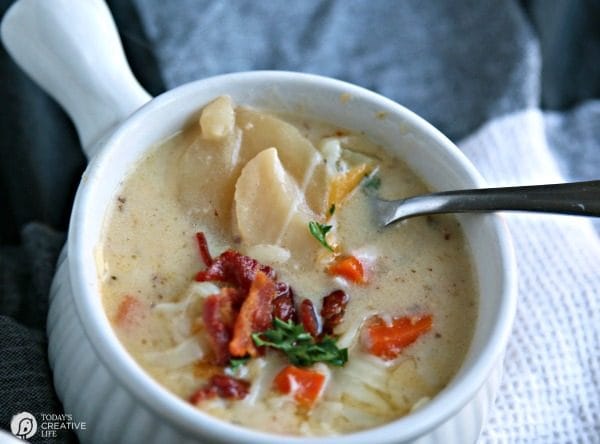 Can we talk about those sliced potatoes? I like my soups chunky, full of texture and using the Ready-to-Eat German Potato Salad gives me just that! You get a hearty bite with each spoonful!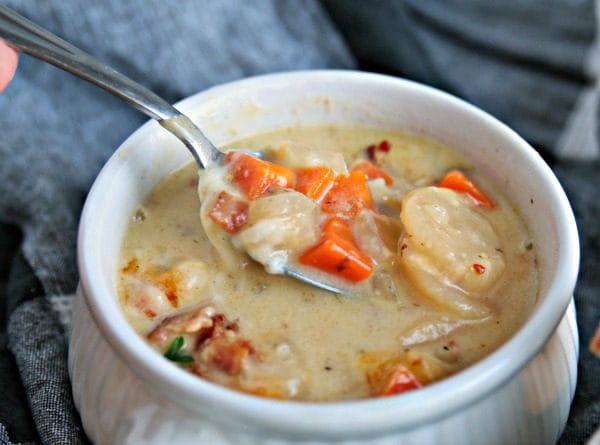 What I love about this soup recipe is that I can easily add more veggies if I want. Finely chopped broccoli or cauliflower would be great additions.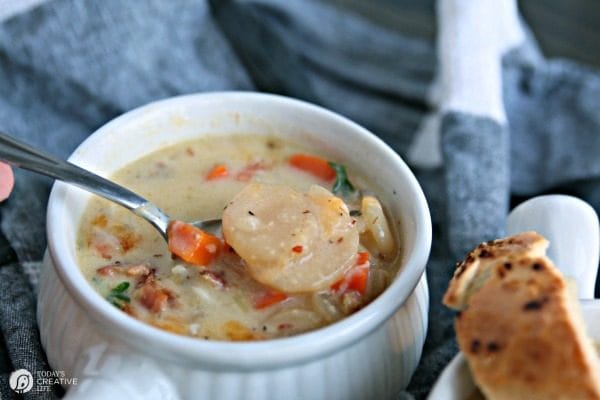 Not only would it add to the robust taste of this Cheesy German Potato Soup, but It's a great way to get in more vegetables!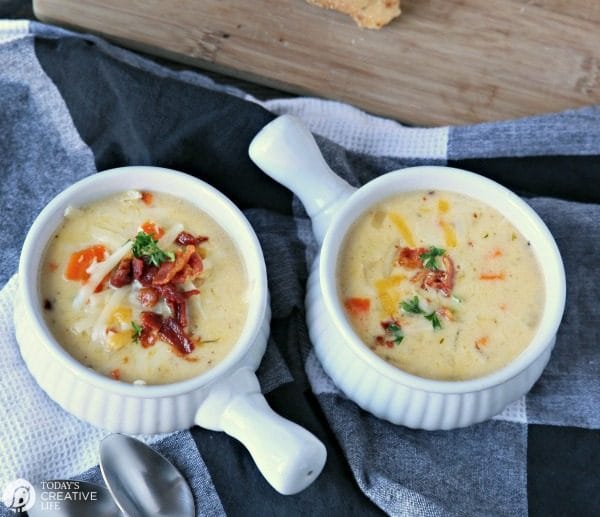 Who's ready to make up a big pot of Homemade Cheesy German Potato Soup?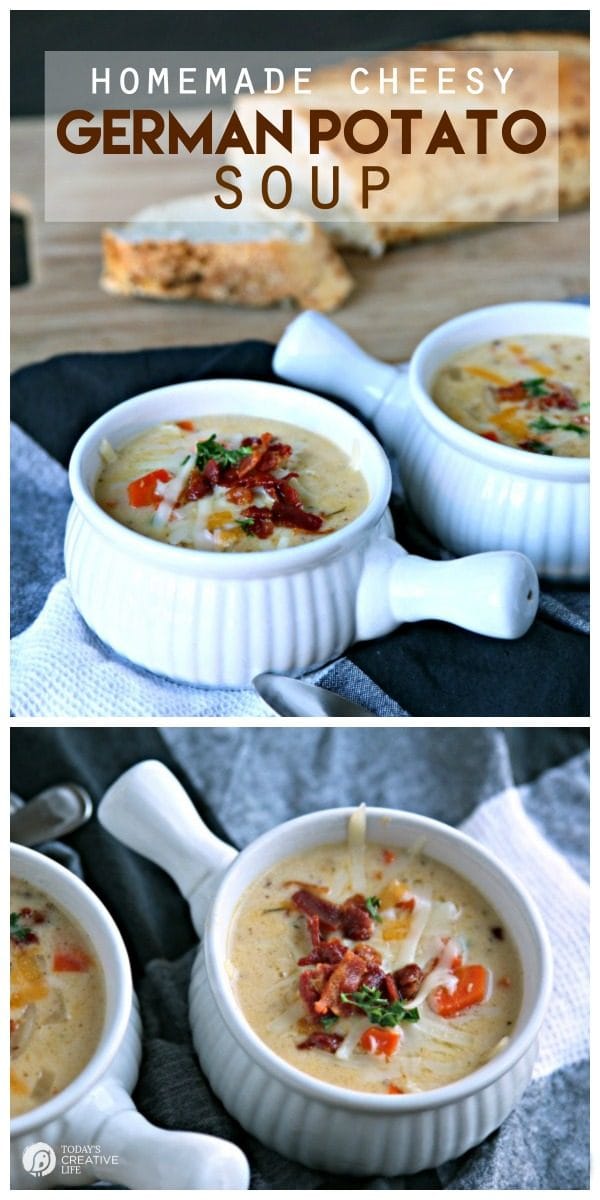 Homemade Soup Recipes
Homemade soup recipes made with wholesome ingredients.
---
This post was sponsored by Seneca Foods. All ideas, opinions shared are 100% mine.