Slow sweet potato soup is a delicious and hearty soup known for its rich, creamy texture and sweet, earthy flavor, making it a comforting and nutritious dish. Here's a basic description of how to make crockpot sweet potato soup.
School starts and I suddenly want to make soup. My slow cooker seems to go into overdrive with the fall and winter months, although there are so many ways to use it in the summer. With all the apples and tomatoes I'm harvesting, I've been making a lot of Slow Cooker Tomato Sauce and Slow Cooker Apple Butter.
But today it's all about sweet potatoes!
Slow Cooker Spicy Sweet Potato Soup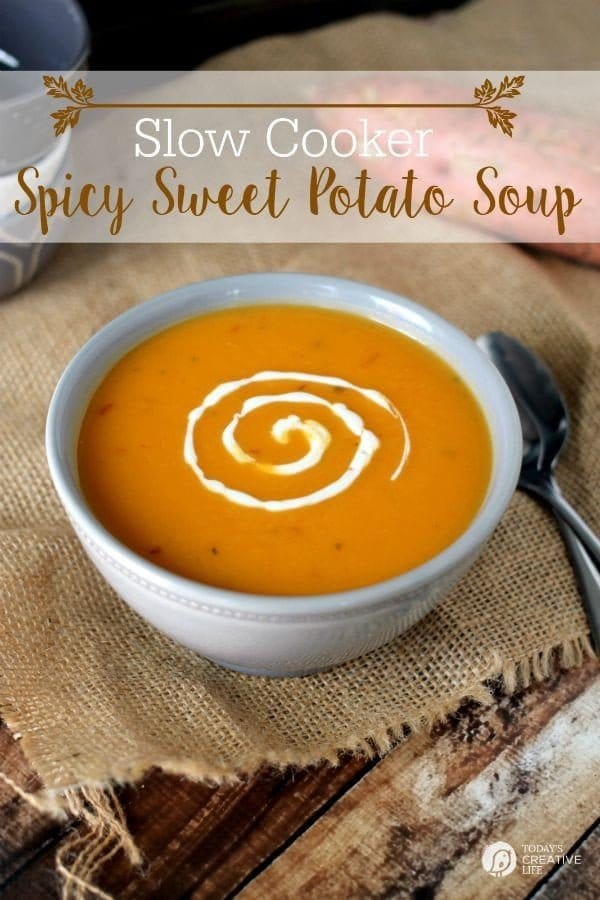 This isn't your typical Sweet Potato Soup, this one has a kick to it. It gets its smoky kick from the adobe peppers and cumin, so if you've got little ones you may want to reduce the amount or eliminate completely. We're not talking super spicy, but some kids may think so.
This rich flavored soup, along with a hunk of good bread and a salad is a complete dinner and easy! Not only will it be a healthy meal, but you'll hopefully have enough for leftovers because you'll be craving it the next day.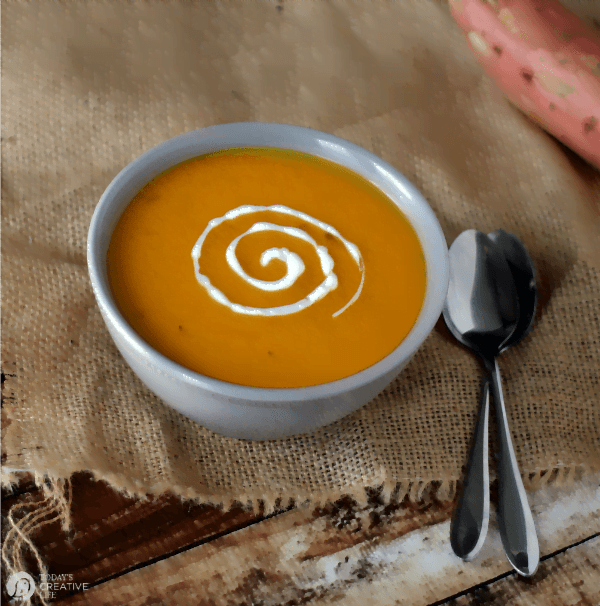 Even though I'm in my 50's, I still like crackers in my soup and lots of them. But I'll often throw a few large croutons into my soup instead and this Sweet Potato soup is perfect for that! Speaking of delicious soups, you'd probably enjoy this Fire Roasted Tomato and Red Pepper soup too!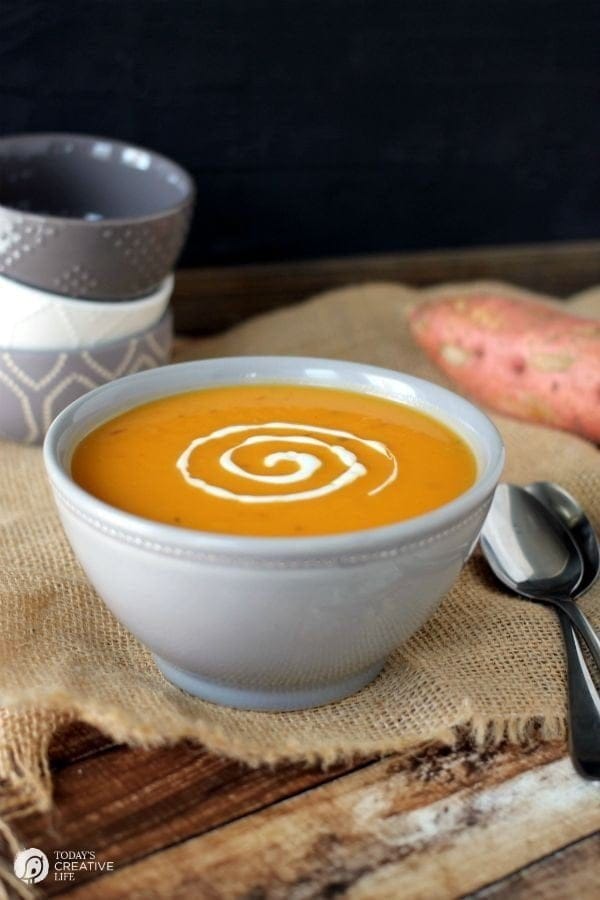 How to Make Spicy Sweet Potato Soup
Gather your ingredients and your slow cooker. I used a 6 quart one.
sweet potatoes
chilis in adobo sauce
onion
garlic clove
black pepper
salt
cumin
vegetable or chicken broth
milk or cream
sour cream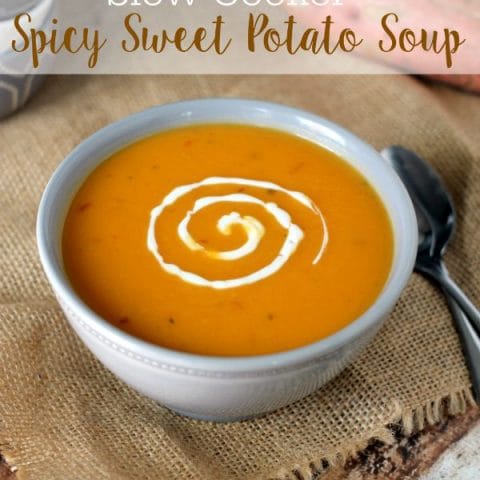 Slow Cooker Spicy Sweet Potato Soup Recipe
Yield: 6
Prep Time: 10 minutes
Cook Time: 6 hours
Total Time: 6 hours 10 minutes
This creamy spicy sweet potato soup recipe has the right amount of kick to keep you warm for fall and winter. Made with adobo chili's, sweet potatoes, cream and more.
Ingredients
3-4 large sweet potatoes, peeled and chopped into 1 inch pieces
1 onion, diced
1 garlic clove, chopped
¼ tsp black pepper
¼ tsp salt
1 tsp cumin
6 cups vegetable or chicken broth
½ cup milk or cream (I like whole milk or cream)
¼ cup sour cream for garnish, optional
Instructions
In your large slow cooker, add sweet potatoes, chilis, onion, garlic, pepper, salt, cumin, and broth. Cover and cook on high for 5-6 hours or low for 7-8 hours (potatoes should be tender).
Using an immersion blender, or transfer contents of slow cooker into a stand blender, blend mixture until smooth. Add milk or cream, and blend a few more seconds to combine.
Serve in bowls, garnished with a bit of sour cream if desired.
Notes
Notes: this soup is amazing with some crusty bread for dipping! Soup also freezes great, transfer to freezer bags and freeze up to 4 months.
Recommended Products
As an Amazon Associate and member of other affiliate programs, I earn from qualifying purchases.
Nutrition Information
Yield 6
Serving Size 1
Amount Per Serving
Calories 583
Total Fat 22g
Saturated Fat 8g
Trans Fat 0g
Unsaturated Fat 9g
Cholesterol 65mg
Sodium 1468mg
Carbohydrates 69g
Fiber 14g
Sugar 20g
Protein 28g
We do our best to calculate, however, nutrition information may not be accurate.
You'll want to use a large
6 quart or larger crockpot
for this recipe. It's a good investment, it's the size I use the most often.
Can You Make Spicy Sweet Potato Soup on the Stovetop?
You sure can! Just follow the same instructions, but obviously, you'd cook it for less time. Cook on medium until the sweet potatoes are cooked through enough to poke a fork easily into and carry on with the recipe.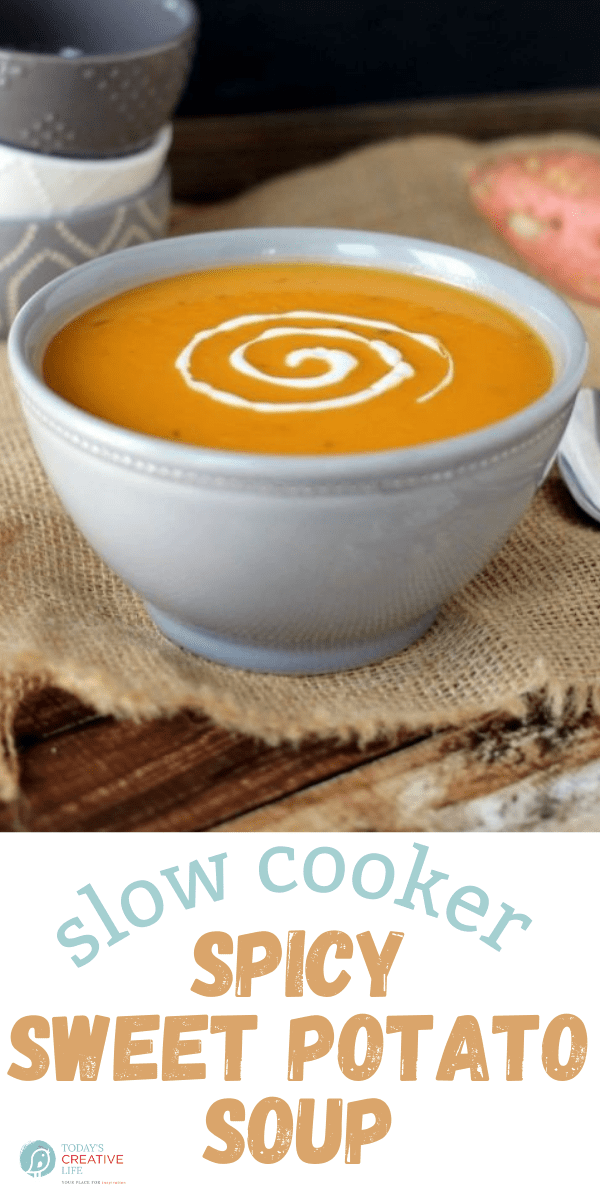 Easy Soup Recipes
Soup recipes the whole family will love.
Yes, please pin and share this recipe! But please do not copy and paste the full recipe into Pinterest or Facebook.
Creamy and flavorful homemade Cream of Mushroom soup is easy to make. Serve with crusty bread and a salad for a full meal.
Unique flavors blend together deliciously for this homemade soup.
This soup is the easiest soup you'll ever make.
Move over Olive Garden, this slow cooker Pasta Fagioli soup is much better!
Creamy and hearty soup for fall and winter.
German Potato Soup made with canned German Potato Salad. Hearty and delicious.
Healthy ingredients for a delicious slow cooker soup.
Full of vegetables and nutritious ingredients.