Crock Pot Potato soup is good, but it's even better when it's a Loaded Baked Potato Soup, am I right? Slow Cooker recipes make planning dinner so much easier! This creamy, hearty soup full of potatoes and bacon will hit the spot!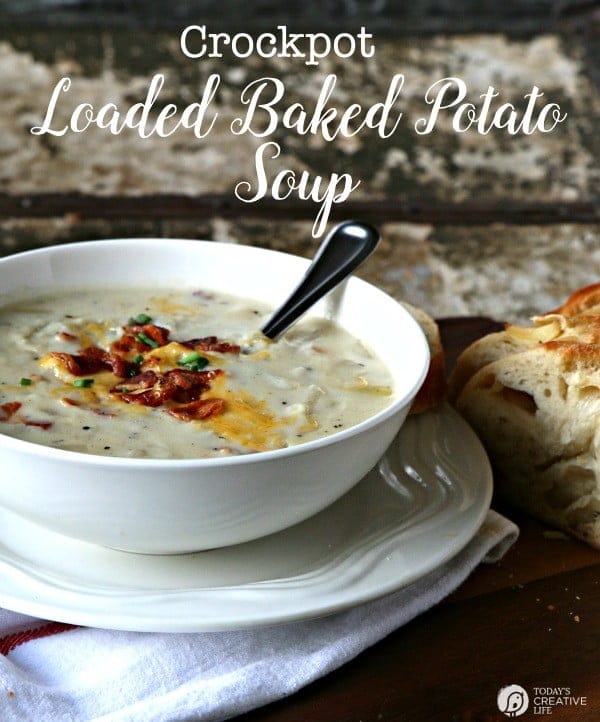 Crock Pot Potato Soup Recipe – Loaded Baked Potato Soup
Slow Cooker soups are one of my favorite meals, especially in the rainy months here in the Pacific NW.
This crock pot potato soup ranks right at the top for a recipe that I make over and over. If you look in my Slow Cooker Recipe Archives, you'll see more soup ideas and so many great ideas that will keep you drooling.
This soup is hearty, satisfying and warms you to the bone when you need it most. And it's EASY! I've got a couple of recipes for slow cooker potato soup, but I think this one is my favorite. At least it is this winter. Although my Slow Cooker Clam Chowder is hard to pass up!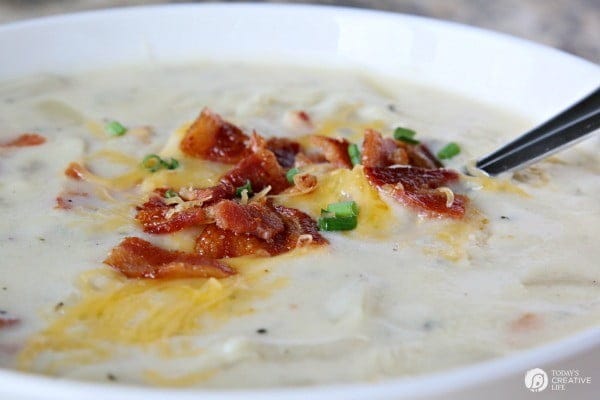 It's one of those soups that must be served with garlic cheddar biscuits or warm crusty bread. Add a side salad full of veggies and homemade croutons and you'll think you've died and gone to heaven.
Now before you go off condemning the potato, you gotta also know it's full of nutrients. Did you know a potato has more potassium than a banana? Sure some potatoes are higher in starch, but it's a whole food. That's what I always tell myself as I'm scooping a big ladle of soup into my favorite soup bowl.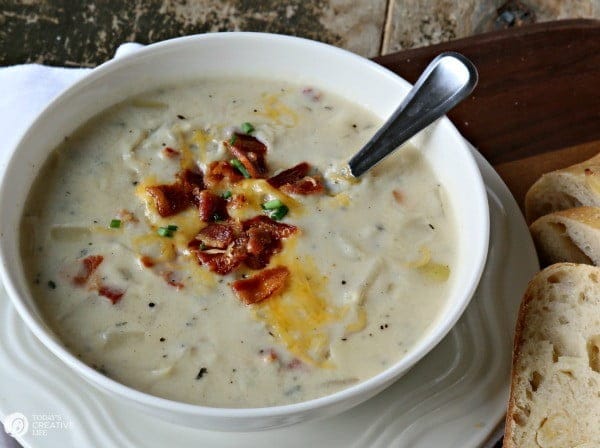 Potato Soup with Half and Half
This hearty potato soup gets its creaminess from half and half. You could use whole milk if you wanted, but if you're wanting an extra creamy full flavored soup, you'll want to stick to the recipe.
This soup has so many flavors coming at you all at once, you'll be the happiest person on earth while you eat your delicious dinner.
Your family will also eat seconds, there will be no leftovers for lunch the next day. I know many of you may have one of those new-fangled Insta- pots! Well, you'll love this Insta-Pot Pressure Cooker Loaded Baked Potato Soup Recipe from my friend Jen.
More recipes for Potato Soup!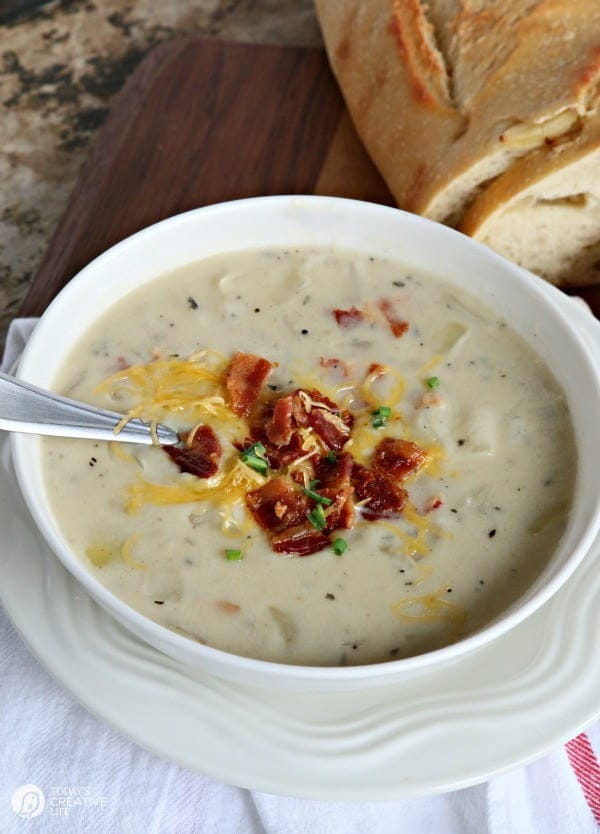 Crock Pot Potato Soup
Yield: 10 servings
Prep Time: 15 minutes
Cook Time: 6 hours
Total Time: 6 hours 15 minutes
Bursting with flavor! Family-friendly and easy to make!
Ingredients
1 large onion, chopped
1 clove chopped garlic
4 tablespoons butter
3 tablespoons flour
2 cups water, divided
4 cups chicken broth
4 medium potatoes, peeled & diced into large chunks
8 slices cooked bacon, crumbled
1/2 teaspoon ground black pepper
1/2 teaspoon salt
1/2 teaspoon dried basil
1/4 teaspoon dried thyme
1 cup Half & Half (or more as desired)
Shredded cheese for garnish
Fresh chives, chopped for garnish
Instructions
I used my 5 quart slow cooker.
First you're going to want to saute your onions and garlic in butter until they start to turn translucent and tender.
Stir in the flour, mix well. Stir in 1 cup water and bring to a boil. Continue to stir until it thickens up. Once it's thickened, transfer it to your slow cooker.
Add all other ingredients except 1/2 & 1/2, cheese, chives and a small amount of the bacon to be used for a garnish.
Stir.
Place the lid on and set your crock pot to LOW for 6-8 hours.
Stir the half and half in about 15 minutes before serving.
Scoop into a large soup bowl, garnish with the rest of the crumbled bacon, cheese and chives.
Nutrition Information
Yield 10
Serving Size 1
Amount Per Serving
Calories 211
Total Fat 12g
Saturated Fat 6g
Trans Fat 0g
Unsaturated Fat 5g
Cholesterol 35mg
Sodium 710mg
Carbohydrates 20g
Fiber 2g
Sugar 3g
Protein 7g
How to Thicken Potato Soup in the Crockpot
It's all in the prep before you place it in the slow cooker. Stirring in the flour with the sauteed garlic and onions sets the base for thickening any liquid added. If it still looks like it needs to be thicker after it's cooked for a while in the crockpot, you can mix a teaspoon of cornstarch with about a 1/4 cup milk and just pour it in.

What Potatoes are Best for Soup?
Red Potatoes – I love using a red potato because they are low starch and aren't going to get mushy as they cook. They will hold their shape and texture which makes them a great potato for soup.
Yukon Gold – These are another one of my favorites. They are a great all-purpose potato and great for soups, but if cooked too long, they may look their shape a little.
Russet Potatoes – These are my least favorite potato mainly because of the high starch content. They will also get mushy and lose their texture.
Family-Friendly Soup Recipes
Homemade soup recipes the whole family will enjoy.