I'm back in the saddle for Slow Cooker Sunday!

It's time to start hording the canned pumpkin and get busy making all your favorite pumpkin recipes! Even though it's a couple more weeks til Fall, it's OK. If football is on……it's OK. You will LOVE this Crock Pot Gingersnap Pumpkin Custard I made. I completely altered a recipe from the Crock Pot Slow Cooker Recipe book. It's satisfying and reminds you of pumpkin pie, but without the crust. Because it's crustless, it's going to be lower in carbs. I also used Truvia as a sweetner, so it's pretty much sugar free. Except for the gingersnaps and whipped cream. It's almost as good as my Pumpkin Crunch Dump Cake.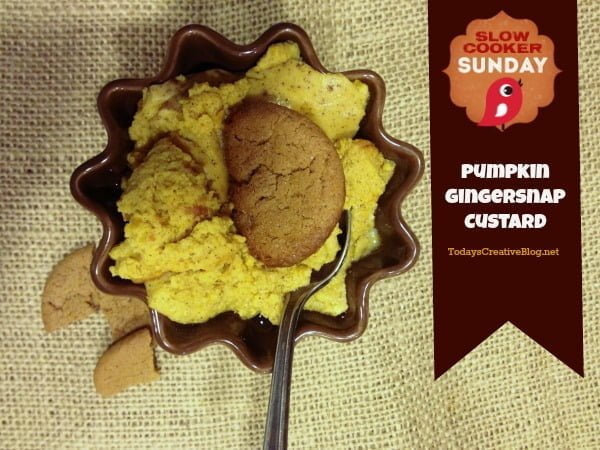 I go through a lot of canned pumpkin this time of year. I buy the non-sweetened kind, usually from Trader Joes. Your usual pumpkin pie filling has sugar or corn syrup added……but seriously…….who needs that? I like using pumpkin for my Pumpkin Spice Smoothies. Full of fiber and nutrients. Kids love them!
This was a pretty quick recipe to cook, only taking about 4 hours, I wouldn't leave it in your slow cooker while you're at work. I started it around 2pm and it was ready for us after dinner.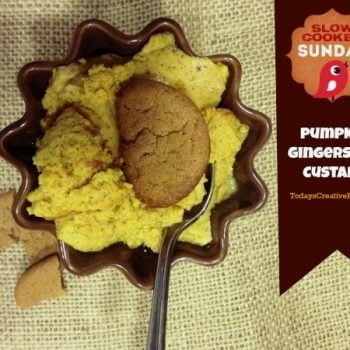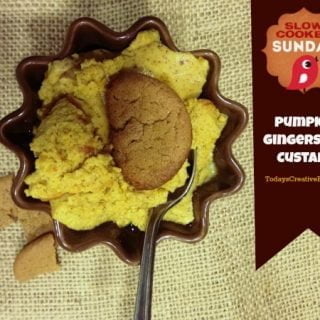 Crock Pot Gingersnap Pumpkin Custard
Yield: 6
Prep Time: 10 minutes
Cook Time: 4 hours
Total Time: 4 hours 10 minutes
Crock Pot Gingersnap Pumpkin Custard | Crustless Pumpkin Pie in the slow cooker.
Ingredients
Two 15oz cans Pumpkin - unsweetened. (pumpkin pie filling is different than canned pumpkin. If you use pumpkin pie filling, you'll have to omit the sugar)
1 can evaporated milk
4 eggs, beaten
1/4 Truvia or 1 cup sugar
2 tablespoons pumpkin pie spice
1/2 teaspoon vanilla
crushed or whole gingersnaps
whipped cream- optional
Instructions
Combine all ingredients except for gingersnaps, whipped cream into your slow cooker. Stir until blended.
Cover and cook on HIGH for approx 4 hours.
Crumble gingersnaps for garnish or stir them while serving in like I discovered. Add a dollop or two of whipped cream if desired.
Looking for more Slow Cooker Sunday recipes?