Yes, you can make Lasagna in the slow cooker. Obviously, this crockpot lasagna isn't the most traditional way of making lasagna, but it is a great option if you don't have an oven, you've got a busy day ahead, or just because.
You know how I love my crockpot? Well, I am on fire lately, that baby isn't getting a rest in this house. I've already made Crockpot Chicken Tortilla Soup this past week and now Crockpot Lasagna! You are gonna love this lasagna recipe! Actually, I have 2 of them and they're both for the slow cooker. I always use my friend Stephanie's Make it Fast, Cook it Slow Slow cooker cookbook
. I seem to add my own flair to most recipes, but not because Stephanie's aren't good……..no no no….I am just that kind of cook. A little of this, a little of that. I improvise if I'm out of something or there's something my family (me) doesn't like.
Try my Single Serve Healthy Lasagna.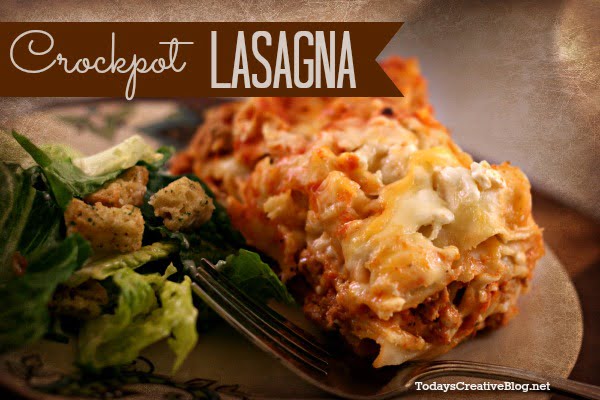 Crockpot Lasagna Recipe
Making lasagna in the crockpot is perfect. And you don't have to boil the noodles ahead of time……….like I do that anyway. Never! I make this when I know our evenings are going to be time-crunched. Or when we may all need to eat at different times, like tonight. Since my son's soccer practice runs til 8 pm, we'll eat before, and the real beauty is my husband will have his dinner ready for him when he gets home. THAT rarely happens. We're all happy.
Here is my crockpot lasagna recipe inspired by Stephanies.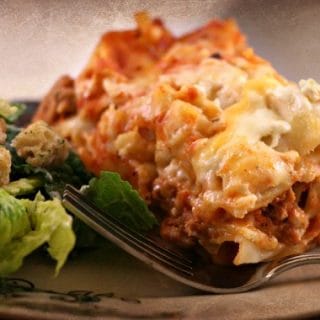 Crockpot Lasagna
Yield: 1
Prep Time: 20 minutes
Cook Time: 4 hours
Total Time: 4 hours 20 minutes
All the same ingredients and deliciousness as baked lasagna, just easier. Slow Cooker Lasagna is great anytime, but especially if you lack an oven or have a really busy evening.
Ingredients
1/2 pound ground turkey
1/2 pound Italian sausage
1 tsp oregano
2 garlic cloves chopped or crushed
1 jar (25 oz) pasta sauce
10 lasagna pasta noodles (that's what Stephanie says, I don't count. I just place a full layer covering each time)
1 (15 oz) cottage cheese
1 pound sliced porcini mushrooms
3 cups shredded Mozzerella
2 cups Italian blend shredded cheese ( I use the Quattro Formaggio blend from Trader Joes)
1/4 cup water
Instructions
Use a 6- quart slow cooker. Brown the ground turkey and sausage in a skillet, adding the garlic and oregano. When the meat is browned, add pasta sauce. Save the jar, you're going to need it later.
Spoon some of the meat mixture into the bottom of your slow cooker. cover with a layer of uncooked lasagna noodles. Smear some of the cottage cheese on the noodles, and add some mushrooms, a handful of cheese. Starting with the meat sauce, repeat the layers until your slow cooker is full.
Put the water into the empty pasta sauce jar and shake. Pour the contents over your assembled ingredients. Cover and cook on low for 6 to 8 hours, or on high for 3 to 4 hours. Check about an hour before serving, and push down the top noodles into the liquid. When the cheeses are completely melted on the top and begun to brown on the edges, your meal is ready!
Notes
Cooking time will vary depending on whether you're cooking on high or low.
Recommended Products
As an Amazon Associate and member of other affiliate programs, I earn from qualifying purchases.
Nutrition Information
Yield 8
Serving Size 1
Amount Per Serving
Calories 1228
Total Fat 74g
Saturated Fat 35g
Trans Fat 1g
Unsaturated Fat 32g
Cholesterol 318mg
Carbohydrates 56g
Fiber 7g
Sugar 17g
Protein 86g
We do our best to calculate, however, nutrition information may not be accurate.
And here's Stephanie's version below. Much more nutritious than mine. Stephanie has 2
Slow Cooker Cookbooks
out……..and they are both VERY good! With her permission, she said to go ahead and post her recipe! Lucky us!
Meal planning just got easier for the week!
20 Crockpot Dinner Recipes
Dinner is saved with these 20 slow cooker dinner ideas.