Today I'm sharing one of my favorite salads! This Strawberry Gorgonzola Green Salad with its homemade vinaigrette really makes this salad pop with flavor! It's extra healthy with its spinach and satisfying with cashews and cheese! The crunch and flavor make getting your greens so much easier! Baked Kale Chips are another easy way to add greens to your diet!
Fruit and nut salads are some of my favorites, like my Mango Chicken Salad with Cashews! Or my Fruit and Cabbage Salad! So fresh and healthy. Winter fruit salads make your days brighter!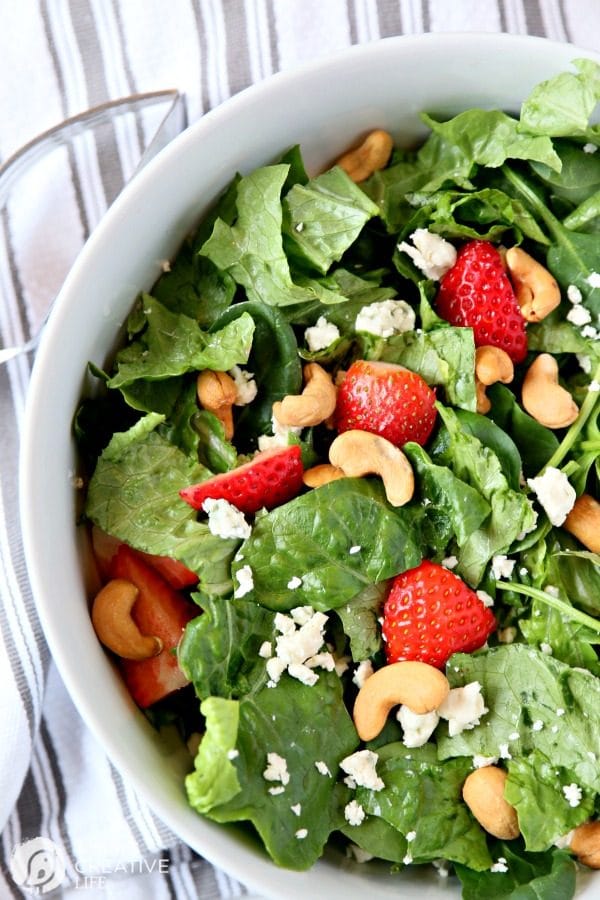 Strawberry Gorgonzola Green Salad
Make it a meal and add some Sun-Dried Tomato Garlic Cheesy Bread. The two go hand in hand.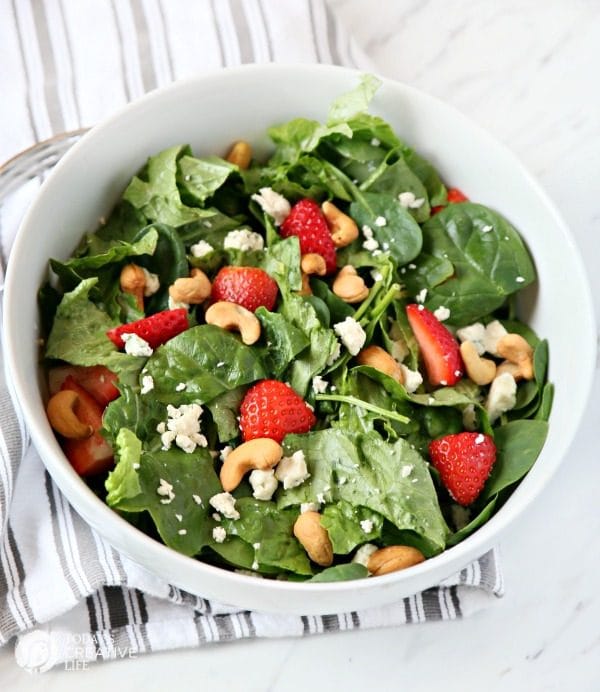 Doesn't it look delicious? Just wait until you add the homemade vinaigrette!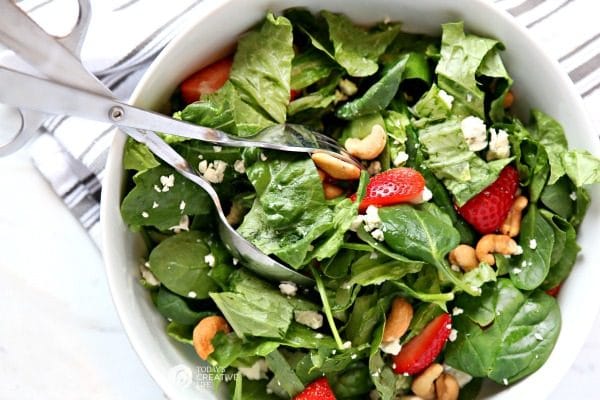 You could add it after dishing up, or combine it all together before serving.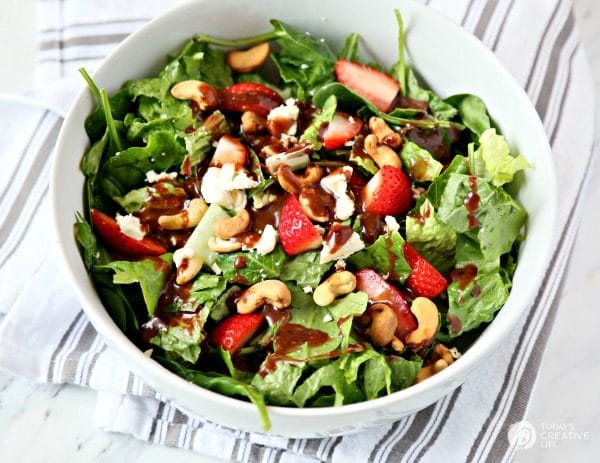 Ethier way, it's going to be delicious! Of course, you could add any salad dressing you'd like, but this homemade vinaigrette is so good, you might want to drink it.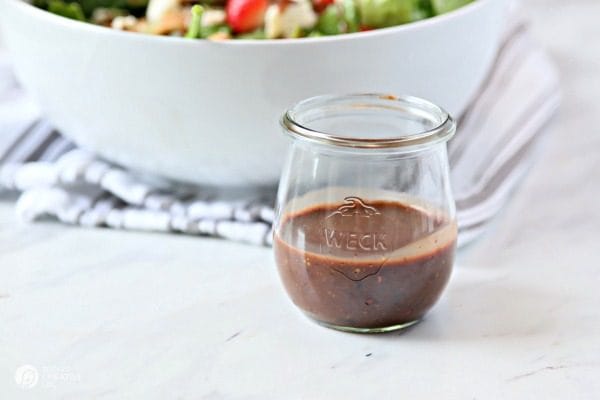 I like using my magic bullet to really blend all the ingredients, but I've also used a shaker. Both work well.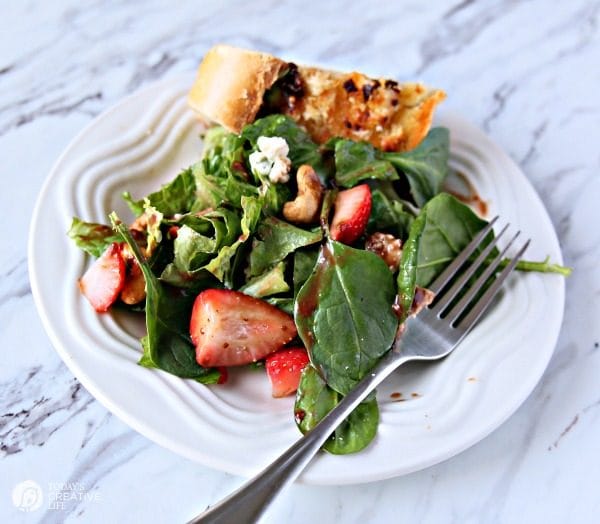 This Strawberry Gorgonzola Green Salad makes a great summer salad, but it's also a great winter pick me up!
How to Make Strawberry Gorgonzola Green Salad
Items needed:
Salad Spinner – this is the one I have and I like the pull cord and bowl to use.
Strawberry Slicer – optional. I don't even hull my strawberries.
Recipe Ingredients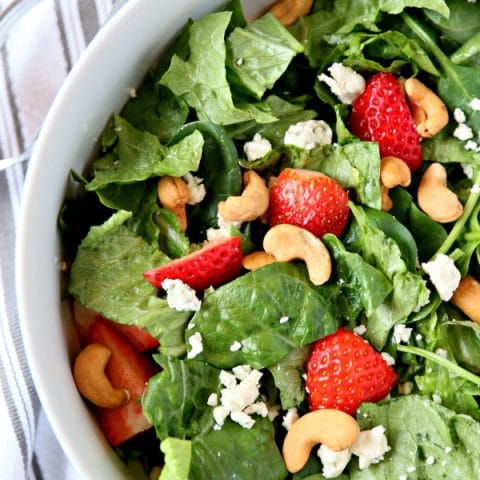 Strawberry Gorgonzola Green Salad
Yield: 6
Prep Time: 10 minutes
Total Time: 10 minutes
Fresh, healthy and delicious strawberry salad with a tangy dressing.
Ingredients
SALAD
3 cups chopped romaine lettuce
3 cups fresh baby spinach
1 1/2 cups sliced strawberries
3/4 cup lightly salted cashews
1/2 cup Gorgonzola Cheese - Crumbled
VINAIGRETTE:
1/3 cup olive oil
1/4 cup red balsamic vinegar
1 Tablespoon raspberry jam
1 1/2 teaspoon Dijon mustard
1/4 teaspoon salt
1/2 teaspoon pepper
Instructions
Wash and spin lettuce and spinach.
Place greens in a large bowl.
Top with strawberries, cashews and cheese
Shake or whisk all dressing ingredients together; drizzle over salad. Toss!
Enjoy!
Nutrition Information
Yield 6
Serving Size 1 cup
Amount Per Serving
Calories 284
Total Fat 23g
Saturated Fat 5g
Trans Fat 0g
Unsaturated Fat 17g
Cholesterol 8mg
Sodium 378mg
Carbohydrates 15g
Fiber 2g
Sugar 7g
Protein 6g
Nutrition Information isn't always accurate.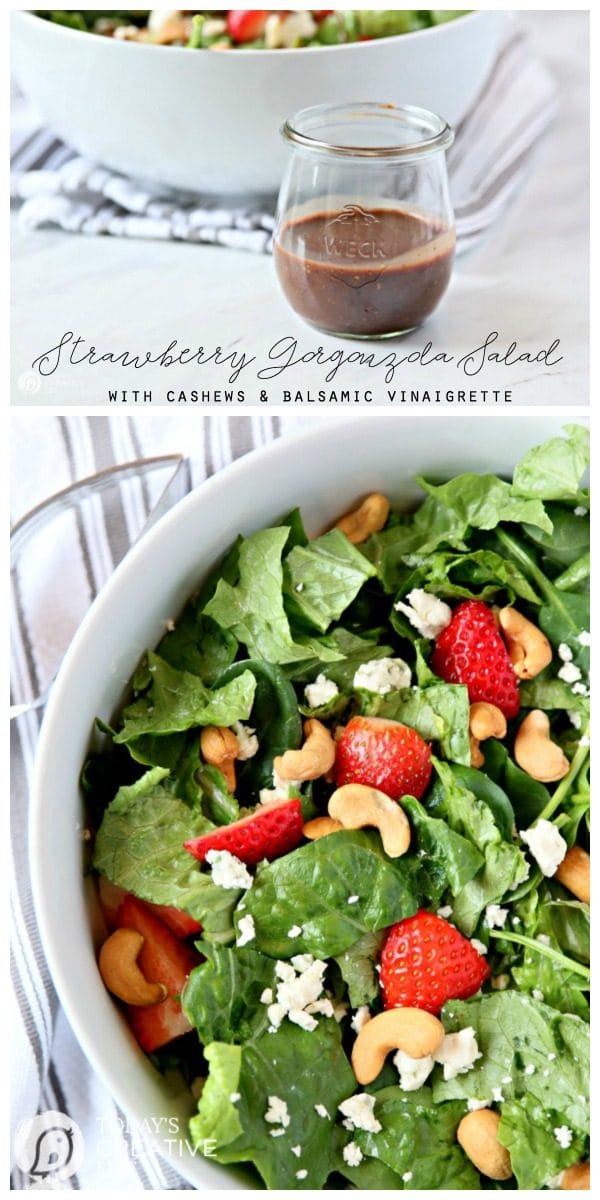 Salad Recipes
Easy and delicious salad recipes.
This protein-packed salad is great for a full meal!
Cherry tomatoes with buttermilk vinaigrette will be your summer go to salad! Great way to use your own homegrown cherry tomatoes! Fresh, tangy and sweet!
A classic spring salad recipe.
Another classic salad full of crunch and flavor.
Similar to a Walford salad with lots of crunch and flavor.
Your perfect summer BBQ side dish.
So easy to make and a potluck favorite.
Colorful and perfect for summer.
---
Follow me
Pinterest | Instagram | Twitter