Making oatmeal in your slow cooker is a great way to make up a large batch. Crock Pot Cinnamon Apple Oatmeal only takes 2 hours, making it nice for weekends. Using fresh apples and adding a few pecans later makes this recipe a kid favorite.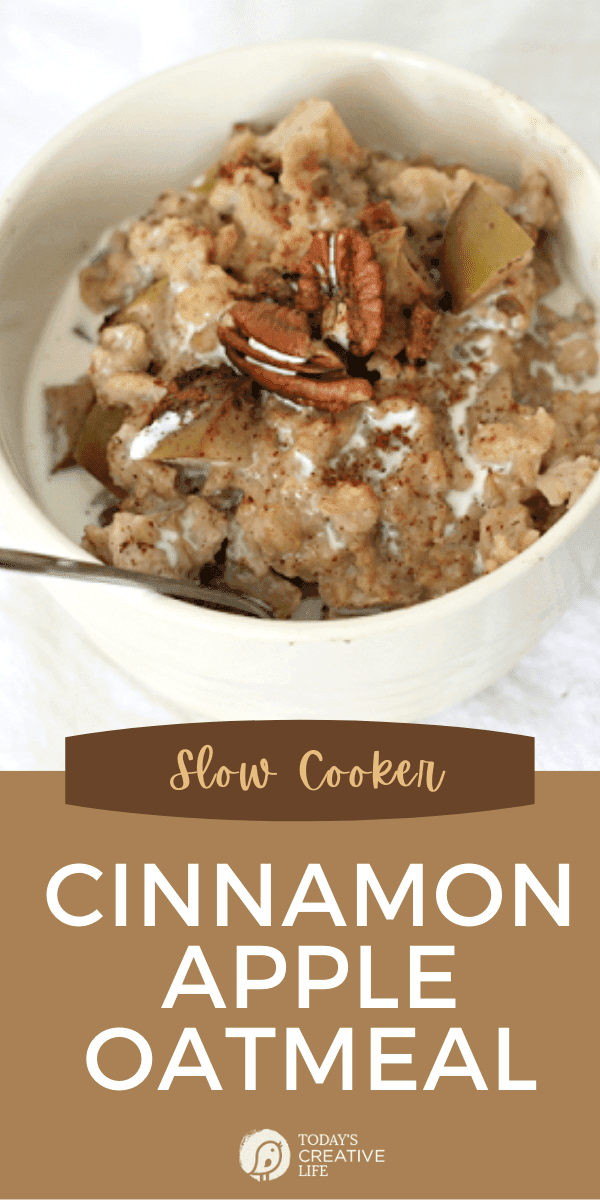 Crock Pot Cinnamon Apple Oatmeal
Breakfast recipes like this slow cooker breakfast casserole make school or weekend mornings easier. Fall recipes like my slow cooker pumpkin butter or slow cooker apple butter are also great ideas for breakfast time.
This recipe for slow cooker oats is not an overnight recipe, although it was inspired by this overnight crockpot basic oatmeal from my friend Stephanie.
I love oatmeal and I make it often the regular stovetop way. My husband, however, isn't a huge fan of eating oatmeal, but I didn't realize how much he really just puts up with it after I made this dish. Double batch mind you. Upon claiming "it's done!" and started to dish up, he took one look and said it looked too mushy and he would pass.
When I gasped at his defiance, that's when he told me he doesn't really like oatmeal. Who is THIS man I've been married to for the past 16 years? How is it possible that he has kept this secret from me all this time? He was a trooper and at least tasted it, which he said was "alright". I, on the other hand, thought it was tasty. It was creamy and not too sweet. It was just right for this goldie locks. I added milk and enjoyed my healthy breakfast. Would I make it again? Probably not since I seem to be the only one who enjoys oatmeal. Sure, my son will eat it, but he'd rather have toast. Again……….WHO ARE THESE PEOPLE IN MY HOUSE? So, here I am with a 5-quart crockpot full of oatmeal. I'm ready to stand on the street curb with my crockpot and ladle and serve up some breakfast. I even have coffee!
How to make Slow Cooker Oatmeal
You'll need rolled oats, apples, cinnamon, pecans, brown sugar, milk, and a few other ingredients you'll have in your cabinets. I like that this is a dump it all in, give it a stir and turn it on type of slow cooker recipe because it's the easiest of all! Cook on low for 2 hours.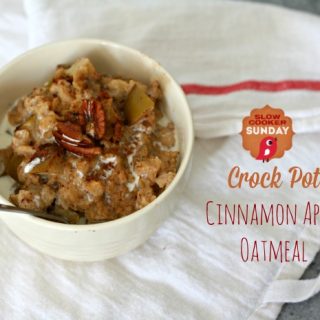 Crock Pot Cinnamon Apple Oatmeal Recipe
Yield: 8
Prep Time: 10 minutes
Cook Time: 2 hours
Total Time: 2 hours 10 minutes
Slow Cooker Oatmeal in 2 hours!
Ingredients
2 cups rolled oats (not quick or instant)
2 green apples, cored and chopped
4 cups milk
6 tablespoons brown sugar
2 tablespoon vanilla extract
pinch of salt
2 teaspoons cinnamon
1/2 cup chopped pecans
Instructions
I used a large crockpot. If you are using a smaller 2 quart, then reduce each ingredient by half.
Place all ingredients into your crockpot and stir. Cook on low for 2 hours.
Notes
Add any other favorite fruits. Raisins, dried apricots, dried cherries.
Recommended Products
As an Amazon Associate and member of other affiliate programs, I earn from qualifying purchases.
Nutrition Information
Yield 8
Serving Size 1
Amount Per Serving
Calories 253
Total Fat 9g
Saturated Fat 2g
Trans Fat 0g
Unsaturated Fat 6g
Cholesterol 10mg
Sodium 85mg
Carbohydrates 36g
Fiber 4g
Sugar 14g
Protein 8g
Nutrition information isn't always accurate.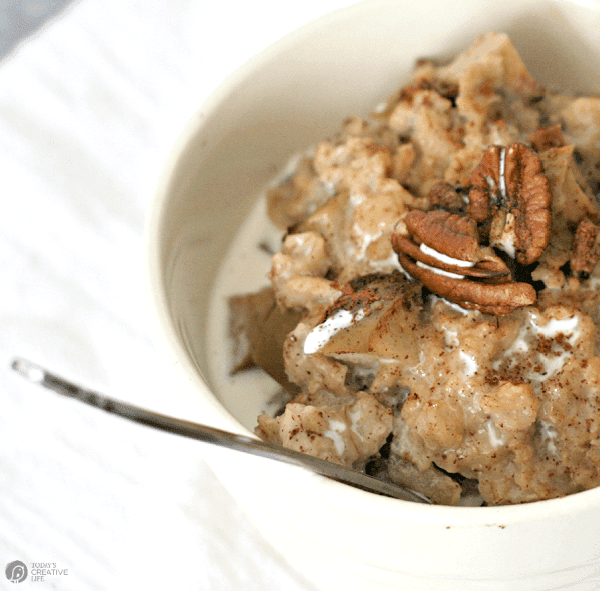 Can I use this recipe for Overnight Oatmeal?
This recipe for crock pot apple cinnamon oatmeal is not suggested for an overnight oats recipe. Here is an overnight steel cut oats recipe.
Can I use Quick Oats for a Slow Cooker Oatmeal Recipe?
Using instant oatmeal or quick-cooking oatmeal will not give you the results you're looking for. Even though I bet the taste would be ok, you'll end up with a mushy glop of oats. So I'd stick to the real deal.
Can I Omit the Pecans?
Yes, of course! You can substitute other nuts like walnuts or almonds if you'd like, or leave them out altogether.
Breakfast Recipe Ideas
Breakfast recipes for every day, weekends, brunch or holidays.