These Sausage Cheese Breakfast Muffins are perfect for breakfast on the go, for brunch or any day of the week! Usually, breakfast muffins are sweet, like my Carrot Banana Walnut Muffins, but these are more of a savory breakfast muffin. Savory breakfast recipes are always great for weekends! Try my Breakfast Strata Recipe with Rye Bread and Sausage. So so good! But if you are hankering for something sweeter, try my Cinnamon Sugar Sour Cream Breakfast Scones!
So easy to make, which makes them easy to bake up quickly when needed.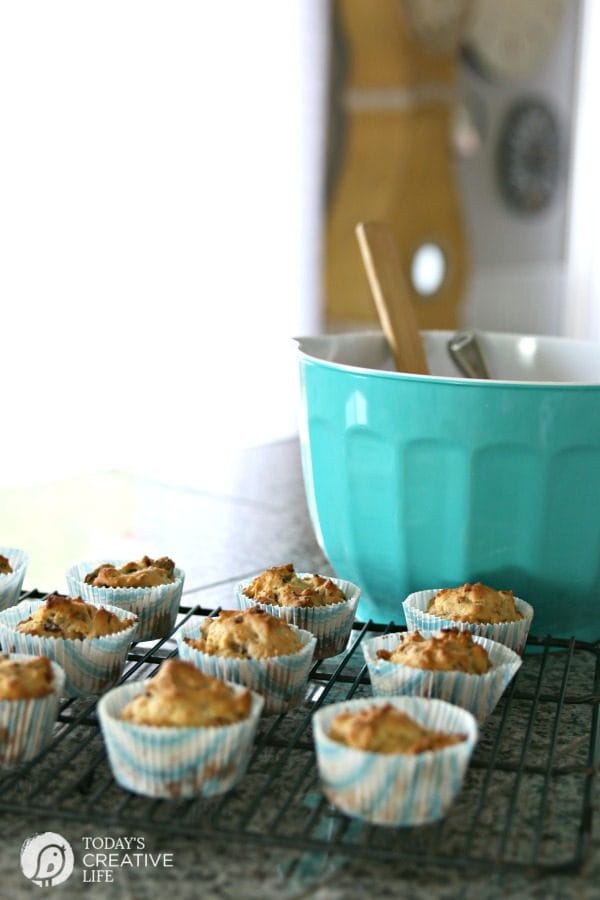 Sausage Cheese Breakfast Muffins
I love sausage, but I suppose you could use any breakfast meat. Try ham or bacon to change things up.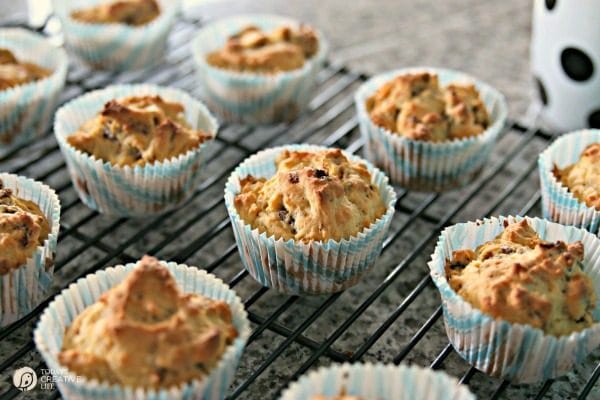 I don't always use muffin liners, depending on how you're serving them, but I do find them easier to peel the liners off after they've cooled a little. The silicone muffin pans also work pretty well. (This one is only $6.99! Mine was much more than that!)
You can also just use a greased muffin tin, then just flip the pan to release breakfast muffin goodness!
Looking for a Breakfast Pull-Apart Bread?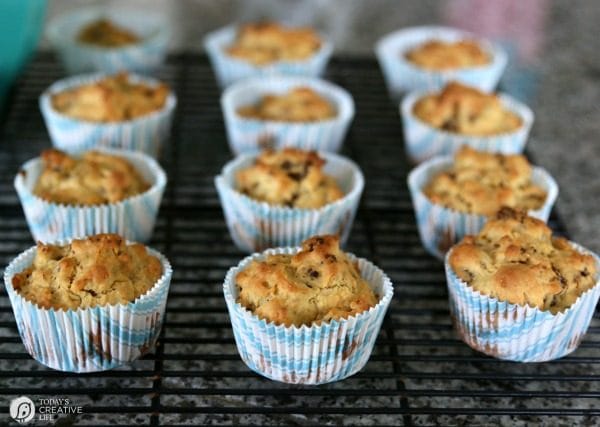 These sausage cheese breakfast muffins freeze up nicely if you have any leftovers. That's a big IF!
Serve them as is, or if you're really going for it, serve sausage muffins and gravy instead of biscuits and gravy.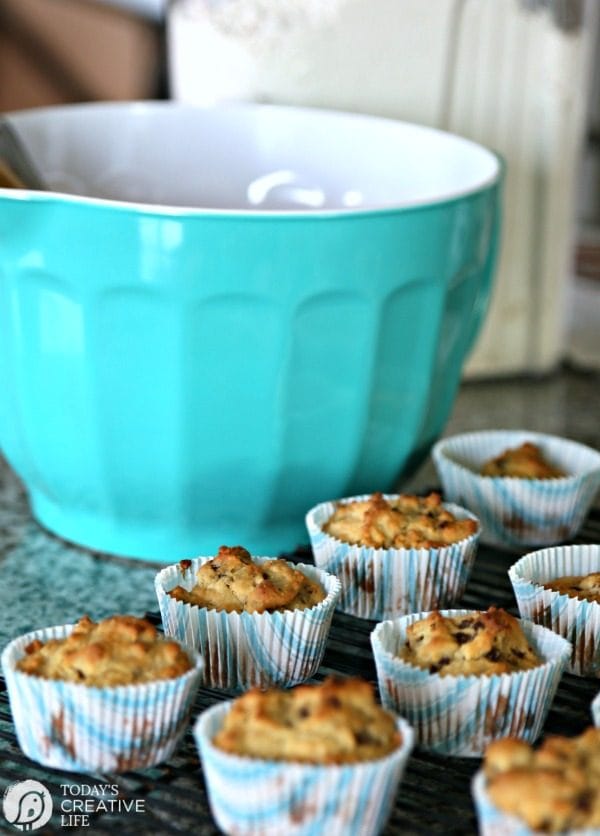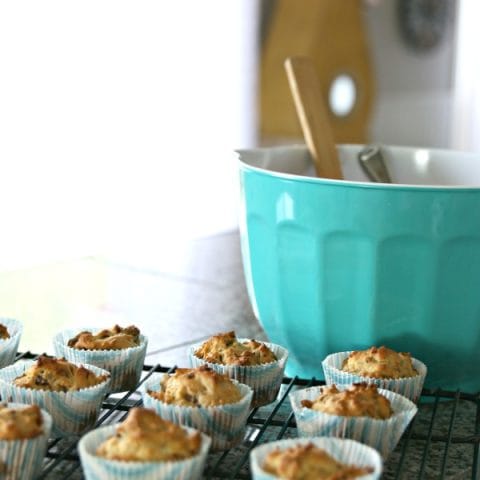 Sausage Cheese Breakfast Muffins
Yield: 24
Prep Time: 15 minutes
Cook Time: 15 minutes
Total Time: 30 minutes
Savory breakfast muffins for breakfast on the go, for weekends or just for snacking.
Ingredients
1 pound ground pork sausage - I used the spicy option.
1 can condensed cheddar cheese soup (10-3/4 oz)
1/2 cup whole milk
1 teaspoon oregano
1/2 teaspoon garlic powder
3 cups biscuit / baking mix
Instructions
In a skillet, brown up the pork sausage until it's no longer pink.
Drain and set aside.
In a medium bowl, combine soup, milk, seasonings, and sausage.
Stir in biscuit mix until moistened.
Fill muffin cups about 2/3rds of the way.
Bake at 400 degrees for about 15-18 min.
Notes
Use any breakfast meat.
Add shredded cheddar cheese for extra flavor.
Nutrition Information
Yield 24
Serving Size 1
Amount Per Serving
Calories 153
Total Fat 9g
Saturated Fat 3g
Trans Fat 0g
Unsaturated Fat 5g
Cholesterol 22mg
Sodium 452mg
Carbohydrates 12g
Fiber 0g
Sugar 2g
Protein 6g
We do our best to calculate, however, nutrition information may not be accurate.
Can I Use Ham Instead?
You can use any breakfast meat that you prefer. If you're using ham, I would make sure to cut it into small pieces.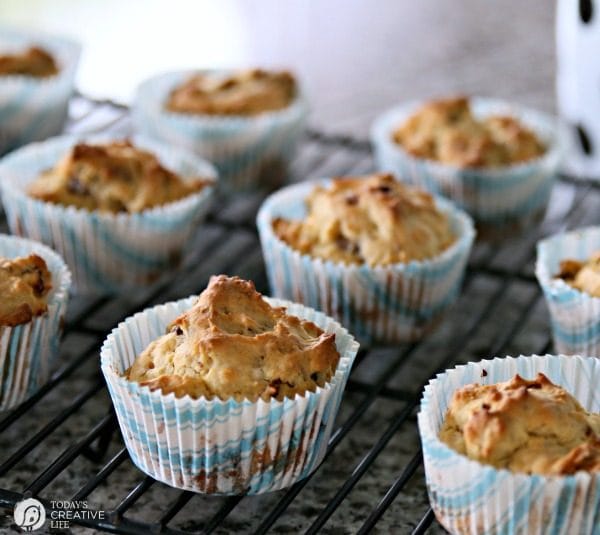 I'm sure everyone in your home will enjoy these Sausage Cheese Breakfast Muffins any time of the week!
Can I Freeze Sausage Cheese Breakfast Muffins?
You sure can! I allow for them to cool completely and then I just throw them in a freezer ziplock baggie. Be sure to date it and most freezing recommendations suggest eating within 6 months.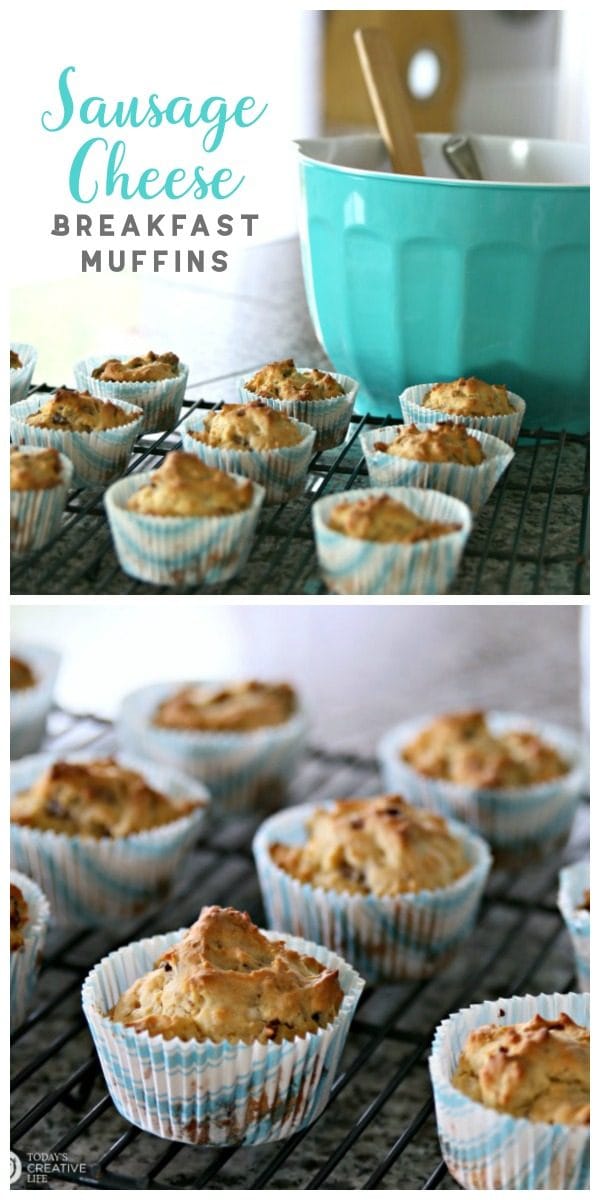 Easy To Make Breakfast Ideas
Breakfast recipe ideas that won't take you a lot of time!
Using refrigerated biscuits, with egg and ham makes a delicious breakfast casserole
Save this recipe for weekends or special holidays.
This high-protein breakfast sandwich is great for on the go.
The fruit filling make these muffins so moist and flavorful.
A full delicious breakfast in one egg biscuit!
Grab & Go High Protein Breakfast ideas with Egg, cheese, ham, and potato muffin cups.
The family favorite is so good with honey butter.
Easy to make French Toast Casserole with Mixed Berries.
Sausage Gravy and Biscuits is a southern specialty! This easy gravy recipe is made with pork sausage and drippings along with milk and flour, making up a thick creamy gravy to serve over fresh biscuits.
Easy to make breakfast casserole for weekends and brunch.