This Cinnamon French Toast Casserole is great for breakfast or brunch! Easy to make recipes like this are always my favorite. I have several French Toast recipes here on TCL. My French Toast Casserole with Berries is another easy breakfast idea.

This simple cinnamon French toast bake recipe is shared by Tanya from twelveOeight – she'll walk you through making the delicious and easy breakfast recipe.
---
Cinnamon French Toast Casserole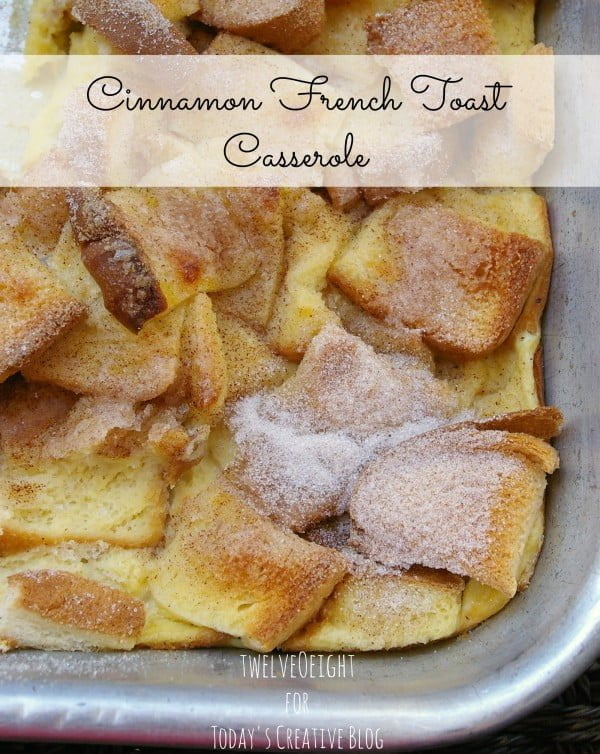 Hello friends!! How fun it has been to see all of the fabulous guest posts on TCB this summer, thank you SO much for sharing your awesome creative space with us Kim!!
I'm Tanya, and you can find me making and creating my days away at twelveOeight. We have been knee-deep in working on our house this summer. Especially some super fun projects for my daughter's Big Girl Bedroom makeover. The final touches are in the works now but not done yet.
With all of that creating we have needed some yummy family-friendly recipes that come together in a snap. This is one that gets a whole lot of requests, and my crew knows what's in the oven when they walk in the door and it smells like Cinnabon.
My oldest daughter is married and has her own family now (we have four kids ranging in age from 3 to 22) and she is quite a cook. I can't take credit for how amazing the Cinnamon French Toast bake is, it's all Mandy's and she is sweet enough to let me share it with you today!
Can French toast be made in the oven?
Yes, absolutely! Although the recipe title is Cinnamon French Toast Casserole, it really is a cinnamon French toast BAKE.
How to Make Cinnamon French Toast Casserole
Ok, preheat those ovens, let's get our bake on…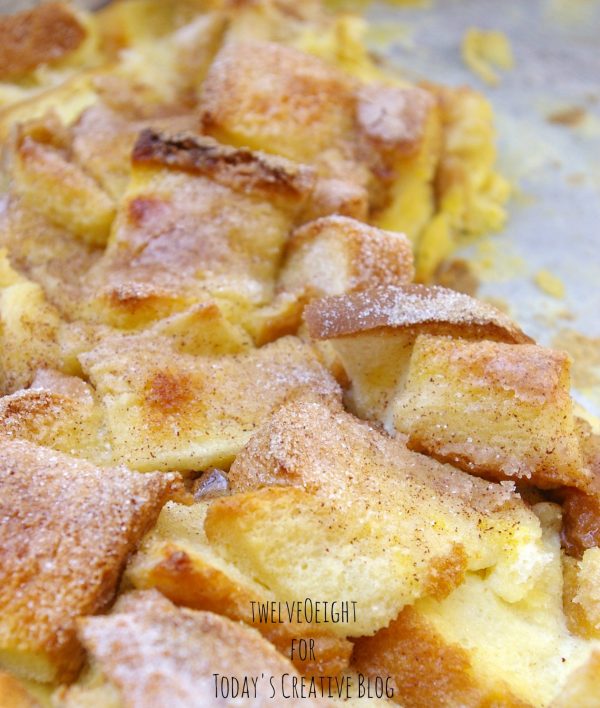 Cinnamon French Toast Bake Recipe Notes
Using a 13'x9′ casserole dish, this will make enough to feed a family or crowd!
Why is my French toast soggy?
According to this article on Bon Appetit, if there's too much egg in the mixture, it won't cook all the way through. Even with a French toast bake, you want the French toast to be dry on the surface with slightly crisp edges.
French toast is like bread pudding. It soaks up a custard for a creamy texture on the inside and a slightly crunchy texture on the outside.
Overnight French Toast Casserole
This recipe can be made ahead of time for overnight french toast casserole. Simple refrigerate after combining all the ingredients. Make it ahead a few hours or overnight.
Enjoy!!
Here's a printable version of the recipe.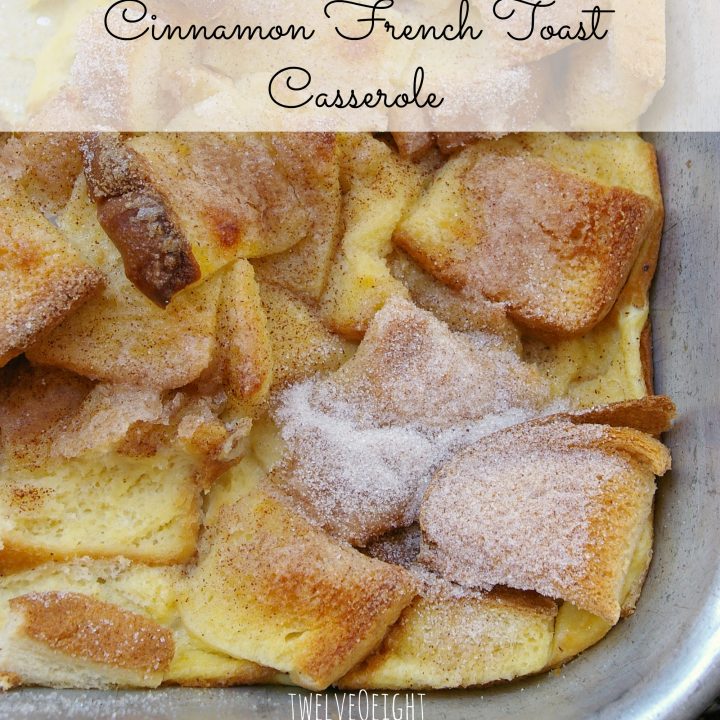 Cinnamon French Toast Casserole
Yield: 8
Prep Time: 10 minutes
Cook Time: 45 minutes
Total Time: 55 minutes
Easy to make breakfast casserole for weekends and brunch.
Ingredients
1 loaf of day old white bread, cubed in 1″ pieces
1 cup of sugar or Splenda
2 t. ground cinnamon
8 eggs, beaten
3 cups of milk
Dash of salt
2 T. butter
Instructions
Preheat your oven to 350 degrees F.
Grease baking dish and spread cubed bread evenly over the bottom.
In a small bowl, combine sugar & cinnamon and set aside.
Combine the beaten eggs & milk, to this mixture add about 3 T. of sugar mixture, blend well.
Pour evenly over the top of the bread, dot with small pieces of butter, and sprinkle remaining cinnamon sugar over the top.
Bake for approximately 45 minutes, depending on your oven.
This is a bread pudding type of dish so it will be very moist in the center, and nice & crunchy on the top.
Notes
Make ahead of time or overnight. Just refrigerate after combining.
Nutrition Information
Yield 8
Serving Size 1
Amount Per Serving
Calories 244
Total Fat 9.4g
Carbohydrates 33.2g
Protein 9.1g
Thank you SO much for baking with me today!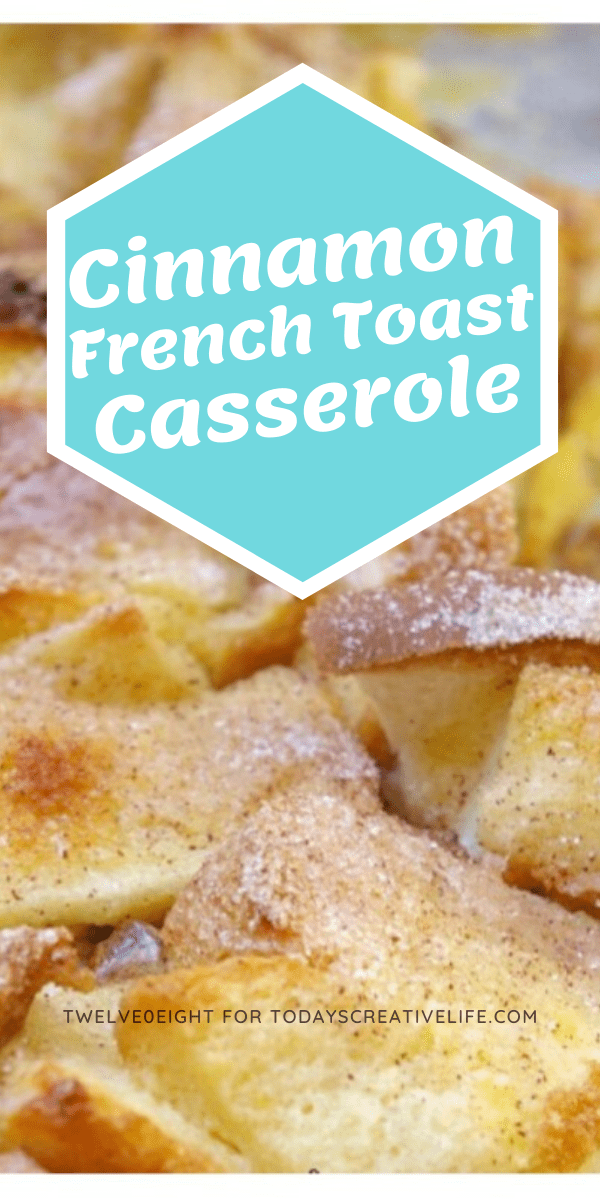 French Toast Recipes
An all-time breakfast favorite! You'll love all the different French Toast recipes TCL has to offer.
Find several recipes for French toast right here!
Add all the berries you want!
Decadent Autumn brunch recipe idea!
Another great slow cooker breakfast idea.