Crockpot French Toast made with cubed or sliced French bread and layering cinnamon, butter and brown sugar make this a delicious breakfast perfect for weekend mornings.
Making French toast in my slow cooker for breakfast on this cold and rainy day will hopefully keep us warm during our mid-morning soccer game. Weekend mornings are supposed to be less hectic right?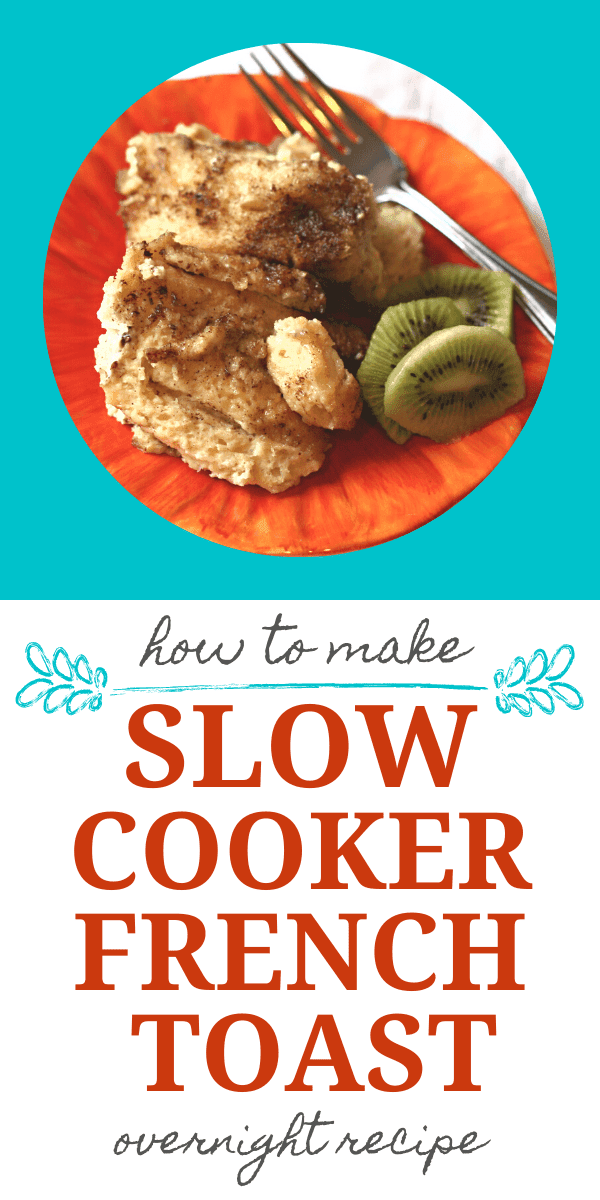 Overnight Crockpot French Toast
I assembled my recipe in the crock the night before and placed it in the refrigerator overnight like you would a normal French Toast casserole. I suppose I could have just placed it in the oven in the morning, but I really wanted to try it in my crockpot, so once I was up at 6:30am, I turned my crockpot on high since I needed it to be done in a couple of hours. Otherwise, I would have turned it on low for 4 hours. Who doesn't love a good breakfast casserole?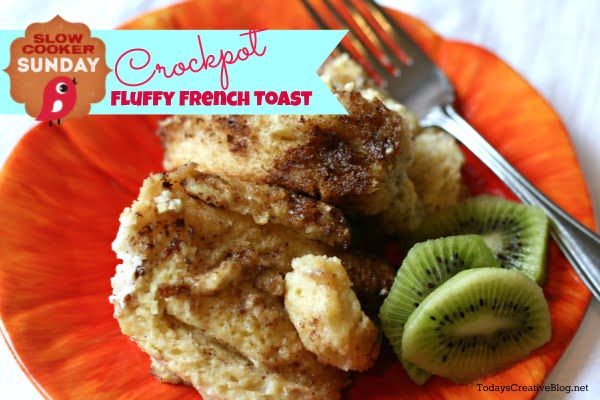 If you're having brunch and need to keep your oven clear for other items, this is a great way to make this casserole. I do the same thing for my Thanksgiving crockpot stuffing…….I use my crockpot to free up space in my oven. After cooking on low for 2.5 hours, this recipe was ready to eat. It's sweet enough to eat without syrup, but of course, that didn't stop my son. I added kiwi and a protein smoothie and he was ready for his soccer match.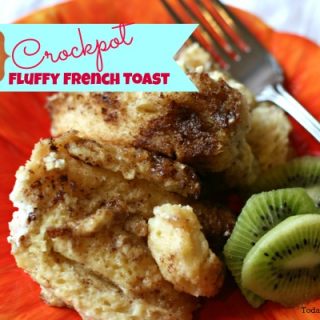 Slow Cooker French Toast Recipe
Yield: 6
Prep Time: 10 minutes
Cook Time: 4 hours
Total Time: 4 hours 10 minutes
Crockpot French toast made with sliced or cubed French bread and eggs, with layers of brown sugar, cinnamon, butter and pecans is a delicious breakfast for any day of the week.
Ingredients
1 loaf bread- Cubed or sliced french bread or sliced bread of any kind (I used a mixture of sourdough and french because it's what I had )
7 eggs
2 1/2 cups milk (almond, soy etc.. will also work)
1 teaspoon cinnamon
Filler & Topping
1/2 cup butter - softened
3/4 cup brown sugar - packed firmly
1 1/2 teaspoon cinnamon
1/2 cup chopped pecans (or walnuts)
Option: 1/2 cup raisins
Instructions
In a small bowl mix all topping ingredients with a fork. Set aside
Spray the inside of your 6 qt. crock with cooking spray. I used a coconut oil spray.
In a different bowl than your topping mix, whisk your eggs, milk and cinnamon together and set aside.
Place your first couple of layers of sliced bread or your first layer of cubed bread into your crock.
Spread half of your filler/topping mixture on top of the bread layer
Place the rest of your bread on top of the filler/topping.
Pour your egg mixture into your crock over the bread
Sprinkle the rest of your topping/filler on top of the bread
Cook for 2.5 hours on high, or 4 hours on low.
Enjoy!
Recommended Products
As an Amazon Associate and member of other affiliate programs, I earn from qualifying purchases.
Nutrition Information
Yield 6
Serving Size 1
Amount Per Serving
Calories 840
Total Fat 34g
Saturated Fat 14g
Trans Fat 1g
Unsaturated Fat 17g
Cholesterol 266mg
Sodium 970mg
Carbohydrates 111g
Fiber 6g
Sugar 44g
Protein 25g
We do our best to calculate, however, nutrition information may not be accurate.
What Bread is Best for Making French Toast?
I prefer using a loaf of French Bread when making crockpot French toast. This recipe is very forgiving though, so if you only have sliced sandwich bread or wheat bread, it's still going to turn out great.
Can I Make it the Morning Of?
Sometimes I don't realize I want slow cooker French toast until that morning and I've missed the opportunity to make it the night before. You're in luck, yes, you can still make it the morning of. But I'd give it at least 30 min so it has had adequate time to soak up all the goodness.
Can I make Crockpot French Toast in the Oven?
Like my Triple Berry French Toast Casserole and my Cinnamon French Toast Casserole, this slow cooker French Toast recipe can also be baked in the oven. Bake at 350 degrees F. for about 45 minutes. If it's getting too brown on top before it's done, loosely place a sheet of tin foil over the top.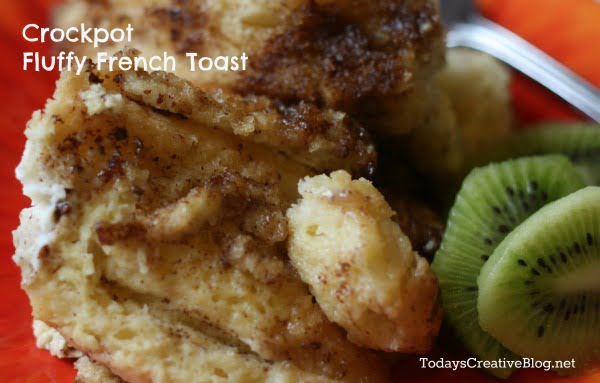 How to Make French Vanilla French Toast
Years ago I created a recipe using French vanilla coffee creamer. Due to technical updating, that recipe was lost. If you are looking for this particular recipe, I'm sorry. From memory, this recipe was a stovetop recipe and not a slow cooker one. I used French vanilla coffee creamer instead of milk or half and half. I also added a 1/2 teaspoon of vanilla extract.
French Toast Recipes
An all-time breakfast favorite! You'll love all the different French Toast recipes TCL has to offer.
Find several recipes for French toast right here!
Add all the berries you want!
Decadent Autumn brunch recipe idea!