Having Crockpot French Toast for breakfast on this cold and rainy day will hopefully keep us warm during our mid morning soccer game. Weekend mornings are supposed to be less hectic right?  I thought this would be perfect for a Sunday, since it's Slow Cooker Sunday and all! 

Crockpot Breakfast Recipes
I assembled my recipe in the crock the night before and placed it in the refrigerator over night like you would a normal French Toast casserole. I suppose I could have just placed it in the oven in the morning, but I really wanted to try it in my crockpot, so once I was up at 6:30am, I turned my crockpot to high since  I needed it to be done in a couple of hours.  Otherwise, I would have turned it on low for 4 hours. Who doesn't love a good breakfast casserole?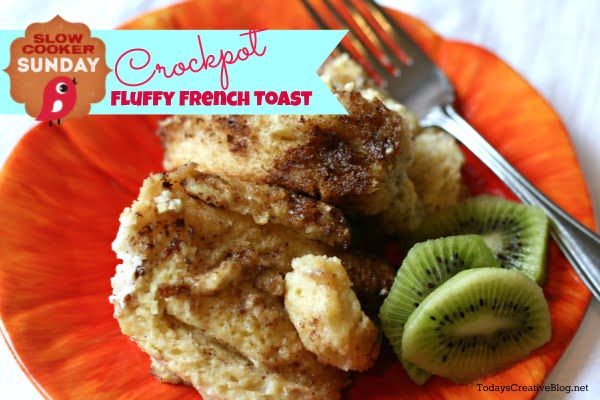 If you're having a brunch and needed to keep your oven clear for other items, this is a great way to make this casserole.  I do the same thing for my Thanksgiving crockpot stuffing…….I use my crockpot to free up space in my oven.  After cooking on low for 2.5 hours, this recipe was ready to eat.  It's sweet enough to eat without syrup, but of course that didn't stop my son.  I added kiwi and a protein smoothie and he was ready for  his soccer match.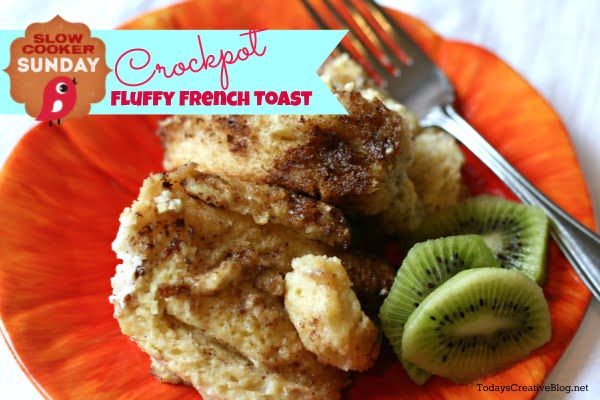 Crockpot French Toast
Ingredients
1 loaf bread- Cubed or sliced french bread or sliced bread of any kind ( I used a mixture of sourdough and french because it's what I had )
7 eggs
2 1/2 cups milk (almond, soy etc.. will also work)
1 teaspoon cinnamon
FILLER & TOPPING
1/2 cup butter softened
3/4 cup brown sugar - packed firmly
1 1/2 teaspoon cinnamon
1/2 cup pecans or walnuts (I forgot to put mine in and it was fine.)
Option: 1/2 cup raisins
Instructions
In a small bowl mix all topping ingredients with a fork. Set aside
Spray the inside of your 6 qt. crock with cooking spray. I used a coconut oil spray.
In a different bowl than your topping mix, whisk your eggs, milk and cinnamon together and set aside.
Place your first couple of layers of sliced bread or your first layer of cubed bread into your crock.
Spread half of your filler/topping mixture on top of the bread layer
Place the rest of your bread on top of the filler/topping.
Pour your egg mixture into your crock over the bread
Sprinkle the rest of your topping/filler on top of the bread
Cook for 2.5 hours on high, or 4 hours on low.
Enjoy!
Other Slow Cooker Sunday Recipes:
Follow Kim Demmon (today's creative blog)'s board Crockpot & Slow Cooker Recipes on Pinterest.