This recipe for homemade vanilla extract made with vanilla beans and vodka comes with its own printable label and is so easy to make. It's got a rich bold vanilla flavor for your baking needs and it also makes a great homemade holiday gift idea.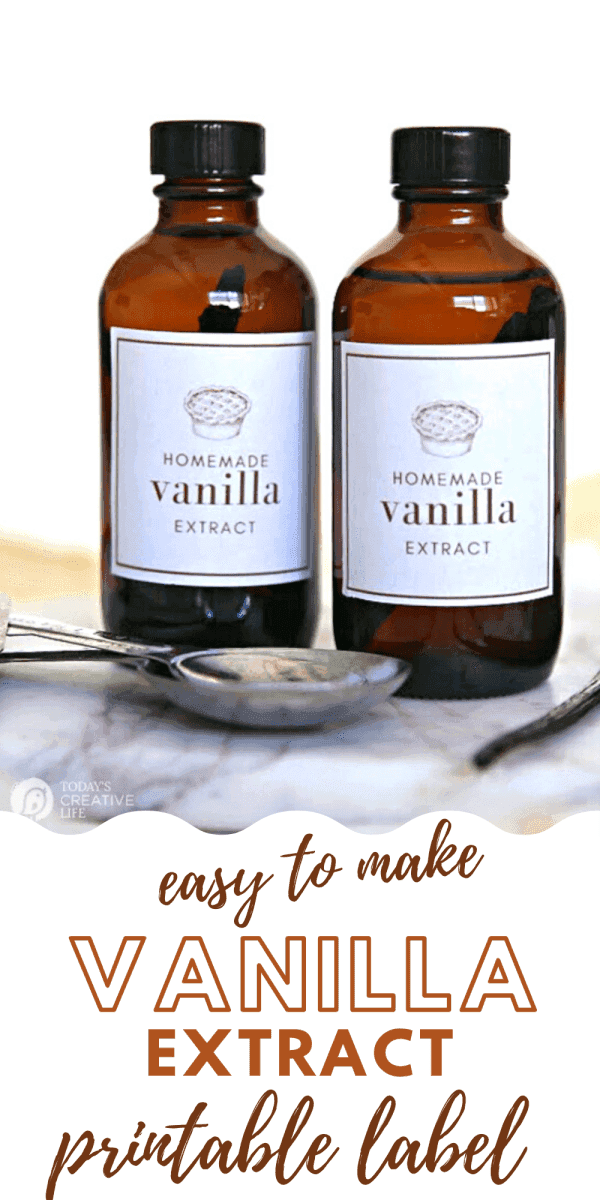 Recipe for Homemade Vanilla Extract
Ever since I saw my friend TidyMom's recipe for making vanilla, I have been wanting to give it a try. She also has some really cute printable labels you may like better than mine. I love the idea of giving this away for holiday gifts. But you do need to plan ahead a bit since it does take a while to age. Homemade vanilla will need at least a month but is best if left to age for 6 months.
How to Make your own Vanilla Extract
Making your own vanilla extract is way easier than I had ever expected. It takes 2 ingredients. Vanilla beans and vodka or bourbon. I had a gallon of vodka sitting around from when I thought I would need it for making my own hand wipes as well as disinfecting my home… only to learn that it wasn't strong enough. (thanks to the year 2020 and the lack of cleaning products).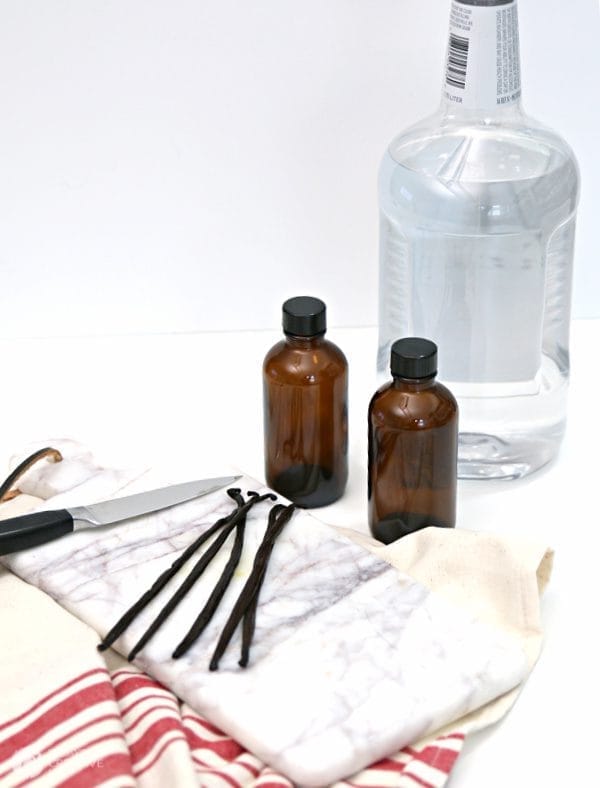 That's when I decided this was my chance at making Orange Vanilla Vodka as well as this recipe for homemade vanilla extract. I like having alternatives to baking products, even if this one isn't instant. Like making your own brown sugar… so easy! My baking substitutes printable really comes in handy when you're in a pinch.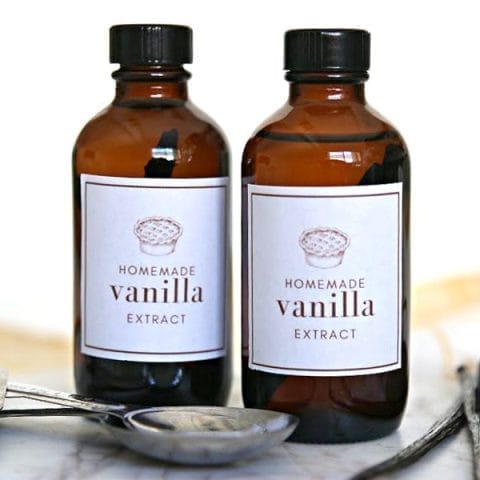 How to Make Vanilla Extract
Yield: 1
Prep Time: 10 minutes
Additional Time: 30 days
Total Time: 30 days 10 minutes
This recipe for homemade vanilla extract is easy to make with 2 ingredients. Let it age for 1 to 6 months.
Ingredients
Vodka
Vanilla Beans - 1 1/2 for each 4oz. bottle
Instructions
Cut vanilla beans in half if needed for your jar size. Score or slice your vanilla beans lengthwise down the center and pry open a bit to expose the vanilla bean paste.
Add 1 1/2 beans to each 4oz. bottle.
Fill to the top with vodka or bourbon.
Store in a dark cool place for at least 4 weeks or up to 6 mo for a richer flavor.
Shake the vanilla bottles every week or so.
Notes
If you're using larger bottles, you'll need to add more vanilla beans. There really isn't a limit. The more you use, the less time it may take for a rich bold extract.
Once the extract reaches full flavor, you can strain the vanilla to remove the beans using a cheesecloth, then pour the extract back into the bottle. I leave mine in.
Recommended Products
As an Amazon Associate and member of other affiliate programs, I earn from qualifying purchases.
Nutrition Information
Yield 1
Serving Size 1
Amount Per Serving
Calories 64
Total Fat 0g
Saturated Fat 0g
Trans Fat 0g
Unsaturated Fat 0g
Cholesterol 0mg
Sodium 16mg
Carbohydrates 22g
Fiber 0g
Sugar 22g
Protein 0g
We do our best to calculate, however, nutrition information may not be accurate.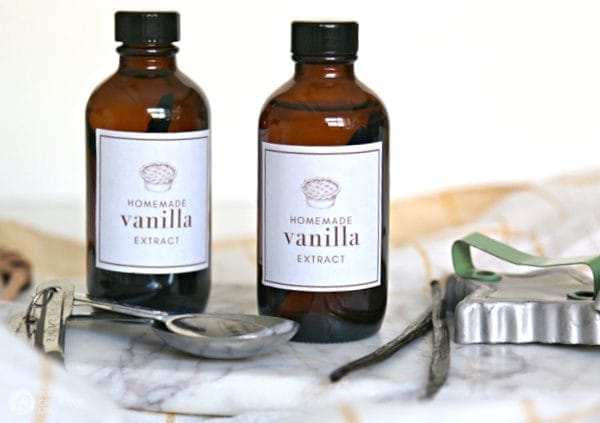 Does Vanilla Extract Go Bad?
Everything store-bought has to have an expiration date, however, if you store vanilla properly, it will stay good forever. After doing a quick google, I did read that you should use it up or throw it out after 5 years. You'll want to store any recipe for homemade vanilla in a cool dark place.
Substitutes for Vanilla Extract
If I'm out of vanilla extract, I usually use almond extract, but less. Almond extract is a little stronger but makes a pretty good substitute. Maple syrup is another great suggestion.
Free Printable Labels for Recipe for Homemade Vanilla Extract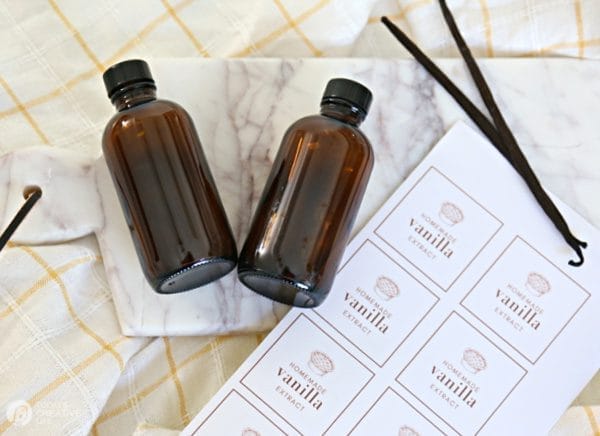 You'll find these labels in the Printable Vault. All TCL subscribers have been sent the password to access all free printables. Subscribe here. Your password will be sent to you. Please check your spam folder.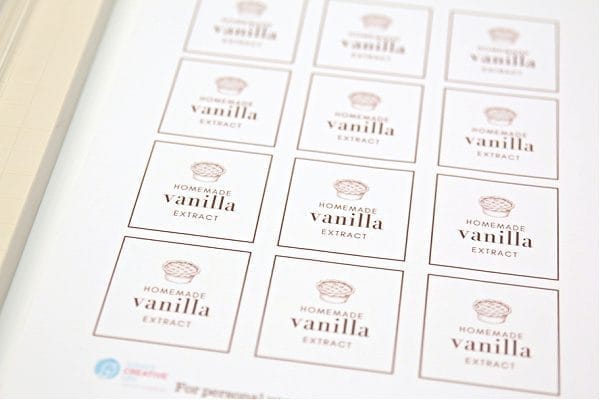 To make these labels you'll need the following:
After you print onto self-adhesive sticker paper, trim the squares, and then peel the backing off. Stick to a clean jar, right in the middle.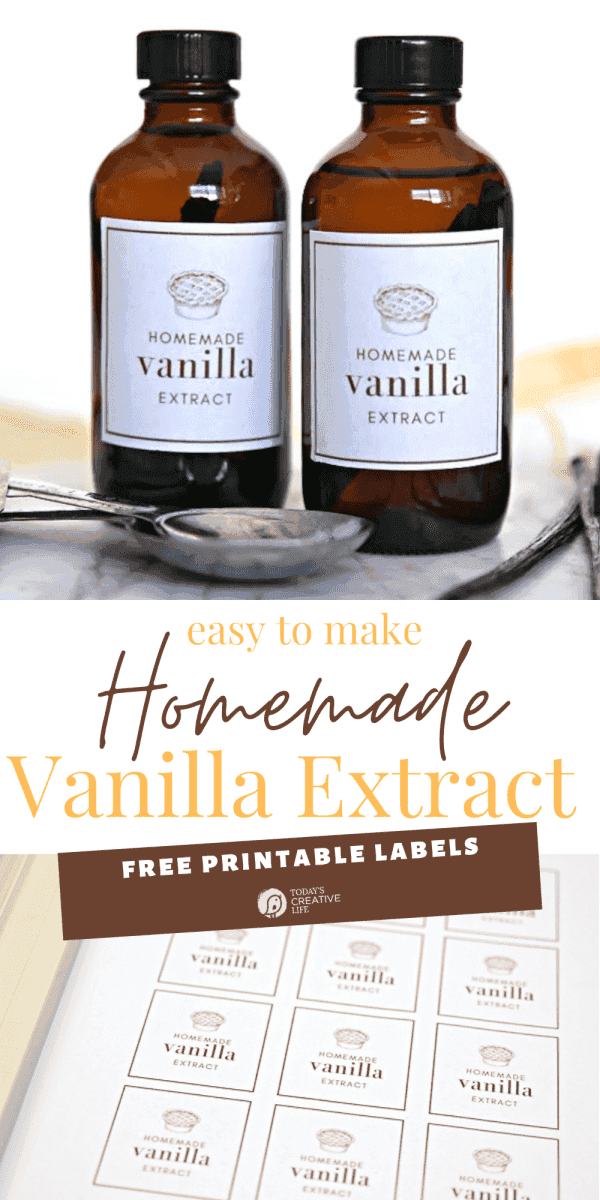 Holiday Gifts from the Kitchen
Simple and easy homemade edible holiday gift ideas!
Who doesn't love cookies?
Another great gift idea you can make.
This is a delicious homemade gift.
Eat as is, or drop them in a mug of hot cocoa.
The secret ingredient makes this homemade gift even better!
Simple, easy and they are beautiful!
Photo Credit: www.texanerin.com
These make great party favors too!